<![if !vml]>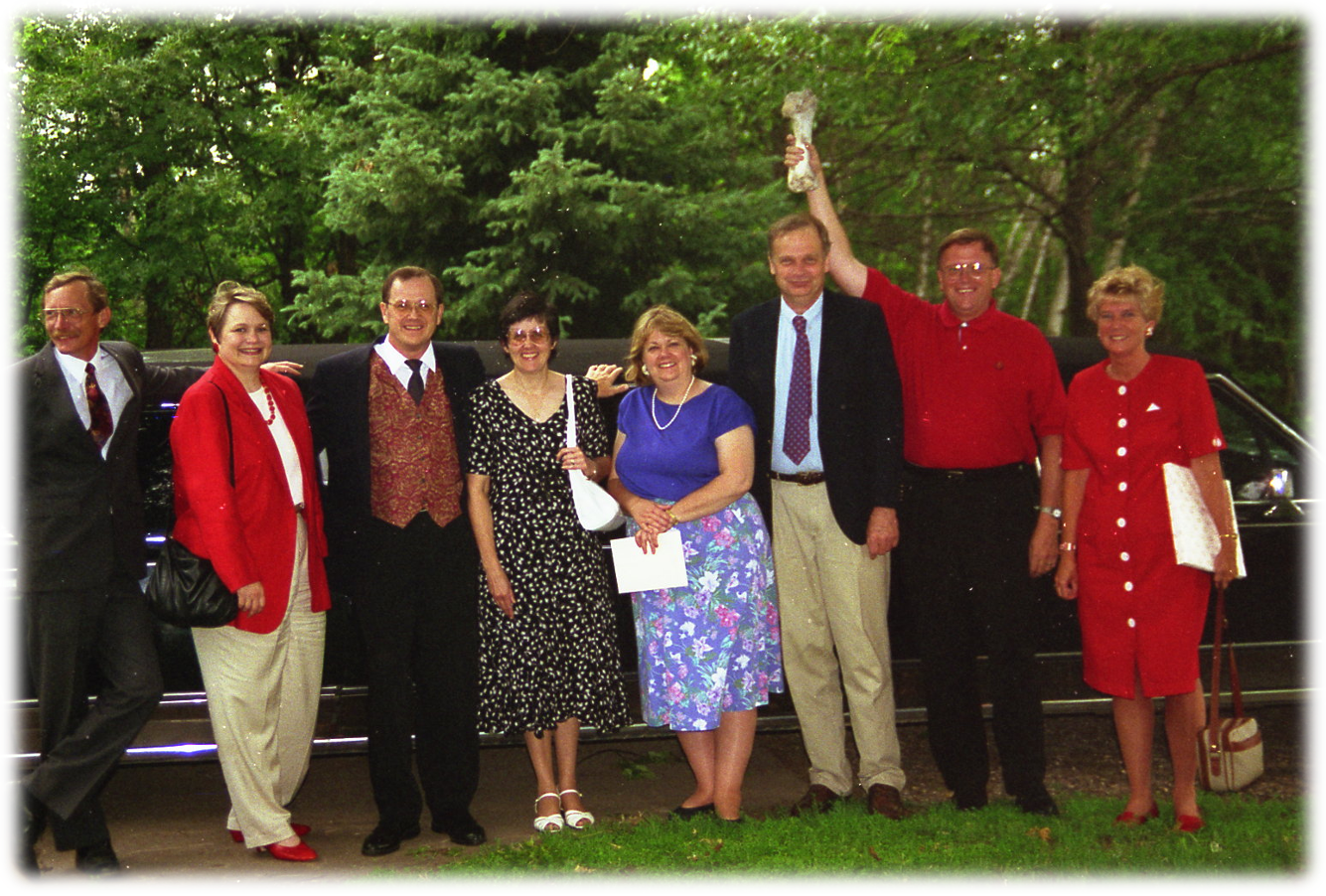 <![endif]>
Roger's 30th Anniversary Surprise
July 1, 1997, was our official 30th wedding anniversary.
We had a train ride on the Minnesota Zephyr in Stillwater, with a five-course meal planned with my mother and brother and sisters and their spouses for July 6th, and so Joan said, the other day, "Maybe we shouldn't buy each other anything more, and just give each other the train trip for our anniversary." I, of course, had other plans, and they were well into the final planning stages, but I couldn't tell her that.
On Monday, June 30 I told Joan I thought we should at least go out to eat for our anniversary, and that I had made reservations at a restaurant in the cities, and she thought that was a good idea. Luckily.
And so, on Tuesday evening, we got ready for the trip to the restaurant. At about 5:15, the doorbell rang, and I answered it; it was the limousine driver with the limousine that seats 10 people. It was black, he was dressed in black, with a black cowboy hat, and an immense chunk of chewing tobacco that made him look as if he had half a case of mumps. His name was Leroy. Well, he was early, so that threw off the whole timing a bit, since I told the other guests to come at precisely 5:30 (I had told him too, but he was early anyway.).
Our son, Kent, took some pictures of us by the gigantic limousine, and then the other folks started arriving, six additional folks, three couples in all: Gary and Lynette, Dwaine and Marcy, and Dave and Dawn. After a bit of conversation, we all entered the limo and headed south, while black clouds and foreboding forecasts were brewing.
It was a fun ride to Minneapolis (Fridley, actually). We sat quite comfortably, and I had bought some wine that we had chilled along. So, we drank wine, visited, and toasted our friendship. We arrived at the Shorewood Inn right on time for the reservations I had made, and we were seated in an enclosed glassed-in room overlooking the lake.
It did get darker and darker, and the clouds couldn't make up their minds which way to go, but we visited and joked regardless. These are all nice folks, and fun to be with, and we had a great time.
We all had a drink or two ranging from Bloody Marys to coffee to 7-Up, and eventually ordered our meal. About the time the meals were delivered, the black clouds moved in, the rains let loose, and gale force winds started. We had a great view of the bending trees, the driving rain, and the view got even better when the electricity went out! Luckily, the restaurant had some minimal backup lighting, so it wasn't very dark. I guess that's what called ambiance!
After 10-15 minutes, it did start getting lighter, and the winds slackened, and the rains eased. We finished our meal, these wonderful friends paid for Joan and my meal, and off we went to the limousine. Some folks stopped at the bathroom on the way and were given a candle to see their around in the windowless room!
We made a quick dash to the limo, and off we went, back toward Cambridge. Branches were down everywhere, small pools of water and some small lakes were all over, and electricity was off in scattered areas. Many of the stop lights were out. We had a very nice visit with everyone on the way back, and it was another enjoyable trip, made even more memorable because of the weather!
We made it home without incident, and we sent the limousine on its merry way. Our sons, Derek, and Kent had been busy getting a few decorations up, with the help of one of their friends, and there were small glittery lights strung from the ceiling in the hallway as we entered the house. A paper divider closed off the dining room, and two candelabras lighted the living room.
We sat down for a bit and had some more wine and visited and a toast was made for Joan and me. Dawn had volunteered to <![if !vml]>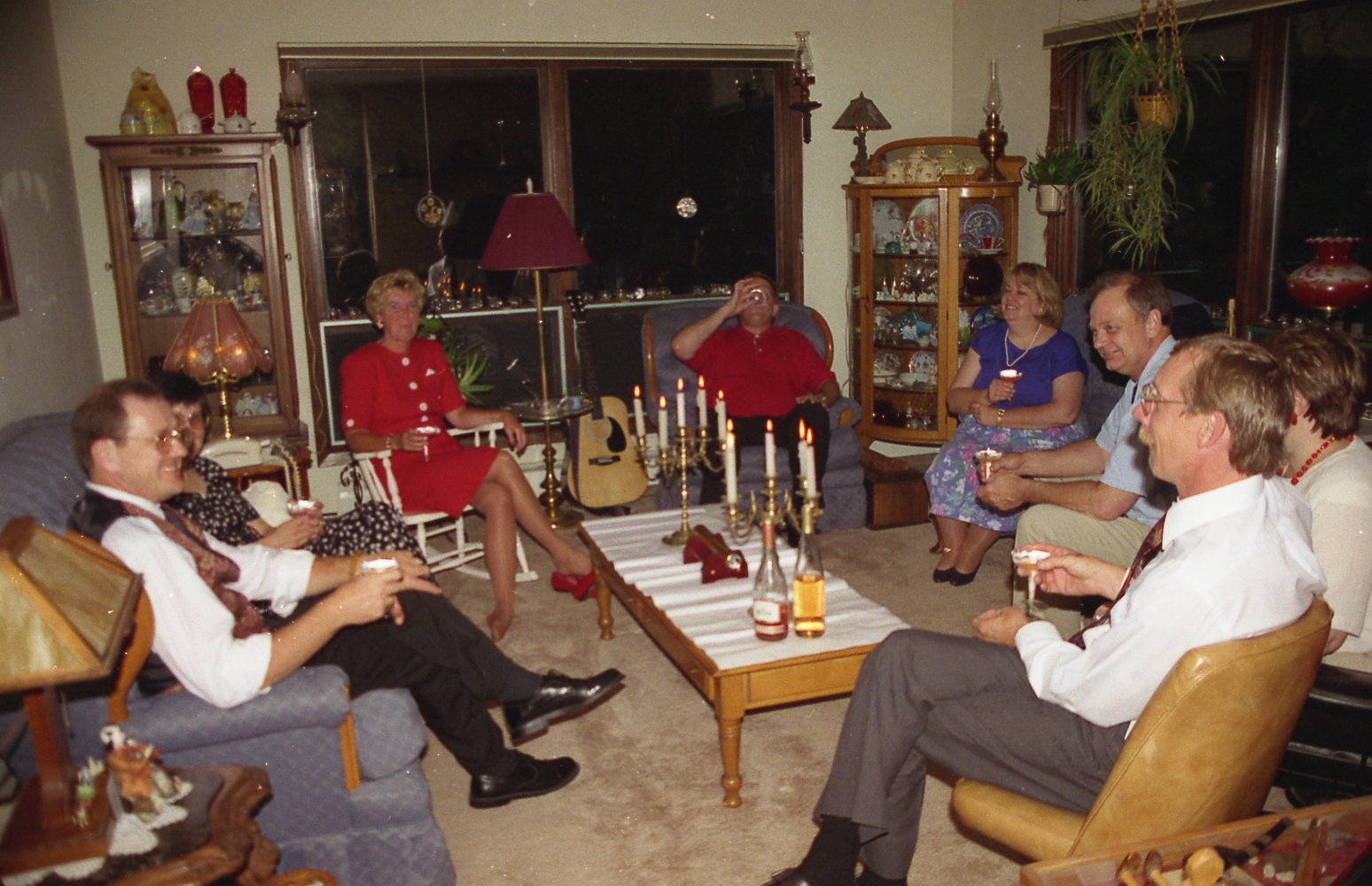 <![endif]>bring a light dessert, so we had that, and it was delicious. A little more visiting, more impending storms, and folks called it an evening and left for their homes.
It was a fun and unforgettable evening, and we both had a great time. Joan was very surprised, and I think it was a great way to celebrate with our great friends.