Florida, March 24-April 1, 2009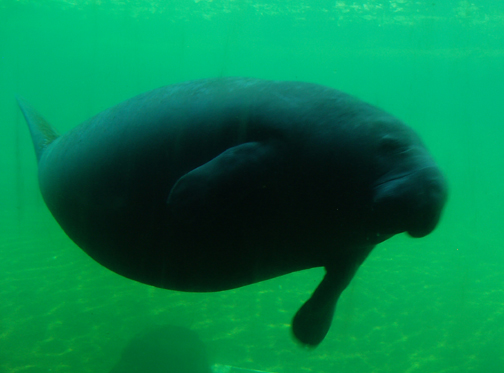 Ah, Florida! What a contrast from the cold and dark and dreary north called Minnesota in March. It has been a long, long winter.
Our flight was later in the day, so we didn't get to Florida until about 9:00 in the evening. We got our car rental, a nice silver Impala, and headed to the motel which we had reserved. It was too late to do anything that night, so we just got settled. Florida is an hour later than Minnesota in time zones. If it is 8 in Minnesota, it's 9 in Florida.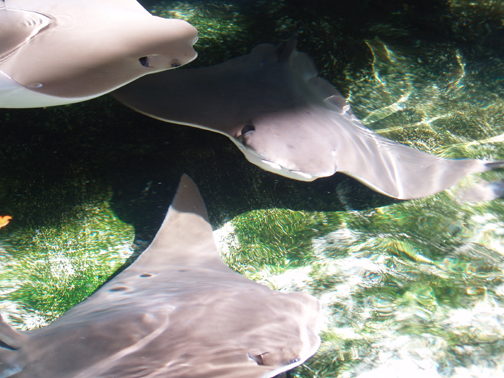 Joan had researched a lot of sites in the area, so the next morning, we headed out to Lowry Park Zoo.
We'd been there before, but it's a wonderful zoo, especially if you get there early enough to miss the crowds and all the little cherubs with their school classes. It was a sunny day and about 80 degrees with a slight breeze, so it was a wonderful day just to walk around and enjoy the warmth and the green.
Because of my dear cousin's recent experience with melanoma, and the resulting surgery, we were both keenly aware of the need to protect ourselves from the sun's damaging rays, so we slathered on the SPF 70 sunscreen. I love the word "slathered"! It's kind of a combination of "slobbered" and "lathered", I guess. It seems fitting.
In the afternoon, we headed to a place called, "Lettuce Lake Park" just outside Tampa, and went for a long walk. It was a beautiful park with some boardwalks around, and many large birds.
They also had a tall observation tower we climbed to see a long range view of the river. The areas that were once marshes were dry due to the severe drought in the area, but the river still had plenty of water and lots of activity.
From there, we headed out for supper. I've stated in earlier writings that I have this informal rule about eating at chain restaurants. When we travel in other parts of the country, we make every attempt possible to eat at local restaurants. In Tampa, we were having trouble finding a place to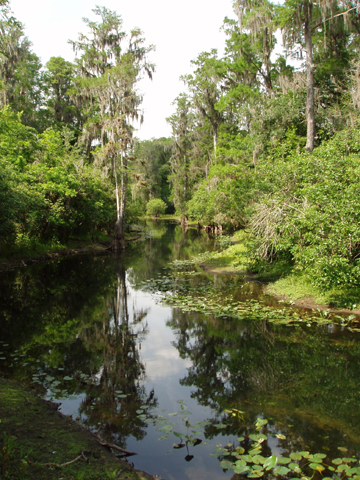 eat that was relatively close to the motel so we settled on a little dumpy looking local family restaurant. It wasn't what I had in mind when we started looking, and I wasn't impressed with the decor. But once we saw the menu, we knew we'd picked a good one. They had lots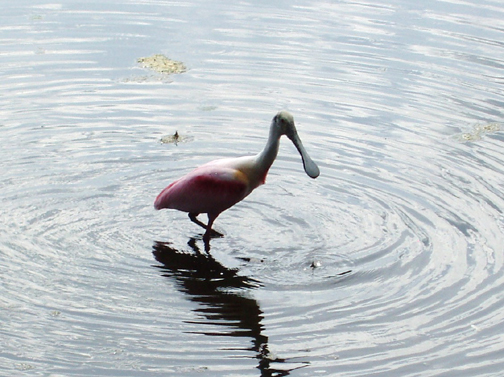 of "specialties" on the menu that had Cuban and Greek influences, and the food we ordered was delicious.
Thursday morning it was bright and sunny again, and we headed to a place called, "Dinosaur World" where they have life sized models of dinosaurs tucked right out in the woods. It was kind of neat because you could really get an idea of their true size, which in many cases was amazing!
We got there shortly after it opened so there were no crowds, but you could see that it was set up for school classes, and they had a lot of hands on opportunities.
It was a large place, and took a couple hours to walk through it all.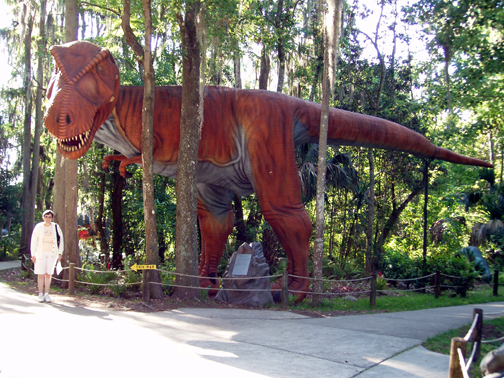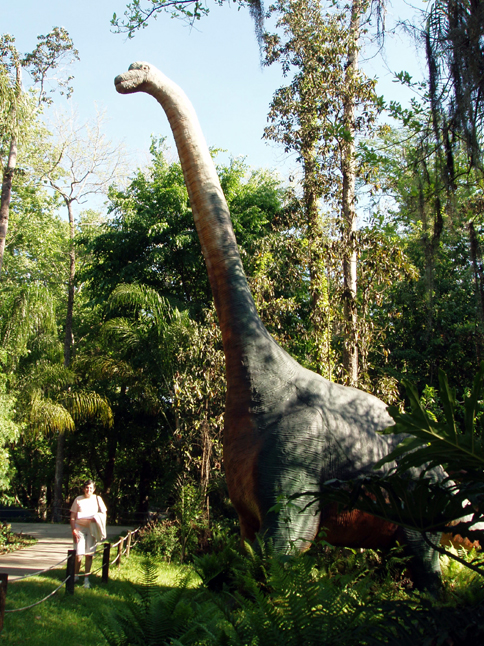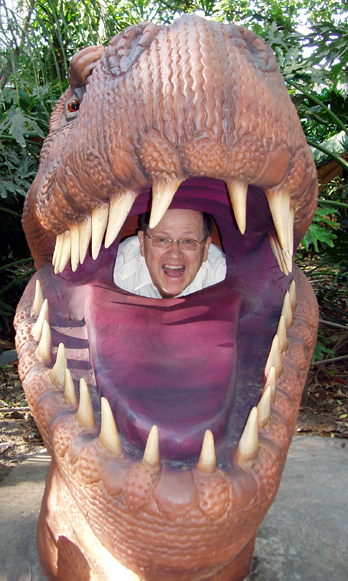 It was a beautiful day for walking around among the dinosaurs.
From there, we headed to St. Petersburg to Indian Rocks Beach and walked for a while. It was a bit breezy, but not crowded at all. That evening we ate near the motel at a restaurant called "The Casual Clam". It was recommended by the person at the front desk in the motel. It was not a fancy place, there were paper plates and plastic utensils, but the food was phenomenal! We both had shrimp, Joan had a linguini, and I had them blackened. I think they might have been the best shrimp I've ever had. It's seldom that we repeat restaurants when we're traveling, but we went back there. I've never done this before, but here's their website: http://www.casualclam.com/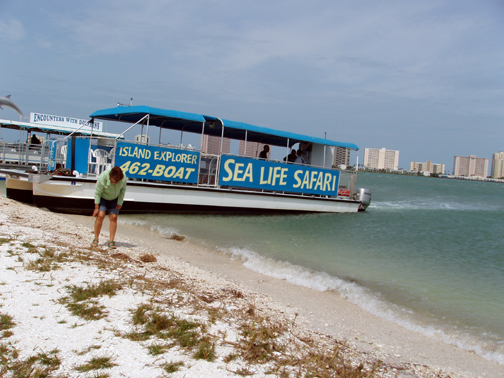 On Friday, we headed to the Clearwater Aquarium which is a rescue and rehabilitation site for dolphins and sea turtles. We went on an "eco-cruise" to see the bay, and it was very windy! It was interesting, and we stopped at a small island to do some searching for shells. It was pretty picked over, but Joan found a rare bird egg on the shore where some bird had decided to make a nest.
The beaches in that area were extremely overcrowded with kids on Spring break, so we avoided them. Plus there was nowhere to park! We did find a nice little restaurant that had one parking spot from a car that I saw leave, so we pulled in there and had a delicious lunch.
Our next stop was the most sobering of the trip, because it was the St. Petersburg Holocaust Museum. I had read considerably about this subject over the years, so I found it quite interesting seeing some of the actual photos and artifacts which included a boxcar and railroad tracks used to haul people to Auschwitz. No pictures were allowed.
At the end of the tour there was a gift shop selling mostly books, and the teller was a survivor of Auschwitz. We talked to her quite a while, and she was happy to talk to Joan about being a teacher, and some of her early years of being discriminated against in school because she was Jewish.
On Saturday, we headed toward Sarasota. We got there before much was open, so we went for a walk on the Sarasota Waterfront at a nice little park. From there we headed to the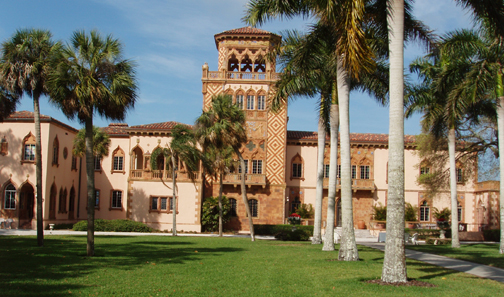 Ringling Brothers Home and Museum.
Their home was quite the mansion, but that was just the start.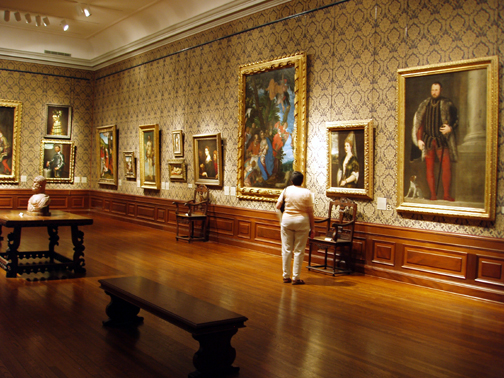 From that building we went to the Museum of Art that was full of works of art from the last seven centuries or so. It was a bit overwhelming with so much beautiful art in such large quantities. We were both impressed with the mammoth size of some of the paintings.
There were no barricades or ropes, so you could get as close to the picture as you wished. It was great to be able to see the individual brush strokes that blended to the almost perfect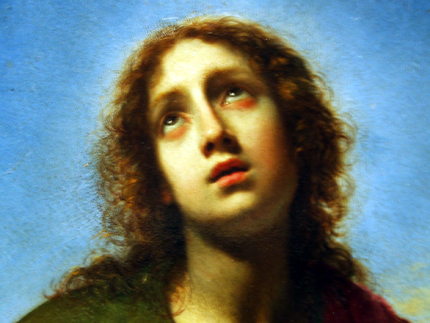 illustrations.
There were several hundred pictures, and pretty soon, we just felt like our brains got too full to process much more, and we started to go faster, just soaking in the ambiance, not the details.
From there, we went to eat at a little casual restaurant on the site called the Cypress Cafe. After we had recuperated a bit, we headed to the circus museums.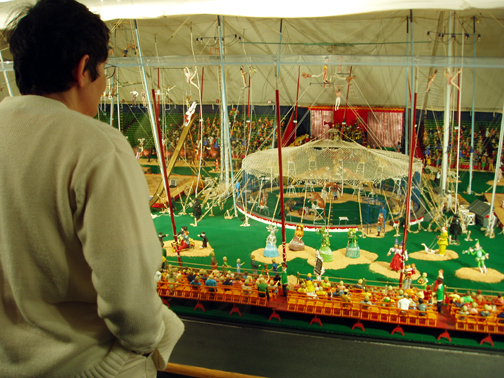 One of the museums had a miniature circus several hundred square feet in size that he had worked on for most of his life. The detail was amazing.
In the later afternoon, we went to the St. Petersburg Beach. The wind was blowing pretty well, and we felt a bit like we were getting sandblasted. I was amazed how many folks were still on the beach
We found another fine restaurant in the evening, and I ordered Mahi Mahi, which was absolutely delicious.
In the morning, we had our first rain. It was to clear by noon, but we drove to a beach in Venice to see if we could find some prehistoric shark's teeth. We weren't too lucky though, and only found two. It was fun looking though.
In the afternoon, we went and visited two of my second cousins. They are my first cousin Nancy's daughter's or the grandchildren of my only living uncle, Uncle Ray.
Click to read Ray's story in World War II
They are lovely people, and Aimee (left) has a great husband, Mike, and a lovely daughter, Emma. Alexis, or Lexie, and Aimee are interested in their family history, so we discussed our ancestors for quite awhile. It was wonderful visit, and we couldn't have enjoyed ourselves more.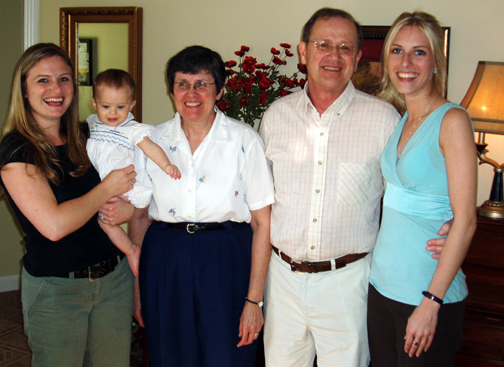 I wish they didn't live so far away. Mike fixed a great supper, and then it was back to the motel for a relaxing evening, and an early morning start to the Everglades.
It was a long drive from Sarasota to the Everglades, but we arrived in the early afternoon. We stopped at the Oasis Visitor's Center and went for a walk. There were alligators sleeping right next to the pavement walk!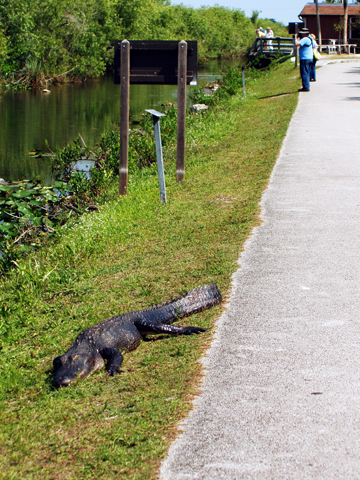 It was a beautiful day, so we walked further, saw lots of alligators and large birds. From there, we headed to a city called Florida City and checked into our motel.
We had been to the Everglades a couple times before, so we knew what to expect, and it did not disappoint.
One of our favorite places is a place called the Anhinga Trail.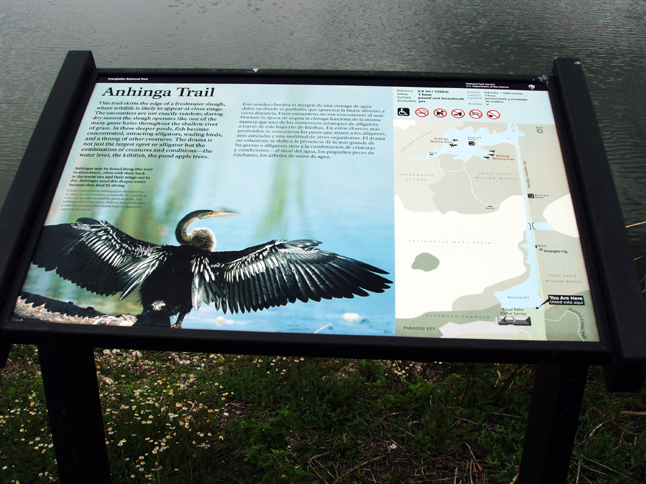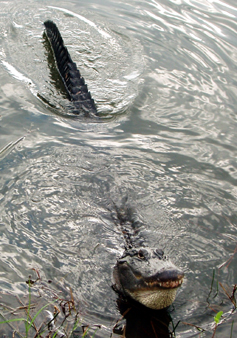 The Anhinga is a diving bird that spends a lot of time underwater hunting for food, and then rests in trees drying its feathers with outspread wings. The trail is not long, but it is all around and over water, so there is a lot of bird, alligator and turtle activity. The animals are not afraid of humans, so you can get quite close. Most of the trail is raised so it is not accessible by the alligators, and there are a lot of them!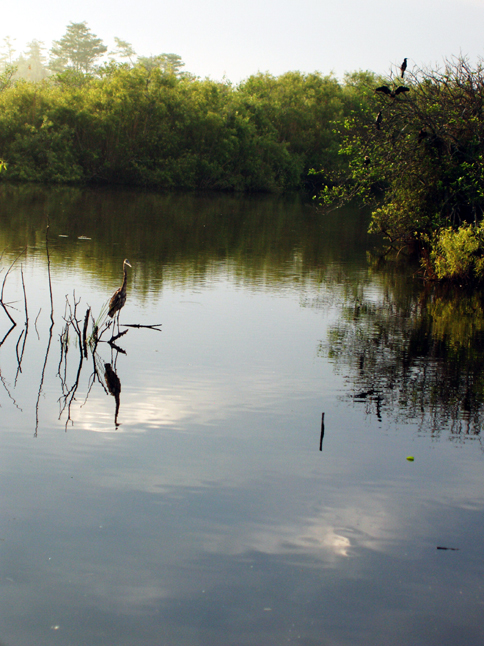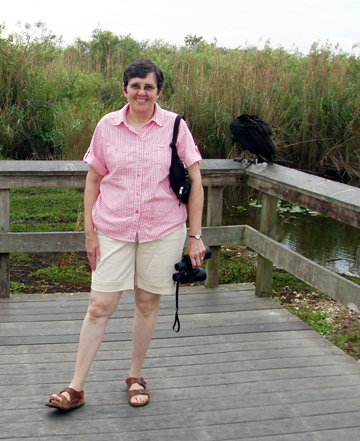 In the late afternoon we headed back to Florida City, next to Homestead, and had a delicious meal at a place down the street from the motel. I had a Mahi Mahi again, and Joan had a Tilapia coated with Macadamia nuts. Wonderful!
On Tuesday, early, we headed off again to the Everglades and The Anhinga Trail. From there we headed down to the southern tip, and explored that area. It is quite dry, and many of the low areas are dry. It was getting warmer and sunnier, so we called it a day early and headed back toward town. We stopped at the Anhinga Trail again, and saw some tiny alligators hiding in the brush in the swamp. After resting a bit, we headed to Key Largo. Joan bought some sandals, and we found another wonderful place to eat. More seafood, naturally.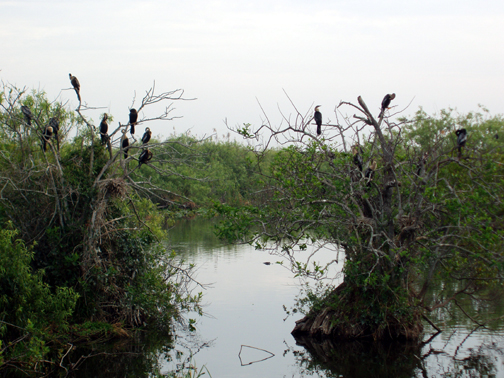 The next morning we finished packing, and headed for the Tampa airport. We had all day to get there, since we had an evening flight, so we kind of took our time. We stopped at a wildlife area that was also a rest area, and also at Venice Beach for one more walk on the beach, and then to a place called, "Six Mile Slough".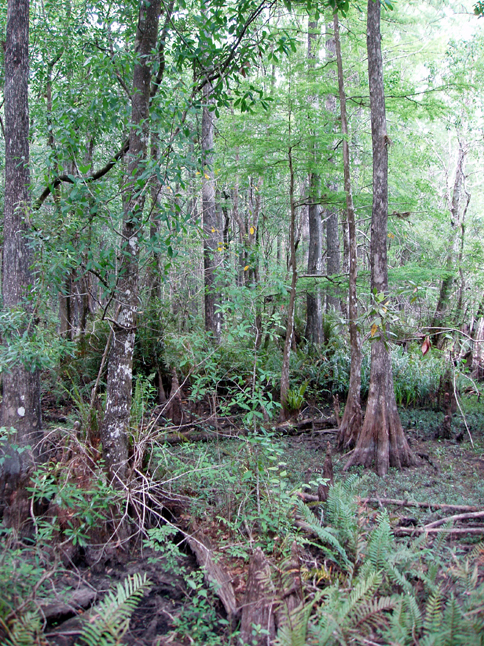 It was warm and humid at 88 degrees.
We got to the airport plenty early in spite of some very slow traffic in Tampa. The weather forecast for Minnesota was in the low 20's, so we knew we'd be in for a bit of a shock.
We arrived back in Cambridge about 2:30 A.M. exhausted from the plane trip and drive, and there was about an inch of new snow on the ground. It's taken a few days to finally get a bit back to our normal Minnesota routine.