Hawaii, The Big Island, February 10-25, 2020
The trouble with spending a couple weeks in Paradise is that you have to go through a couple of days of hell to get there and back.
<![if !vml]>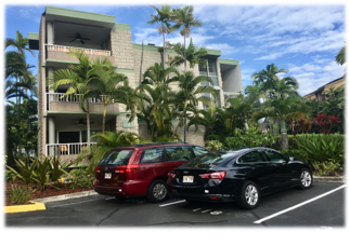 <![endif]>We flew from Minneapolis to Los Angeles, and then from Los Angeles to Kona, Hawaii on Monday, February 10th. We arrived in Kona about 9 o'clock and we got our rental vehicle, a black Chevy Malibu Hybrid, and headed to our condo.  9:00 PM in Hawaii is 1:00 AM in Minnesota.
Tuesday, February 11, we woke up about 4:00 AM, which was 8:00 AM Minnesota time. We had breakfast and found a Walmart to get groceries, etc. From there we went down to the ocean just below where we were staying.
<![if !vml]>
<![endif]>We drove south along the Kona Coast to see Puuhonua O Honaunan National Historical Park, which is the "city of refuge". We walked the trail and we saw a green sea turtle sunning itself. We walked along the Heiau on the black lava.
We had brunch, and then headed back to the condo to rest.  We ate at Jackie Rey's Grill, and then watched the waves and the setting sun below the condo.
Wednesday, February 12, we woke up early again, about 4:30 AM. We had fresh papaya for breakfast, and we headed out to mail the valentines to the grandkids.
We went to the Kalako Honokohau National Historic Park and walked the 2-mile hike around the ruins and fishpond with very high walls. It covered a very large area along the ocean.