<![if !vml]>
<![endif]>
May 23rd-28th, 2022
The plans for the trip were that we would spend 3 days at the cabin that we visited in 2019 travel and explore some of the surrounding area next to and in the Ishi Wilderness.
The flight from Minneapolis to Sacramento was smooth and Mike was there to pick me up at the airport. We went to his house, and I was greeted first by two golden retrievers, Finn and Emma, and then by Mike's wife, Lauri.  We had some snacks out by the pool since I hadn't eaten since early morning, and then had a delicious barbecue later in the afternoon.
Later, we packed for an early start the next morning. We headed toward Chico to pick up Richard and bought some food and supplies on the way. From there we headed for the little town of Cohasset, close to the road and trail that leads to the cabins of Floyd and Bob.
We all gathered at Bob's house in Cohasset and headed to the cabins in two vehicles.  The group consisted of Bob and Floyd, who own the cabins, Mike, Richard, and me, as well as Phillip and Robert, who are also Cohasset residents.
<![if !vml]>
<![endif]>
The "road" to the Ishi Wilderness is hard to describe.  If you get motion sickness, this is not the road for you, because the vehicles are continuously going up, down, and side to side.  Progress is slow because of the slow speeds, so the trip takes a long time.
We finally got to Bob's cabin and got all the food and supplies unloaded.  Bob said that just a couple days earlier his little dog had gotten bit by a rattlesnake very close to the cabin.  Luckily, the dog must have gotten a small dose of venom and was recovering. Phil rode his three-wheeler to the cabin.
It was a warm day with plenty of sunshine. The view from Bob's deck is shows the wilderness and Mount Shasta in the background.
We decided to go for a hike that afternoon down to a creek.  We took the vehicles part of way on "roads" that Floyd had either made or improved, but soon it got so rough that they parked the vehicles, and we started down on foot.  The loose rocks on the declining slope made it a bit treacherous to walk, and I did take one slide where I went down backwards on my rear. 
We walked quite a while and finally came to a creek bed with lots of nice shade. Most of the group wanted to continue up and over a rise, but I was not used to the heat and steep hills, so I told them I was going to climb back up and wait for them. 
Bob offered to come with me, so we slowly climbed back out of the valley. It was just as tricky going up on the loose gra<![if !vml]>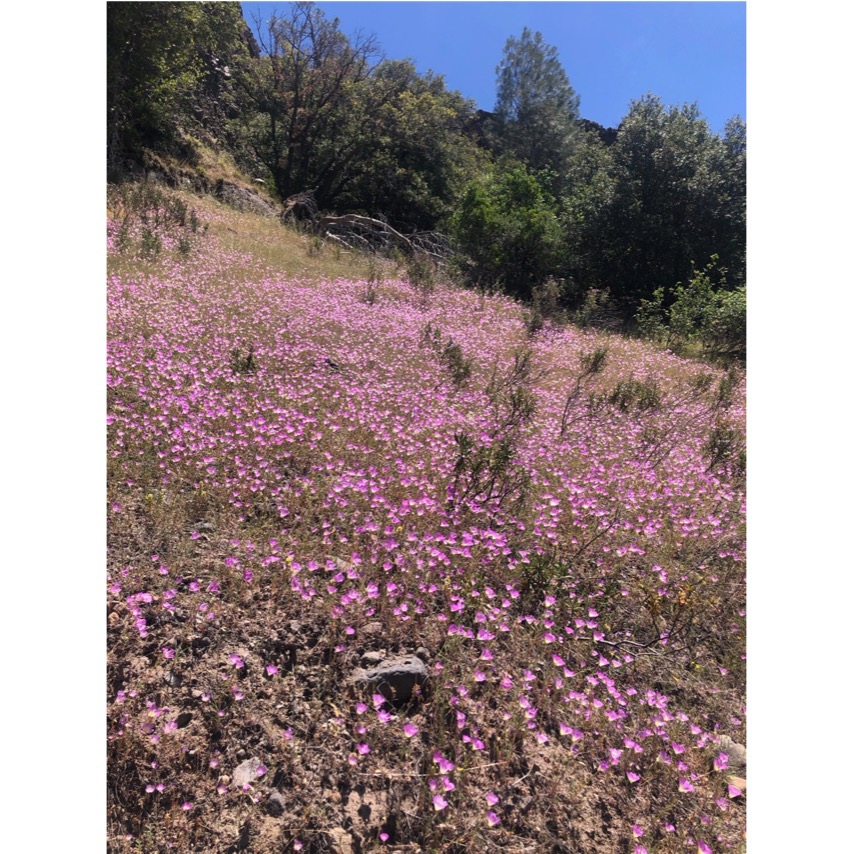 <![endif]>vel and rock as it was going down.
 The wildflowers were beautiful.
Richard had stayed back to rest while we went on the hike, and he awoke upon our return. 
After everyone was back, we pulled out a few snacks, and visited and looked at various sites around the area.  For the evening meal, the grill was started, and we had a variety of delicious things to eat. 
<![if !vml]>
<![endif]>
After the meal, Richard surprised everyone by bringing out a box that had a cake in it, and my photo was made of frosting on the top!
It was delicious, and a nice surprise.  Richard said that I was the catalyst for the trip and the reason we were there.
<![if !vml]>
<![endif]>
At just before sunset, we took a small trip to an area that Bob and Floyd had set up as a dedication to the Yahi Indians. They have a plaque, a mortar and pestle, and people are encouraged to bring trinkets and small objects to leave in their honor.  Mike had some wild tobacco, so he spread some of that. I had brought some trade beads that I left there.
Soon, we started to get