Trip to Rocky Mountain National Park, June 26 to July 3, 2008
Note: I have downloaded the full photo in its larger size, so if you want to see the details of any picture, just click on that picture. They are large files.
June 26, 2008, Day 1:
We were up early, and on the road by 6:00 A.M. because our flight departed at 10:30 A.M. I worry about having to drive the entire length of St. Paul and part of Minneapolis during rush hour, so we always allow ample time. We were to the airport by 8:00 after parking in an off-site parking area, and being shuttled to the airport. Much less hassle.
We flew Frontier Airlines to Denver on a bumpy flight, and arrived about 12:20 P.M. It was a beautiful, sunny day, so we got our car rental, a Hyundai Sonada, and we took off for Colorado Springs, south of Denver. We found a place for lunch, had a nice leisurely meal, and got to Colorado Springs about 3:00 in the afternoon. We checked into our motel, and took off relatively soon to find the "Garden of the Gods". It's a beautiful park with red rock formations, and lots of hills and side roads.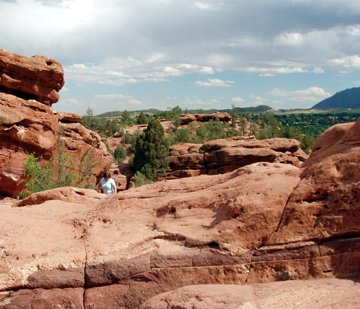 The Hyundai we rented was an automatic, but it had an interesting feature. There were no low gears you could shift into, like 2nd or 3rd, but it went into an automatic non-clutch gear mode! Depending on the speed you shifted from automatic, it would be in 3rd or 4th gear, and then simply by pushing up, you went to higher gears, and by pushing down, you went into a lower gear. This was great in the mountains because I always try to use the brakes as little as possible. It was a great feature for this purpose.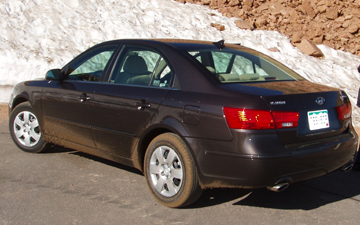 We ended up leaving the park area by a wrong exit, but decided that we'd call it a day, and head back to the motel and find a place to eat close by. We found a restaurant named "Black Eyed Peas" that had southern cooking, and it was an excellent meal.
Day 2: Next morning, we headed to Pike's Peak, a mountain that is over 14,000 feet in height. It's a long way up on some pretty good roads, but there are stretches that have no barricades, so it's pretty much straight down, and there were sections that were gravel and sections that had construction. Joan had made this trip with her parents in the 1950's and she said she spent a majority of the time hiding on the floor of the car asking her parents to turn around and go back. She was much better this trip.
It was clear morning, and though we couldn't see forever, we could see pretty darned far. On top,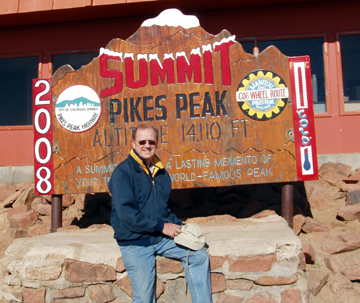 it was a crispy 38 degrees, with a pretty good wind chill. We walked around for a bit, but this high, things are pretty barren, so there wasn't a lot of great scenery.
We soon headed down, which was just as exciting. I downshifted a lot and really got to like the way that transmission worked. It wouldn't be so helpful in East Central Minnesota where we lack hills and mountains, but it was great there.
After we got to the bottom, we drove through the Garden of the Gods area again. There were considerably less people this time, and it was very pretty.
From there, we headed to a park called "Seven Falls". We could have walked up several hundred steps, but chose to use an elevator instead. The altitude really does make a difference in physical exertion. One tires very easily, and runs out of air.
The Seven Falls were in a box canyon, and really it was one long waterfall that cascaded in seven different smaller falls. It was very pretty, though, and there were some Native American dancers performing at the base of the falls.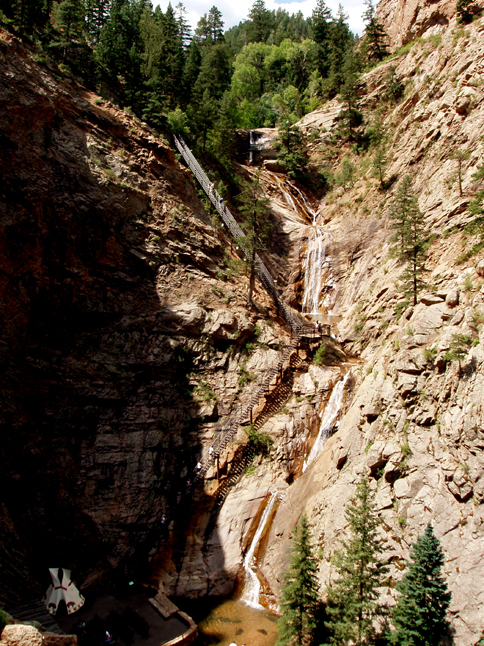 We had already put in a pretty full day, so we went shopping a bit, and then had our evening meal at the "Black Eyed Peas" Restaurant again.
Day 3:
We headed off toward Rocky Mountain National Park via Florissant National Park, where there are gigantic petrified redwood stumps and many insects and plant fossils that have been preserved in the shale. We went on a mile long hike here amongst the gigantic stumps.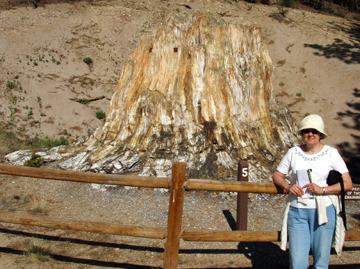 From there, we headed toward Granby and Rocky Mountain National Park via some back roads through the mountains to get to the western side.
We went for about a mile's walk on a meadow in the park, and saw a swollen stream, and lots of pretty mountain scenery in the distance.
We continued toward Granby, and saw a large herd of elk. There were two playful babies romping in the meadow. Granby itself is a little town tucked into the mountains close to the park. We got checked into our motel, and went and ate supper at a local restaurant.
Day 4:
Sunday, June 29th, was another beautiful day. We headed north into the RMNP and stopped to watch a herd of elk close to the road. We went for a hike along the Colorado River, which was really a smaller swollen stream at this point of its journey. About a mile down the trail we came upon two male elk eating in the distance. They are magnificent creatures, and quite large, so we stayed our distance from them. From there, we headed up the mountains, and I do mean up! We finally went high enough to reach tundra, and the Alpine Visitor's Center.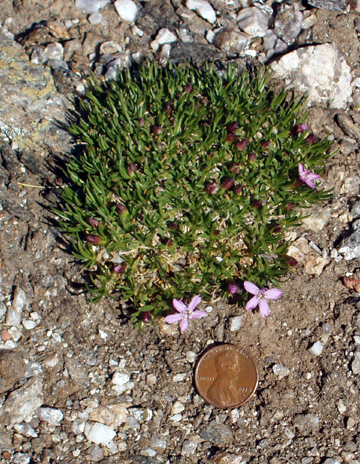 There was a walk that went up a large hill with many steps, and we spent a good share of time climbing, then catching our breath. It was very chilly also, but the small alpine flowers were really beautiful to see. They are so tiny that I put a penny next to some of them and photographed them.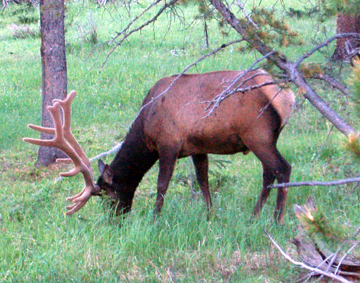 The top of the climb was over 12,000 feet, and there was a fantastic view of the surrounding mountains.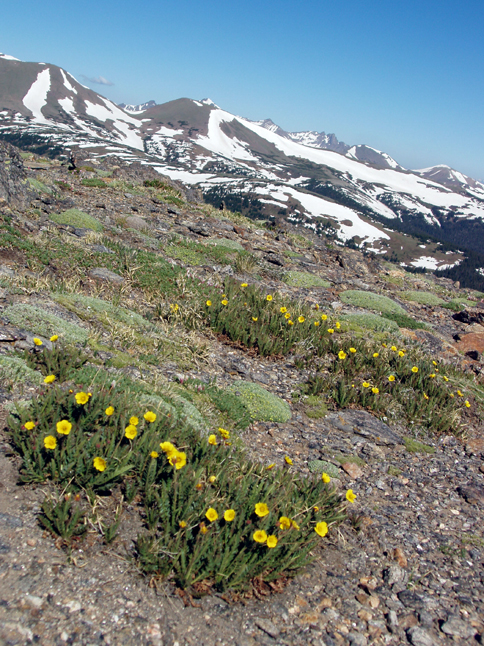 After a hike down and another drive on the narrow roads, we went for another hike on a trail in the tundra, and there were several yellow-bellied marmots playing along the trail in the rocks. As we were leaving, there were two female elk right next to the parking lot.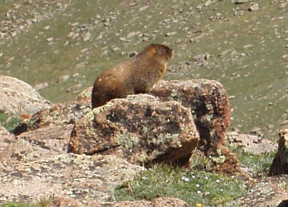 From there we went to another visitor's center and had lunch out on a patio with a beautiful view of the mountains. The lunch was quite delicious. The altitude was about 9,000 feet at this point.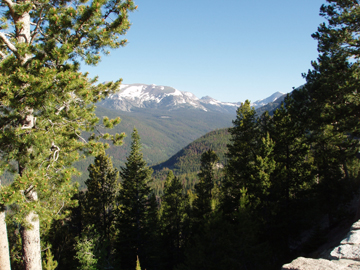 From there we drove to Estes Park, which was quite busy on this Sunday afternoon. There was a Scandinavian festival going on, and as I understand it, it is pretty busy in the town all of the time anyway.
We checked into the motel just outside Estes Park's downtown area, and walked to a restaurant nearby for supper. I had a delicious grilled rainbow trout.
Day 5:
We headed out early, as is our modus operandi. This really works for us, getting on the road to places about 6:00 or 6:30 in the morning. We beat the crowds, and that's when the wildlife is most likely to be seen. Places that are crowded by the afternoon are pretty well deserted early in the morning. Well, it works for us.
We went on a long hike on the Glacier Gorge Trailhead back to Alberta Falls. There were lots of wildflowers, and the falls itself was overflowing its banks because of the all runoff from the spring melt.
Shortly after we got in the car and started to go, there was a huge male elk in the ditch just off the road.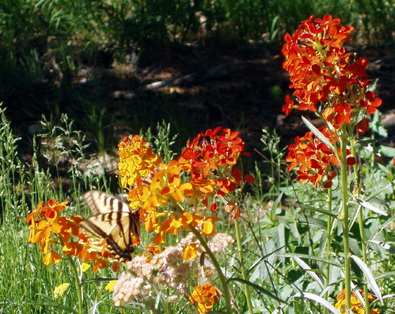 There was also a beautiful group of butterfly weeds near the road, so we stopped and I took some pictures. There were lots of butterflies visiting the beautiful plants.
We went on another hike near the Moraine Park Museum that was about a half mile long, then headed to an area where Big Horn Sheep are often seen at a mineral lick nearby. They were not in sight, but we heard an interesting talk by a ranger about the sheep.
We ate again at the Fall River Visitor Center, and watched the hummingbirds at the feeder there. They are so tiny, but so aggressive to other tiny hummingbirds.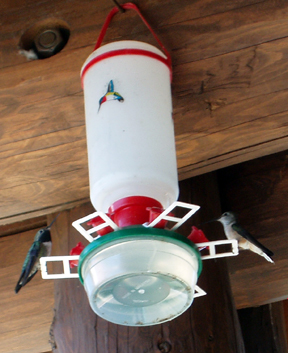 We ate that evening at a little Italian restaurant in downtown Estes Park. I had a tomato based shrimp pasta that was absolutely delicious!
Day 6:
Up early again, we headed out and back into the park.
We went up the mountains again to a different Tundra walk, one again that was up a large hill. A very large hill. We took our time, and watched the yellow bellied marmots scurrying about. The tiny alpine flowers and the rocky landscape made an interesting contrast.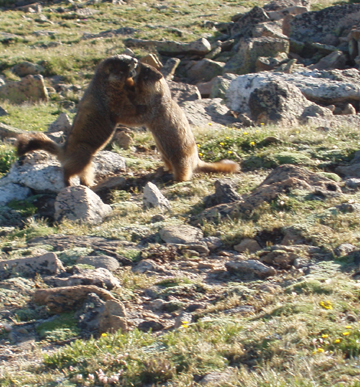 On the way back to the Hyundai, we watched some Pica playing in the rocks also. They were not close enough to photograph. They kind of look like a cross between a mouse and a rabbit, and are about that size.
We stopped at the Alpine Visitor Center, and we bought a beautiful ceramic bison figurine. As you may know, I collect them, though I have cut back drastically on the ones I buy. This was a very pretty one, quite delicate, and we did get it home safely in Joan's carry on.
Driving down, we saw a few herds of elk in the distance, and one large male right next to the road.
We drove to an area that was called the Alluvial Fan where there was a large waterfall.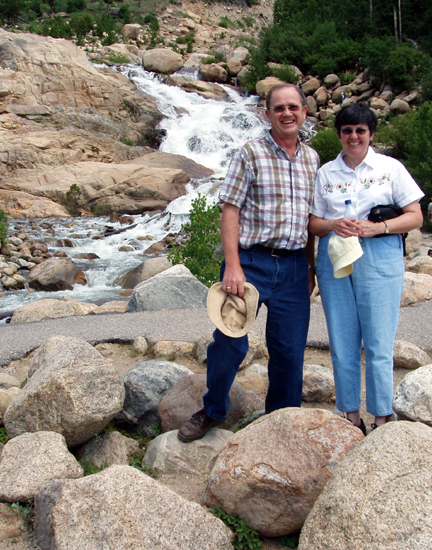 There had been a massive dam break in the 1980's that send millions of gallons down the valley to Estes Park, and this was the remnant. By the size of the huge boulders and massive trees left in its wake, it must have been quite the catastrophe.
We had a nice picnic lunch in Moraine Park, and enjoyed the beautiful scenery while we ate. From there, we walked around Sprague Lake.
We went downtown to Estes Park in the evening, and went out to eat at a very nice Pizza Restaurant. It was our 41st wedding anniversary, so we celebrated with a glass of wine, and a delicious meal. We went for a drive later on a road called "Devil's Gorge Road" and it was definitely a gorge! Very pretty, and very crooked.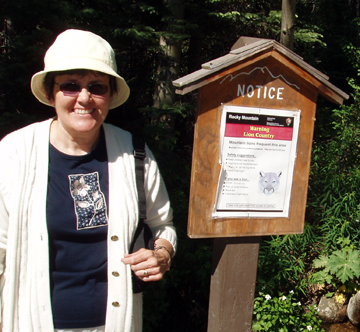 Day 7:
We headed to the park early again. Just outside of town, in someone's lawn, we saw a female elk with her baby browsing on the lawn. I imagine the town is pretty used to these visitors. We drove around some of the same roads we had been on before, but because we were early, we went on a few short treks and had them to ourselves. We walked to Copeland Falls which was overflowing its banks. Very pretty.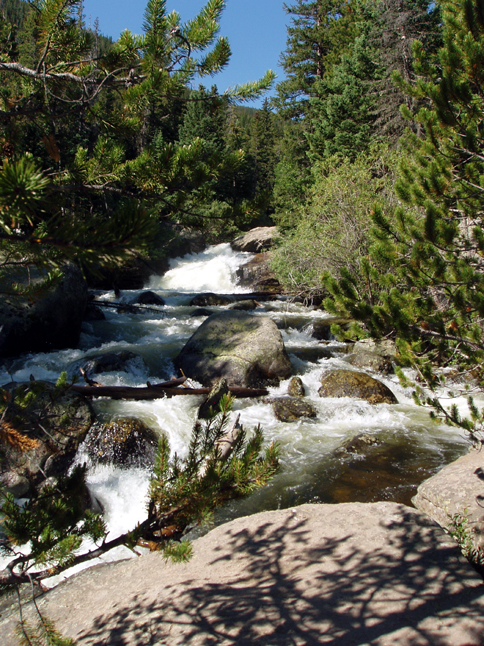 We headed out of the park, toward Black Hawk and on toward Denver and the freeways. We headed to our motel not too far from the airport and hauled all of our luggage in for repacking and the trip home. There was a Mexican restaurant next to the motel, so we had a Mexican meal there. I had kind of a shrimp fajita, though it was called something different, and Joan had some tacos and a wonderful apple/cinnamon/ice cream dessert.
Day 8:
To the airport bright and early, and a smooth flight home. We caught the shuttle bus to our car, and drove home. Scooter was there to greet us, but our neighbors had taken such good care of him that he scarcely greeted us before wandering outside to lay in the sun. It was fun trip, no great adventures, but some absolutely beautiful scenery. I'm sure we'll consider heading this direction again.
+++++++++++++++++++++++++++++++
Afterward: The day after we got back, we wandered out our door to find this fawn tucked into the pines: