Mesa, Tombstone, Tucson, Yuma, Sedona, Arizona
January 10-20, 2011
You know, some winters seem much longer than others, and the one that seems the longest is the one you are living at the moment. This winter seemed like one of those unending ones, so I was really looking forward to flying to Arizona. We flew out on January 10th via Sun Country Airlines. This made it easier, since it's in the "little" terminal, and there's so much less hassle.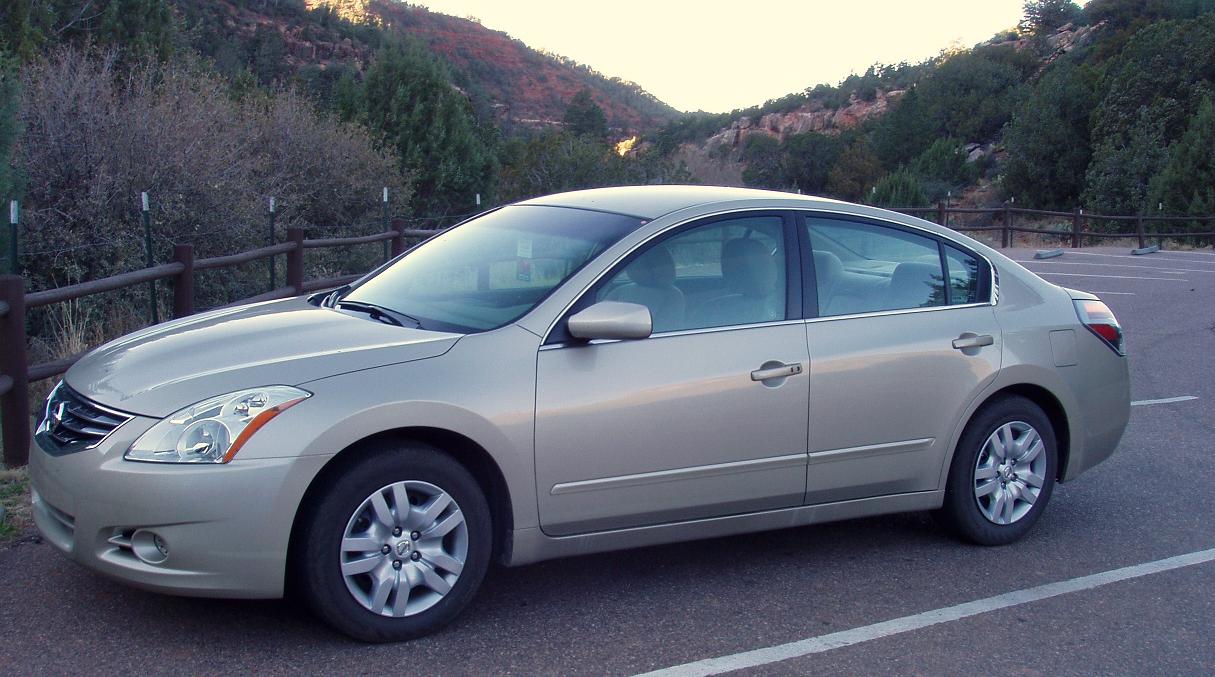 It was a smooth flight, and it was dark by the time we landed. I prefer flying early in the day, and getting to our destination so there's still time to do stuff, but sometimes there is no choice. After getting our luggage, and riding the shuttle quite a distance to the car rental facility, we got our car. It was new Nissan Altima. It had some new features I was not familiar with, such as not having a key, rather a remote that didn't have to be anywhere but in your pocket. So I couldn't get the car started. I pushed the button, but nothing happened. Back to the rental booth. Oh, you need to have your foot on the brake and push it, and then you can start it! Easy, once you know.
It also had the feature that it could be in "D" for drive, or you could have six speed manual shifting without needing a clutch. This was nice in some of the more mountainous country, since I could downshift easily, rather than riding the brakes.
We headed to my sister Lola and her husband Dale's rental home that they have for three months in Mesa.
With the GPS it was easy to find, and it felt good to relax and visit and have nice meal with a little wine.
The next morning, we headed off for a couple days toward Tombstone, site of the Gunfight at OK Corral, and other points of interest in that part of the country. Tombstone has a colorful history but it is really made up mostly of tourist shops with a little emphasis on the history.
We saw the actual location where the gunfight took place between the Earps and the Clantons. We were both amazed at how close everyone was together.
The weather was a wonderful contrast from what we had left behind in Minnesota. It was sunny all day, and got to about 67 in the afternoon.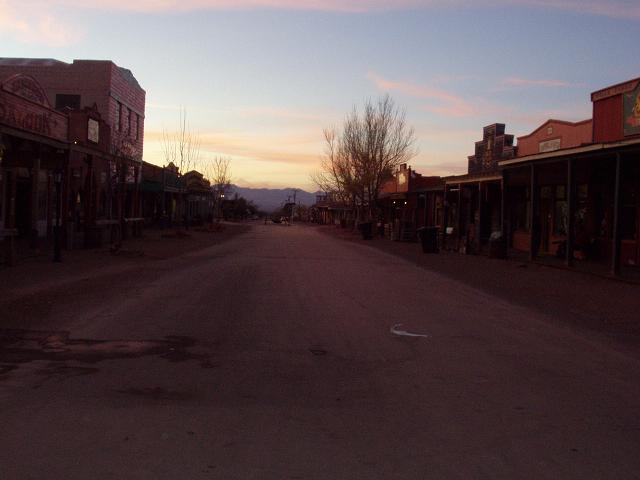 We had our evening meal in Tombstone, and headed back to our vehicle just as the sun was setting, which made a very pretty view.
The next morning was bright and sunny and cool for Arizona standards. We headed out into the country to try to find a couple of ghost towns that had been abandoned for many decades. The back roads were often gravel, and it was rare even to find a house or building. We did find some ruins in a couple of places and walked around briefly. We then headed toward Tucson. We avoided the city proper because of the disruptions there due to the assassination attempt and killings that had happened a few days before on Gabrielle Gifford, and President Obama was expected that evening to give the memorial address.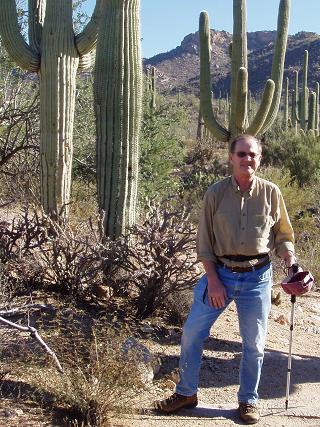 We went to the Saguaro National Park, East Drive, and spent a good deal of time walking and driving among the large cactus that have the arms. I didn't know that those cactus have to be about sixty years old before they even start forming those arms.
While I was taking the picture of Joan by the interesting cactus, I backed up a bit too far, and a small prickly cactus decided to latch itself to my calf by way of its many thorny stickers.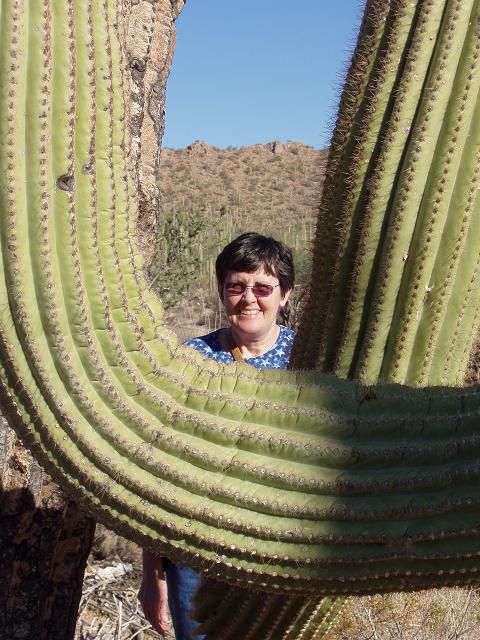 The piece broke off the cactus plant as it latched to my leg, and it took a bit of doing and a couple more piercings to my fingers before I was able to unlodge the piece. Ah, adventure.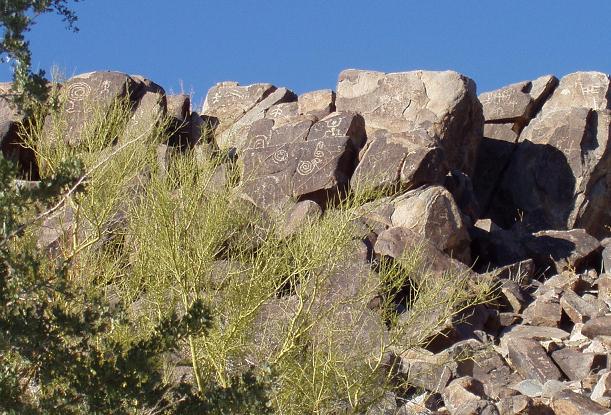 We did some more hiking, and on one trail hiked a large hill to a number of petroglyphs left long ago by the native tribes of the area.
We stayed just outside Tucson that evening, tired from a busy day.
The next morning, we headed to the Sonoran Desert Museum. The morning was again bright and sunny, and a light coat was all that was needed. We walked around the large areas, and saw many natural displays of the flora and fauna of the area. There was a birds in flight demonstration that featured several of the local owls, hawks, etc. in action.
From there, we were off again, this time toward the Casa Grande site where there were ruins of an immense structure about 600 years old that was three stories high. Then it was back to Lola and Dale's in Mesa where we spent the night.
The next morning, we headed off to an immense flea market where we bought a few things we didn't realize we needed including a couple little cactus to bring back to Minnesota as a reminder of our trip.
We spent the rest of the day just kind of relaxing, sitting outside reading, and enjoying the warmth and sun.
On Saturday, Dale and Lola, and Joan and I headed from Mesa to Yuma, which is at the border of Arizona and California. We went there to meet my brother, Rod, and his wife, Joanne at the Quechan Casino.
We got there early enough that we went to the Yuma Territorial Prison State Park, which was a restored prison from the late 19th century. It was pretty primitive, and not somewhere where anyone would have wanted to be in the heat of summer or cold of winter.
We headed to the casino, got registered, and had to gamble a little bit, though both Joan and I are very conservative in our risking any large sums of money. We had a great meal with Rod and Joanne, and Dale and Lola, and it was fun catching up with everyone.
We gambled a little more that night, and when it was all over, I think we left slightly better than when we had started, but we didn't keep a close tally.
Late in the morning, we headed back toward Mesa and to Lola and Dale's house. The weather was beautiful with a high of 78.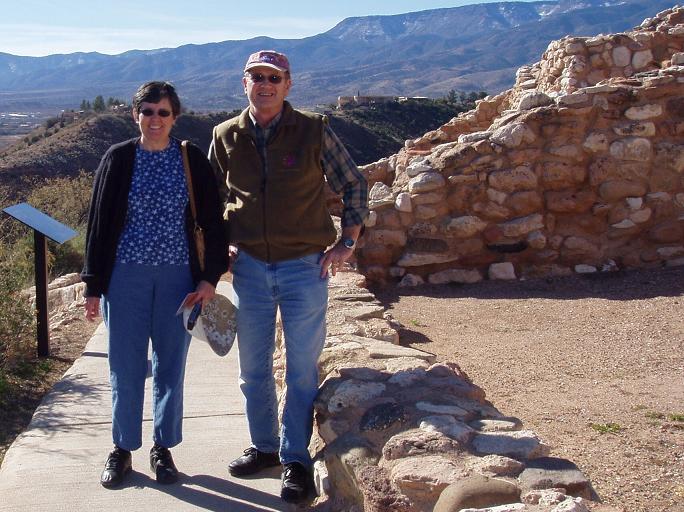 The next morning, Joan and I headed off toward Sedona. We stopped at the Tuzigoot National Monument which was a large multi-story pueblo with many rooms high on a hill. It was a very large site with a great view of the surrounding country.
We soon reached the red rock country around Sedona on another beautiful sunny day.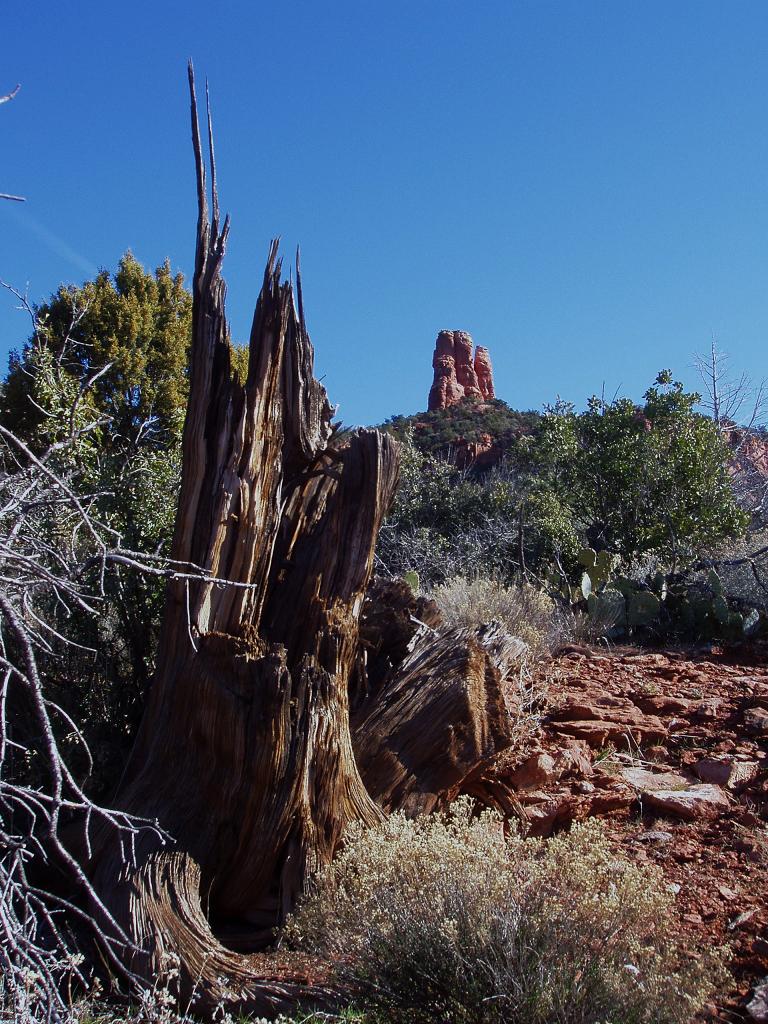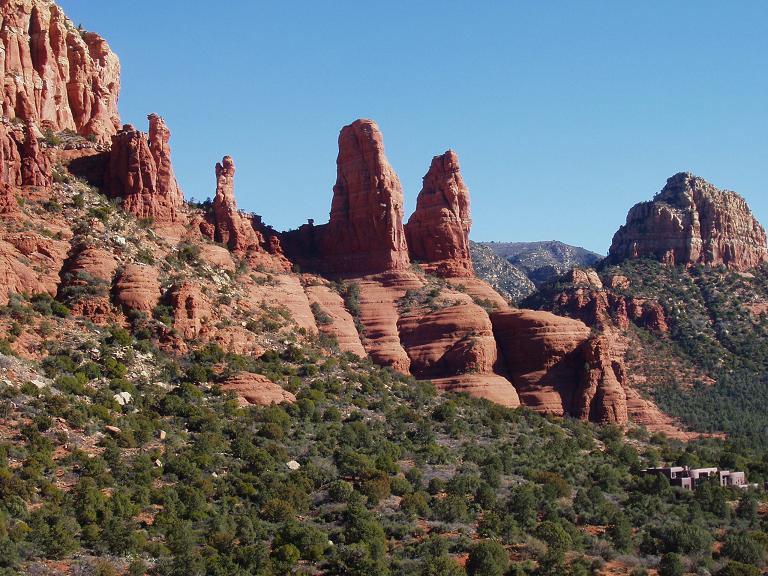 We drove to the Village of Oak Creek and found our motel, and then drove to see a number of petroglyphs on a rock wall.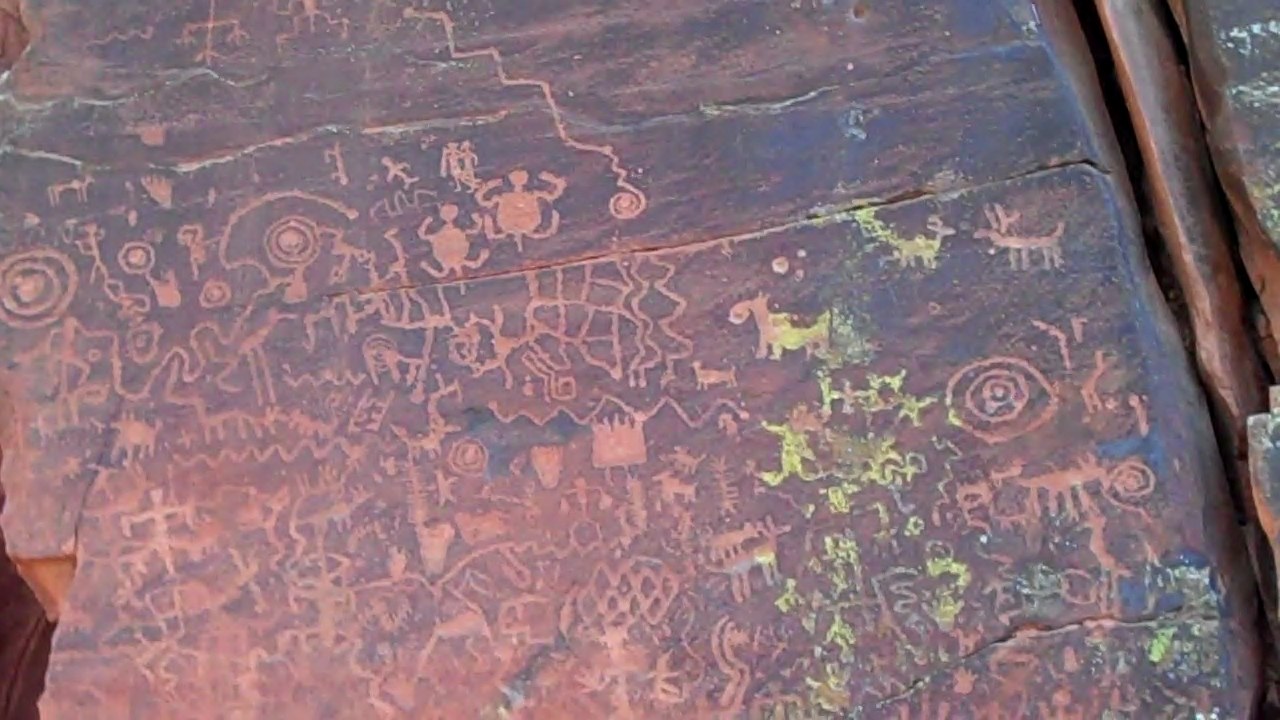 There is a history of hundreds of years and much symbolism involved in the making of these petroglyphs, and they are fascinating to see. They are protected as a "Cultural Site" at the V Bar V Ranch. That evening, we walked to a small pizza place not far from our motel. I had a glass of the local "Sedona" wine along with a delicious handmade pizza.
Sedona itself has really become a tourist town, much more so than when we were there in 2002, and it busy with lots of traffic, so we didn't spend much time there at all. We did take a drive the next morning up the mountain to Oak Creek Vista, and ended up at about 6,000 feet, with the last couple thousand having a lot of snow on the ground. It's a beautiful drive on a very crooked mountain road.
When we got back to the Sedona area, we went for a couple more hikes out among the giant red rocks enjoying the warmth and sun, and beautiful scenery.
We hiked the Lower Chimney Rock Trail, and the Red Rock State Park trail along the river where we watched a bald eagle perched in the distance for quite a while.
After lunch in a small local sandwich shop, we drove to Chapel of the Cross, and walked up the beautiful chapel tucked directly into the rocks.
I joked to Joan that we should call our kids back in Minnesota and complain about all the sun and heat, but she didn't think they would see the humor of it.
On Wednesday morning, the 19th, we headed back toward Phoenix, and had lunch with LaVonne, and her husband, Larry in lower Phoenix. LaVonne and I graduated from high school toegether many many years ago, and have stayed in touch. They have a lovely home, and it was fun to visit with them.
After lunch, we headed to Mesa, and went back to Lola and Dale's. We went to an antique store with Lola in the afternoon, and found a couple of small souvenir pots that would easily fit in our luggage that would be reminders of our time in Arizona.
On Thursday, Dale and his brother, Lynn, headed to a big car show in Phoenix, and Joan and I packed for the trip back to Minnesota. Our flight was in the late afternoon, so we went with Lola to another antique shop near them.
Soon, we did our final packing, said our goodbyes, and headed to the airport to return the rental car, and connect for the flight home. Amazingly, the flight wasn't full, so Joan and I both had aisle seats across from each other with a vacant seat next to each of us. Ah, a little more leg room.
It was very cold, perhaps 16 below or so when we got home, and walked out to the car. It groaned a bit, but then started. When I tried to pay for parking, the credit card machine would not work, I'm sure due to the cold, so I had to back up and go to a real person to finish the transaction. She said that had happened before that night.
We got home a little after 1:00 A.M. to a nice warm house thanks to our neighbors whom we had asked to turn the heat up earlier in the day. And so to bed.
The next morning, this is what our thermometer said. Yes, 39 below. I think it was being overly dramatic, and it really wasn't much more than 20 or 25 below, but it made a great picture to contrast to the warm and sunny times in Arizona.
It was fun trip, and I'm sure we'll do it again.