Arizona: January 22-January 31, 2013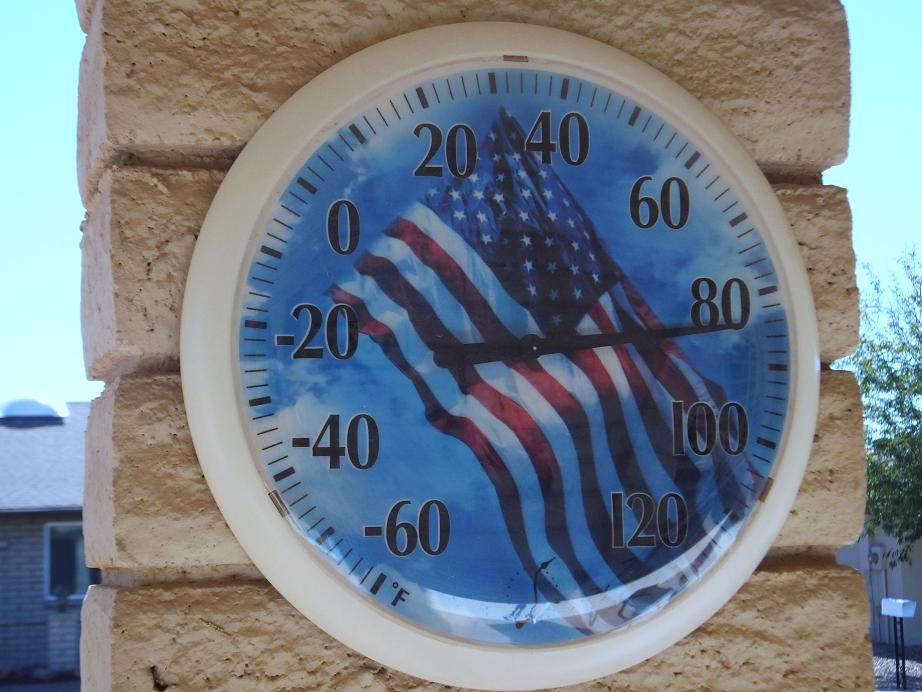 We left via Sun Country when it was 10 below, and flew into Phoenix where it was 78 above. Nice.
We got our rental car and headed to Mesa to my sister Lola and Dale's house, and unpacked a got a bit settled before heading out to a performance in their retirement village by a Johnny Cash impersonator.
The next morning the four of us headed north to Hoover Dam to see the new bridge that had been put in since last we were there. It's very high, but you really can't see much as you drive over it. You need to go to the dam to actually see the bridge and how high it is. You can see it on the far left in this photo of Lola and Dale.
From there, we drove to Laughlin, Nevada for the night. We stayed in a motel next to a casino, and had a buffet at a casino on the Colorado River.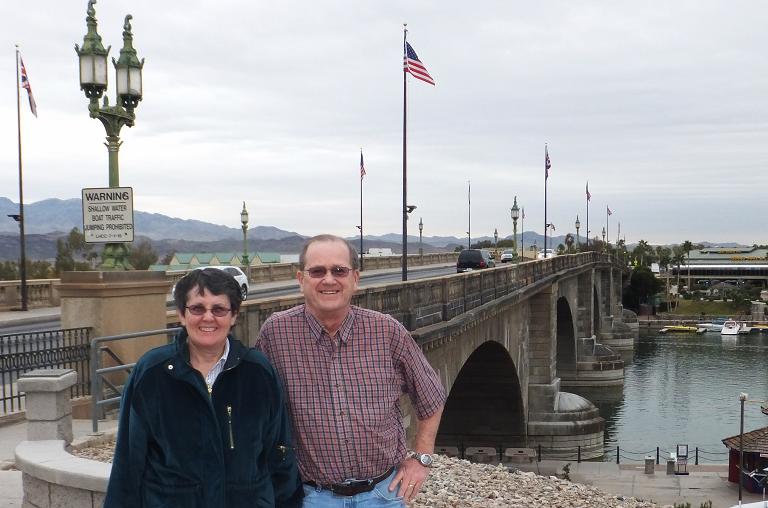 On Thursday, we drove to Havasu to see and walk over the London Bridge (Of "falling down" fame). It was shipped over and reassembled on dry land, and then a river was dug out under it, or more precisely, a canal. I must admit it's an interesting tourist attraction right out in the middle of nowhere.
From there we went south to Yuma, California, and the Quechan Casino where we met my brother, Rod, and his wife, Joanne.
On Friday, we went to the Yuma Marketplace, a flea market of sorts, and stopped at another casino that was way too smoky for everyone's taste. It was fun spending time with Rod and Joanne and Lola and Dale, and attempting to "bring the casino to its knees" as Dale said.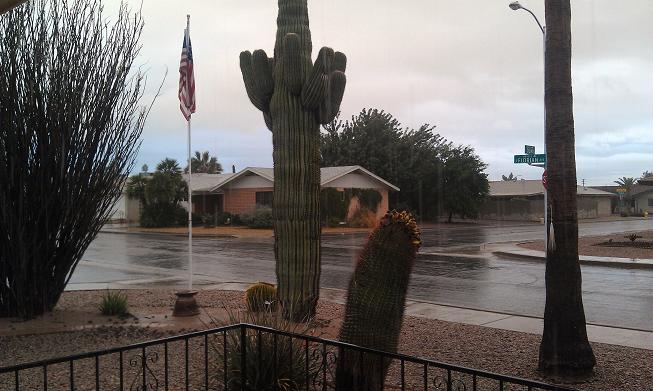 On Saturday, we headed back east after a couple days of rain and cool weather. Interestingly, Yuma, Arizona is known as the sunniest place on earth, with sun shining about 94% of the time. Not for us. It rained all the way back to Mesa, and it was raining there too.
By Sunday, the weather cleared some, and we went to the Mesa swap meet and bought a few little things. On Monday we bummed around at some antique stores, and the Farmer's Market.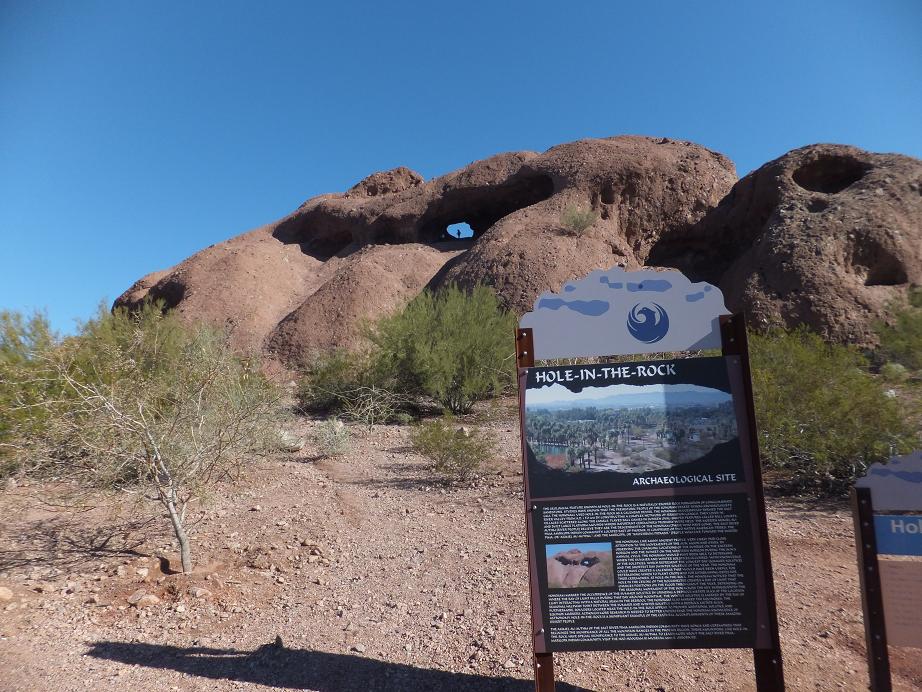 On Tuesday, we drove to Papango Park near the Phoenix Zoo, and hiked to the Hole in the Rock. Well named. It was a nice hike and a good view of Phoenix from the top.
From there we went to the Phoenix Zoo, and spent the afternoon there.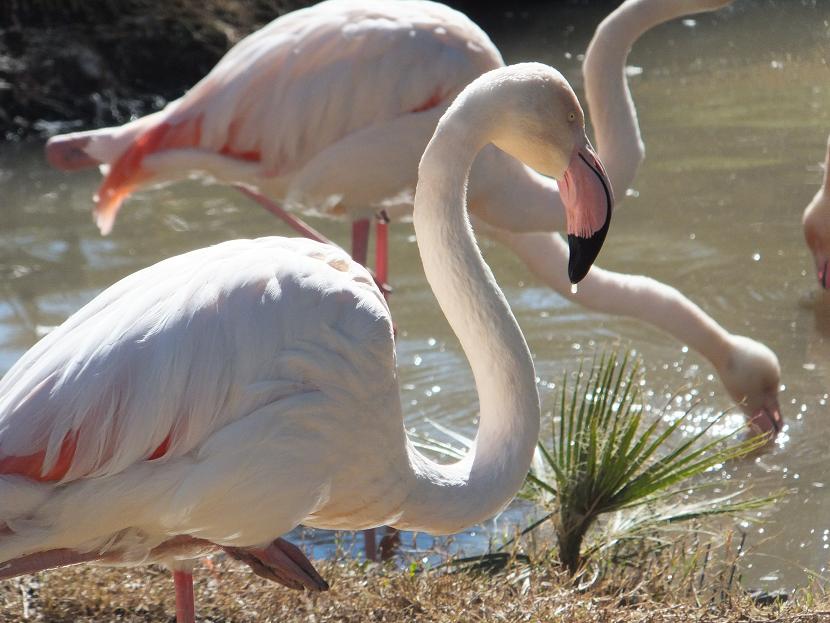 On Wednesday, we took a drive to Tortilla Flats on the Apache Trail. It was very rough and filled with potholes from all the rain, so we had to take it slow. This is a great drive for scenery, and the road is rough and narrow, so it's exciting too! the box canyon is one of most spectacular views.
The bar/restaurant at Tortilla Flats has one dollar bills with messages on them plastered all over the walls. The food was actually pretty good!
Dale's cousin and his wife arrived from Minnesota, and we all went to a Patsy Cline Show in the evening at the retirement village, and it was quite good.
The next day, Thursday, the 31st, we headed back to Minnesota after a very enjoyable winter respite.
'