Arizona and California, January 28-February 10, 2014
Due to the double digit below zero temperatures and high winds, we went down to Richfield the day before our flight so we'd have a short drive in the morning. It also gave us a chance to go out to eat with Kent, Chrysa, and Phoebe.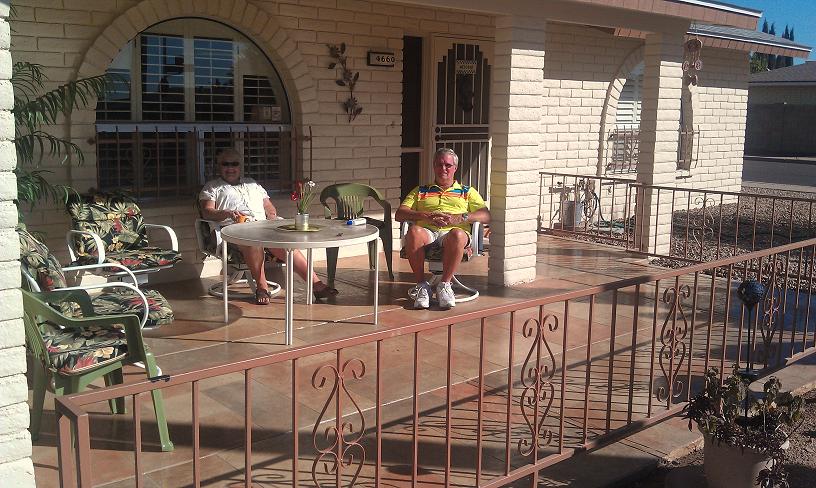 The flight to Phoenix was a great chance to leave the 20 below temperatures that morning. When we got to Mesa, and Lola and Dale's (My sister and brother in law) it was 80 degrees on their patio, so it was 100 degrees warmer!
That evening, we went to a "country" dinner and some musical entertainment at the retirement village where Lola and Dale stay for the winter months.
The next morning, we headed out to Gilbert to see the new Mormon Temple that was just built. It was immense and quite elegant with lots of marble, stained glass, and crystal chandeliers. It was a long walking tour over the five stories, and we were given little plastic booties to wear to keep the carpets clean. No photos were allowed inside.
On Thursday, January 30, we headed toward Yuma and a stay at the Quechan Casino. We met my brother, Rod, and his wife, Joanne there, and stayed for two days. We had some delicious meals, went to a swap meet, and lost some money gambling. On Saturday, we headed back to Mesa with Lola and Dale.
On Sunday, February 2, no one in Arizona really cared if the groundhog saw his shadow. We headed west again.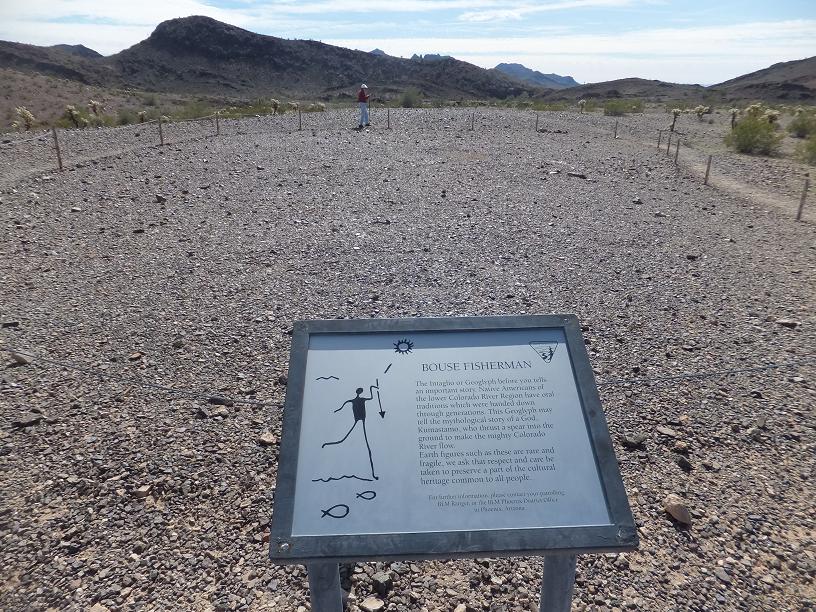 We stopped near Quartzite to have lunch, and went to see a prehistoric drawing made of small rocks in the desert called the Bouse Fisherman, and then on toward Desert Hot Springs, just outside Palm Springs.
We stayed in a bed and breakfast out in a residential neighborhood, so it was nice and quiet, and the room worked out just great.
In driving around we were amazed at the amount of wind turbines that had been added since our last visit. Although they ruin the landscape, they luckily have them concentrated only in specific areas.
On Monday morning we headed off toward Joshua Tree National Park and went on several hikes in the area.
We hiked to Barker Dam, Keys Views, Cap Rock, and Arch Rock. It was cool but comfortable for hiking, especially as the day went on the sun felt great!
We also saw "Skull Rock" and the tallest Joshua Tree. That was enough for the day so we headed back for a great meal of shrimp and scallops at a restaurant called "Sidewinders" in Desert Hot Springs.
The next morning it was cool again, but the sun was shining, so we drove to Morongo Canyon Preserve to hike. We noted the sign about the mountain lion so I took Joan's photo by it for a friend of ours who thinks we're crazy doing some of the things we do.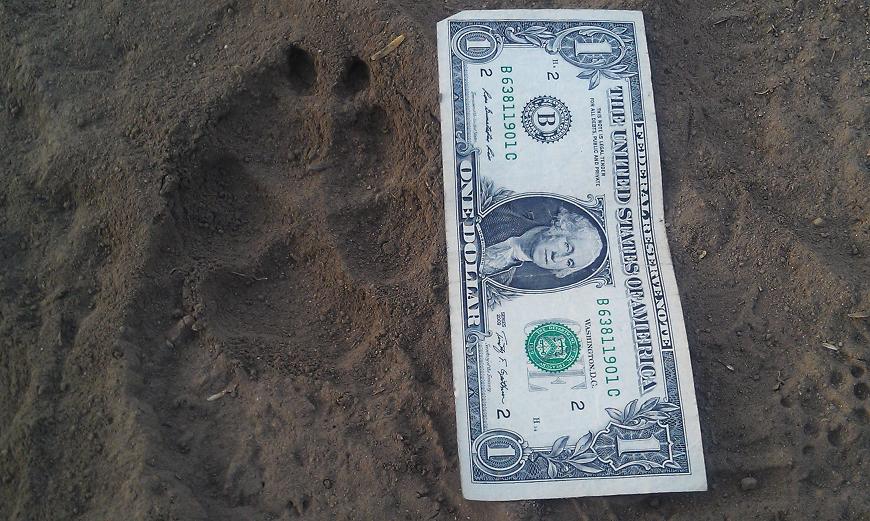 Of course, later on the trail, what should we spot but an enormous track that could only have been made by the mountain lion. I really wasn't too worried about it though, since there were two of us, and most of the trail was pretty open. It does get the adrenalin going a bit though.
From there, we headed back into Joshua Tree National Park to an area we had missed the first day. It's an immense park. We hiked on a very pretty trail called "Hidden Valley".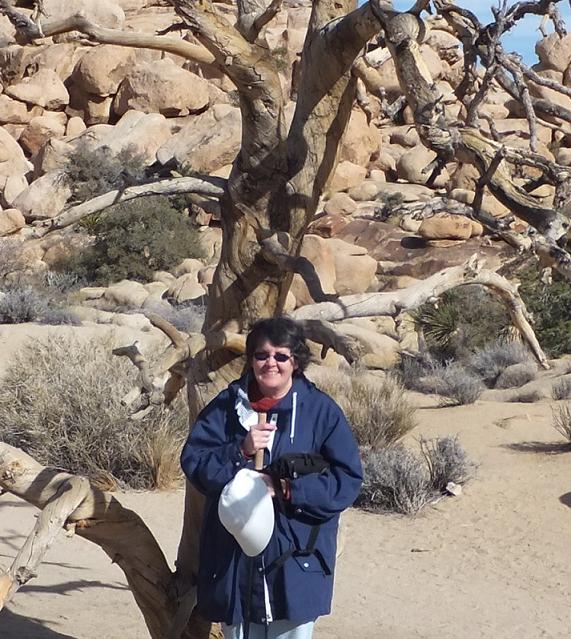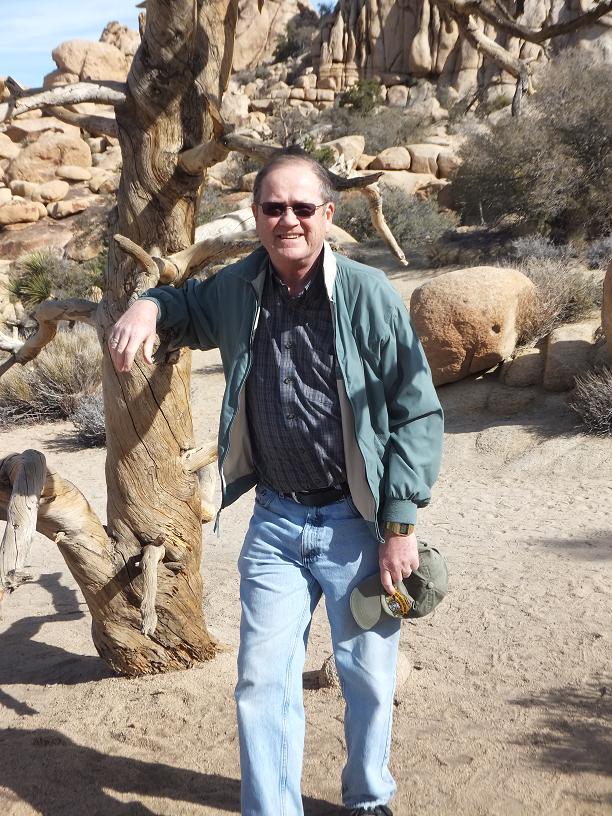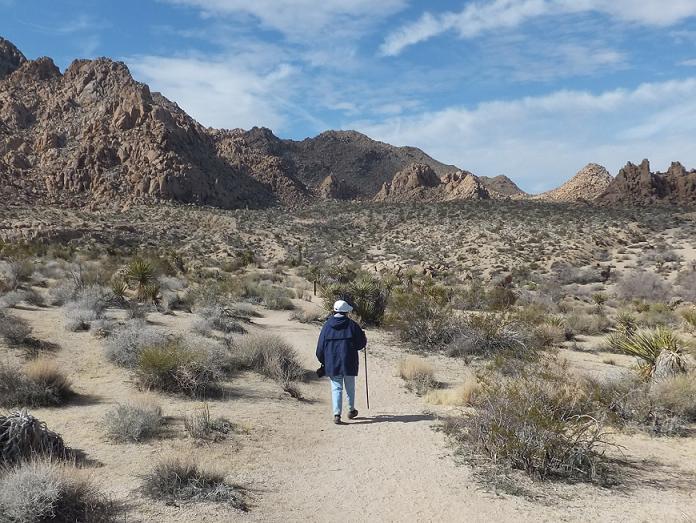 We had lunch at a restaurant on the edge of the park, and then went to the Desert Cove area, and hiked a bit more. The day was sunny and beautiful.
On Wednesday, February 5, we drove back to Mesa to Lola and Dale's, and had a quiet afternoon and evening. Thursday morning, Joan went with Lola to her quilting group, while Dale and I went to see "Lone Survivor" at the movie theater. We went to an enormous Chinese buffet for lunch, and had a quiet afternoon on the patio in the sun.
Some of the sunsets in the evening were just beautiful. They were short lived, though, so you had to be looking at just the right time, but it was well worth it!
On Friday, we went and shopped at a couple of antique stores, but found nothing worth taking up valuable luggage space, and Joan found a new pair of tennis shoes to replace those that had worn out this trip. In the afternoon, we went to the Desert Botanical Garden for an exhibition of Chihuly glass that was spread out throughout the gardens. The displays were spectacular!
On Saturday, we went to a swap meet in Mesa, and walked around for a couple hours with Lola and Dale. They bought a large ornamental display for the outside wall on their patio, and we picked up a few nuts and candies to bring back home. We had a late lunch at a very nice Mexican restaurant, and a quiet afternoon of reading and Olympics watching.
Sunday was another quiet day with temperatures in the 70's and sunny. We went for a long walk, and we had a wonderful chicken dinner. In the evening, we started packing for our return. The temperatures in Minnesota had gone to below zero every night we had been gone, and unfortunately, that's what we had waiting for us. We had a pretty quiet trip back, got our car, and drove home.
It was a great respite from the cold though, and we thank Dale and Lola for their wonderful hospitality!