<![if !vml]>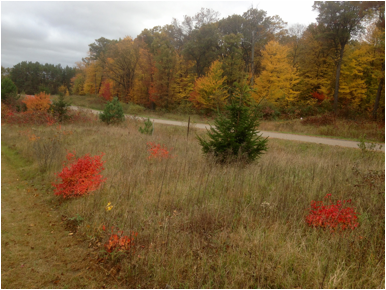 <![endif]>Trip To California
October 22-28th, 2015
I flew out of Minnesota just after the peak of the autumn colors and headed to Sacramento, California, as I have done about 17 times previously. My first trip was in 1996.
There was no backpacking or sleeping on rocks on this trip; it was more about seeing some of the sites of California.
My dear friend Mike had suggested several months ago to forego the trek to the Ishi Wilderness, and instead see a part of California I hadnÕt seen before. This sounded pretty good to me, since I always enjoy exploring new areas. With his background and experience in archeology, it always gives an added level of knowledge and appreciation that I wouldnÕt have gotten any other way.
MikeÕs wife, Lauri, was a welcome companion on the trip.
<![if !vml]>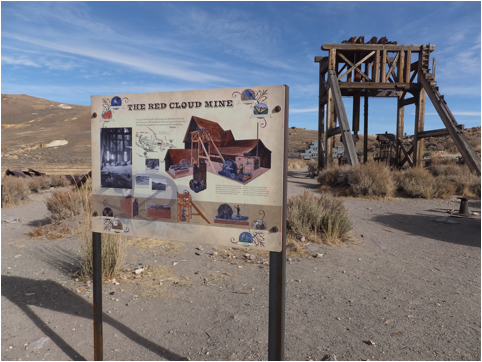 <![endif]><![if !vml]>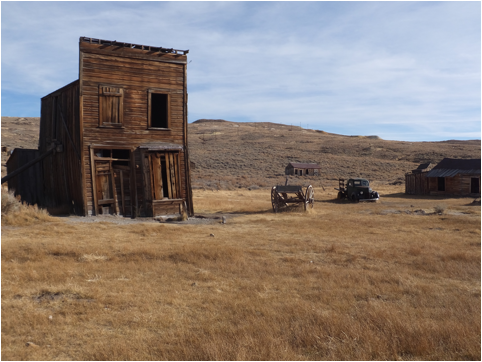 <![endif]>The next morning, we headed off toward the places we wanted to see. Bodie, a deserted mining town that has been preserved, was the first stop. The road to Bodie was a dusty, bumpy challenge in itself. The town was built around the mining operations of the area, and it was literally in the middle of nowhere. It was hard to imagine living here.
<![if !vml]>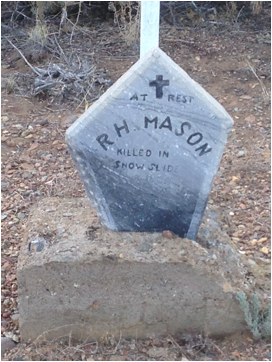 <![endif]><![if !vml]>

<![endif]>Next stop was a little memorial to a number of folks who were killed in a massive avalanche in 1911 literally wiping out the entire town of Jordan. A drive on a little dirt road took us to the little cemetery where some of the victims were buried.
<![if !vml]>
<![endif]>
Soon we headed to Bishop where we spent the night. Next morning we went to the Paiute-Shoshone Cultural Center and spent some time looking at the exhibits.
<![if !vml]>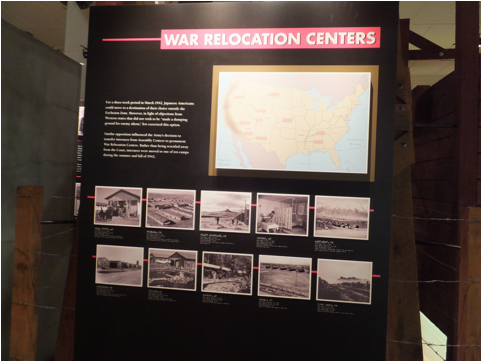 <![endif]>
The next stop on our journey was at the Manzanar Japanese Relocation Center. This site has been rebuilt in places to give you a feel for the conditions and beliefs that were held at the time. ItÕs a rather sad place to visit but it does give one an understanding of what was going on at the time, and hopefully will never happen again. The site was immense, with several thousand Japanese families kept here as prisoners.
<![if !vml]>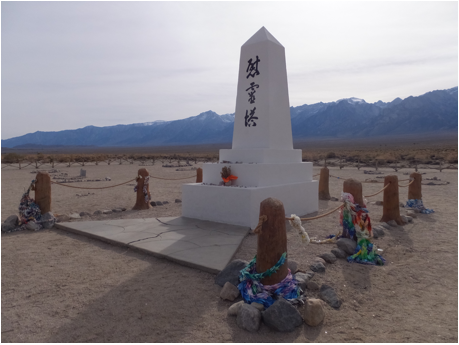 <![endif]>
<![if !vml]>
<![endif]>
We made a brief stop along the highway at a site where an earthquake killed several people, and they are buried near the site.
<![if !vml]>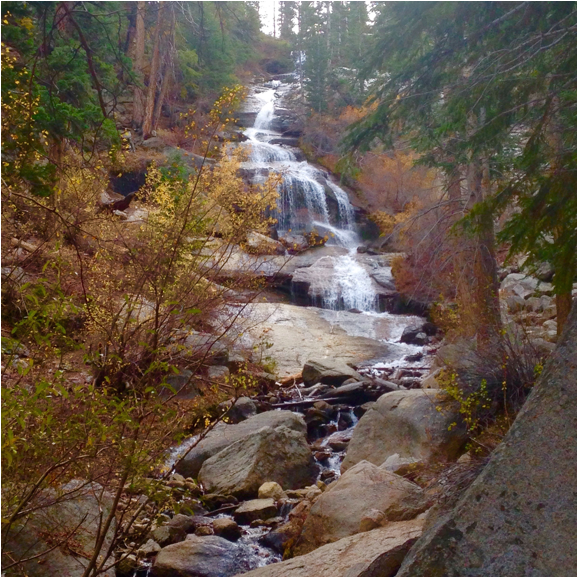 <![endif]>
From there, it was on to Lone Pine, and the beautiful mountains. Mount Whitney, the tallest mountain in the continental United States, is located there. ItÕs about 10,000 feet tall, and you can drive about half way. The rest of the way is pretty much vertical trail. We skipped that part. This beautiful waterfall was close to where we parked.
We did hike around the area, and I was glad Mike had loaned me a light coat, since it was a little chilly. It was getting late in the afternoon, so we headed back to our motel in Lone Pine. It was called the Dow Motel, and it had many photos of movie stars who had stayed there in past years. Mike and Lauri stayed in the ÒGene Autry RoomÓ. Mine was unnamed.
<![if !vml]>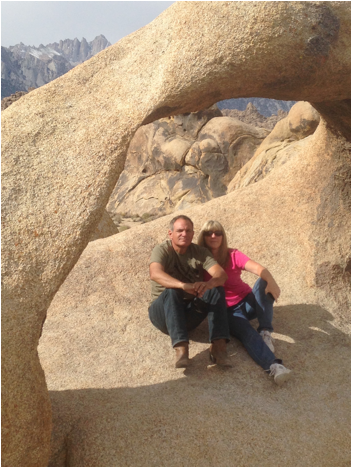 <![endif]>
<![if !vml]>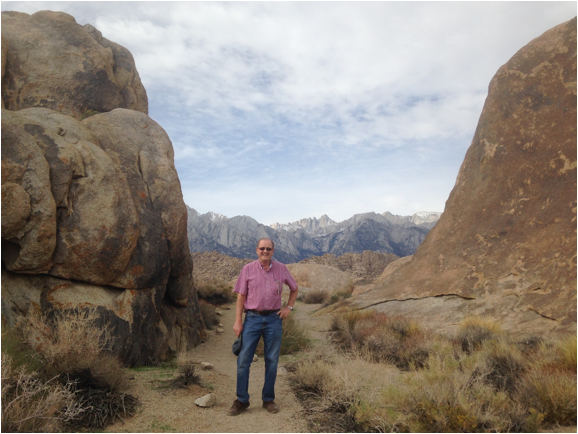 <![endif]>The next morning, we headed to the Alabama Hills area where over two hundred movies have been filmed over the last 90 years or so. Almost all the early cowboy movies had this area as a backdrop.
We hiked several trails in the hills and saw some very interesting formations.
<![if !vml]>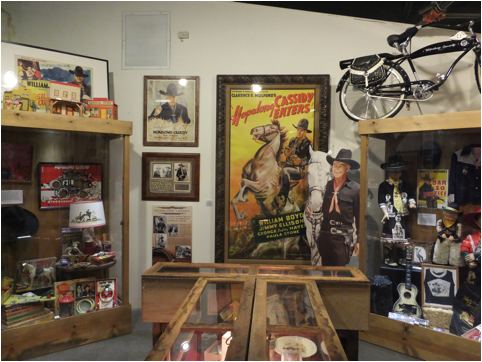 <![endif]>
We stopped at the movie museum just outside of Lone Pine to see all the photos, memorabilia and props that had been used in many of the movies that were made in the area, and then headed out of town to an area Mike knew that had petroglyphs in a remote place.
<![if !vml]>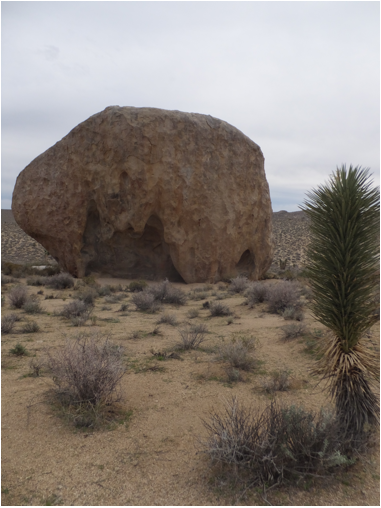 <![endif]>
<![if !vml]>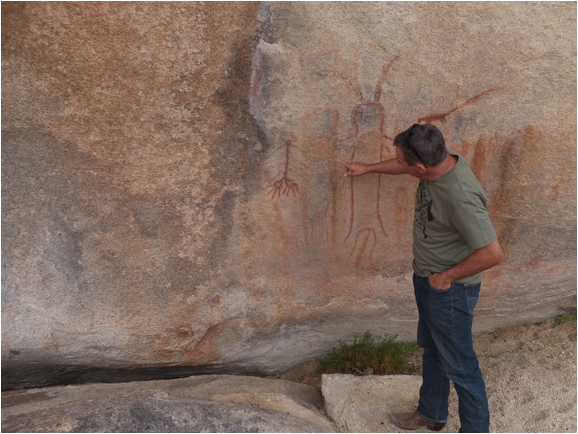 <![endif]>
There were many Joshua trees in the area, and we hiked quite a distance to a large boulder that had been named ÒAyers RockÓ because it was so much bigger than its surrounding neighbors. There was obsidian flaking throughout the area, so you knew the area had been occupied for many many years.
Next stop was to the Fossil Falls, which is a dried up river bed of basalt that has eroded over the last several millennia, and potholes and deep erosions in the basalt have occurred. It is quite deep in places, and there were some interesting formations.
<![if !vml]>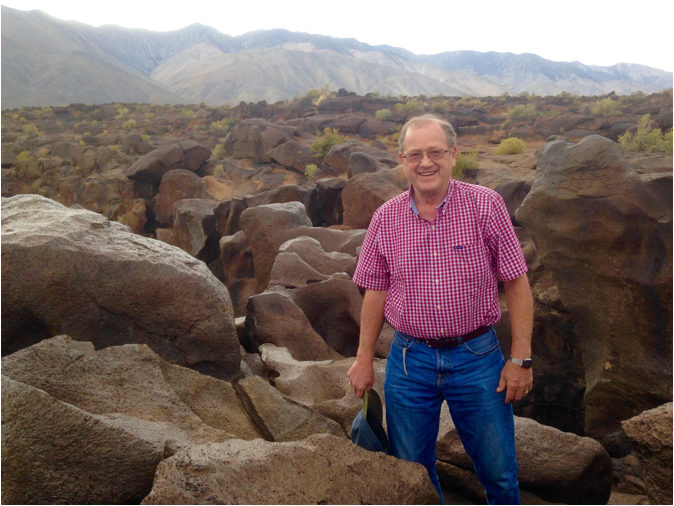 <![endif]>
We headed back to Lone Pine in the late afternoon, and went out to have our evening meal in a place within walking distance from our motel. The next morning, we would be heading back toward Mike and LauriÕs home.
<![if !vml]>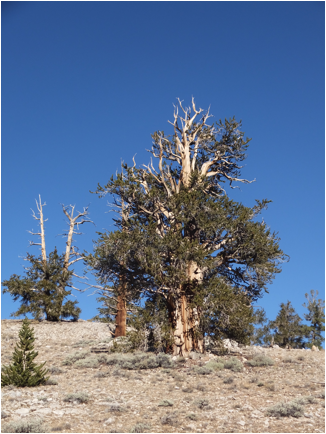 <![endif]>The next morning was another beautiful day. We had breakfast, and then headed toward the Ancient Bristlecone Pine Forest <![if !vml]>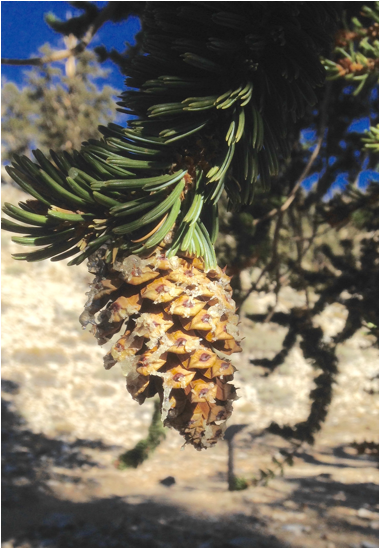 <![endif]>where some of the older trees are 4,700 years old. It was cool, and there was a little snow on the ground due to the altitude we were at. It was a bumpy, crooked, hair pin turned road that brought us here, but the ride was worth the experience of seeing the forest.
From there, we continued back toward the Sacramento area through the mountains with some beautiful sights.
<![if !vml]>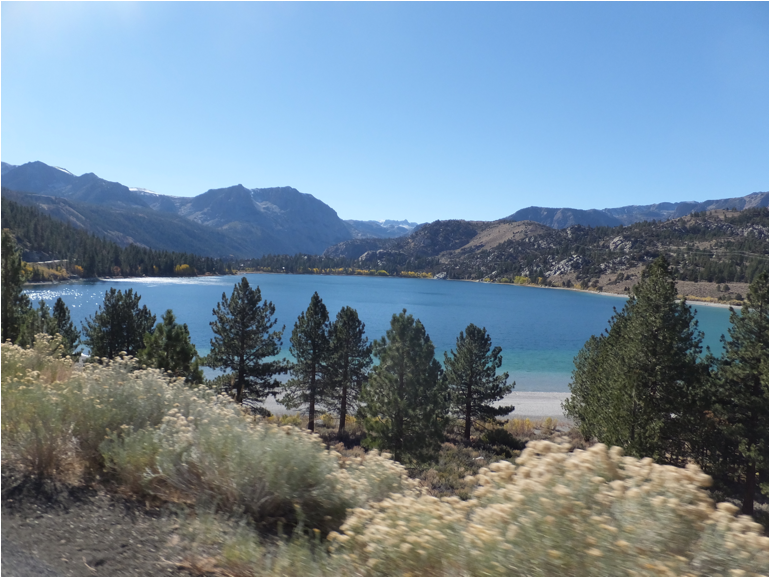 <![endif]>
HereÕs one of the majestic little lakes we drove by that was just a little way off the main road.
<![if !vml]>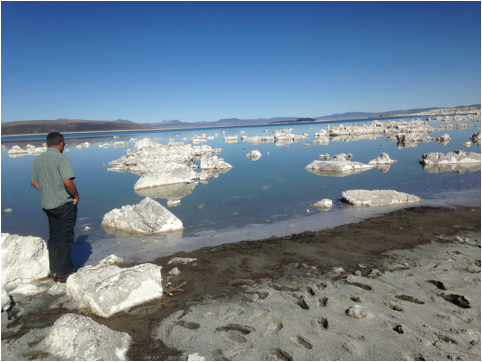 <![endif]>One of our last stops was at Mono Lake, which has a very high salt content. So high, in fact, that it builds up on anything around it and minerals bubbling up from the bottom have formed these strange formations, called tufa towers. ItÕs a rather alien looking environment.
<![if !vml]>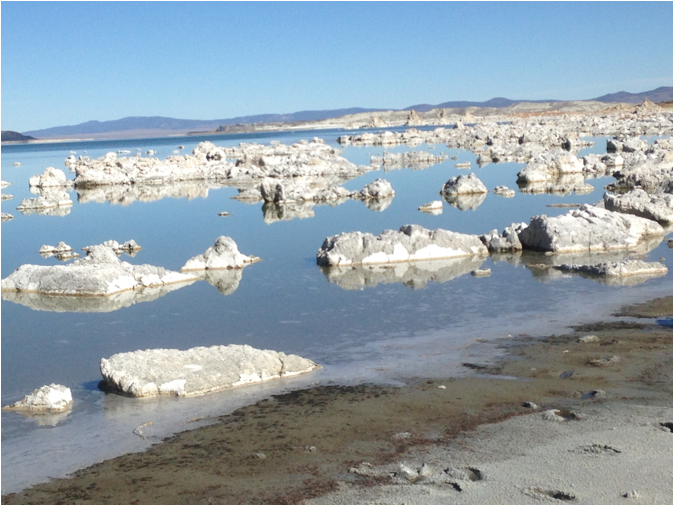 <![endif]>
<![if !vml]>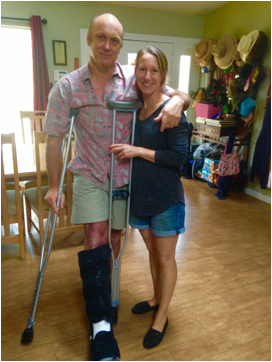 <![endif]>We ate at Placerville at a wonderful Pizza place, and then headed back to Citrus Heights and home.
The next morning Mike and I headed to Shingle Springs to visit Bob and Sara. Bob had been with us on the trip to the Ishi Wilderness last <![if !vml]>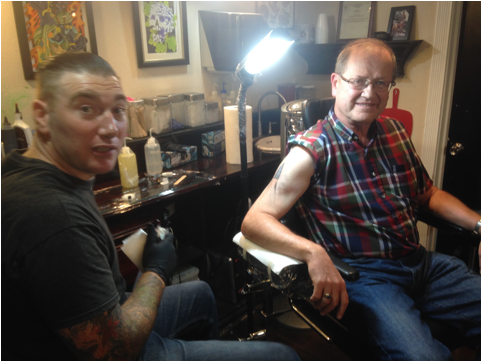 <![endif]>year, but this year he is laid up with a broken foot, and is pretty much homebound. Hopefully he will be on the road to a full recovery soon.
That evening, Richard Burrill and Janice came to Mike and LauriÕs for dinner and conversation. Upon my arrival, I had gone to see Tony, who had given me the Ishi Point tattoo a year ago. He didnÕt like the way it turned out, and offered to fix it, so I took him up on his offer. He gave me a beautiful Ishi Point he had flintknapped, and and I really appreciated it. Richard had not seen my tattoo, and he was pretty flabbergasted when he saw it. He was actually speechless for a couple minutes, which is pretty unusual for Richard!
We had a really nice visit, and Richard and Janice soon headed out, and I packed for a very early morning flight.
Mike brought me to the airport about 5:00 A.M., and I got checked in for the flight back. It was a smooth flight as I recalled some of the wonderful memories of the trip.
IÕm very blessed.