Canadian Rockies, July 14-27th, 2014
On July 14, 2014, we started out on a two week trip to the Canadian Rockies. On the way we stopped at the overlook at Theodore Roosevelt National Park. We had filled our gas tank with E 85 gas and later on the engine light came on. Also, the gas mileage was awful! After two fills of regular gas the light came off, which was a big relief!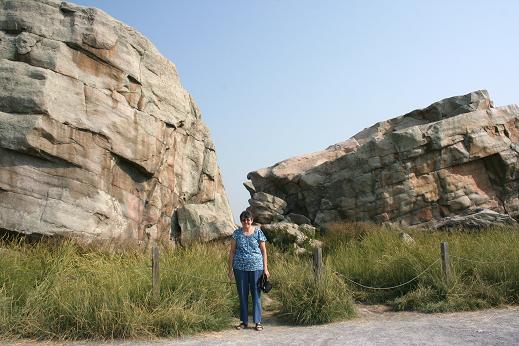 Going through Montana we saw several deer and a herd of pronghorn. We stayed in Glendive our first night, and ate at a Smokehouse and had a great meal. We had some salmon and pulled pork. The next day we headed to Lethbridge in Canada.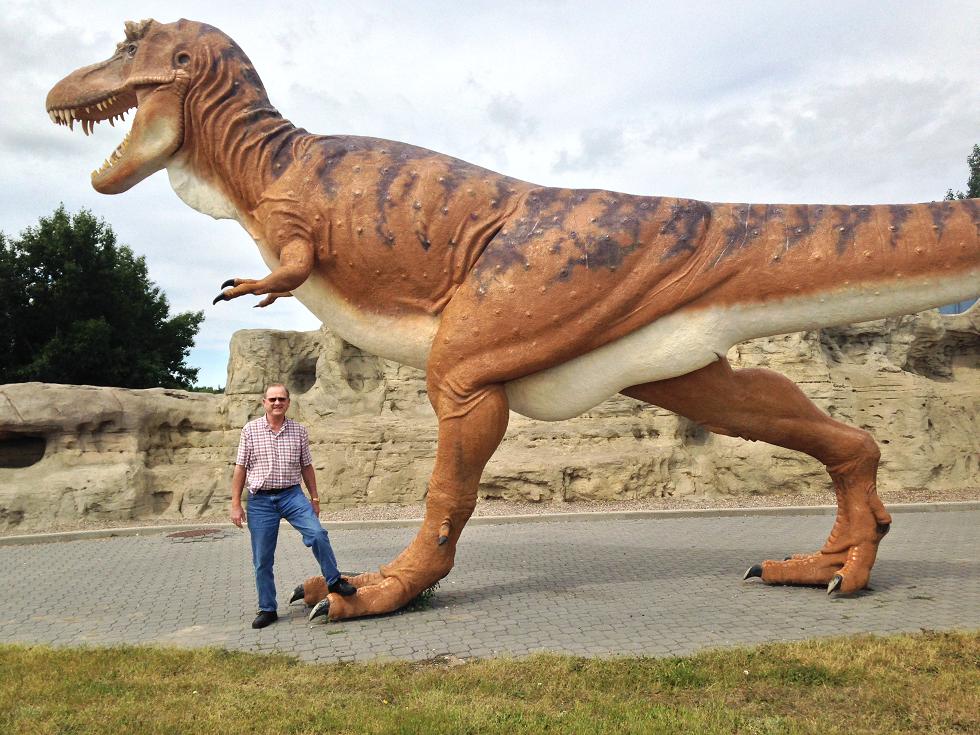 The sun was red due to forest fire smoke and it was very hazy. We stopped to see the Oketoks Erratics, huge quartzite boulders left by the glaciers and moved hundreds of miles.
Our next stop was Canmore, just south of Banff. We drove up the Three Sister's Parkway and walked along the Bow River Walkway. Next we drove up the Lake Winnawanka Road to see a large reservoir, driving on top of the dam itself. At both Lake Louise and Moraine Lake it was hard to find a parking spot and it was very crowded. There were buses of visitors from Japan, Germany, and China throughout our trip.
After one night in Canmore we headed north on Highway 1 to Valemount, which is east of Jasper, for two nights. We saw a black bear crossing the road ahead of us and when on the Bow Valley Parkway we saw a deer cross the road and watched a black bear as it walked parallel to us near the road in a picnic area. Joan thought Roger got a bit close with the car, since she had her window down to get pictures!
The Peyto Lake View was beautiful.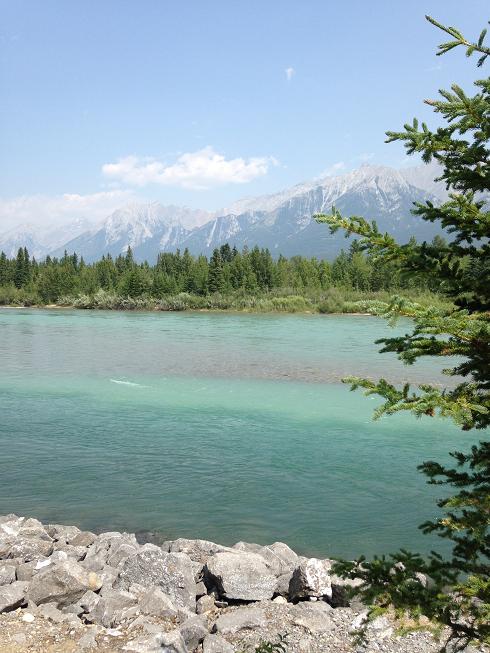 There were lots of mosquitoes there however, as well as a lot of smoke. We were stopped along the road to warn us about the fire in the area. We saw burned trees that were still smoking. At the ice field/glacier there was a new hotel and visitor center where we ate lunch. The place was crowded with people, making it almost impossible to get around. Joan had injured her leg prior to the trip, so the long stairways at the center were hard to navigate.
Since much hiking was out of the question with Joan's bad leg, we drove around Valemout looking for wildlife, even heading up a primitive logging road with no success. On the way back to Jasper the second day, we saw a caribou.
On the aerial tramway in Jasper it was very smoky and cloudy, but the ride to the top of the mountain was exciting.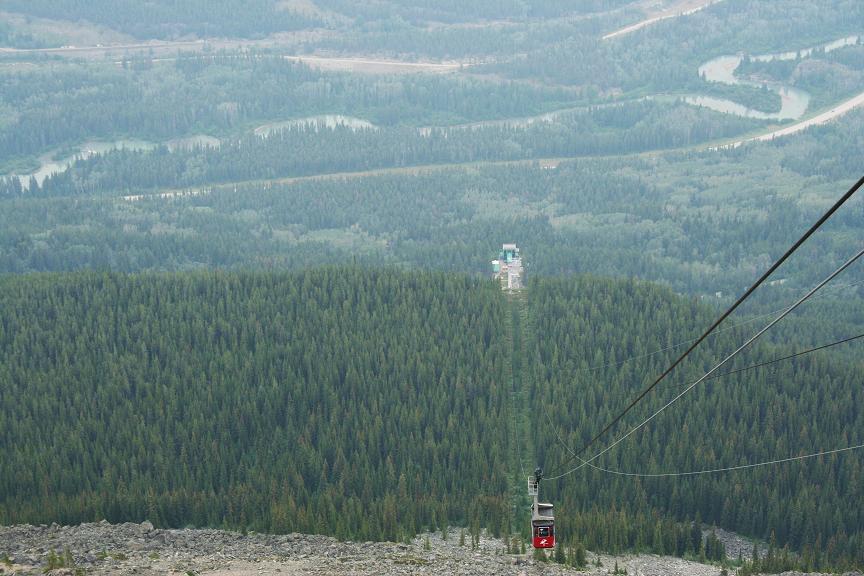 At the top we saw a ground squirrel and a hoary marmot. It was cold and windy. Heading south on 93 we saw a mule deer. Athabaska Falls was very impressive!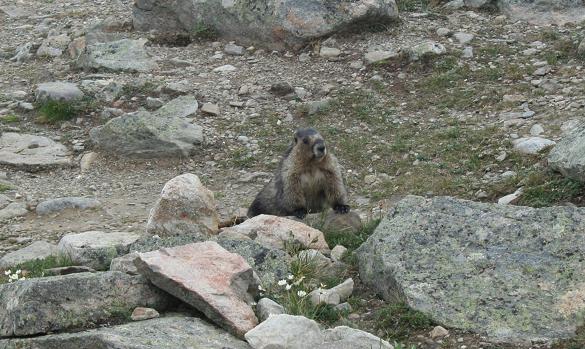 Back on 93A we watched a light brown black bear foraging close to the road. We also spotted another black bear. We drove up Mt. Edith Cavell and saw glaciers at 5700' on nearby mountains. It was a beautiful drive up on mountain roads with lots of exciting hairpin curves.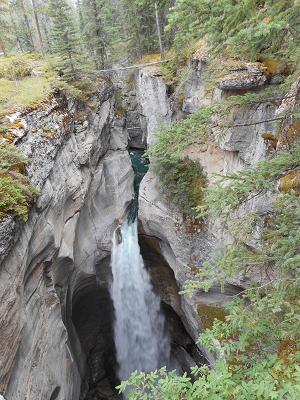 After lunch in Jasper we went out to the very deep Maligne Canyon. It was like a smaller grand canyon!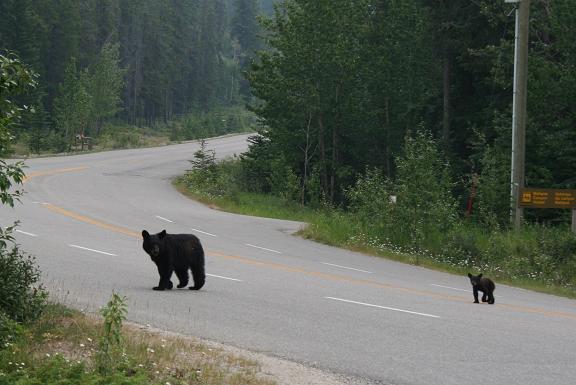 As we were leaving we saw a black bear with two cubs. Heading out to Maligne Lake we saw another black bear in the brush and another one tied up traffic briefly. At a construction stop near Jasper there were two elk grazing very close to one of the workers.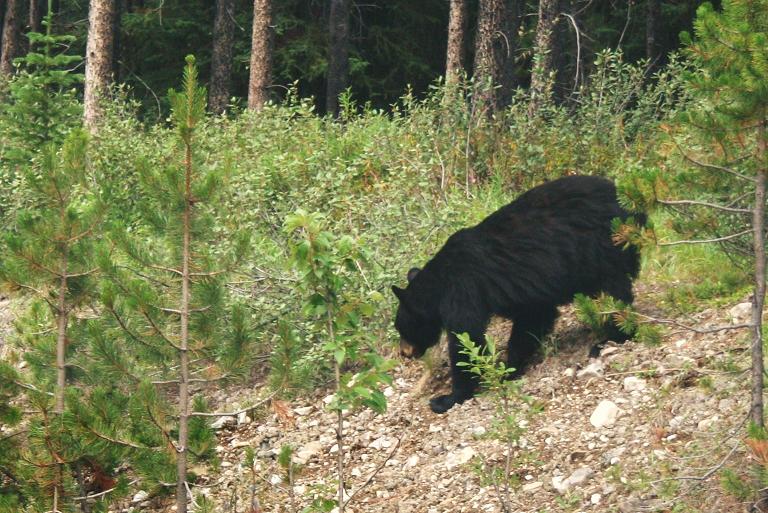 Before leaving Valemount for Revelstoke, we checked on the Internet to check out where the forest fires were. There were quite a few in British Columbia, but none that were out of control near Highway 5, which was the way we wanted to go. It was cool and rainy with lots of haze and clouds. We saw a bear in the distance. Later in the morning the sun came out and we saw a mule deer buck close to the side of the road.
We stopped briefly to stretch our legs at an Antique Shop and ate a Chinese lunch at Chase. Along the way we saw a beautiful long lake. We ate at Emo's, a nice local restaurant in Revelstoke, for supper.
We stayed in Revelstoke for three nights.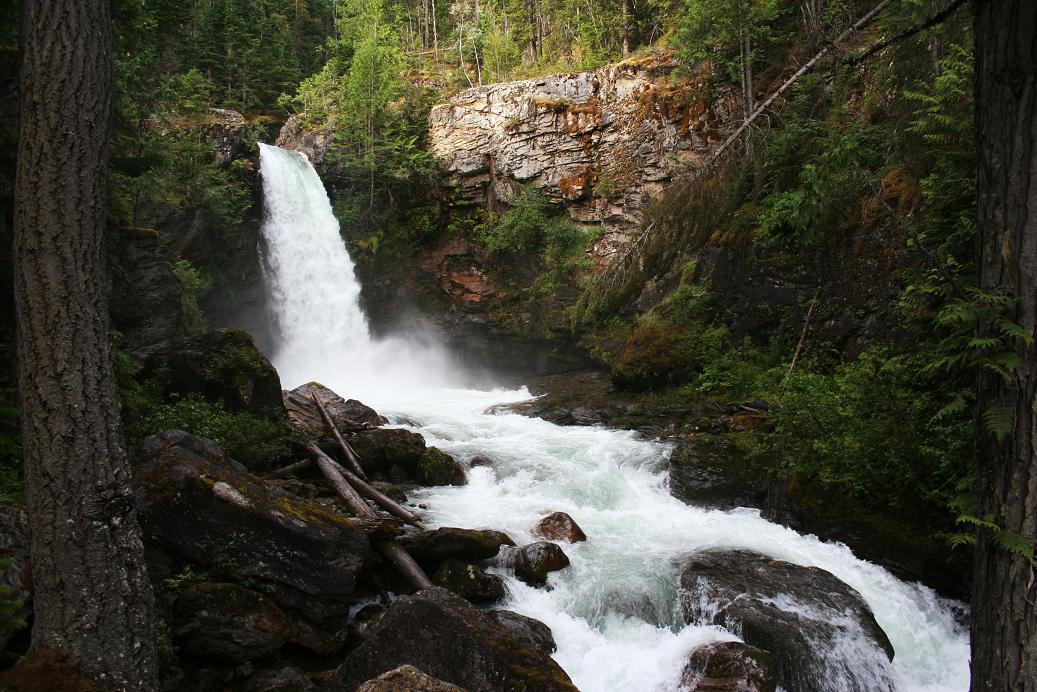 On Sunday we headed south of town into the Blanket Creek Provincial Park for a short walk with cedars, sphagnum moss, and moss to a beautiful waterfall with an amazing water flow.
Click here for video: https://www.youtube.com/watch?v=9qwXMFsl3Pg
We headed east into Revelstoke and Glacier (Canadian) National Parks. We walked part of the Cedars Trail, then headed to the visitor center in Glacier National Park through three tunnels. Heading back we did a little of the Rockgarden Trail and all of the Hemlock Grove boardwalk trail. The sun came out for part of the walk.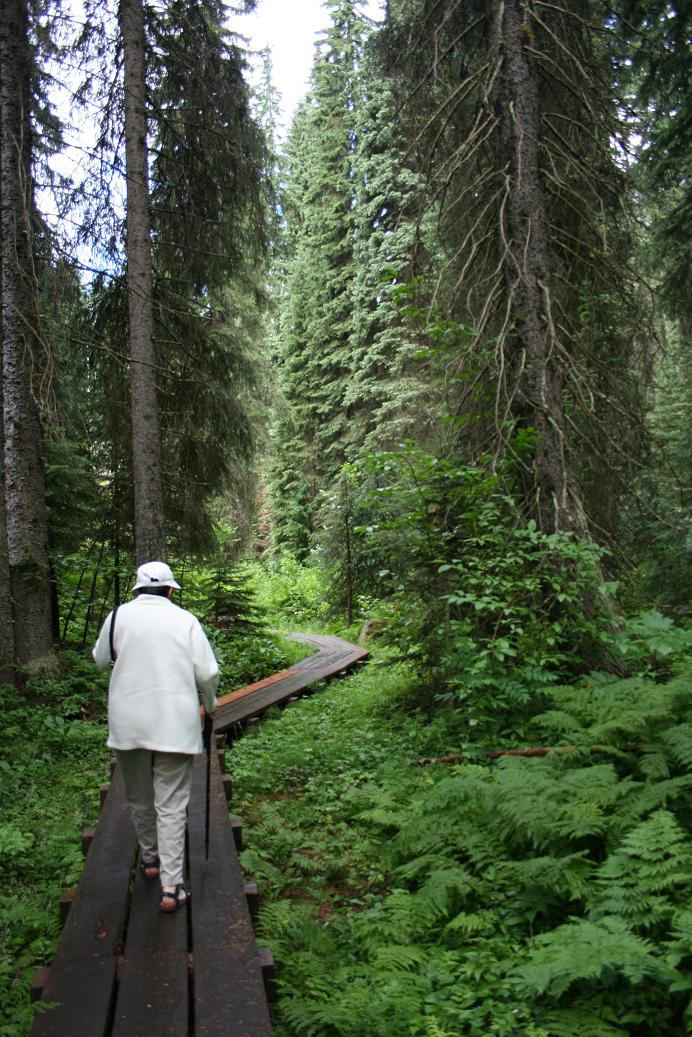 There were lovely wildflowers along the road as we headed up the mountain on the Meadows in the Sky Parkway. Joan took the shuttle to the top while Roger hiked the last kilometer up. There were beautiful views and flowers. We stopped for the views of Revelstoke on the way down. We ate a wonderful supper.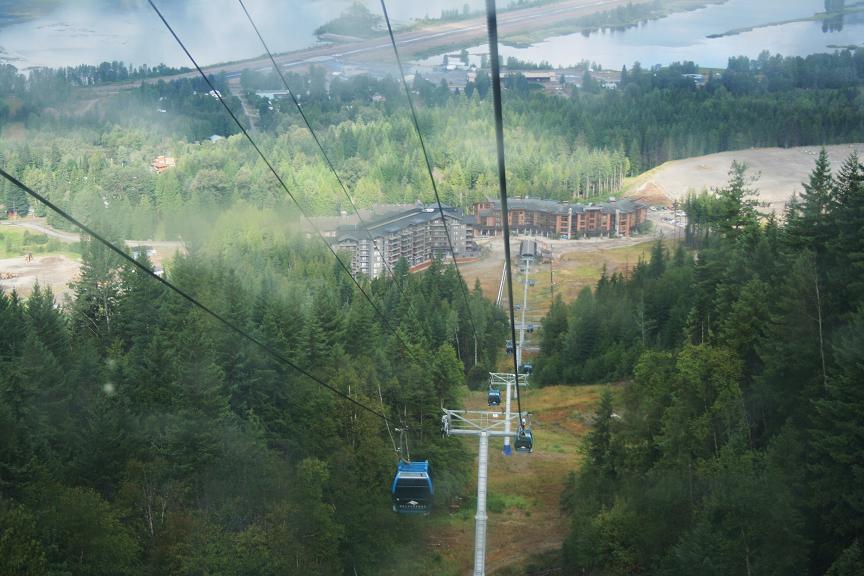 On Monday, we decided to take the gondola up to the ski resort for a buffet breakfast. The clouds obscured the view most of the time but it was a fun ride up and down, and the breakfast was delicious.
We then drove up to the Revelstoke Dam and toured the museum and the dam. There was a good video on the process of getting their massive fourth turbine shipped from South America and installed into the dam. An elevator took us to a viewpoint on top of the dam. It was a very interesting tour. After shopping in the gift shop we headed downtown where we bought a bronze sculpture of a bear catching salmon as a souvenir. We ate supper at Emo's after an afternoon rest.
The highway out of Revelstoke had just closed due to an accident as we headed out the next morning. A trucker told us of another way out of town so that we could go back and get around the accident. Who knows how long we would have had to wait. There had been an accident on that highway each day we were there. One closed it for several hours.
South of Golden we saw a large herd of mountain goats near the road, but there was no place to stop to watch them. There was a new roadway with a large bridge over the canyon, a slate mountainside, and lots of metal mesh to keep rocks from the roadway. They had animal bridges over the road for elk and other animals to cross. On our way to Johnston Canyon we stopped in Yoho National Park, heading first to see Emerald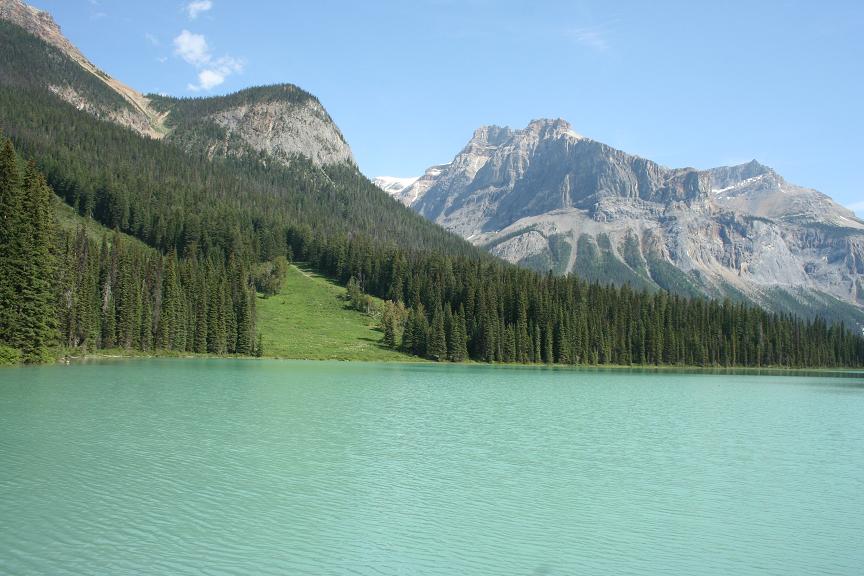 Lake, stopping to see the Natural Bridge. The water was roaring under it. There were a lot of visitors at the lake too. We ate in the lodge there.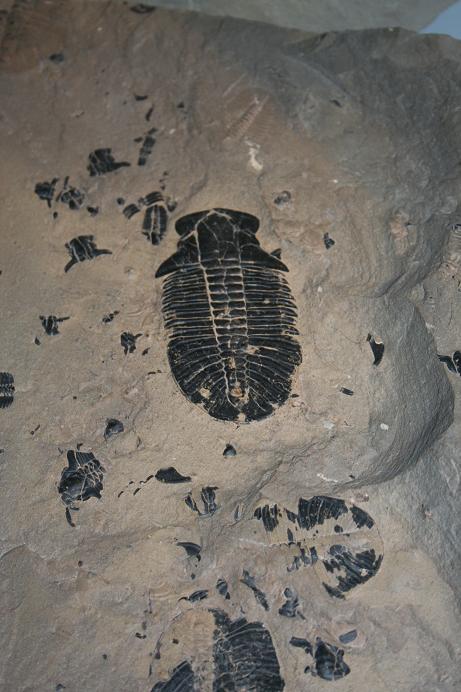 Our next stop was the visitor center where we saw many fossils from the Burgess Shale.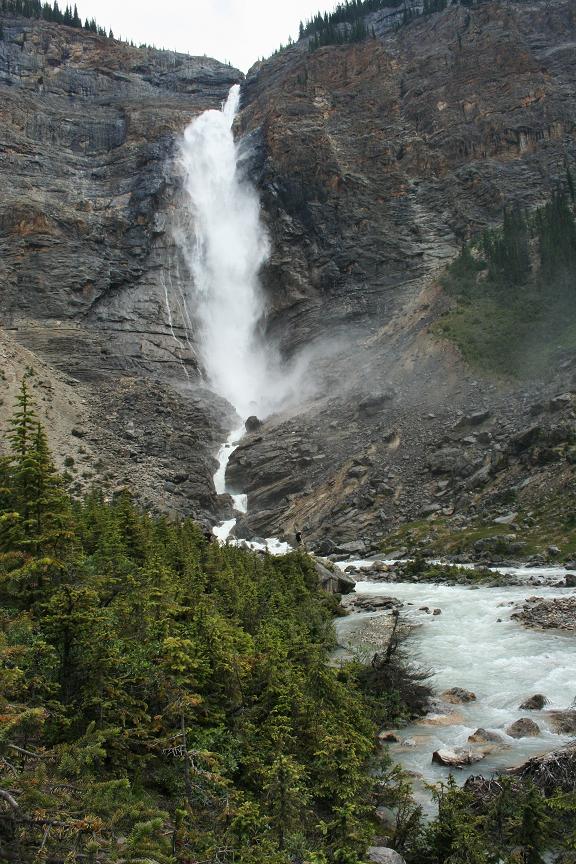 Then we went to Takakkaw Falls, a 1269' waterfall with a tremendous flow of water. Roger walked considerably further for a closer view. We caught a glimpse of the spiral tunnels in Kicking Horse Pass, but they were hard to see due to trees and shadows. Near Johnston Canyon in Banff National Park we saw a light brown black bear that crossed the road ahead of us.
Joan was sick the first night at Johnston Canyon Resort where we were staying for three nights. There was no TV and no internet in the cabin, and no heat. We did have them come and repair the stove the last night we were there because it was quite cold.
In the morning we headed to Lake Louise to see it without the crowds.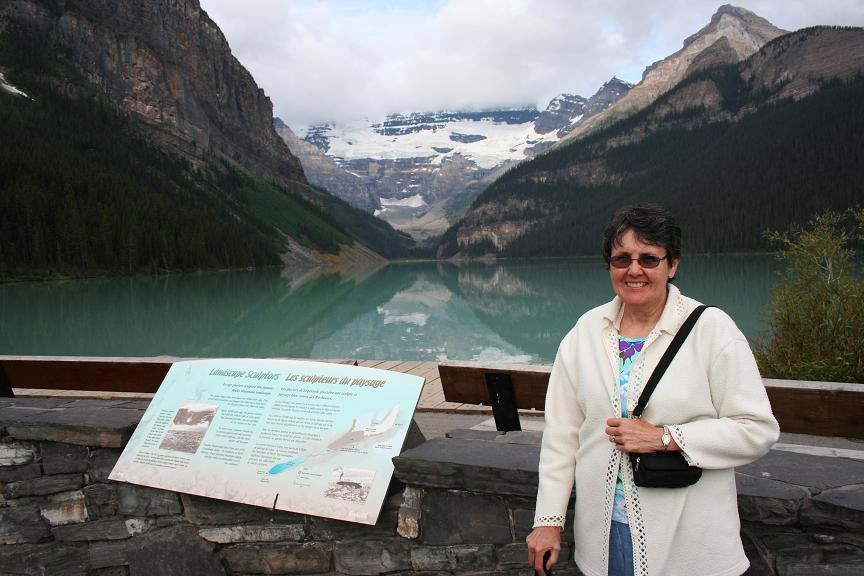 We saw another brown bear along the Bow Valley Parkway. Lake Louise was totally calm with a good mountain view and hardly any people. On the way to Kootenay Nat. Park we saw four deer. We stopped at Valley Viewpoint, saw the Hot Springs Pool, walked down to Olive Lake, walked to a bridge over Numa waterfall (lots of water), stopped by the river, and saw lots of beautiful mountain scenery. We ate lunch at our cabin restaurant and went to the cabin to read and relax.
The next day went on a drive to a swampy area to look for moose, but had no luck. We then drove up to see the hoodoos, but the area was closed. There were some great views. It rained last night and was a crisp 48 degrees.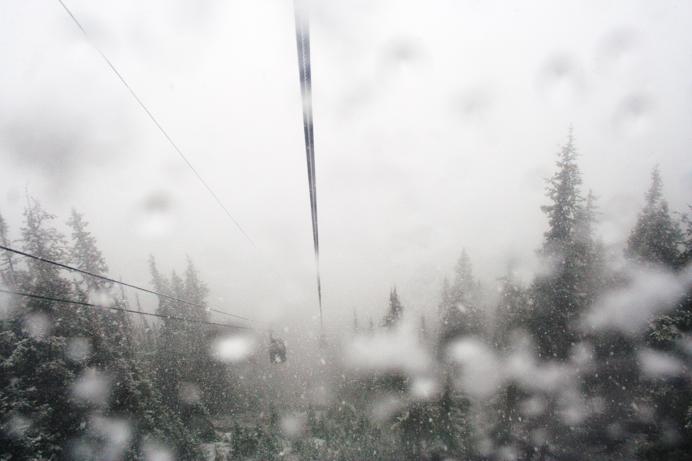 We drove down to see Bow Falls. Roger walked up for a view from the top. After driving past the famous Fairmont Hotel, we headed up Sulphur Mountain where we rode the gondola up the mountain in sunshine. While we were at the top the wind and clouds came over and soon it was raining, then sleeting, and then snowing heavily with wind gusts. They stopped the gondola for about an hour due to the wind. It snowed most of the way down.
We ate in downtown Banff.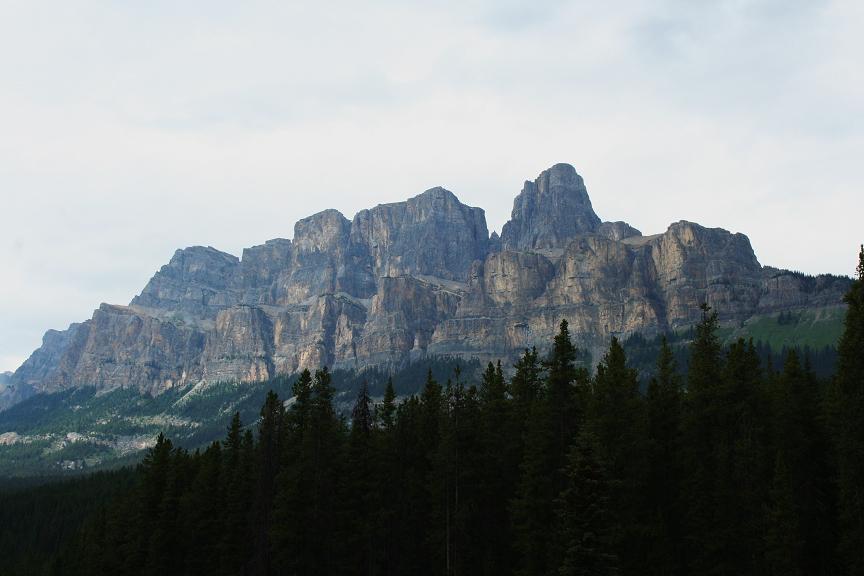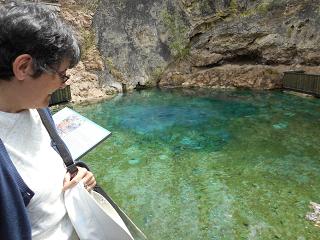 The Cave & Basin Nat. Historic Site was our next stop. It has hot springs with an endangered snail. It was Canada's first national park. The interpreters were very knowledgeable.
Our last stop in Banff was the Buffalo Nations Museum. They had many displays and dioramas with real mounted horses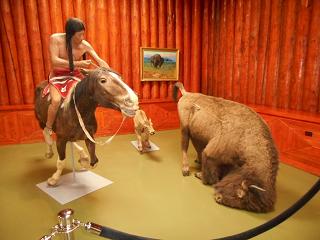 .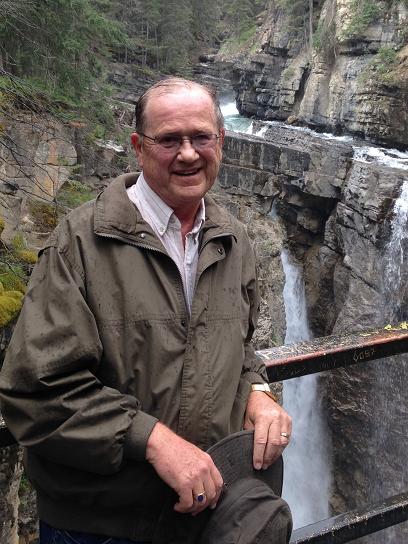 When we got back to the cabin, Roger hiked the four mile roundtrip trail at Johnston Canyon to see the water falls there.
On our way out of Banff Nat. Park, we saw three black wolf pups cross the road and parallel us on a path back in the woods. There is one pack of seven wolves in Banff, so we were thrilled to see their pups.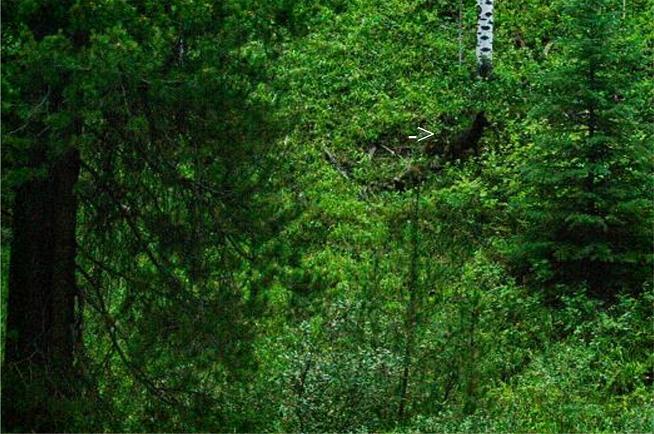 There was no sign of the parents. Roger spotted a coyote by the side of the freeway.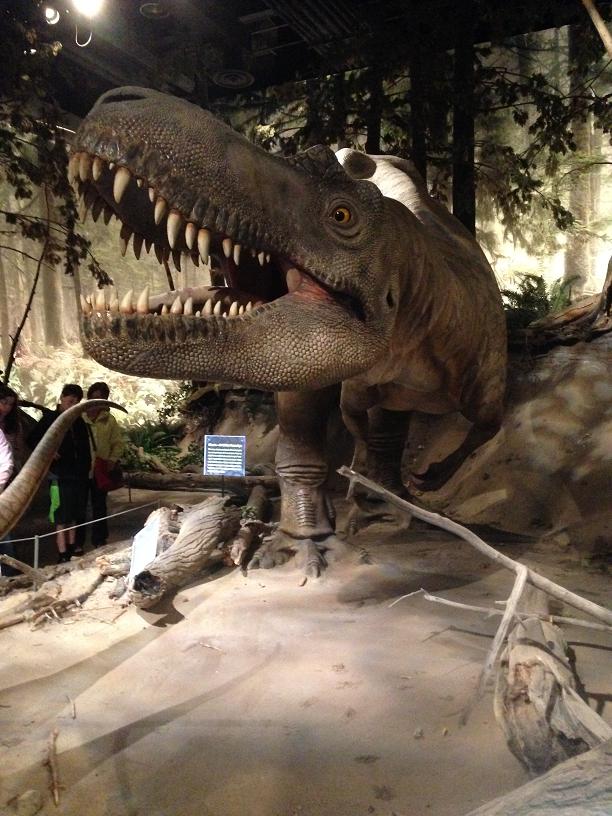 We headed to the Royal Tyrell Museum where they had wonderful dinosaur exhibits and a great "Walk Through Time". After lunch there we decided to cancel our plans for side trips due to heavy rain and wind. We went down to Dinosaur Provincial Park where we saw the inside exhibits and cancelled Roger's hike for the next day. It was too wet. Because of low visibility, we didn't attempt to drive the loop trail, but headed to Brooks.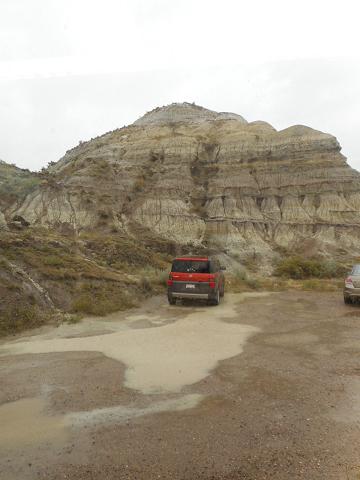 We had pizza for supper. Joan's pizza was dropped on the way to the table, so Roger was just finishing his meal when Joan finally got her pizza. It was very good pizza. Due to the incessant rain, we cancelled our next two nights of motels so we could head out early in the morning toward home. Everything was soaked, and hiking in the clay hills is very risky, so we were rained out of the last couple of days we had planned.
On the way home we stayed at Estevan, Saskatchewan. There were lots of cattle and oil pumps. South of there was an area of mining trenches and piles of dirt. There were lots of clouds on the way home, but we only got sprinkled on a few times.
The next day we headed home with a full day of driving.
We drove 4,450.8 miles on the trip, spent 92 hours driving, averaged 25.6 miles per gallon, and used 173.79 gallons of gasoline! The car kept track of that, we did not!
It was an enjoyable trip with lots of wonderful scenery and wildlife viewing.