Cape Breton, October 5-15, 2011
We arose early, 3:45 A.M. on Wednesday, October 5th, and headed to the airport for a 7:00 A.M. flight, first to LaGuardia Airport in New York, and then on to Bangor, Maine. Both flights were relatively smooth except for a bit of turbulence on take offs and landings, but nothing too bad.
We got to Bangor, got our rental car, a Chevy Malibu, and headed to our motel just outside Bangor. It was cold and rainy, so we only went out to eat our evening meal, and then stayed in the motel. It had been a long day already.
In the morning we headed toward Cape Breton with frost on the windshield and clear skies. The autumn leaves were just starting to turn, but there was not the color we had expected except in a few places.
As we headed through New Brunswick and closer to Nova Scotia, the skies, darkened, and the temperature dropped in the low thirties, and soon we were in the midst of a snowstorm! It had accumulated a couple of inches in places, and the road was a bit slushy in places. I really had not expected this bad weather this early in the year! It lasted for 20-30 miles intermittently, and then finally turned back to rain for the last of the journey to Cape Breton.
As we crossed the causeway, the waves were lapping over the rocks, and we got a little sea water on the car, but nothing, apparently, like it had been earlier when they closed it because cars were being swamped by the heavy waves.
We went to the Chisholm Cabins just outside Port Hawksbury and Port Hastings, and got settled in, then went out to eat at a Chinese restaurant. It had been about a seven hour drive.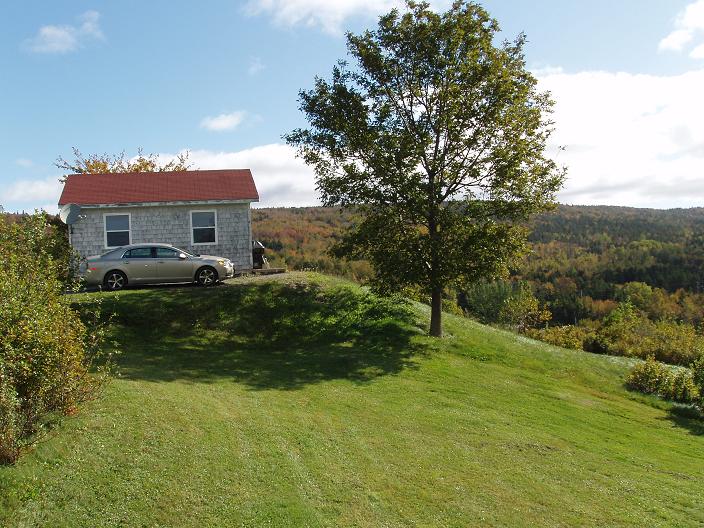 The next morning was cold, rainy, and windy, so we stayed in most of the day, and I called some friends we know in Cape Breton to make arrangements to meet them.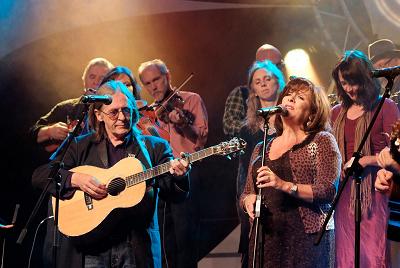 Carole, from Port Hawksbury, had been good enough to get us tickets to the opening night concert of the Celtic Colours Festival, and they were great seats! It was a wonderful performance by people we knew and did not know. That concert in itself was almost worth the trip and the drive. We had a bit of a chance to visit with Carole and Benny, but it was a bit hectic. The Black Family from Ireland, Dougie MacClean from Ireland, Ashley MacIsaac from Cape Breton, Bruce Molsky and his group playing Appalachian songs, and more. It was a 3 1/2 hour show!
In the morning it was still overcast and cool, so we went and walked awhile on the coastal trail just below the cabins, and close to the ocean. From there we went to Alex and Minnie MacMaster's house, and picked them up for lunch at the Celtic Music Interpretive Center in Judique, about 15 miles away.
We had a great meal, and Alex's sister and brother-in-law provided the piano and fiddle music while we ate.
It's a beautiful interpretive center, and their daughter, Natalie MacMaster, who Joan and I just love, is prominently displayed in the museum portion of t
he building.
We bought Natalie's book, Cape Breton Aires while we were there, and had Alex and Minnie sign it for us. It was fun visit, and they were so kind and gracious that it's easy to think of them as friends.
We headed off to Wagmatcook later in the day for a concert there called "Pickin' and Grinnin'", and it was great! Bruce Molsky and his group performed, and I bought a CD during intermission that he signed for me. J.P. Cormier, from Cape Breton, was also there, and is an amazing talent.
Sunday the 9th was warmer and sunnier yet, a beautiful day. We headed north to Cheticamp with plans of visiting the Whale Center, but when we found it closed, we decided to drive around the tip of Cape Breton in the Highlands National Park. Although the leaves had not yet turned brilliant, it still was a very beautiful drive with lots of mountain roads and marvelous vistas.
We ate at Baddeck, and had the best meal of the trip at a restaurant there, a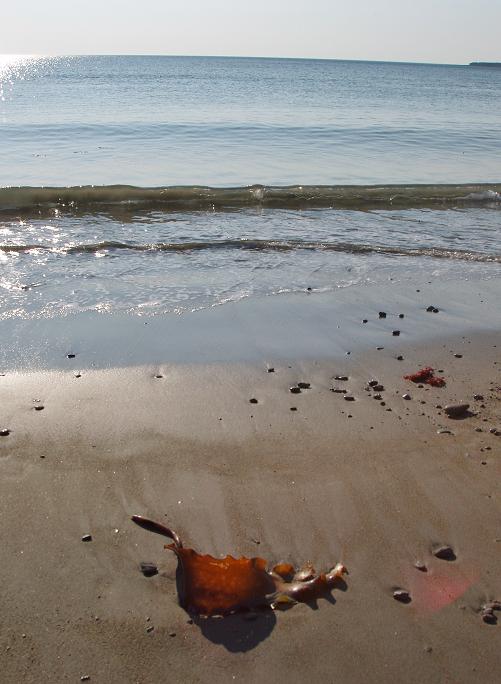 tomato based pasta with shrimp and scallops. From there we went to Whycocomagh for our third concert. Alex and Minnie sat just ahead of us at this one, and it was great show again with The Black Family, and Michael Doucet and Beausoleil.
Monday, the 10th, was Thanksgiving. We went down to the beach and did a bit of beachcombing, and found a few little shells and rocks as mementos for our grandchildren.
We went to lunch in Port Hawksbury and found a restaurant serving the traditional turkey dinner, and it was very good. We went back toward Creignish and walked a bit more along the coastal trail in the wind.
That evening we headed toward Judique for a concert called "The Red Shoes" in honor of a restaurant/pub there as well as a tune written by Dan R. McDonald, who was the focus of the evening. He was a musician and composer, and many of the people there had known him. Some great fiddling and guitar playing.
On Tuesday, October 11th, we went for a walk by the coastal trail again in the morning, and then went to Judique for lunch at the Celtic Music Interpretive Center, and were again treated with some great live music.
We headed toward Mabou and to a park where we walked to the beach.
From there, we went to the Red Shoe, and Joan ordered a marvelous gingerbread cake with caramel and fruit topping. I had a few bites, and it was marvelous! Since it was just the afternoon, we drove to the Mabou Mines area and a fishing harbor. It was a long drive out, but a beautiful isolated area by a marina with a lighthouse.
We went back to the Red Shoe for supper, and it was already starting to get crowded. Soon, it was packed, and we invited a couple of folks who wouldn't have had a place to sit to join us. I had a wonderfully tender salmon, grilled just right, with some baby vegetables, and it was terrific!
We went to the last of our five shows that evening, April Verch and her band were performers, and she's a great fiddler and step dancer. Bruce Molsky was there again, and Nick Gareiss, a stepdancer who we had seen earlier who was just great. The surprise of the night was a group called the "Asham Stompers". Watch this clip if you have the chance, it'll give you an idea of the high energy dancing. These are Native Americans from the Winnipeg area were just outstanding, and received a standing ovation.
It was a great one to finish the week's experience and five nights of concerts!
Joan and I love Cape Breton. It's not only the music, but it's the people and the culture. And it seems that it's the music that ties it all together. We were once told by a Cape Bretoner that "music is woven into the very fabric of the society". It was rather sad to think that our visit was over, and we would be leaving in a few hours, but I think we both know we'll probably come back soon.
The next morning headed back toward Bangor at a more leisurely rate s
o we could see some of the rest of Nova Scotia and New Brunswick. We went to an area near Truro where we could watch the tide come in as one continuous deepening wave as it headed up a river. It was right on cue, and came as a wave, not a gentle inch-by-inch raising of the water level. It continued to rise, and get muddier as it competed with the water from the river trying to go the other way.
We continued on to Victoria Park in Truro. We had visited this park before, but it's a beautiful place, and we walked for quite a while on very nice paths with lots of steps going higher and higher. Eventually we came to a very nice waterfall tucked deep into the woods. There were lots of narrow steps going up and down as if they had used too narrow a board on the step, and there was a gap behind it. This made it a bit more interesting, making sure you hit the narrow board!
Thursday morning, we went to the Fundy Geological Museum and then looked for fossils on the beach by the Joggin's Fossil Cliffs. The whole area is about 300 million years old, and with the large tides, there's a lot of erosion that has taken place and is still occurring.
We headed out of Nova Scotia to New Brunswick, and spent the night near Moncton.
On Friday, we drove a bit out of the way to see the Hopewell Rocks. This is where there is the greatest change in height in the tide in the world, something like 30-40 feet. Amazing to walk on the ocean floor at low tide, and think that this same area will be covered by 35 feet or so in about six hours!
We continued to drive in the mist and rain and fog to Bangor, Maine, and hauled everything in from the car to repack for our flight in the morning. We flew out early, had a layover in Detroit, and were in Minneapolis by mid afternoon, and home by late afternoon.
It was fun trip.