Ishi Country, Chico California, June 10-15th, 2016
I have been flying to California for the past 20 years. My first trip was in 1996.<![if !vml]>
<![endif]> Most of these trips have been related directly to Ishi, the last Yahi Indian.<![if !vml]>
<![endif]> The group photo is from that first trip. Bob Price is on the left, Milt Clark, who passed away several years ago is next, then itÕs me, then Richard Burrill, and next Aaron Clark, who was an eagle scout, and MiltÕs son. I can never thank Richard enough for encouraging me to fly out for this expedition, and it is amazing how it has enriched my life.
*******
It was an early flight, so I headed to the airport very early, parked and got a shuttle to the airport, got through security, and was at my gate about an hour before my flight.
<![if !vml]>
<![endif]>The flight was on time and relatively smooth, so I got a lot of reading done. Mike was there to pick me up at the Sacramento airport, and we headed off for a bite to eat.
Another friend, Tony had told Mike and me about a new mural devoted to Ishi, so we drove to take a look at it. It is quite wide, and difficult to get a photo of the entire piece, but it is the face that is most impressive. That is Mike standing in front of the mural.
From there, we headed to Mike and LauriÕs home. This was my seventh trip that I had stayed with them. They are wonderful hosts. Their two golden retrievers, Emma and Finn, are super friendly and Finn still has his puppy-like energy. We had a delicious meal in the evening, and the next day Mike and I headed north to look for some rocks and minerals.
We had stopped for breakfast in Colfax, and Mike thought the truck was acting up a bit in making squeaking and rubbing noises, so we stopped at a tire place. They said Mike was very close to losing his <![if !vml]>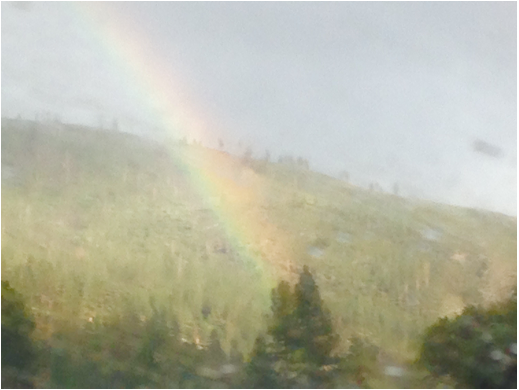 <![endif]>front driverÕs wheel, and the truck was unsafe to drive, so he had it towed back to Citrus Heights, and we started off again in a littler car.
We went up by Susanville in search of chalcedony (kal-SED-nee) and petrified wood. We found a number of smaller pieces as well as a little petrified wood, and headed back to MikeÕs place. On the way back, we hit a bit of rain, and saw a beautiful rainbow as we drove in a deep valley. We could actually see the end of the rainbow shining on some trees, which I had never seen before.
The next morning, we headed to Oroville to meet up with other folks who were going on the same trip to find a remote Indian Village where my friend Richard thinks that IshiÕs mother was born. It was called ŌKuneÕbye VillageĶ.
We met Pete, Andy, Grayson, Ron, Blue, Tony at a restaurant, and drove off from there.
Pete and his ancestors had lived in this area for many generations, and he knew the area quite well.

  
Ron is a local historian, and also familiar with the area, but in spite of that, 
we

 had difficulty locating the exact spot of the village.
<![if !vml]><![endif]>
<![if !vml]><![endif]>
This country is just beautiful and much of it is very rugged.

  
Mike drove his car on the little logging roads as far as he dared, 
and

 then we hopped into an SUV for the rest of the drive.

  
We eventually did find what was the village site based on what evidence and oral history was available. 
We headed back to Oroville and had a very nice meal in a Chinese restaurant.
<![if !vml]><![endif]>
Richard Burrill and Pete Moak
I went and stayed the night with Richard in Chico, while Mike drove home, and drove back the next morning. It was fun visiting with Richard and reminiscing about some of our twenty years of adventures and some misadventures.
The next morning, we drove to Andy and JillÕs home to begin our next quest. They have a beautiful home, and have a very impressive collection of rocks, <![if !vml]>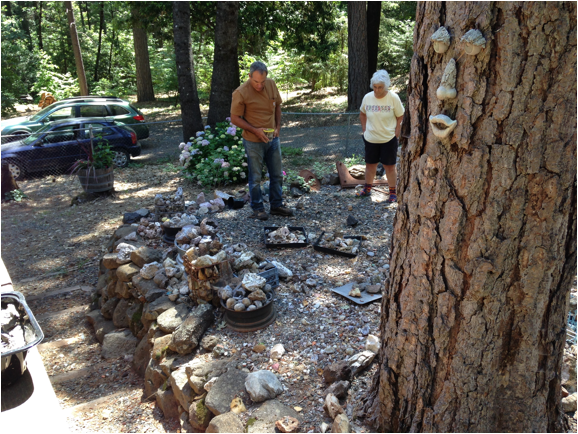 <![endif]>minerals, and fossils. Their back yard is filled with rocks, minerals, and various items that they generously offered us. I took a few small samples, and when we toured their home, they gave me a garnet, a little geode, and a crystalline formation.
From AndyÕs place Mike, Richard, Andy and I again drove a distance in the foothills to the site of what was to be thought an Indian village as well as a lumber camp and a health resort in the 1880Õs.
<![if !vml]>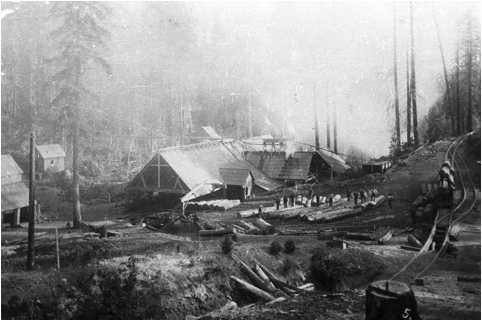 <![endif]>
Here is a photo of the old lumber company site. The health resort with mineral springs was apparently close to this.
<![if !vml]>
<![endif]>
We did have to cross a dangerous river with really bad rapids, as you can see on the picture on the right. That is me with the terrified look on my face, knowing that each step was treacherous. Or not.
There was a lot of broken glass, square nails, and various miscellaneous items on the ground in this area, but the mineral springs were pretty much just a mud hole.
<![if !vml]>
<![endif]>
Someone before us had collected a number of artifacts and left them on a big flat rock. The area was immense, and had been used in the 1970Õs as a camping area.
<![if !vml]>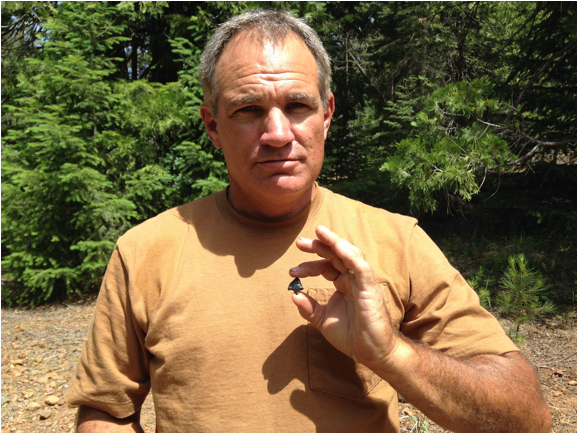 <![endif]>
Mike, with his archeologist eyes, was able to find an obsidian point to show that it had indeed been a village site. It was nice and level with a handy water supply. Again, it was a beautiful part of the country, and I am lucky enough to have friends who know of these remote sites and are willing to share that experience with me.
From there, we went back to Andy and JillÕs home, and Jill fixed some absolutely marvelous tacos with homemade tortillas. After a wonderful dessert, Mike and I headed back home to Citrus Heights, and Richard to his home in Chico.
The next morning, Bob Price drove to MikeÕs house to pick me up, and we headed south to San JosŽ to tour the Winchester Mystery House. This house is pretty well known, but if you are not familiar with it you can read about it here: https://en.wikipedia.org/wiki/Winchester_Mystery_House
<![if !vml]>
<![endif]>
I enjoyed spending some time with Bob. He was with me on that first trip in 1996, and weÕve been on many an adventure together.
HeÕs nursing two injured feet at the moment, but was able to do enough walking that we saw the bizarre house, and walked around a bit on the grounds.
Soon, we started the drive back to Sacramento and Citrus Heights in the very slow freeway traffic. After visiting for a bit, Bob headed home, and I took Mike and Lauri out to eat as a very nice Italian restaurant on downtown Sacramento. On the way, we stopped in at the Royal Peacock Tattoo Parlor to see Tony and bring him some chunks of obsidian for his flintknapping work. I love how excited he gets about the whole story of Ishi, and the flintknapping aspects. He gave me a beautiful point he had made on my last trip out there.
<![if !vml]>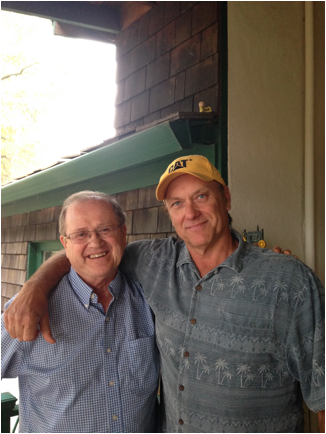 <![endif]>Soon, it was back to Mike and LauriÕs, some final packing, and an early trip to the airport, and home.