My Siblings and Spouses, from left to right:
My brother Richard (Andy), from San Diego; Joan and me, Cambridge, MN;
Joanne and my brother Rodney from San Diego; my sister Linda, and her husband, John from Albert Lea, MN; and my sister Lola, and her husband, Dale from Savage, MN
The picture was taken the end of May, 2009 when we were all in the area for my mother's memorial service.
---
Joan and Roger
We were married July 1, 1967.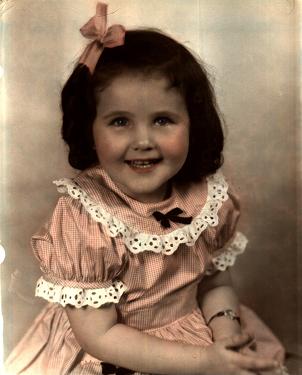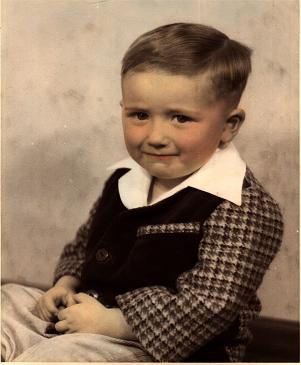 We enjoy doing a lot of things together including travel, and you can find summaries of our trips at my website: rogerwmanderson.com
We have lots of other interests too, such as Roger's interested in Ishi, the Last Stone-age Indian of North America, antiques, and more.
Joan likes researching her new family and making new contacts with them. She was adopted at birth, and recently found her "natural" family. Many of them live close to us in the Cambridge and Isanti area. She also enjoys knitting, reading, and computer games.
We both love spending time with our children and their families.
---
Derek and Renee
This is Derek, and his wife, Renee. Derek graduated from Cambridge High School in 1990, went to school at the Lutheran Bible Institute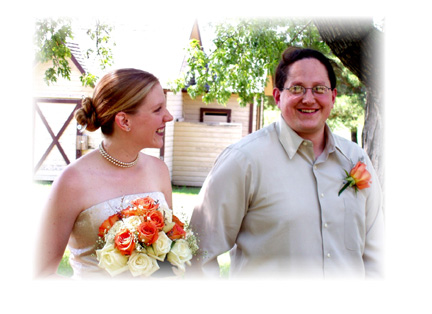 near Seattle, Washington, and after working for a publishing company, and went back to school at The University of Wisconsin, River Falls. He is now an English teacher at Mahtomedi, and Renee is an elementary school teacher. They were married on June 21, 2003, and live in White Bear Lake, Minnesota.
Derek is a comic book collector, and a book lover, and plays guitar He is in a band called, "MY COUSIN DALLAS". They're on Facebook.
They have three children:
Ezra, who was born on March 15, 2006.
ZoŽ, who was born on March 25, 2008.
Gus (August), who was born February 7, 2011.
Here they are with their cousin Phoebe at Christmas, 2014.
Left to Right: Ezra, ZoŽ. Phoebe, and Gus
---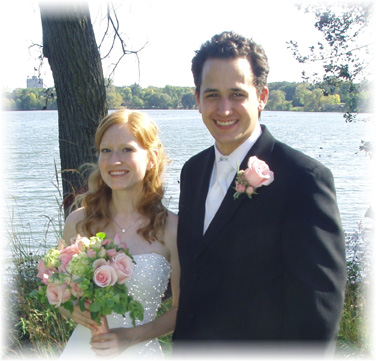 Kent and Chrysa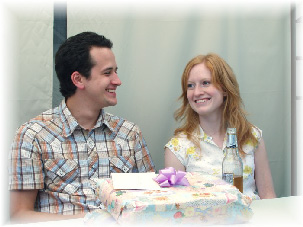 This is Kent, our youngest son, and his wife, Chrysa. Kent and Chrysa are both graduates from the College of Art and Design, in Minneapolis. Kent graduated from the Cambridge-Isanti High School in 1995.
Kent graduated with a degree in photography, and is working as a commercial photographer at a place that makes cake decorations and accessories, and Chrysa is an illustrator, and works for a manufacturing company as an designer/ illustrator for Mylar balloons.
They live in Richfield, and have one child, Phoebe Clare, who was born August 8, 2012.
---