Natalie MacMaster
August, 1999
I listen to public radio. Mornings, there is a show on that is similar in character to the "Prairie Home Companion" Show, and indeed, this is where Garrison Keeler honed his talents for many years. They play a variety of music, and I always enjoyed hearing the Chieftains played. The Chieftains are a marvelous Irish group that plays wonderful traditional Irish and Celtic Music.
I heard they were coming to town in March, so I managed to get tickets. Joan and I went to the concert, and it was a great evening, because we ended up with just excellent seats for some reason, like one or two rows back from the stage, and in the middle of the theater...the seats couldn't have been much better!
The Chieftains were marvelous. As a guest that night, they had this gal named Natalie MacMaster who was from Nova Scotia. Well, she fiddled and danced circles around the group, and really ended up being the highlight of the evening. Joan and I both commented that she had stolen the show with all the energy and talent she showed.
I remembered the name, and one night a couple months after we had seen the show, I did an internet search for her. I found:
http://www.NatalieMacMaster.com/
This page told a bit more about her than I had known before, and on the page, there is a "guestbook". I left a little note on the page that if Natalie is ever scheduled to come to Minnesota again, I would like to be notified, because she was such a treat to watch.
Minnie, Natalie's mother, takes care of the mail, and she wrote me back that Natalie has no scheduled tours in Minnesota, but if she does, she would let me know.
About two weeks after I had written the note and heard from Natalie's mom, I got an e-mail from a person in Webster, Wisconsin saying she'd seen my note, and that Natalie was scheduled to appear there on November 5th as a part of a small cultural/folk program they were starting. I looked at the map, noticed Webster was a little over an hour from here, and wrote back immediately saying how much I'd enjoyed seeing her before, and I'd like tickets...four of them, since I was pretty sure that a fellow I work with and his wife would be interested too.
So she saved me four tickets, on the spot, and sent the address, etc. to send the check.
About a week later, her husband, Kevin Klucas, who was coordinating the series, called me up, and we chatted a bit. He then asked me if I'd like to be the Master of Ceremonies, since I was the first person to ask for tickets, and I sounded so enthusiastic. I immediately said no. I explained to him that it would be too much to worry and fret about and it would ruin my appreciation of the performance. I knew I would worry and be anxious about appearing in front of a large group, so turning it down was pretty sensible. He said he understood, and we said goodbye.
Well, I got to thinking about what Helen Keller had said...
"Life is either a daring adventure or nothing."
When I told this fellow at work, who was buying the other tickets to see her, that I had passed up the chance to be Master of Ceremonies, he called me crazy, because it would put me right in the "thick" of the action, and I would get to meet her and talk with her.
You guessed it. I wrote an e-mail to Kevin saying that I am sure I would be "scared spitless", but that I would be Master of Ceremonies if no one else had taken the job yet. I was hoping it had been filled on the one hand, and hoping it hadn't on the other. Exciting, nonetheless!
Sure enough, he e-mailed me back a few days later saying that the job was mine, and what my duties would be: Welcome everyone, introduce the opening act, a guitarist/singer from Duluth, tell about intermission, give the introduction for Natalie MacMaster, inform the folks of a brief intermission between her sets, thank all the folks who contributed to the evening, wish everyone a good night.
Wow! I was right. I started worrying and fretting and losing sleep. I think I probably prepared a dozen jokes and introductions, and kicked myself relatively continually for accepting the role. I had trouble getting to sleep. I'd wake up thinking about it in the middle of the night, thinking, maybe I should just call him and say I changed my mind. But a part of me still wanted to do it, and it WAS exciting!
I also remembered another of my favorite quotes:
"You gain strength, courage, and confidence by every experience in which you really stop to look fear in the face. You are able to say to yourself, "I lived through this horror. I can take the next thing that comes along".....You must do the thing you think you cannot do."
-Eleanor Roosevelt
Well, November 5th came, and the day was upon me. My speech had become briefer and briefer, stripped to its essence. After all, they were there to see a great musician, and not to be entertained by some amateur.
Adrenalin pumped freely through my veins (and arteries too, I think). We picked up the other couple, and headed for Webster, Wisconsin. A long drive in the daylight, longer in the dark. We arrived in plenty of time, and had time to go into the local cafe...further time for me to contemplate the fate awaiting me. I had a cup of coffee. What was a little more caffeine in my veins, along with all that adrenalin.
The time finally came to enter the community center. Webster is a tiny town...maybe 650 people, and it's a little community center. The crowd was growing though, since it had been a sellout for a couple weeks, and the seating was open....first come, best seats.
I asked the ticket taker to see Kevin, the coordinator, and we found each other. He brought me downstairs to meet the band, but Natalie was resting, so I didn't meet her right away. . I also met Karen, his wife, who was kind enough to send me the original note about Natalie performing in Wisconsin. I thanked her.
I met the opening act, a gal named Kim Rose, from Duluth, and talked to her manager about what she wanted me to say.
Then came my reward! Kevin brought me downstairs to meet Natalie MacMaster! She was in a room with the band members. We shook hands, and I noticed how tiny her hands were, and so delicate. I asked her if there was anything she would like me to include in the introduction, and she said I should say that she is with Rounder Records. I could handle that. I told her that I had written to and heard back from her mom a couple times, and she said she wasn't surprised...that her mom answers all her letters when she's on the road. We chatted a while longer, and I decided right there that all the anguish I had put myself through at least had some reward. Here was this cute, energetic, talented starlet, and we were having this little chit chat. Kinda neat.
Back upstairs to my seat. Then it was time. Kevin made a few opening remarks, and then told my story of how I had contacted him via the internet. My heart approached my throat, and I think it was beating slightly faster than if I had run a mile. He introduced me, and I went up, and had the audience thank him for setting all this up, and introduced the first act. It went well, and I went back to my seat.....the biggest hurdle of introducing Natalie was still to come. The first act ended, and I told people it would be a few minutes until the next act.
So far, so good. Then came the big introduction. I had a few notes that I referred to to remember the main points I wanted to make, and I made them! I introduced her to thunderous applause, and went back to my seat, relatively knowledgeable that I would survive the evening now, and able to watch the show. Eventually, my heart slowed its beating, I could concentrate once more, and I started to enjoy this talented young lady.
And what a show it was! This woman is amazing, the way she can fiddle, and the band sounded wonderful. And then she started her step dancing, simultaneous to playing a complex tune on the fiddle! High steps, kicks, taps, twirls, and always playing a peppy Scottish or Irish tune. Amazing!
And the small setting, with the audience close, made it all the more wonderful, and I think she enjoyed it too. The audience was enthusiastic and appreciative, and was having a marvelous time keeping beat to the tunes.
After the first set, I made my little announcements, had intermission, and reintroduced Natalie. There was cheese, coffee, and tea set out, and it really was a fine audience. Middle aged, reserved to a point, and appreciative of a real talent. Oh, can she play the fiddle, and the step dancing on top of that makes for such a rousing performance. If you read the material on the internet, you'll see she's played before crowds of like 100,000 people, and here she was in this intimate setting.
After the performance, and a standing ovation, and a curtain call, the evening was over so I thanked the audience for coming. My job was over. A few people said, "Good job" or similar, so I guess I did all right. Oof dah! That was an evening to remember!
I wanted to buy a couple CD's and get my picture taken with Natalie, so we hung around a while, and I thanked Kevin for asking me to do the job.
Natalie eventually came out, looking weary, but friendly, so went and asked if I could have my picture taken with her...she said sure, so Joan took the picture. She had been signing autographs, so she stood up, and put her arm around my waist, so I felt compelled by good manners to do the same.

Joan took the first picture but Natalie said she was licking her lips so she asked to take another one. Joan tried again. This time the flash didn't go off, so I had to remain there, with my arm around her. I really didn't mind. This was wonderful! Finally, the picture got taken, I thanked her, and we headed home. Joan really hates to use my camera to take pictures, especially the focusing. She was a good sport about it though.
As you can tell, it was a memorable evening....a great adventure. The ride home was long but I still had a good quantity of adrenalin pumping, I think, so I didn't get tired, and actually I wasn't tired when I got home. I had a hard time getting to sleep after the excitement. that is for sure.
And that was only my first adventure involving Natalie....more to come!
Part Two
Where do I begin to describe to you April 20 and 21 of 1999?
I pretty well am exhausted, first of all. Let me begin at the beginning. Last fall, Kevin Klucas sent me an E-mail that said he was booking Natalie MacMaster for an appearance at Webster, Wisconsin again....in April, 1999. He said she had the day after her appearance in Webster free, and that we should consider scheduling her for the new Performing Arts Center that the high school was building.
Since I am a member of the Cambridge-Isanti Community Education Advisory Committee, and we were looking for a way to make some money for scholarships, I brought up the fact that this was a possibility. The Committee thought it seemed like a good idea to research.
Unfortunately, we didn't have a lot of time for research, since her agent was also negotiating with Duluth for an appearance, so I went on a bit of a limb, since the Community Ed Director was out of town for a week, and I committed to having her appear.
The director was taken a bit aback, but recovered quickly, and decided she would serve on our little subcommittee too to plan the event. Natalie is expensive, so the director felt an arts grant would be a good idea to help cover expenses.
The little sub-committee really did a lot of planning and brainstorming as to how to best advertise and promote the event, and got a grant to help fund it. I contacted a number of businesses for donations of cookies, coffee, lemonade, flowers, cups, etc. So everything gradually fell into place, and the date of the event came closer.
Two weeks before the event, I went up to Mora to a little radio station, and made a 30 second commercial for the concert. It was pretty bad actually. I think I could make a commercial for Sominex, but not a lively step dancer. It played 20 times over the next two weeks, and they also made a public service announcement that ran a number of times.
I had been working on a program to hand out to the audience on performance night, and after the committee saw it, I made a couple minor changes in the size of the print, and sent it in for duplication on a tan parchment paper. On one side, I had information about Natalie and her background, on the other about Community Education and the Performing Arts Center, and on the back, the "Rules of Etiquette" for the Center and the thank you's to the various businesses. I thought it came out quite nicely.
Now I am person who gets anxious and nervous over things like being on stage. I had, for some unknown reason, volunteered to be Master of Ceremonies, and it ended up that another committee member who is senior in high school, by the name of Lisa, ended up helping with this duty. I wrote the intro, and we divided it up.
The night before playing in Cambridge, Natalie and the band were performing in Webster, which is about an hour and a half from here. I decided that I'd be worried enough the night before doing nothing that I might as well drive over there, and see the show, since I would be able to see it better there. I talked to Natalie's Road Manager, and got some last minute details worked out, and he offered me free tickets to the show, as did Kevin, who was sponsoring the show itself.
So off I drove, by myself to Webster. Kevin, the dear man, had reserved a front row seat for me, so I got to see the show very clearly, and enjoyed it immensely. After the show, I met Carl, her road manager, and Natalie, and told them how much we were anticipating their arrival the next day. I told them about the outlet mall in North Branch, since I know they like to shop, and they did stop there and enjoyed it. Natalie, the dear lady, said "Oh, your the one who introduced me last year in Webster, aren't you!", and I was very impressed that she'd remembered that. I'm sure Kevin had reminded her, but regardless, I was impressed she could connect me with that.
I told her about the ticket sales, and that I was going on the radio the next morning for a 7:30 interview slot on the local radio show. She thanked me, since it was difficult for her to do interviews at that hour after staying up so late.
So off I went back to Cambridge, and got home around midnight. It was a dreary drive and long, but I wasn't tired at all, energized by the events of the coming day.
I worked in the morning, and at 7:30 A.M. I was interviewed on the local radio station for about 10 or 12 minutes. I was hopeful when I set it up that Natalie would be able to do it, but it was just too early for her, after the late night. It went fine....it was over a phone, and he asked questions and I answered them.
I went home about 11:30 and did my two mile exercise trek to Lake Elizabeth...I had energy galore to burn off, even though I hadn't slept well the night before. At about 1:00 I went to town and met another fellow, Randy Keen, who is a big fan also, and he and I went around and picked up the various items we needed.....800 cookies, 20 gallons of lemonade, cups, napkins, more cookies, towels for backstage, and a few other amenities, such as the flowers we were giving her.
About 2:00 the tour bus arrived, and Natalie and the four musicians and the bus driver arrived at the motel. I had arranged for free rooms at the motel for them, and we had given the manager free tickets to the show for her generosity. They checked in and then I brought the road manager to the bank to convert some cash they'd received from previous CD sales to the bank.
I had a carload of "stuff" for the Performing Arts Center, so headed there, and unloaded some of it. The tour bus was there already, and the band was getting ready for the sound check. Natalie uses the tour bus as her dressing room, so she didn't come out to work with the band until later in the afternoon.
Of course, the trouble so far, was that I was so busy picking up things, and running, that I had not had a chance to even talk to Natalie except to say "hi". This trend continued into late in the afternoon. One trouble with being the main organizer of something, is that everyone looks to you for the answer, or you need to do many things yourself!
I was able to catch Natalie warming up with the band, and doing sound checks, and that was enjoyable, but usually, within a minute or two, something else needed to be done elsewhere. On top of this, Natalie was concerned about her new CD ("In My Hands") which was being "mastered" in New York on this very day....and she was on the phone a number of times working on this.
Eventually, as things started coming together, it was approaching mealtime, and still had not had a chance to really talk to Natalie. The meal was catered, and it was a turkey, mashed potato, carrot dinner with a lettuce salad and rolls and a cake dessert. Enjoyed by all I think. I was able to sit next to Natalie, and we chatted some during the meal about a variety of subjects, including our mutual liking of the music of an Irish button accordionist by the name of Sharon Shannon.
But soon, we had to leave and get set up for the arrival of the audience, so I walked with Natalie back the long distance to the Performing Arts Center. She said that she really would like us to make a short introduction, and that she really didn't want announcements during the break, since it broke up the flow of the performance, but if there were any announcements that absolutely needed to be made, she could make them. Lisa and I were fine with this, since it relieved some of the pressure on us!
Natalie went back to the tour bus to get ready for the show. I was running hither and thither with juice questions and protocol questions and ticket questions, and I hadn't even been able to get a single picture taken yet! I was carrying my camera, but those "Kodak moments" had to be set aside by all the preparation.
Show time was nearing, and the crowd was arriving. I am figuring that maybe 10 people there of the over 700 had actually some knowledge of Natalie...the others were there because of the advertising and coercing by people like me. I was so hoping they wouldn't be disappointed, and that the evening would be a flop.
I talked before the performance with Carl, the stage manager, about when the best time to present Natalie with flowers would be. He said there really isn't a good time in the act to do it, since she exits the stage directly after finishing, but he could ask them to pause between numbers. Well, I didn't want to stop the show to present them, so I decided we would just lay them out on the stage, and Natalie could see them and appreciate them. So we laid them in front of her microphone.
Locked doors, missing musicians, more people, mix up in tickets, lost tickets..amazing all the little things that can go wrong! But mainly, things were going smoothly. The Center was filling up, the musicians were ready, and it was curtain time.
Lisa and I walked out, each said our little pieces, and then together said, "Here she is, Natalie MacMaster!", and exited during the applause.
Boy, was I glad when that was over! Public speaking is not my forte, and this tested it to the limit. I really don't know how it sounded or how we did, but we got through it, and that's what's important!
Natalie took the stage, and within minutes, the crowd was hers. She started off with a very slow tune, and I'm sure people thought that this was her style, and there's nothing so great about it, but in a few minutes, that tune had speeded to point that toes started tapping and hands started clapping. I started to breathe a sigh or two of relief that this was indeed going to be a success. After a couple numbers, Natalie chatted with the audience, and soon had them eating out her hand. Her charm and self effacing sense of humor, along with the music, made the crowd more and more involved.
After a few sets, she commented on the flowers. She said, "These must be from Roger! They are so beautiful", and she gave a beautiful little sigh into the microphone. I was embarrassed, but honored to be mentioned, and even though the flowers were not from only me, it had been my idea to get them, so I relished the moment!
Soon, it was intermission, and the crowd exited for coffee, cookies, and lemonade. The coffee hadn't perked because of a bad outlet or something, so luckily there was enough lemonade....20 gallons of it, thanks to a donation by McDonald's.
CD's sold like mad, and there was a long line at the juice table, and all the talk was so positive and heartwarming about what a terrific evening everyone was having. Made me feel darn good! I still hadn't taken any pictures!
Soon, intermission was over, and on to the second act. Natalie didn't want to be reintroduced (as if she needed to be!). The band took the stage, and she had changed from a black blouse and black and white skirt to a black blouse and some really wild plaid pants. She pranced around and played, and the more she played, danced, and chatted, the more the audience became endeared to her. She made it very clear that she is NOT a singer, and croaked a few bars to prove it...very cute and able to poke fun of herself, which endeared her even more to the crowd.
I was enjoying myself too. I was enjoying myself immensely.
Toward the end of the show, she introduced the band, thanked the sound and lighting crew, and then she said, " And I really want to thank Roger. I don't know his last name...we're on a first name basis. Thanks, Roger, for having me here in this beautiful facility, and for booking me here. Thanks for everything, Roger." Or something to that effect.....I was too flustered to remember it exactly.
I am sure I was blushing, but luckily the lights were low. I appreciated the recognition for my hard work, but it was a group effort really. I think I shall not live that down, but that's okay.
Her finale is phenomenal, with her fiddling and dancing and prancing and moonwalking, and at the end, she received a standing ovation, and came back for an encore of a few tunes. The energy didn't dwindle.
And then the show was over. The lights came on, and over 700 very satisfied people exited the Performing Arts Center. What a night! What a night indeed! Most people left immediately, but a few stuck around to buy CD's and hopefully get an autograph. We got a table ready for her, and there was a line for autographs and for CD sales.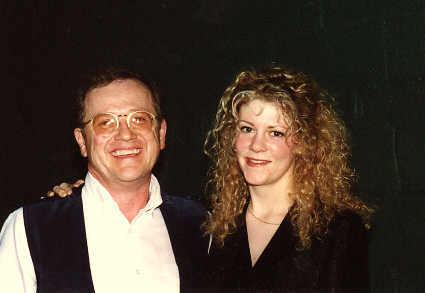 After they were done, I did take some pictures at the autograph table, and had the presence of mind to have my picture taken with her also. I had her sign a number of CD's for each of the committee members, and a program and CD for me, and we were able to chat for a bit.
She was more relaxed now, and I asked her about what we should do differently if we ever do this again.
Natalie said she thought things went wonderfully, and that it was a great crowd, and there is very little to do differently. She was impressed that we could get so many to attend. As she was ready to go, she thanked me for the work I had done, and came and gave me a big hug, which I thought was very sweet of her. She is really charming, and I have to say she has really energized and enhanced my life in the past few months in planning all the details for this performance.
Then came clean up, and the more mundane aspects of show business. Hauling out all the leftover cookies, paper products, thermos jugs, etc., retrieving the towels the motel had loaned us, getting all the food and beverages out of the dressing rooms, loading all the sound equipment ( a whole truckload!), and finally to home.
As Frankie Valli sang so many years ago, "Oh, what a night!"