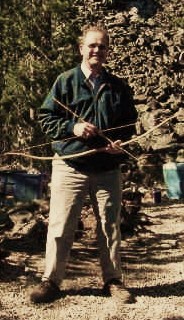 Glass Mountain, Gold Country, Monterey, Connections to Saxton Pope, etc.
May 17 to May 24, 2009
There are a few people have told me that I'm very brave and adventurous to fly off to meet and stay with a total stranger for a week. Balderdash! I'm scared out of my wits before each trip!
I've flown off to meet total strangers now twice in my life, and it's worked out wonderfully both times. The first time was when Richard offered to take me into the Ishi Wilderness. I flew to Sacramento, he met me at the airport, and I had a wonderful trip. It was so incredible an experience that I've done it several times since. The second was this trip to meet Mike.
My good friend Bob Price has joined me on most of the adventures with Richard. He is a prince of a fellow, knowledgeable, and generous as can be. His life has become a bit more family focused with a four year old, a two year old, and a newborn baby in the picture, but it did work out that I was able to see him and his lovely family for a day. More about that later.
Several months ago I got an email from a fellow named Mike who had done a search for Ishi, and had run across my webpage at http://www.rogerwmanderson.com
The page has a summary of all of my trips to the Ishi Wilderness as well as other trips Joan and I have taken.
Mike said that he'd just recently started going to the Ishi Wilderness, so we exchanged several emails. He later tried to get through the brush and briars and manzanita and buck brush of Graham's Pinery, and only got about 200 feet in two hours, so he really enjoyed and could relate to my narrative called, "Graham's Pinery: Never Again".
Mike said he'd love to show me more of California, especially an area in far northern California called "Glass Mountain" where there is a lot of obsidian, and many other sites in the state. It sounded very interesting, and I could tell from the emails that we had some common interests, but mainly Ishi, the last stone-age Indian of North America.
Mike is a flintknapper, so he sent me a couple of arrow points he had made of glass. They were very nice, and I still have them on the ledge in our living room window. He invited me again, so I decided I would do it. He was very much interested in meeting Richard, and did talk to him on the phone a couple times prior to my coming. And so I got my plane tickets to Sacramento.
Mike met me at the airport on Sunday, the 17th. It just happened to be very chilly when I left Minnesota early that morning, and it just happened to be about 102 degrees in Sacramento when I landed!
He drove me to his home near Sacramento, and it's really a neat place. It is right at the edge of a development, but once you enter the gate, it's like you're out in the country, and it's a few acres in size. Not only that, they have a mule named Garth, some chickens, some itinerant wild turkeys, and two beautiful Golden Retrievers. His wife, Lauri, was very nice, gracious, and welcoming, and I felt as comfortable as I could be under the circumstances that I had never met either of them before!
Mike's mother and father stopped over in the afternoon. She is originally from Minnesota, but hated the weather so badly she moved as soon as she was old enough to leave home.
That evening, we packed for the trip the next morning. Mike has a very nice big pickup, so we filled the back with camping gear. He had told me earlier that he could provide me with all the gear I'd need, which made packing from Minnesota much easier.
Mike is an archeologist and is also in his family's highway sign business. His passion, however, is archeology.
It worked so that Richard could join us for the trip to Glass Mountain. A friend of Mike's named Chris joined us also for the last day; he's the one who taught Mike how to flintknap.
We picked Richard up in Susanville, several hours north of Sacramento, and I met Janice, with whom I had talked on the phone many many times. Richard showed us a video about "Hi Good", an Indian fighter that had hunted Ishi's tribe. It was an "art film" with several historical inaccuracies, but well made.
Then it was off to Glass Mountain, which is about 7 hours north of Sacramento almost to the Oregon border.
Mike and Richard hit it off immediately, and I was amazed at how many friends and experiences they had in common. It is surprising that it took a fellow from Minnesota, me, to introduce them!
Cell phone coverage soon stopped, and we were getting into more and more desolate/isolated country. Soon we were on a small tar road, and then gravel roads and then trucking roads. Mike found Glass Mountain, drove up to it, and I was amazed! You could see it glistening like diamonds in the later afternoon sun. As we got closer I got more amazed at the massive amounts of obsidian, hillsides of it.
It's hard to describe obsidian if you haven't seen it. It's a very shiny black glass. It is made when volcanic lava cools very quickly, and it's pretty rare, especially to find it in this quantity. This is a picture of me after I had climbed up a steep slope to stand under a massive chunk.
Some of the obsidian was less black, more gray in color, and some was striped black and gray. Lots of variation.
We soon found the campsite we were looking for that Mike and Chris had used in years past. We were at just under 7,000 feet in altitude, so the air was a little thin, and we figured it would be cold at night.
We went back to the campground, had a quick meal of hot dogs, and got the tents ready for sleeping. Richard and I stayed in a two person tent, and Mike had a small single person one.
It got cold.
There was ample firewood close by to have a nice fire in the morning, and Mike fixed a great breakfast of homemade sausage and fresh eggs from his chickens. It was delicious! I am very religious about staying on a low fat diet, but I'm also adaptable to situations where that is difficult, and I try to eat these things in moderation. Not only that, I know we were heading out for a pretty good hike soon, so the extra calories would soon be burned off.
Before we headed off to hike up Glass Mountain, we made a run to the ranger station to get a fire permit and a permit to collect obsidian at a couple of other sites...up to 500 pounds! They did not allow obsidian to be taken from Glass Mountain because it is considered a "culturally sensitive" area.
I found this strange because the entire area has been excavated and roads put in to mine the pumice in the area. As a matter of fact, we hiked on these roads when we hiked up Glass Mountain.
It was a long hike with a few hazards along the way, mainly steep dropoffs on one side of the road, some large patches of snow, and some loose footing on the road.
It's an impressive mountain with some interesting views, beautiful variations in the effluvia, in the volcanic flow, and some beautiful smaller specimens ranging in color from gray to pitch black to banded and all combinations of the former.
Add to that massive quantities of the pumice in all sizes, and you've got some interesting things to see.
We took our time climbing, but the 7,000 foot altitude did make me a bit winded at times in the steeper sections. Richard's knee started bothering him, so he waited for Mike and me while we went higher up the mountain. The footing was excellent on the trucking roads, and the stark landscape was offset by beautiful distant scenery.
Soon, we started back down the trails toward our campsite,
and again enjoyed the uniqueness of this isolated yet beautiful location.
When we got back to the campsite, Mike took out all of his knapping supplies, and got settled in to do some work on making points. He is very careful not to contaminate the site with "new" flakes and chips, so he spread a massive tarp so he could clean them up easily.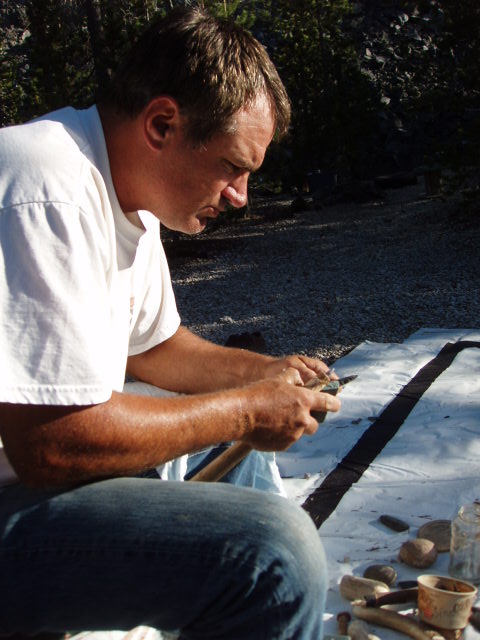 It was really fun to watch him work on a spear point that he gave me. He worked slowly and methodically, gradually taking off more and more flakes so that the point took shape. He applied just enough pressure to make a flake peel off, and it took him perhaps an hour to make a beautiful spear point I now have displayed in my living room.
Chris arrived late in the afternoon to join our merry trio. He had a massive tent he put up. After he had finished that, with Mike's help, we had our evening meal. We had "Dinty Moore Beef Stew", and it really hit the spot after a pretty busy day.
We sat around the campfire as the temperature dropped and the wind blew. Mike and Chris have both taken up blacksmithing, so they put some irons in the campfire to begin shaping them into different objects.
Mike had some horseshoes that he started making into knives, and Chris worked on making a long barbecue fork.
Soon, it was midnight, and time to turn in. It was even colder than the previous night, with a bit more windchill, so I put on my long underwear before crawling into the sleeping bag. A person gets accustomed to sleeping in a climate controlled soft environment, so camping out in the elements with minimal comforts is a great way of making one appreciate the very things we take for granted every day.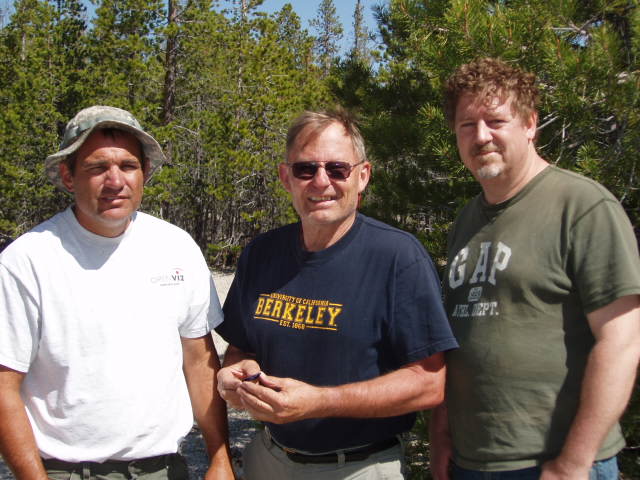 This is my way of saying I didn't sleep very well because of the cold and the hard ground. I awoke early, a good hour before anyone else stirred, so I got a fire going, and went for a short walk down the road.
Eventually, Richard got up, and then Chris and then Mike, and we had another hearty breakfast.
Mike and Chris had seen something called "Hot Spot" noted on the topographic maps, so Mike and I decided we'd go try to find it. We took his truck and drove on some back roads that had been used by the pumice miners. We had a map and the GPS and soon we got as far as we dared go because of the soft road beds due to melting snow.
We hiked for a bit toward the area we thought it might be
. Soon, we came to a very steep hill that was snow covered that we needed to climb to get to the summit. I hadn't worn my hiking boots, only my casual shoes, so I soon realized that I was not going to be able to climb the slope. Mike went to the top alone while I explored the many obsidian outcroppings on the hillside.
I loved the area where we were. The view was magnificent with a snow capped mountain far off in the distance, and the pine forests with patches of snow intermixed with the obsidian landscape. And not another single soul around. We hadn't seen another person our entire three days in the area.
Mike soon returned and reported that he hadn't seen anything that looked like a "hot spot", so we headed back to camp. Chris and Richard had remained in camp and Chris had gotten started flintknapping. Mike soon joined him, and I again watched amazed at how they could control the flakes that they were removing from the objects they were knapping.
Soon it was time to pack up and head south. Chris was staying at the camp for a few days by himself, so Richard, Mike and I started packing up our tents and supplies.
We headed down to the road to bring Richard back to Susanville, and then headed further south. It's quite a drive, around 6 1/2 hours total from Glass Mountain.
Mike was good enough to drop me at Bob's place in Shingle Springs that evening. Bob and Mike have lots in common, and I'm sure they'll become good friends when they have time to spend some time together. Mike couldn't stay long, since it was getting late, and he had to work the following day.
It was great to see Bob and Sarah again. Megan and Molly had changed so much in the past two years that it was hard to believe. Cameron, their newest child, is a real cutie too with lots of hair and beautiful eyes.
The next morning Bob and I headed off for a day in gold country. He had taken Joan and me on the northern swing a few years ago, so we headed south with the main goal of getting to a small restored city called Colombia. We stopped at several places on the way.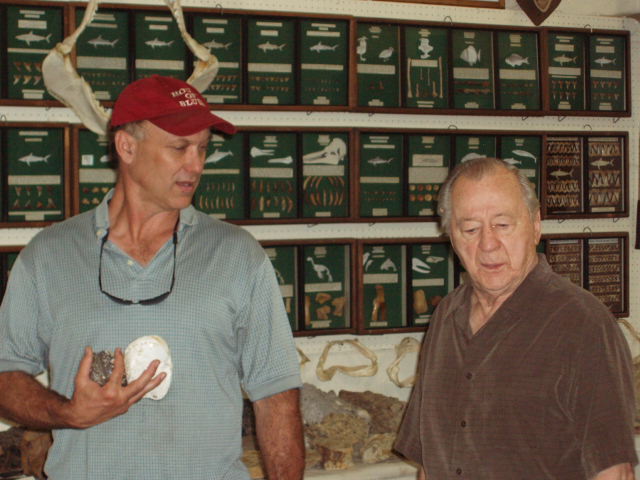 Bob is very knowledgeable about the history and geology of the whole area. We stopped at a small gold town called Angel's Camp which had a number of small shops aimed toward tourists. We went into a wonderful rock and mineral shop called, "Stories in Stone" and it was so very interesting! It had samples of rocks and minerals from around the world beautifully displayed and for sale. They also had unbelievable fossils. The owner (pictured with Bob) is almost 80 but he had such wonderful enthusiasm for his business that you could see that he loved it. We spent a long time in the store, and I bought a couple of smaller rocks called "enhydros" or "water agates" that actually have water inside them, and you can see it move around when you hold it to a light. Bob bought a large amethyst geode half, and planned to go back very soon and buy one that is about six and half feet high and maybe two feet wide. It was absolutely beautiful.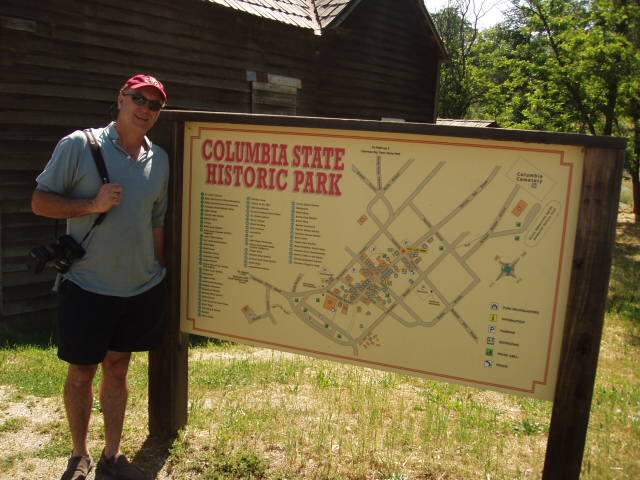 We soon hit the road after a quick bite, and soon arrived in Colombia. It is a renovated mining town and is now run by the state park system. It had lots of neat little shops and many of the buildings were original to the time of the gold rush.
One more stop brought us to a winery in the country that had a great little museum, and a massive gold nugget! The original size when it was found was about 62 pounds, but after cleaning, and polishing, it still weighed over 40 pounds. It was in its own vault, naturally.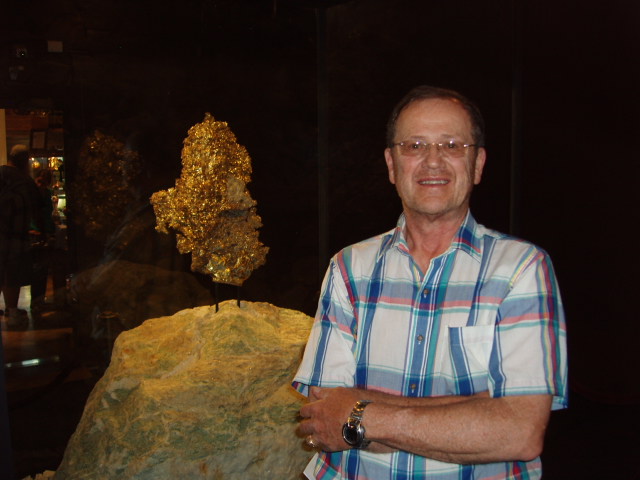 Soon we hit the road again toward Sacramento and Mike's house. Bob dropped me off about 7:45 p.m. and headed directly home to help with bedtime for his kids...it gets a bit hectic, as one can imagine. Mike and I unpacked his pickup from the Glass Mountain trip, and then packed to take off in the morning toward Monterey and Carmel several hours south of Sacramento.
We started out a bit after seven in the morning and stopped for breakfast in a great restaurant not far from Mike's house. I had pancakes with some wonderful fresh strawberries.
Soon it was on the road again. Mike was very impressed the GPS I had brought along for the trip. It had gotten us to a few places that were difficult already, and it did a masterful job the entire trip. I told him that it's not perfect, but it's right 98% of the time, and if you miss a turn, it'll find a way of bringing you back on course. We arrived in Monterey early enough to get a couple motel rooms and walk down Cannery Row to eat at Bubba Gumps, and then see the Monterey Aquarium. I had also seen this before, but never tire of it, and they always have new things to see. This time it was seahorses.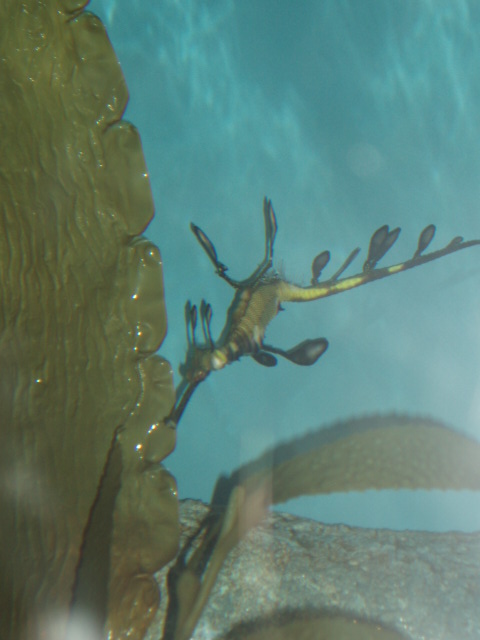 The main purpose of our visit to Monterey and Carmel-by-the-Sea to see Virginia Pope Evans. I had visited her before, and looked forward to seeing her again. She was 101 years old in March of 2009.
Her father was Saxton Pope, and he was a famous author, physician, and archer. He had learned how to shoot from Ishi, the Last Stone Age Indian, and he and Ishi had become good friends. Virginia remembered Ishi from her childhood. This direct connection to the story of Ishi that has meant so much to me, and enhanced my life in many ways because of the experiences I've had and the wonderful people I've met, is why I was excited to see her again.
Mike has also been enthralled by the story of Ishi, and therefore was thrilled to have the opportunity to meet Virginia too. We arrived at her house at 3:00 in the afternoon, and her personal attendant let us in. Virginia was seated on the couch, and so we said hello and I introduced Mike to her.
We chatted for a while, and she told us how she had met her husband, fell in love, and then took a steamship to Australia to see him again and get married. She talked about her father, Saxton Pope, and how he was a "prestidigitator" and a musician and a physician. Mike told her that he was really brave to go to Africa and hunt lions with a bow. She said, "He was crazy!"
I asked Virginia if Mike could see the arrow points that Ishi had made for her father. Her assistant went to find them, and with a bit of searching, located the little cardboard box they were in. I opened the box carefully and removed each of the small works of art. Saxton Pope called Ishi's flintknapping abilities to be the best points he had ever seen.
I carefully laid the ten cherished glass and obsidian points carefully on the coffee table, and we proceeded to take several pictures of them.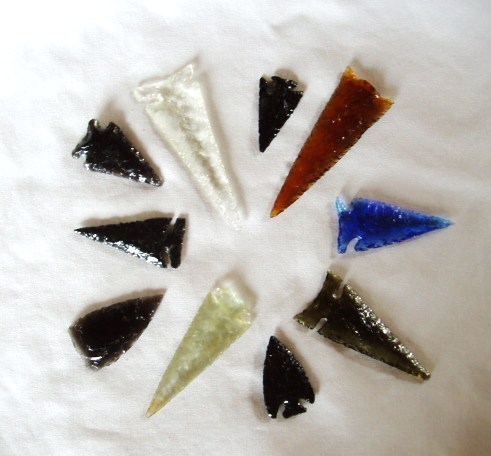 Mike immediately noticed how thin they were and how finely the flakes had been removed on the sides. He said he didn't have any tools that would do such fine and detailed work.
Virginia was delightful. I asked her if she remembered singing a song to me before that she had learned from the many playings of the record on the Victrola on her trip to Australia, and she immediately started singing. She also sang a song her father had taught her. You could tell she was proud of her father.
I asked her if Mike could see her father's death mask, and she said that was fine.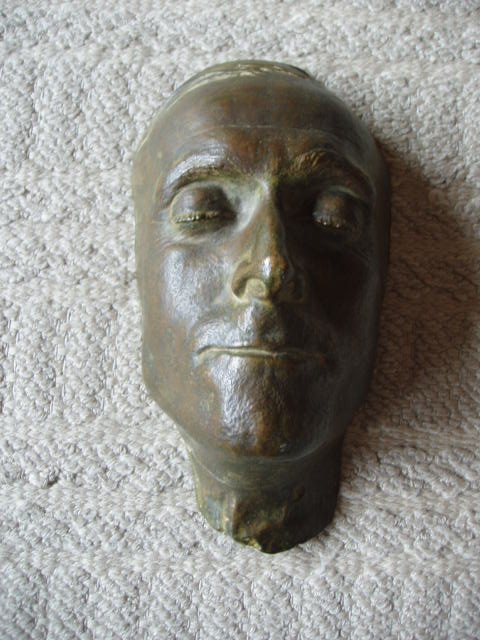 Mitasha went and located it, and carried it in. The making of a death mask was popular shortly after the turn of the 20th century. A plaster mold was made, and then this was used as a mold to make the actual mask. Saxton Pope's is made of bronze, and is quite heavy, but beautiful in its own way. He was a handsome man, and died when he was only 50 years old.
We visited with Virginia for about an hour, and then decided it was time to leave. She is so frail that we didn't want to tire her out too much, and we didn't want to overstay our welcome. And so we left absolutely thrilled and enthralled by our chance to visit her. It was magical in some ways. She was a direct link to the last Native American in North America who lived a truly prehistoric existence, and then was able to adapt to living with the very race that had tried to annihilate him throughout his life. She knew him and remembered him. Not only that, she was a delight to visit and get to know better.
From visiting with Virginia we went and visited the Carmel Mission just down the road. It was built about 1770. They had a very nice museum with many period pieces. For me, though, it was difficult to concentrate because my mind kept wandering back to our visit with Virginia.
We stayed in Monterey for the night and headed north in the morning back toward Sacramento. My internet pen pal of about 15 years, Di, had moved to Modesto, so I asked Mike if he'd mind going back that way so I could see her briefly and her new home. He said that was fine, and he knew of a rock and mineral shop in the general area that we could swing over to after we'd visited.
Di's apartment was very nice, and nicely decorated. I introduced Mike to her, and we visited for perhaps a half hour.
After a tour of her home, we decided we'd better hit the road since it was still a while back to Mike's home, so we said our goodbyes.
We stopped at the rock and mineral shop. It wasn't as large as the one I'd been to with Bob in Angel's Camp but it was very interesting and had many beautiful displays.
Soon, we hit the road again for Mike's home. We talked a lot about Virginia, the kind of life she had lead, her wonderful artifacts, and much more.
It was a quiet evening. Mike barbecued pork chops and his longtime friend Will came and joined us for "supper". Okay, dinner.
I finished my packing in the evening since it was going to be an early flight, and we would have to leave for the airport about 5:00 a.m. I was tired, so headed to bed early.
About 12:45 in the morning, my cell phone rang. Being in a strange bed in a strange house on a strange schedule did not lend itself to finding the cell phone quickly in my pants pocket, but eventually I did find it. It was Joan.
She gave me the sad news that my mother had died in her sleep a little while earlier, and that my sister had just called her. I expressed my sadness, and yet knew that this was really what my mother had wanted. She was 88, physically failing, ready to die, and had expressed this earlier in the week to my sister.
Naturally, I didn't sleep much the rest of the night, so I got up quite early, had some coffee, and waited for Mike to rise to take me to the airport. He hadn't heard the phone ring in the middle of the night, and he was very sympathetic when I told him of the passing of my mother.
He took me to the airport, and I had ample time to get checked in, go through security, and get to my gate. I landed, met Joan, and we went to the nursing home where my sisters and brother were cleaning out her room.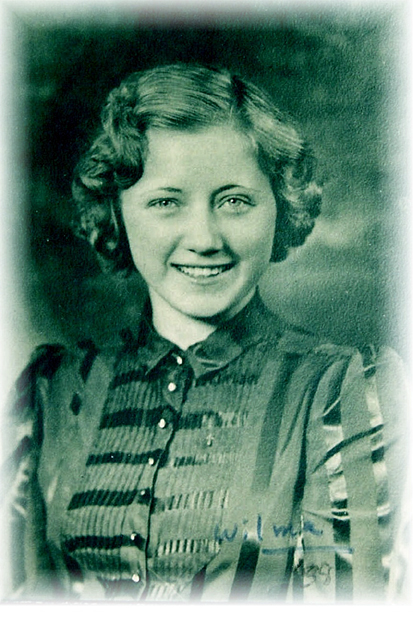 It had been a great week tempered by some sad news. I saw so much, met so many nice people, reacquainted myself with other old friends, and have some wonderful memories I shall never forget.