Hawaii, The Big Island, January 1-9th, 2009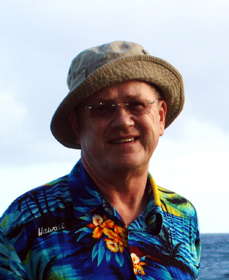 There is something special about Hawaii, especially when you leave the frozen tundra of the north in January. It really is a different world.
We flew out early on the morning of January 1st. Traffic was light to the airport, and the flight to Los Angeles was on time and smooth. It got a bit more stressful after that. Our flight to Honolulu from Los Angeles had been delayed at least 2 ½ hours. This meant that we would also miss our flight from Honolulu to Hilo, Hawaii that evening.
Joan decided to check with the ticket agent to see if anything could be done. He was very accommodating, and after some work, he got us booked on a flight by United to Honolulu. Only trouble was that it was leaving in about a half hour, and we were in the wrong part of the airport. We rushed to the other part via a bus, and got to the gate as they were beginning to load. They had tried to find our luggage, but when we arrived in Honolulu, our luggage did not. We talked to the ticket agent there, she took the information on where to find us, and we hoped it would arrive the next day.
The time difference in Hawaii is four hours earlier than we are, so even though we arrived in Hilo about 8:00 P.M., it was midnight in Minnesota. We had gotten up before 5 A.M. that morning, so it was a long day by the time we rented a car, a Buick Lucerne, and got to our hotel. It was about 1:30 A.M. Minnesota time before we were settled and ready for bed, so it had been a long day!
Our luggage caught up with us the next morning, which was a relief.
The next morning, we went down to breakfast, and they offered a "continental breakfast" choice which was fresh fruit…papaya, banana, orange, and pineapple, toast, juice, and coffee. This was pretty much our breakfast of choice for the week. The fresh fruit is wonderful.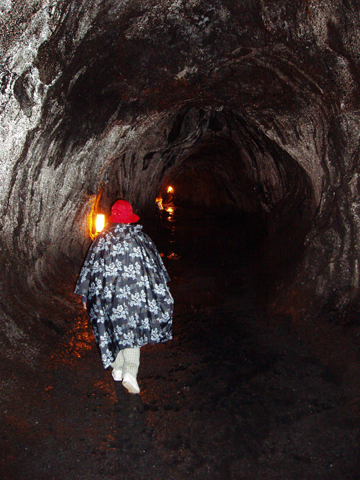 After breakfast, we headed to the Volcanic National Park in the rain. Our first stop was an immense lava tube that could be reached with a short hike through the rainforest. There was a lot of rain seeping through the lava and dripping from the roof of the tube, but we walked in quite a distance before there was so much water on the ground that we would have had to go wading if we had gone further.
We explored more of the park looking at the various craters and going on some hikes on the lava fields. It was quite impressive to see how the lava flows had completely overrun some of the paved roads that had been used.
We did run across two Hawaiian geese called "ne'ne'" enjoying themselves in one of the rain puddles. They are rare to see, so that was fun, and we got quite close.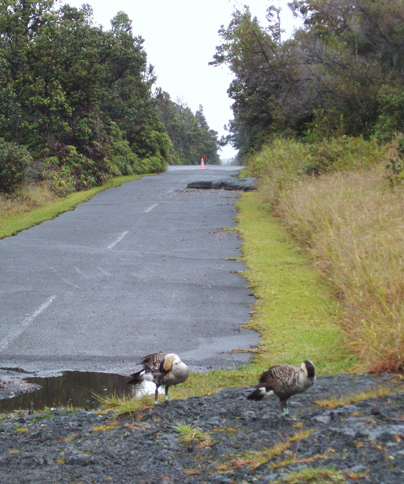 We couldn't drive the entire loop around the craters because part of the road had been closed due to poisonous gases, so we backtracked to the Visitor's Center. Visibility was poor due to the rain and fog.
We headed back to Hilo and to the hotel, and ate at a restaurant close by called "Uncle Billy's". It was pretty much an open air restaurant.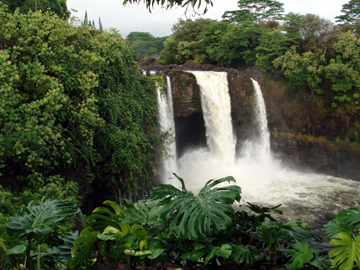 The next morning we headed out to see Rainbow Falls, which was beautiful. It's in the rainforest, and it's quite lush in the whole area. There was a trail to the top of the falls, so we followed that and got a different view. We saw two more waterfalls on the drive, and soon we got to the "Hawaii Tropical Botanical Garden" and spent a couple hours touring a large tropical garden. It rained off and on, sometimes quite hard, but it was warm, and the only thing I worried about was getting my camera too wet. Joan had an umbrella for when it rained hard. The garden was beautiful, with many exotic plants, and we really enjoyed walking around there. There was also a beautiful view of the ocean.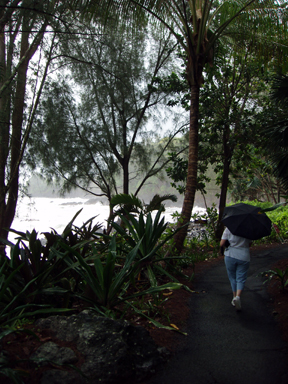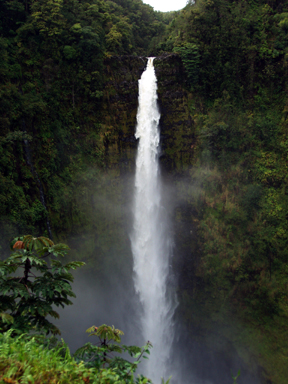 From there we had a great lunch at a little place along the road, and then drove to Akaka Falls. The water falls 420 feet, so it's pretty spectacular, and there was lots of it to fall with all the rain.
The next day was Sunday, and the Farmer's Market was open so we drove out to see it. There were lots of things for sale including food, flowers, clothing, and lots of other items. We only bought some coffee to bring back to Minnesota but it was fun to walk around. It's complicated to bring food or plants back to the continental United States, with lots of inspections and approvals needed, so we didn't even attempt it.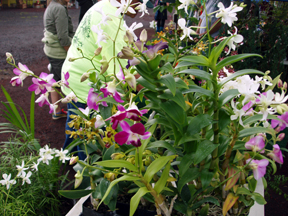 From there we went to Lava Trees State Monument and we walked a trail that went by remnants of trees that lived long ago but were covered with swiftly flowing lava. So swift that the castings from the trees remained after the lava had cooled. It was from an eruption in the 1700's.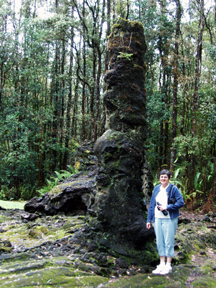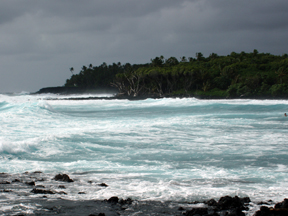 We drove to see the tide pools at Kapoho as the weather cleared more, and there were high waves, wind, and surfers. The water was a beautiful aqua color. From there, we went to a very crooked road though the country to where the road simply ended because of a massive lava flow in the 1990's. We walked for a while on the lava to a black sand beach and a view of the smoke and steam rising from the lava as it hit the ocean.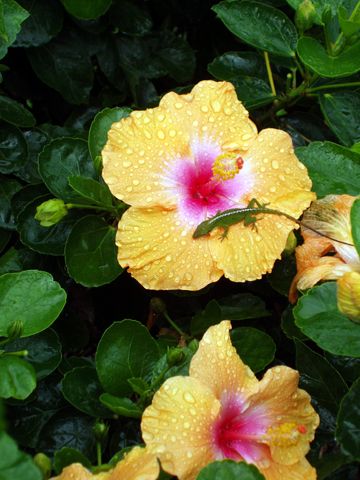 Coming back to our hotel, we walked by the beautiful hibiscus flowers, and I spotted a little creature perched on one of flowers.
We went to eat at another great restaurant in the evening. The food in Hawaii is worth the trip in itself. The fresh fruit tastes so different than the fruits we get in Minnesota, and the seafood is wonderful. Add to that the many cultures that have intertwined in their cultures and customs, and you get some really special treats. The food in the hotel was very good also, reflecting some of those same wonderful qualities of freshness and uniqueness.
On Monday we had sun all day as we headed north along the coast. There were several stops to see the ocean and the rugged coast. We also went a bit out of our way to see a deep valley called "Waipaia". It's pretty spectacular, and you can't get into the valley without special 4 wheel vehicles.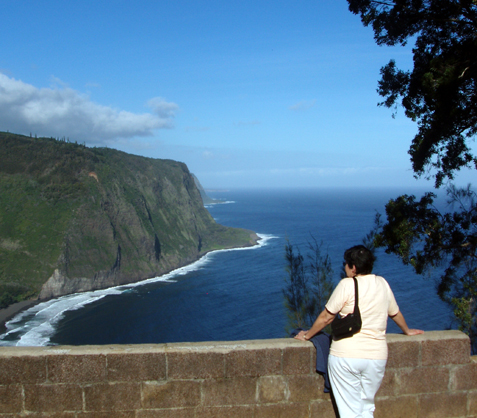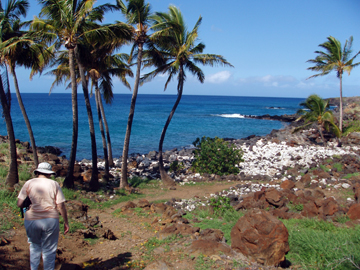 We headed to the west coast from here, and walked around a native village site that was used for many centuries called "Lapakahi State Historical Park". The weather was beautiful, sunny and warm.
We headed to Kona and ate and then went to the "Place of Refuge" on the seashore. We saw a man in native dress laboriously tying tiny bright colored feathers on a large robe as a part of the re-enactors that were there. We also saw a couple of green turtles resting in the water near the shore.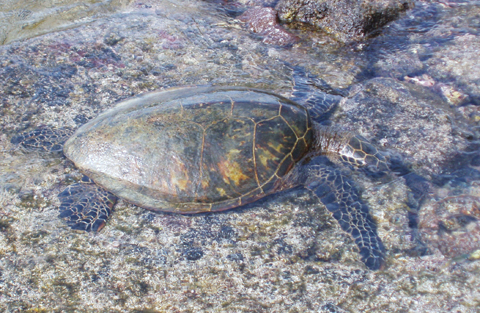 We headed back to Hilo by finishing encircling the island. It had been a long day, but a fun one with lots of sights and lots of sun.
We rose to the sun again the next morning, and we headed back to the Volcano National Park.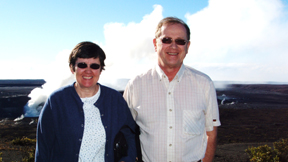 We could easily see into the crater this trip and see the smoke coming from the center. It was blowing in such a direction that they closed a good portion of the road through that area.
We drove until the road was closed, and then we walked about a mile to a relatively new lava flow. It was still quite shiny and very rough to walk on. The road had again been swallowed by the lava, and in the distance, there was a "ROAD CLOSED" sign that had been totally surrounded by several feet of lava! We could see the plume of smoke and steam in the distance, but could not get a view of it hitting the ocean.
We had lunch in a small café just outside the park in the town named Volcano, and then went into an area that was called the "Bird Woods". It was a long trail through the woods, and we did indeed see several wild pheasants that did not look at all like our pheasants.
On Wednesday, it was raining early in the day again, but we headed off to the Hilo Farmer's Market that was in their downtown area. Again, quite a variety of foods and merchandise were available. Joan bought a pillow cover that had a Hawaiian quilting design on it, and I bought some coffee. We also bought a loaf of delicious homemade bread that we nibbled on for the next couple days. We looked around a little downtown in many of the small shops, and then headed off once again for the lava fields.
We drove to where the best viewing of the active flow was supposed to be, and it is the closest view that we got. We drove over two miles of "lava road" past a housing development that had been swallowed up by the lava flow. Some homes were not totally destroyed, and people were still living in them. They have no electricity or water. It was a long hike back to near the ocean, but we still were about a mile or so from the active lava flow, so we couldn't quite see the flow or the glow.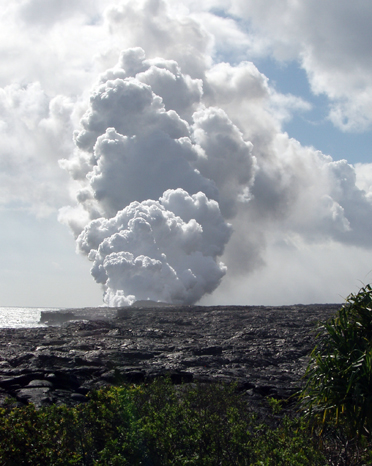 On the way back, we decided to drive part of way up another mountain, Mauna Loa, but the rain and the clouds were so thick that we had to give it up.
We went to a Thai restaurant not far from the hotel for one more exotic meal before we had to head for home.
We had little time the next day to do more that pack, bring back the rental car, catch the flight to Honolulu, and then the flight to Minneapolis. We arrived about 6 A.M. Minneapolis time the next morning after leaving about 6:00 P.M. Honolulu time. It was seven degrees with a bit of nuisance snow coming down, and there was about a half inch of ice on our car at the lot. Reality had hit us broadside.
We arrived home about 8:30 A.M. tired, and glad to be back.
It was fun trip.