California and the Ishi Wilderness: May 20-26, 2013
(In order to protect the interests of the private landowners, this summary of the trip to the Ishi Wilderness is quite general, and any landmarks that could be identified have been removed)
I flew out early on a Monday morning, heading again to California and to the Ishi Wilderness. Mike picked me up at the Sacramento Airport, and we went to Old Sacramento for lunch at Joe's Crab Shack. We lingered a bit too long and chatted too much, and Mike got a parking ticket.
Ah, California. The sun was shining, the flowers blooming, and it was a beautiful summerís day, and a contrast from the cold and dark dreary weather I had left behind in Minnesota. It was good to see Mike again and catch up with him on the last year. Mike, and his wife, Lauri, have been wonderful to me, and this was my fifth trip to their home. I love to tell people that I met this guy ďon lineĒ, we exchanged emails, and he invited me to California, so I decided to fly out and spend a week with him!

Mike, Lauri, and I went out to a place known for its barbecue, and met another couple there that they know. I had met them before too. They are transplants from New York, and have the thick eastern accents, and both their voices would make wonderful voice over work for cartoons or commercials. Delicious food there.
Early Tuesday morning, we headed north to Chico, and to Richard's house. He is the one who encouraged me to come to visit him (met him on the internet too and flew out to spend time with him!) and go to the Ishi Wilderness for the first time in 1996, and I have been grateful to him ever since for widening my horizons, and challenging myself to do things I didnít ever think I could do.
There were several other people going on this trip as well. Richard, and his friend, Janice; Andy and Jill; Mike and Lauri; Bob, the landowner, and Bobís two friends, Christian and Kyle, the youngest folks on the trip, both around 30 years old.
With me, that made a total of ten.
We met at Richard and Janiceís house in Chico, and organized food, packs, and everything into three vehicles. Bob had an extended pickup, so he took Kyle, Christian, and Richard. Mike and Lauri, as well as Janice rode in the rented extended cab pickup, and I rode with Andy and Jill in their Nissan SUV.
By 9:30, we were on our way, through Chico to points north. We soon turned off the main highway onto a dirt road, then onto a poorer dirt road, and on to a road that can really not be described. I was very impressed by all the four wheel drive vehicles and their drivers. The large rocks, the very steep inclines and declines made it very difficult to maneuver.
We drove on and on, often a very slow pace so the vehicles would not bottom out. Every so often there would be a view or a historic site that we would stop to discuss and photograph.
The path we were on was twelve miles long in all, but it took us over five hours to get to the cabin with the slow speed and many stops. Lunch time came and went without a whisper.
I was in the vehicle with Jill and Andy, and their knowledge of the flora and fauna in the area was marvelous. I learned so much from them about place names, lava flows, history. I was trying to soak it all in while being pummeled around with major bumps and bangs.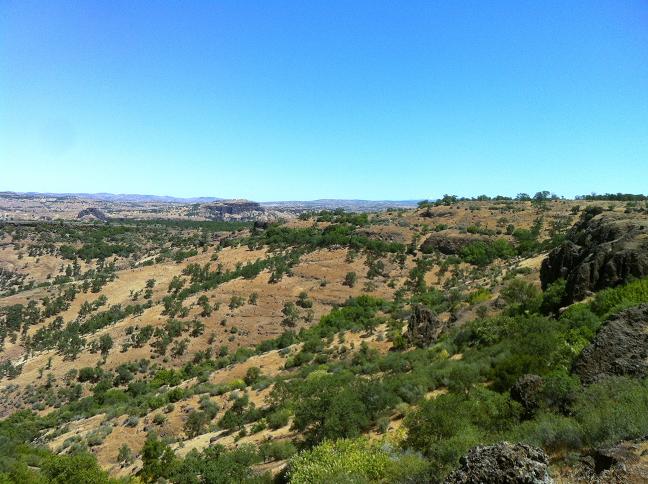 This very country was inhabited by Ishi and his tribe, the Yahi. When the professors convinced Ishi to take them back to his homeland for a few weeks in 1914, this was one of the locations they visited. When he was discovered, or captured, as some people say, it was 1911, and he had been living in hiding for about 40 years in a stone-age existence.
99 years ago, they brought Ishi back to his homeland to learn more about his customs, place names, and how his tribe lived.
There is no story comparable to Ishiís. If we were hiding from alien invaders for 40 years, and were down to the last person, the story would be similar. Then, when captured by the aliens, who had killed your family, and eradicated your culture, you devote yourself to helping them, living with them, having some of them become your closest friends.
Then you take these very aliens back to your homeland to teach them of the ways they themselves destroyed. This is some deep philosophical and ethical fodder to digest.
Several of the stops along the long and bumpy drive were to observe distant landmarks, Yahi camping sites, and places that the 1914 return expedition visited and camped at.
There was one turn that was so sharp that it had to be made with several small turns, first forward, then back and then forward again, a saw turn, they called it. This led to a very steep decline that had been reinforced with re-rod for added traction. This was the final hurdle before reaching the cabin.
The cabin itself was rustic and rested right on the creek. It was a beautiful location, with trees tucked in close, and the sound of rushing water from the creek.
The amenities were few but we had the basics covered. There was supposed to be propane for lights and the stove, but Bob figured there must have been a slow leak, so these niceties were lacking.
Luckily, Andy had brought a small propane burner along, so food could be cooked and coffee could be made. Ice chests were hauled in, food was organized. Folks picked out their sleeping spaces. Mike and Lauri, and Andy and Jill had each brought larger tents, so they set them up. Christian had a tent too, so he set up down by the creek.
Kyle and Bob decided to sleep out under the stars on the deck. The cabin had two sleeping rooms, so Janice and Richard took the bed in the living room, and I took the back bedroom for my own. There was a bed and mattress, but no bedding, so I laid out the sleeping bag on the mattress, and I was set.
Everyone was setting up their tents and getting organized, so I walked down by the creek. Just a few steps and you are out of sight of the cabin, and with the rush of the water, all other sounds are obliterated. This view has not changed in thousands of years. The huge bluff on the other side of the creek, will be there for thousands more years. One can imagine, easily, the hustle and bustle of the Yahi tribe in the very location, hunting the salmon and trout. Bob agreed later that the site was a bit mystical, and that the Yahi voices still seem to be there when you are alone and in the moment.
Soon it was time to have the evening meal. We had plenty of food, and chicken with potato salad were the main courses of the evening along with fruits and breads and wines. Most of the conversation centered on the deck with the beautiful view of the bluff across the creek. A couple of the guys went swimming and a couple more tried fishing, but most just sat and talked about the trip in, the country itself, and its history.
We were in a place that few had seen. Although it abuts the Ishi Wilderness, it is private land, and much of what we crossed to get in was private. That is why this was such a special trip. Grizzly Bearís Hiding Place, where Ishi and his small band had hidden for about 40 years, was within a couple miles of us, but it was not accessible to us due to private land.
The evening was cool and clear and there was close to a full moon. Many of us sat out on the deck and talked into the evening about various and sundry topics. It was a diverse group, from social workers to plumbers to archeologists ranging in age from about 29 to almost 70.
It was downright cold the next morning even though the day was clear. It took a long time for the sun itself to make its way down to us in the valley. It was 40 degrees inside the cabin, cooler outside. The blueberry pancakes for breakfast, and a few cups of coffee really hit the spot.
Later in the morning we took our only real hike of the trip to the site of an Indian camp and where Saxton Pope, Alfred Kroeber, Thomas Waterman, Ishi, and the rest of the 1914 expedition camped. The walk to the site was up a couple hills, and across some open areas, but nothing very difficult, and it was easy to avoid the ubiquitous poison oak. Richard remarked after that this was the first trip he'd been on where he hadn't come down with it.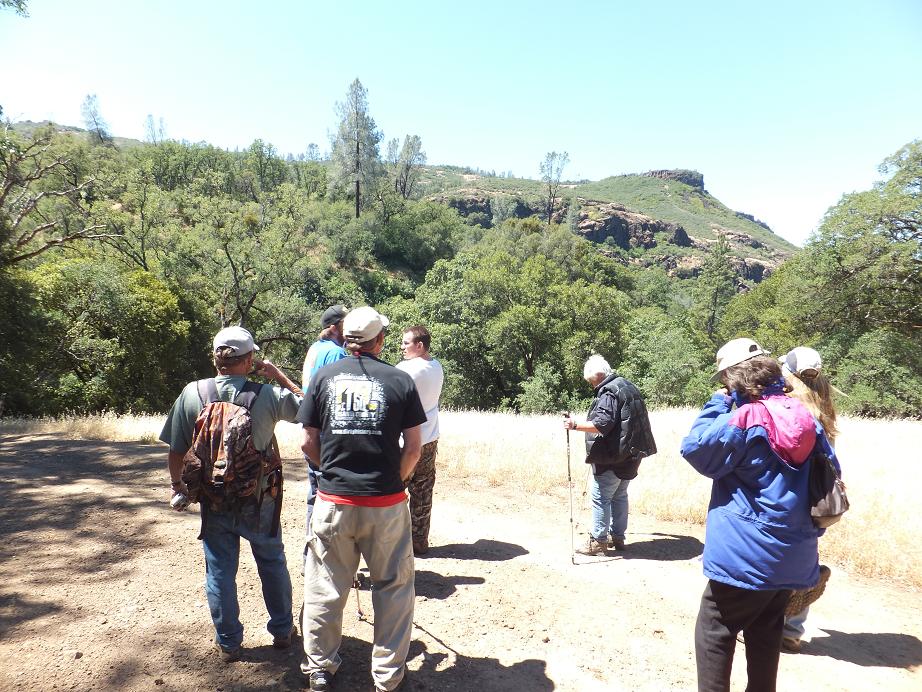 The 1914 group took several pictures in this location, and Richard wanted to duplicate them as much as possible. I thought it was neat to be in the very site where they were taken, and with the only change of some of the trees and shrubs, it was possible to find the right locations.
Mike, who is an archeologist, has a great eye for locating old house pits, small flakes of obsidian, broken points, and other objects that identified this as a former Indian camp. There were also remnants of the 1914 expedition in the form of old tin cans and broken glass.
Soon we headed back toward the cabin. The day had warmed beautifully and it was a perfect day for a hike in the California foothills.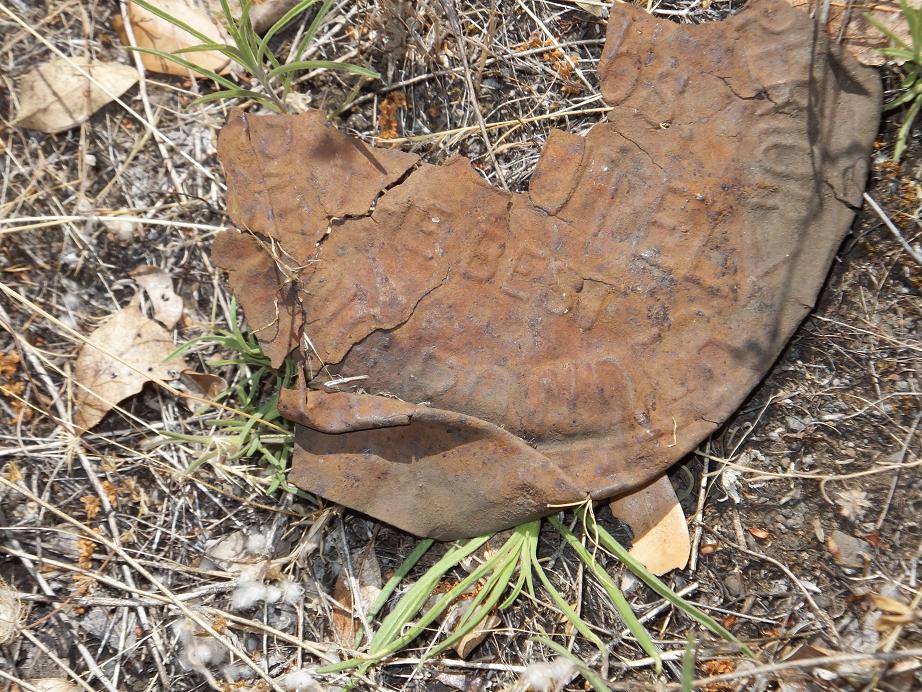 The walk back was slow and leisurely, and we took time to make sure everyone stayed together. We all watched out for one another to make sure no one wandered out of sight or took off on their own, since finding someone in this country would be extremely difficult.
Because it was private property, and we were under the watchful eye of the owner, and he had made it clear that everyone needed to stay together, and that no one could leave early and try to drive out on their own. We were also without any cell phone coverage, so were were definitely isolated for the duration of our stay.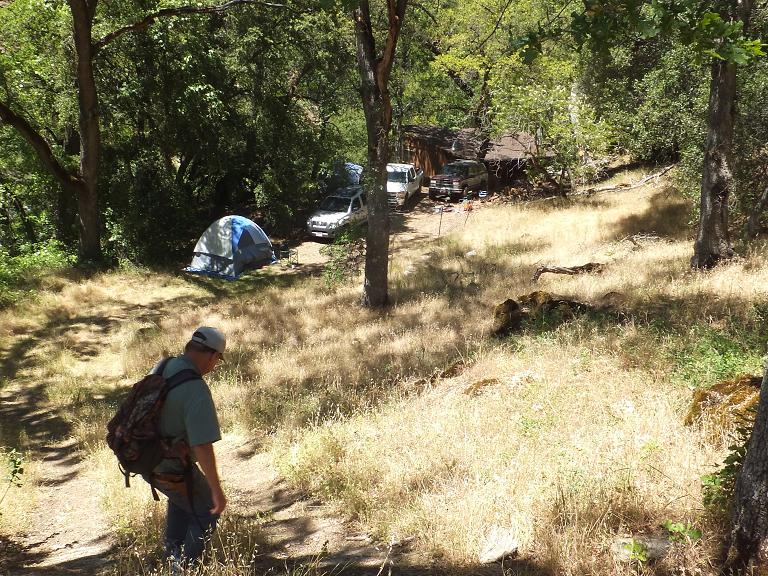 The steep slope down to the cabin brought us back for a share of the afternoon. Some folks went swimming, some tried fishing, and Mike pulled out his flintknapping supplies, so he and I sat and did that for quite a while. I, of course, drew first blood with a deep little cut on one of my fingers which bled for quite a while. Mike made a couple of beautiful points both of old glass and of obsidian.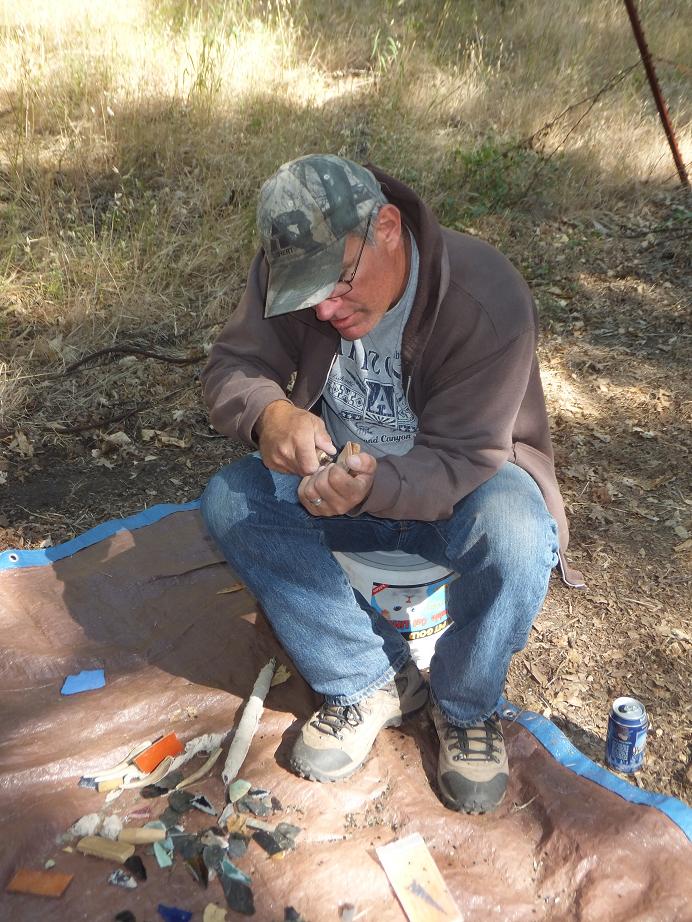 He can replicate the points knapped in the style that Ishi was known for, which is called the "Desert side notch".
As dusk approached, people started gathering their pot luck dishes, and Richard and Bob got the coals ready for steak. While I don't routinely eat a lot of the food that was served, and prefer low fat foods, I do make exceptions, and in cases like this, I really enjoy those exceptions!
There was plenty of food and wine and beer for anyone who wanted it, and there were lots of conversations in lots of directions.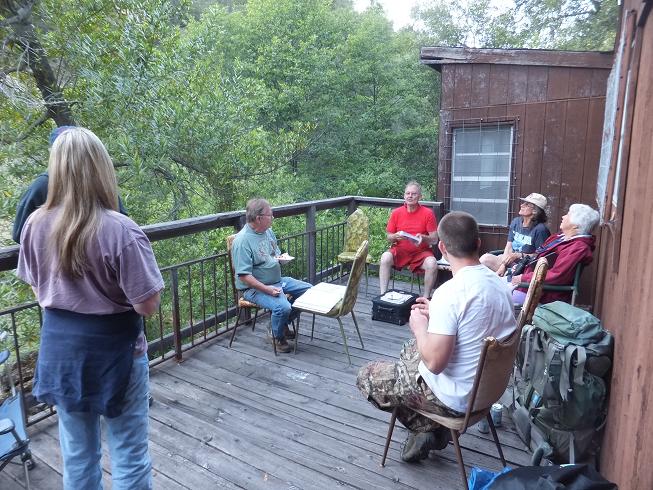 In the morning, after another few cups of coffee and breakfast, the group started to pack up for the long and arduous drive out. Our goal was to be out of the wilderness and in Vina to meet some other folks for the evening meal at a the Vina Steakhouse.
The view from Bob's deck is shown at the right with the morning sun creeping down the hillside, and what a beautiful view it was.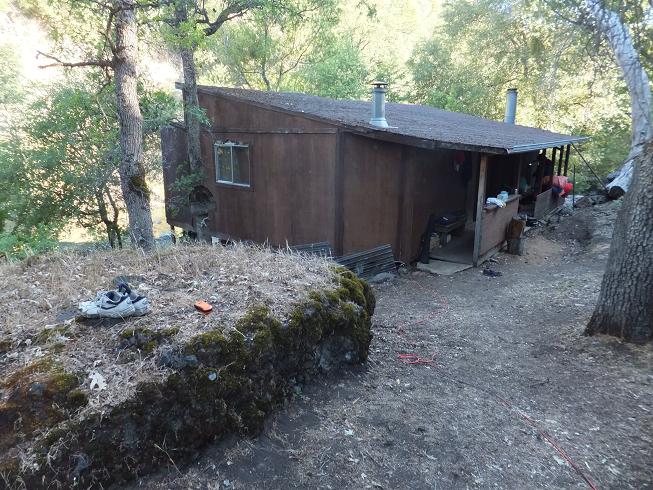 We soon said goodbye to the cabin, the majestic and mystical land and creek, and started out.
We would take our time going out also, but there were still sites to see and explore, so we stopped at places that Richard or Bob thought were important.
One of the stops led down a valley to the location of a cave that had definitely been inhabited, and other stops showed off the vistas of the areas and the various landmarks.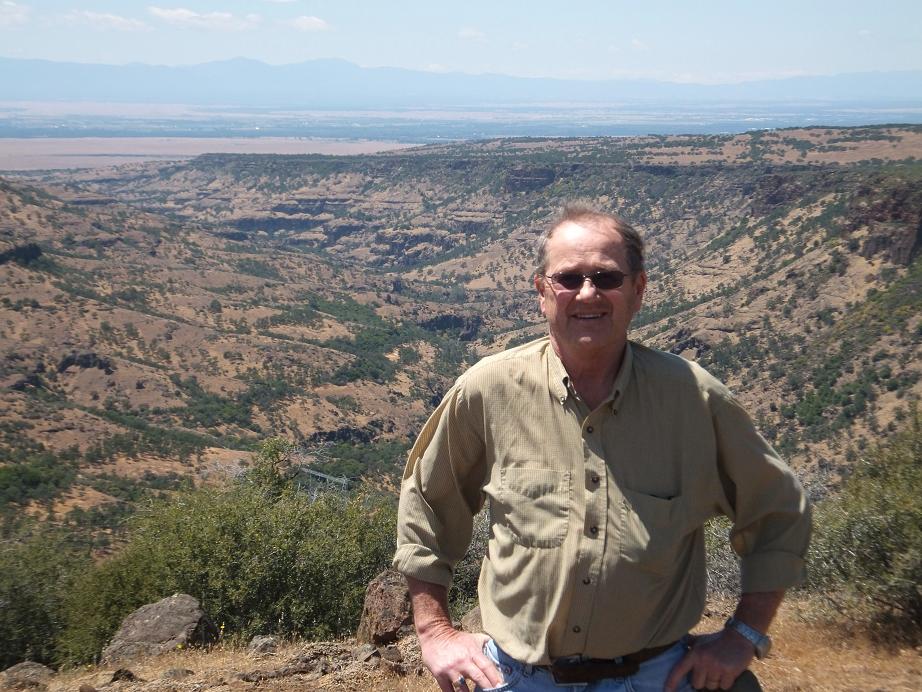 After a few harrowing steep ups and steep downs and slips on loose gravel, the road slowly improved, and we left the wilderness roads to smooth paved highways. We went to Vina for a couple drinks and a great meal, and Bob Price came to visit with the group as well as a couple other people Richard had invited. After the meal, Lauri, Mike and I headed back to their home in Citrus Heights. It felt very good to get home to a real bed and real covers and hot running water. I went with Mike to see Garth, the mule in the morning, before we left.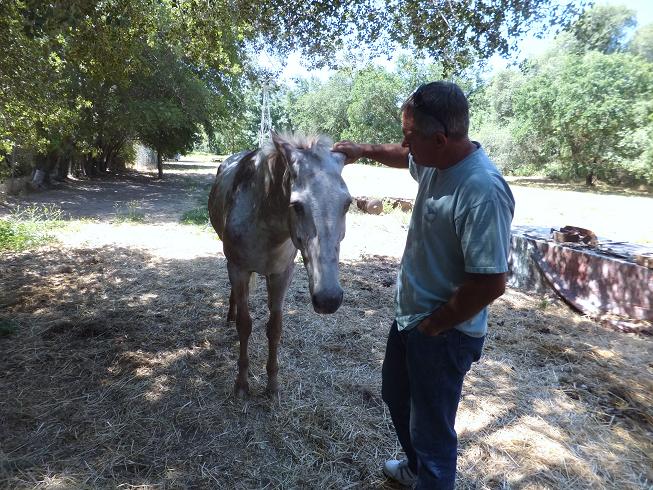 The next day was quiet. We stopped for lunch at a very nice Mexican restaurant. It was another beautiful sunny day, and Mike and I went and visited a Maidu Museum nearby, and I met an archeologist who had grown up in Northfield Minnesota. It was on the site of a Maidu village site, and there were many bedrock mortar holes and the numerous petroglyphs.
I took Mike and Lauri out to eat at a nice Italian restaurant for the evening meal as a small token of appreciation for their wonderful hospitality, and soon it was time to retire.
Next day, Mike, Lauri and I headed toward Shingle Springs and Bob Price's home. He and Sara, and their four kids (Megan,8; Molly, 6;Cameron, 4; and Isaac, almost 1) took their vehicle and we headed toward gold country and a couple wineries.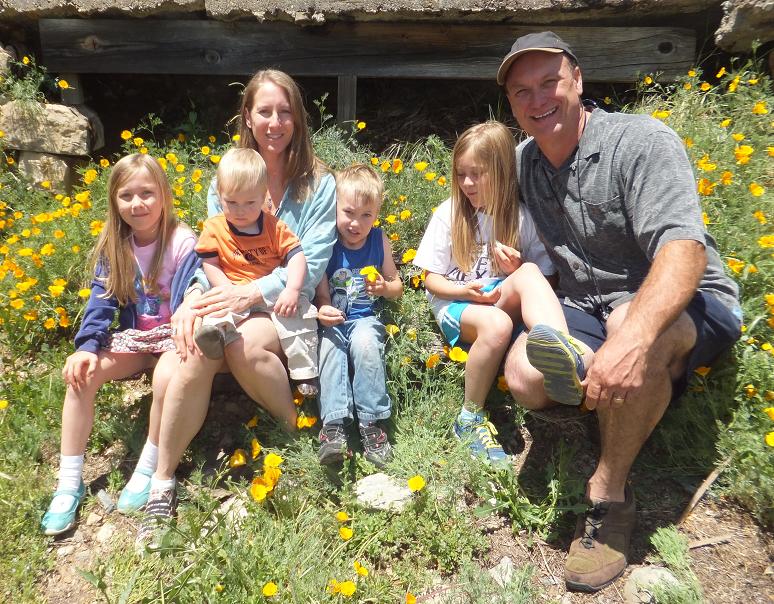 We visited a couple wineries, one of which had a museum, and walked around the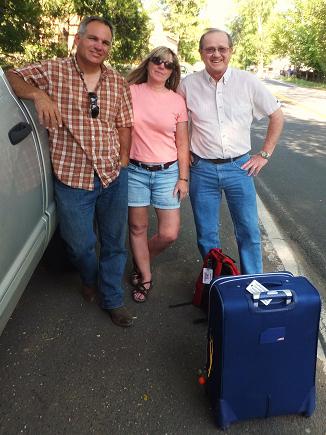 little town of Murphy, and soon it was time for Mike and Lauri to hand me off to Bob and Sara and the kids.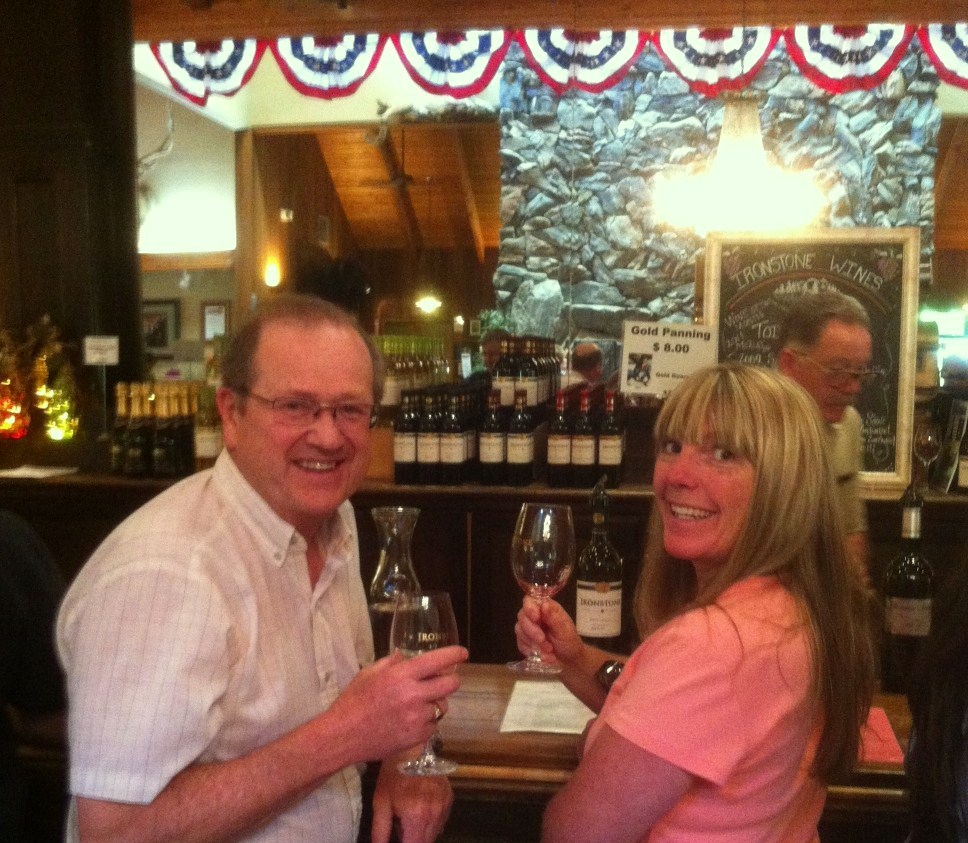 We had a nice visit that night, and then, bright and early in the morning Bob brought me to the Sacramento airport for my flight back to Minnesota.
It's hard to summarize this trip. I think back to all of the great times and adventures I've had and the things I've seen because of these wonderful folks I've met, and I have an Indian who died in 1916 to thank for it!