The Ishi Wilderness,
Foothills of the Cascade Mountains, May 1-6, 1997
I flew out on May 1,1997, at about noon. Derek came to the airport with me, and dropped me off; I checked in, and went to the boarding gate. The flight was about 1/2 hour late, so I sat and read. I had my backpack, mostly empty, as my carry on. We finally boarded the plane, and took off for San Francisco. The flight was fine, and the fellow sitting next to me slept all the way, so it was quiet.
From San Francisco, I boarded a small commuter flight to Sacramento. This was not as easy as it should have been, since the ticket taker in Minneapolis had kept the wrong ticket, so the ticket I needed was missing. Luckily, it is the computer age, and in about 20 minutes with two supervisors, it was straightened out. The flight to Sacramento was short but rough. About 1/2 hour.
Richard and Sharon were at the airport to greet me, as was 75 degree weather with beautiful sun, flowers, and green, green trees!
We went to their house, and Richard showed me the latest research and pictures he had acquired regarding Ishi, and the related stories. We had a great barbecued meal, and visited into the evening. He and I went over to the nearby park and threw the atlatl darts a few times. That is the instrument that flings long darts tremendous distances.
In the morning, we rented a four wheel drive Jeep, and Bob Price came. Bob is the former park ranger who is just an exceptionally nice fellow, and very knowledgeable about ecology of the area. And off we went, north toward Chico and the Ishi Wilderness. We spent some time on Tabletop Mountain, and searched for some artifacts in a canyon area. Lots of brush and poison oak, and beautiful scenery. The top of the mountain, is naturally very flat, and very large, hence the name.
Later in the afternoon, we moved on to the Ishi Wilderness area, on very poor dirt roads that had some pretty big washouts in them. We camped on the top of a peak overlooking Deer Creek, not too far from where we had camped last year. It was very windy, and one trouble with being on a peak is that there is nothing to break the intensity of the wind. We had a fire going in no time, because of the wind, and Bob cooked some spaghetti and sauce for our supper. Later we walked to a clearing and looked at the stars. The wind was still blowing, and it was quite cool....kind of a California wind chill.
As we prepared for bed, I decided it was a wiser move to put on more clothes rather than take others off, and I'm glad I did, since the wind blew all night long. We were in a partially protected area, but it still hit up pretty strongly. I got up just before sunrise, and went for a walk toward Deer Creek, and after a light breakfast, we all walked a bit.
About 9:00 our hosts, Don and Hazel McCloskey, came by. Don is a man in his early 70's, white haired, with a large moustache, and a portly build. Hazel is grey, and lean, and much quieter. We followed them on a road that got smaller and smaller, rougher and rougher, and scarier and scarier. I was driving, and since my experience with a four wheel drive does not include off roading, this was a new experience for me! After about 5 miles on a very primitive "road", using the term loosely, we arrived at the cabin. The view was breathtaking! Their cabin sits high on a precipice, and overlooks much of the Ishi Wilderness, and is right next to it. Far in the distance, one can see the area called "Grizzly Bear's Hiding Place", which is where Ishi and his small band hid for forty years.
Don and Hazel have been in this area for about 40 years, and their sons had been exploring the area since they were little. Steve, who is their son, and his wife and two small girls, arrived soon after. By mid afternoon, we were off on our first trip into the wilderness area. Steve was our guide, equipped with cowboy hat and six shooter, in case of rattlesnakes. They each also had a dog, and the two dogs accompanied us on our hikes. They were on the order of the Australian Sheepdog, black and white, with medium length hair, and they were very intelligent. It turned out that it was good we had them along.
The area all sloped away from the cabin, so the walk out was easy, except for the unsure footing on the loose rock. There was ample poison oak all around, and buck brush that was difficult to get through. The scenery was spectacular and actually beyond adequate description. The sharp bluffs that dropped hundreds of feet to the canyons below, the beautiful green meadows, the sloping hillsides with strange rock formations, the small creeks far below. We walked for a number of hours. We would stop periodically to look for artifacts, and I tried to soak in the scenery as much as possible. The wind was still strong, but not nearly as much as on top of the hills.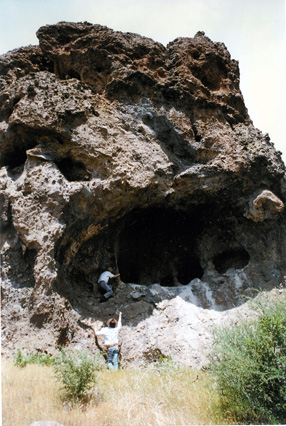 At one very large rock formation, we came upon some Indian caves. The first was at ground level, and went back about eight feet from the front. The caves were really more like deep indentations in the rock. The floor had many mortar holes in it from the grinding of nuts and acorns over the centuries. Around the bend on this same rock formation, was "Ancestor Cave". This cave was about 15-20 feet above the ground, and unreachable, or so I thought. Steve was familiar with the cave, and guided me to small foot and hand holds about two feet to the left of the cave entrance, and I climbed the surface of the rock to the level of the cave.
Then came the tricky part where I had to swing my body around to the cave surface from the hand and footholds with a bit of inertia to carry me to the surface. Adrenalin pumping, I did make it! The cave itself was a series of very small rooms, or bubbles, off to the back. Three of them were big enough to hold a couple of people, and the fourth was very small. Evidence of centuries of fires was very plain, and the hand holds had a glassy, worn appearance. Now came the even trickier part of getting back down! Luckily, Steve talked me through that too, and somehow I managed to twist my body around while hanging on to the thin holds. It was very exciting in many ways. This could well have been a cave where the ancestors were cremated and left. If you read the books about Ishi, he does refer to caves where burial rites were performed. We looked for artifacts also, and did find some chips of obsidian.
We walked on further to other caves, and then went to a flatter area where we looked for signs of ancient civilization for about an hour. We were far from the cabin, so we headed back, and unfortunately, it was 3/4 uphill back...some of it VERY up hill! After about two more hours, we returned to the cabin, and had some cold drinks. Boy, did they taste good!
Since it was about 7:30 in the evening, the grill was started, and we had a very nice evening meal with the two generations of McCloskeys, and went out on the deck later to view the Hale-Bopp Comet. It was still quite visible in the distance, and some light from towns far away could also be seen.
I didn't sleep very well on a couch that was just a little too narrow and just a little too short for me, but I felt pretty good as we rose early in the morning. After a small breakfast, we were off again, at about 7:30. We headed down the same slopes but went much further to the north than we had before. We soon left the path for the what I would call a "path less traveled". As a matter of fact, at many times, there were no paths at all.
A very large forest fire had devastated this area in 1990, and this has led to a lot of scrub brush, poison oak, and large trees that have fallen over. So we climbed over and under Manzanita bushes, Buck Brush, and brush in general.
The terrain was beautiful in places, and we went by rock formations that had been named, such as Cathedral Rock, Steamboat Rock, etc. Periodically, we would stop and take a closer look at some features, or look for points in an area that looked likely as a campsite.
Richard was very excited to find a couple of landmarks that had been mentioned in the various literature about Ishi, so we took some pictures, and on we went, further and further from the cabin. The weather was quite warm, and the wind had disappeared. Bob spotted a coyote off in the distance. It didn't see us for a little while, but when it did, off it ran in the opposite direction.
We went in many valleys and crevices, and did find some more caves. One could tell they had been inhabited for long periods, just by the smooth wear, and the mortar holes that had taken so long to wear in the hard rock. A few points and chips were found, as were some portable mortars. The portable mortars weighed about 75 pounds, so I considered them "semi-portable".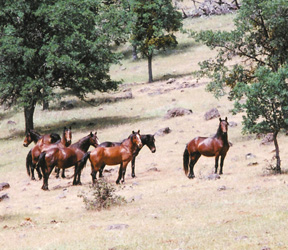 On a walk up one steep hill, we came upon a beautiful herd of wild horses about 75 yards in front of us. There were four mares, an older stallion, and a young stallion. The older stallion made it very clear to us that we were not welcome, and he stood his ground and pranced around between us and the rest of the herd. They were beautiful, sleek, with shiny coats, and they looked very healthy. We decided to go around them and leave them alone, so we angled off and continued on our way.
Richard was very anxious to find out from Steve very specific names of creeks and formations, but I was really just more interested in the scenery and the wildlife. It was amazing how many alpine flowers were blooming, as well as larger ones such as the Indian Paintbrush and the California Poppy.
We were on our way back at about 5:00 when Steve announced that we were still about 2 1/2 miles from the cabin, and of course, most of the way was uphill. He was right, darn it. Some of it was only a little bit uphill, but some of it was VERY uphill, and these were the sections that I didn't care for! When I was about at my most tired, we came to this massive mountain, and Steve said, "We call this next climb Heart Attack Ridge". It was a looooooong pretty much vertical climb!
Eventually, a tiny speck of a cabin appeared as we continued our trek home. The dogs that had accompanied us were in the lead when they came upon a rattlesnake directly on our trail. Steve was in the lead, pulled out his revolver, and shot it twice. It was very dead very quickly. Then, I learned, it is the custom to cut off the head of a rattlesnake, and bury it in the dirt, and put a rock over it. This is to prevent the "meat bees" from eating it, ingesting the venom, and having the rattlesnake venom in their stingers. This sounded a bit like an old wives tale to me, but the Bob, the former park ranger said that he had heard that his whole life too. He brought the body of the rattlesnake back to the cabin, and it continued to wriggle, headless though it was. "They don't die until the sun goes down." We made it back to the cabin in the late afternoon, after about 11 hours of hiking. That ice cold glass of water tasted wonderful! While we were gone, the folks at the cabin had also found a rattlesnake about 25 feet away from the house, much larger than the one we had found, and killed it. It had been killed at about 9:30 in the morning, and was still wriggling in the late afternoon. They were eventually skinned. They offered to cook some rattlesnake for supper, but no one seemed very enthused about this, so we had homemade stew instead....without the rattlesnake!
After the meal, the younger McCloskey family packed up and headed home, so we said our goodbyes to them. We sat around and talked in the evening, and Richard pulled out his research material. We looked at the sections dealing with the mystery caves, the ancestor caves, and the location where Ishi was first seen in 1908, and figured out where they might be in relation to what we had seen.
Richard and I switched sleeping locations, and I slept much better, although the sunburn on my arms and neck bothered me some. I was amazed at how good I felt in the morning. Hardly stiff at all. We packed up our belongings after a light breakfast, and headed off. We said goodbye to the elder McCloskeys, and I gave them a book about stone artifacts as a token of appreciation.
I drove out of the area, and the Jeep had to struggle in a few places to make the steep climb. We then headed toward an area called Graham's Pinery, which is a pretty flat location overlooking Deer Creek Canyon. And yes, we went for another hike! We drove to where we could not drive any further....probably a little further than we really should have anyway, and then we started descending into the Deer Creek area.
Again, we passed beautiful rock formations, flatter areas, and beautiful views of the distant creeks and canyons. When we reached the Graham Pinery, we found that though it was flat, it was covered with brush and dead trees, and the walking was very difficult. We went over and under trees, through and around brush, and never could really get to the view that we wanted because of the thick undercover. We saw a black-tailed deer in the distance, and some rabbits, but we soon decided we had come far enough, and should head back toward the vehicle. Another tough but enjoyable hike brought us to the vehicle, and Bob drove it up the very steep incline while Richard and I walked....just what we wanted...one more hill!
We made it to the top, and were soon leaving the Ishi Wilderness country to head back to Sacramento and civilization. It was early afternoon, and we had a long drive yet, plus we planned to stop at Chico for a bite to eat, which we did at the Olive Garden. They set us at a back table for some reason.
We reached Sacramento and home about 7:00 P.M., and by the time we had unpacked, sorted our things, and gotten them to the apartment, it was time to say good-bye to Bob. One of the nicest and kindest men I've ever met. I wish he lived closer.
In the morning, Richard and I returned the rental vehicle, and soon it was time to go to the airport. Sharon and Richard brought me, and it was so sad to say goodbye to them. I am still amazed how they took a complete stranger like me into their hearts and their home. The commuter plane left on time to San Francisco, and the jet to Minneapolis left on time from San Francisco. The plane was not full, so I had the luxury of having the seat next to me empty. I wrote down a few thoughts on my way home, and rested a bit.
Joan and Kent met me at the airport, and the rest, as they say, is history. I am still in a bit of a fog from the trip. It was so tiring and exhilarating at the same time. We figured we had walked about 18 miles in the three days in the Ishi Wilderness, and they were hard miles. But the wonderful friendships that developed, the great people I met, the beautiful scenery I saw, and the bits of history I connected to the Ishi story made it a great time.
Will I do it again? We'll see. This is such a big country, and there are so many things to see, that I may just do something different. Bob and Richard have graciously offered to show Joan and me all the California sites if we were to fly out sometime, so......we shall see.