Northern California, May 12-17, 2004
It was an early flight, so I left for the airport about 5:15 A.M. The sun was just rising, and it was surprisingly mild. I headed south to Minneapolis via Interstate 35, which I can take to just a couple blocks of where I park the car to catch the shuttle to the airport. I hate parking and driving at the airport. The shuttle works out much better.
I had packed the previous day, so I headed out, and made pretty good time. The good news was there were no traffic jams or accidents to slow me down. The bad news was that now I had even more time to wait in the airport. I parked at the "E Z Air" parking facility, went the airport, got through the e-ticket just fine, and with ticket in hand, got through the security screening and on the terminal to catch my flight.
The flight was smooth, and quiet since the lady next to me slept almost the entire way. I did some editing on some chapters Richard had sent me dealing with Ishiís time in Oroville, so I worked on them, and read a short book.
I took some time on the flight to reflect on this being my seventh trip to meet Bob and Richard, and my sixth trip into the Ishi Wilderness. The first was in 1996 when we went to the Grahamís Cabin site; then 1997 when we went to the McCloskeyís and the long hikes to the caves; 1999, when we made our first fateful trip the Grahamís Pinery with Dave Nopel, 2000 (when we toured San Francisco, Monterey, and Yosemite, and I met Virginia Pope Evans, daughter of Ishiís doctor, the famous Saxton Pope); 2001 on my worst misadventures to Grahamís Pinery, and 2003 when Bob and I spent time around Black Rock.
I found it hard to believe that I had done this trip so many times, had so many great times and memories as well as some harrowing adventures that stretched my endurance, my resolve and my abilities to the fullest. I recalled how the first trip had been exactly three years from laying in the Intensive Care units of two different hospitals with blocked arteries, wondering if my life would ever be the same.
And now it was 2004 and we were planning a visit back to the first place I had visited and enjoyed so much on Deer Creek at Grahamís Cabin.
Richard met me at the airport, we retrieved my luggage, and off we went, north toward Chico. The weather was beautiful, sunny and in the low 80's. Richard and I had a couple days to stay in the Chico area where he wanted to do some research and have me meet some people.
We checked in to the local Chico Holiday Inn, I cleaned up a bit and changed clothes, and off we headed to see a man named Jim Lenhoff, who is well known in Chico as the town historian. He had some pictures to give Richard, and we chatted a bit over a meal.
Richard reminds me of an absent-minded professor. He has an amazing grasp of the story of Ishi, the last stone age Indian in North America. I would believe that he knows more about him than any other living person. He has written two books, and is finishing another on Ishi. He sometimes gets sidelined on related stories, and one of my jobs in editing is to keep the story from wandering too far off track. His life pretty well revolves around researching the story of Ishi. He has other interests, other friends, but they are secondary to his love of the story of Ishi.
On my second day in California, we headed off for the country toward Vina. This is the location of the Hi Good cabin, which I had visited last year, and at which Richard had made an archeological dig with his class. Not far from the cabin, in the middle of a desolate parched area, is the site where Hi Good was shot by an Indian named Ned.
I should explain that Hi Good spent a good share of his life hunting and killing Indians. He was killed by Ned, who was an Indian, though he had been killed for money he was alleged to have had.
Ned eventually confessed that he had shot Hi Good, and he showed some people where the body was buried, near the location Richard and I were visiting. Ned was killed on the same spot, shot to death, and his body was hung from a tree located there. We were searching for the remnants of that tree.
An archeologist named Eric Ritter joined us on the quest, and between the three of us, we searched for the fallen tree close to the known site.
We also took some pictures of the cabin site and surrounding structures, including the neat shelter and windmill.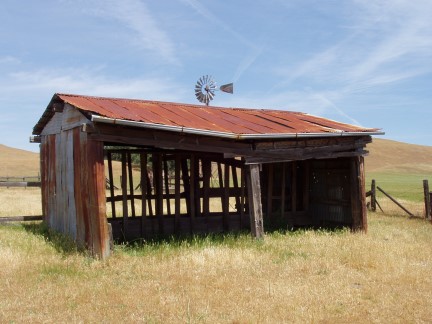 That afternoon Richard and I did some last minute shopping for the camping trip. He needed some things for his backpack, and I wasnít sure what I would need until Bob came, who hopefully was providing my foam pad and sleeping bag.
That evening, two of the folks who would be joining us for the day came into town, Jim, a retired park ranger, and John, a teacher who had taught with Richard many years ago. Richard introduced me to a number of other folks too, and they all were friendly, helpful individuals.
Later that evening, Bob arrived with his girlfriend, Sara. I have to admire Sara. Itís pretty brave to agree to camping with a bunch of strangers she had never met. Sheís an accountant who recently moved back into the Sacramento area, and she and Bob really do make a couple that seems very compatible. And Bob is just a great fellow, knowledgeable about the flora and fauna of the area because of his background as a park ranger.
We decided to meet at 8:00 the next morning, have a quick breakfast, and take off in two vehicles to the Ishi Wilderness. John and Jim were only going for the day, so they drove separately, and Richard rode in to the wilderness with them while I drove with Bob and Sara in Bobís new Ford Pickup. Very nice wheels.
After a bit of delay in missing grocery stores, we finally took off, down Cohasset Drive, toward the Ishi Wilderness. The weather was beautiful, though warm by Minnesota standards. The drive was long and bumpy with the road deteriorating rapidly as we got further and further away from civilization. Luckily, there had been no rain recently, so we didnít have mud to contend with.
After about 34 miles, we reached our destination at the steel bridge by Deer Creek. We parked the vehicles, got our backpacks in order, and headed into the Ishi Wilderness toward the former site of Grahamís cabin.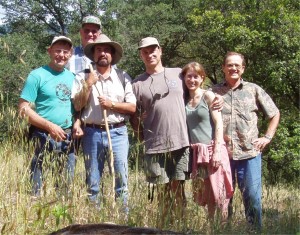 I remembered the start to trail from my first trip in 1996. I recalled how the first quarter mile or so was basically up. I remembered questioning whether I was up to the climb and hike in 1996, that being my first backpacking experience and first trip anywhere without Joan.
The first part of the trip was tiring, but I knew it soon would flatten out so we could get our breath back at the flat places. A huge pine grove had a wonderful piney scent, and the walk was soft with all the fallen needles. Soon, the volcanic spires, steep cliffs, and magnificent scenery started to appear, scenery we could only see from a distance on the road in.
Though I have been to the Ishi Wilderness several times, I am continually struck by both its beauty and its ability to humble a person. I have heard stories of campers hiking in to the wilderness, and becoming so overcome by the isolation and distance from what is familiar that they abandoned all of their camping gear and simply got out of there as quickly as they could.
The walk to the meadow in which Grahamís cabin is located is very pretty, and it is near the rapidly flowing Deer Creek, with its icy waters flowing in shallow rapids.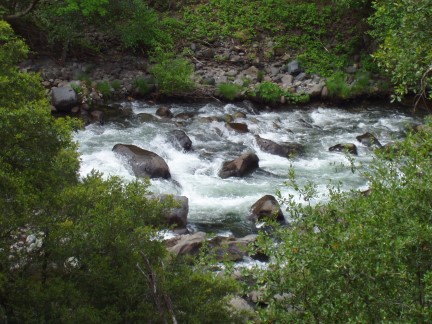 The roar of the creek reached a long way. It sped through gigantic boulders, and was composed of snow melting from the mountain peaks. The menthol smell of the laurel, or pepperwood tree, also known as a bay tree, provided me with the pungent bay leaves that I remembered from previous trips. I always harvest a number of leaves, and if I want an olfactory trip back to the Ishi Wilderness I need but crush one in my hand and take a whiff.
Directly across the creek, and up a sheer cliff, was the Grahamís Pinery. This had been the source of two trips, both of which had been very physically challenging. The dropping off the pinery to the creek below was the easy part. The climbing back up the steep cliffs and bramble was the exerting part. I had told Joan that if I ever decided to go back to the pinery, she should have me have my head examined.
The picture at the left is of Ishi in 1914, when he returned to Deer Creek with the anthropologists to show them his land, and how he lived.
Richard and I found the place where we had camped on our previous visit, and set up camp there. Bob and Sara set up their tent a few hundred yards downstream.
Richard and I had no tent, so we set up our camp under a yew tree, and would sleep under the stars. I had been to the Ishi Wilderness six times, and had never had a drop of rain fall. The weather has always been perfect.
The camping site was a beautiful location, but it was tempered with a bit of melancholy. When we had camped there in 1996, there were two other people with us, Milt Clark, and his son, Aaron. Milt was a teacher, and had lost a battle with cancer a few months ago, and later that evening we toasted him with a bit of blackberry brandy that I had brought along. That's Milt on the right side of the photo.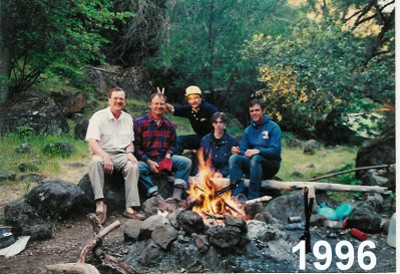 Richard and I looked around the Grahamís Cabin site for a while. It was really only a part of the foundation of rock that remained, with a few old pieces of scrap metal scattered around. Many campers had helped themselves to the timbers and siding long ago as a source for firewood.
Graham had stayed in this cabin for several years, and was best remembered as the person who put out poisoned food for the Indians to steal. He was frustrated at the theft of his food when he left the cabin, so he labeled some food as poison for those who could read, and left it outside to see if the Indians would steal it. They did.
I decided that I was hot enough and tired enough that I should take a quick dip (actually more of a wade) in Deer Creek. There was one spot that was smooth, and wide, so the water was not rushing quite so fast. I slipped on my shorts, and waded into the icy water.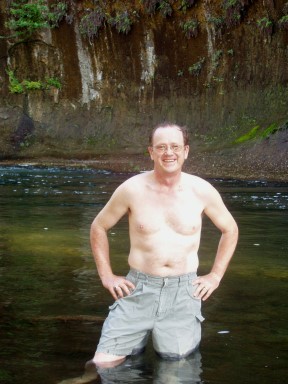 It was getting toward evening, so Richard and I cooked a batch of spaghetti with sauce, cheese, and French bread. It was very good, and filling. Bob and Sara came later and after we had done the dishes in the creek, cooked some things for themselves.
We started the campfire as darkness approached. There were mosquitoes, but they left when the temperature started dropping to a comfortable coolness.
We talked a bit of politics, reminisced about Milt Clark and his untimely passing, chatted with Sara about her family, job, and so forth. I told her how I had overcome a few medical challenges to be where I am today, and how the trip to the Ishi Wilderness, and meeting Richard and Bob was the culmination of a number of lucky circumstances.
Sara was fighting an infection, so didnít feel well, but she was pretty brave to come camping in spite of it. They had given her the wrong medicine, so she was feeling worse, but still remained very social and wanted to be involved in the activities.
Soon, it was time for bed, so we unrolled the sleeping bags, spread the mats, and made ourselves comfortable. Or at least as comfortable as one can, considering that you are lying on the ground, with a thin layer of vinyl barely smoothing the bumpy ground. Then you climb into a zippered bag that really does not allow you to turn over without wrapping yourself like a mummy.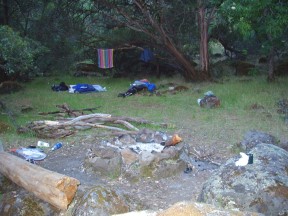 Our campsite is pictured to the right, with the fire pit in the foreground.
In spite of that, the roar of the creek, the starry sky, the smell of the woods, made for the very reason I had come on this trip.
I rose early, as is my lot in life, at least an hour before anyone else was stirring. I got dressed, found my camera, and walked down to the creek.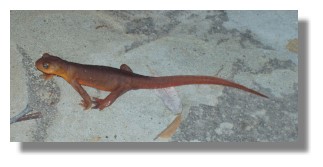 The sun was rising, and I could see a number of red salamanders in the water and on the shore, and the birds were starting to sing and move around. I watched the ouzels for a while. They are also known as "dippers", and are small birds that sit on the shore and bob their heads almost constantly. Soon, they dive into the rapidly moving current, and hunt bugs and other edible items underwater.
I found a large tree and picked several handfuls of bay leaves, and soon my hands had that pungent distinct odor. I have used them for cooking on occasion, but mainly, I just love the smell.
Soon, Richard awoke, probably because of the crackling fire I had built. It felt good even though it was relatively mild. We ate a light breakfast, had a strong cup of coffee, and replenished all the water jugs. Our plan for the day was to walk down the trail that paralleled Deer Creek until it climbed out of the valley to where a 1914 camping trip had camped with Saxton Pope, Ishi, Alfred Kroeber, and Thomas Waterman had stayed.
Sara was feeling worse, 3 on a scale of 10 she said when I asked her, but she gamely headed off with Richard, Bob, and me as we walked along the Deer Creek valley, slowly climbing and descending, then climbing again. Some of the paths on the hillside were narrow, with a steep drop so you had to watch your footing. You could potentially slip and roll a long distance before a tree or rock would stop you.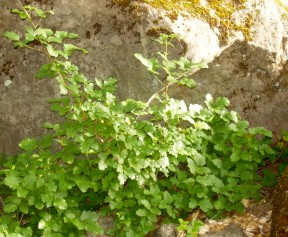 Poison Oak was everywhere, but if you watched yourself, you could pretty well avoid it if you stayed on the path. Sometimes, it could not be avoided. Luckily, no one on the trip came down with it.
We continued on the trail, and eventually, we came to a place that had a sign that said, "Deep Hole".
Bob and Sara decided to head back toward camp, since Sara was not well, and they were running low on water, so Richard and I headed forward alone on a trail that went to the peak of the next big hill. In about 15 or 20 minutes we had reached the summit, and the view was spectacular. We had been warned not to go much further without adequate water, since there was none to be found in this area, so we soon headed down the trail, and back toward camp.
Much of the trail back was thankfully downhill, so we could enjoy the scenery a bit more. There were lots of pretty flowers blooming, many butterflies around, and a snake here and there, but we didnít see or hear any rattlesnakes this trip. That was fine with me.
We caught up to Sara and Bob on the way back, since they had stopped at looked at what had been a Indian camp, and searched a little for artifacts, to no avail.
We got back to camp in the late afternoon, so I decided to take another dip in the icy waters of Deer Creek. It really does restore ones energy quickly, but I didnít stay in long. I headed back to the campsite and Richard and I prepared our evening meal.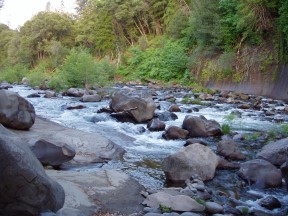 That evening, we sat around the campfire, chatted about a number of subjects, and enjoyed the beautiful evening. Soon, it was time for bed under the stars again. It was bit cooler but still comfortable.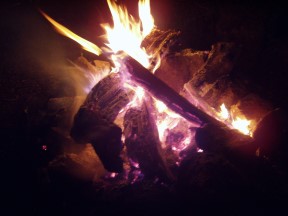 The next morning, after taking some more pictures of the creek, the Graham cabin site, and the surrounding areas, we headed out, back a couple miles to Bobís vehicle.
The road out was as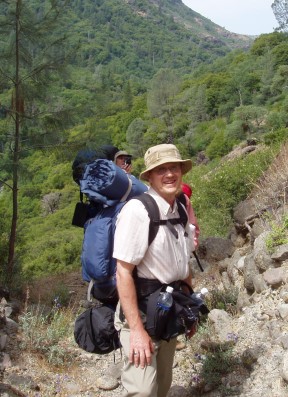 bumpy, but soon, pavement, and then the city of Chico. We ate at the Sierra Nevada Brewery and had a wonderful meal.
Richardís car was in Chico, so after a goodbye to him, Sara, Bob and I headed toward Sacramento and dropped Sara off, and went to Bobís house.
After cleaning up, I repacked a bit for the flight in the morning, and visited with Bob until it was time for bed.
In the morning, we went out for breakfast, and Bob dropped me at the airport. After a quiet flight to Minneapolis, I headed back toward Cambridge, and home.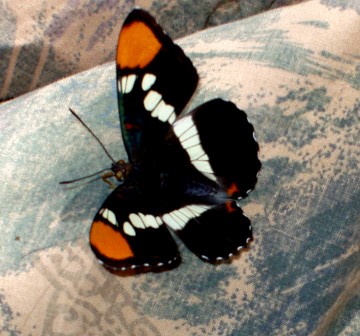 (Background is from the prairie close to where Hi Good was killed, and Ned, the Indian was killed and hanged)