Finding My Birth Family
<![if !vml]>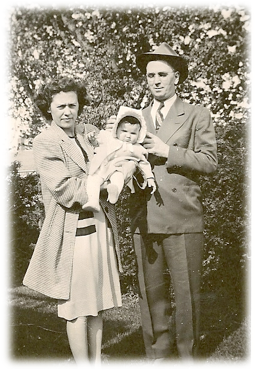 <![endif]>I was told as a small child that I was adopted. My mother said my birth mother died when I was born, and <![if !vml]>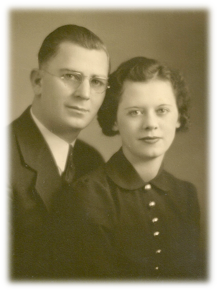 <![endif]>my father died in WW II.
John and Thelma Jondal
I never thought much about finding my birth parents. My adoptive parents seemed like my "real" parents.
After my mother died in 1990, my dad gave Roger a copy of my adoption papers that said my birth name was Kathleen Colburn. Why my dad had this official record of name change we will never know.
Roger convinced me to contact Lutheran Social Service who then sent me a letter with basic family information – ages of siblings, a description on my mother and some information of the family background of my mother and father. They also said that she hadn't requested contact with me. This led me to wait, thinking I might cause a problem for her if I tried to contact her.
In 2010, at a family reunion, Roger's cousin, Sharron Erickson did an Ancestry.com search based on the name Colburn and the ages of my mother and siblings and found a family from Isanti County that she thought might match using the 1930 census. My birth mother was listed as "baby girl" so she couldn't find out more.
2014:
In 2014 on a trip with us to see Roger's aunt and uncle, Pat & Ray in Ohio, Sharron started searching again and could use the information from the 1940 census to learn more about the family and my birth mother by using the information from Lutheran Social Services to compare. She became about 95% sure that my birth mother was Corrine Colburn who lived in Isanti County, then moved to North St. Paul.
<![if !vml]>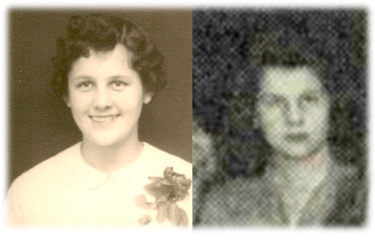 <![endif]>
She found a photo of her in 8th grade (the year I was born. ) When we got home, Roger found a photo of me at Confirmation, when I was about the same age.
Using the "Ancestry.com" site, Sharron then tried to locate the aunts, nieces, nephews, and siblings, many of which are still in Isanti County.
Interestingly, I was born in St. Paul, and adopted at six months old. I lived in Waseca my entire life until Roger and I got married and we moved to Cambridge. Waseca is probably 120 miles south of Cambridge. To find that I might have relatives within just a few miles of where we had lived for the last 48 years was pretty amazing.
I tried calling my Bohman cousins with no luck. This would have been the children of my mother's sister, my Aunt Patricia.
Sharron had found a number for a Patricia L Bohman, so I tried calling her. Right name, wrong person. She was very sweet, calling her mother-in-law to see if they knew of any relatives in Isanti. No luck.
I looked on Facebook and found a Patricia Bohman who Sharron thought probably wasn't my aunt and a Kathy Jensen Bohman who would be my cousin's wife. There was no phone number in the directory, but later, on her Facebook page I found a phone number for Bob as he was selling a house in Big Fork.
I called him and he was very understanding and helpful. He contacted his mother, Patricia, who agreed to let me see her family photos. Pat also said she would do the "23 & Me" genetic test which would provide proof one way or the other.
I became Facebook friends with Bob's wife, Kathy and when Bob and his mother saw my photos on Facebook, they were sure I was a relative – the resemblance to Diane and Corrine was amazing to them. Soon, two of Bob's cousins (Denise and Pam) then became Facebook friends with me.
Roger put some of my baby and childhood photos on Facebook. Pam's mother also said the resemblance to Denise and Corrine made her think we had to be from the same family.
On November 17, 2014, I called my sister Diane. This was a hard call to make. She seemed overwhelmed with the idea and didn't seem to really believe I could be her sister. You can only imagine what a shock this would be to have a call out of the blue telling you that you might have a sister you never knew about.
I suggested meeting at Wintergreen's to share photos and meet each other and gave her my number to call if she wanted to do that. I told her about the "23 & Me" genetic test that would prove whether we were related, and she suggested I call her brother, Gary, in Cambridge, which I tried to do, but he wasn't home.
On November 18 Pam e-mailed me inviting me to have lunch with her and her sister Denise and Bob's wife, Kathy.
On November 18th, I talked to my half-brother Gary for quite a while. They live a short distance out of Cambridge to the north. Diane had called him, so he was not as shocked to hear from me. He suggested meeting for lunch to share photos. He asked his stepdad (My birth mother's second husband) and he didn't know about me either. Gary said his mother liked to do projects and kept making her lawn bigger to plant more flowers. I gave him my phone number and "friended" him on Facebook.