Kauai and Oahu, January 10-25, 2012
We were up before 5:00 A.M. for the 9:00 flight to Los Angeles first, and then on to Kauai. With the layover, it was after 10 P.M. when we finally got to the rental car, and on our way to our condo, so it had been a long day already. That four hour time difference (It was 6:00 P.M. in Hawaii) really does throw one off. Well, we got registered, got our stuff hauled in, and went to a little outdoor restaurant within walking distance. The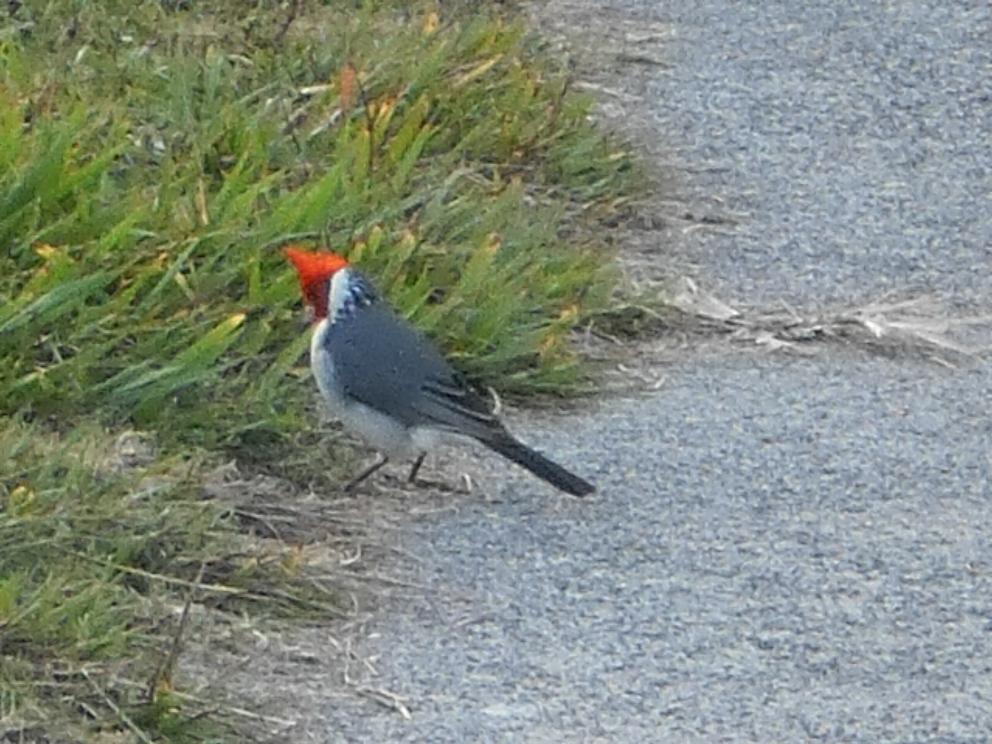 weather was wonderful, of course. The full moon shone over the area, and the smell of the tropics hung in the air. We had some wonderful local fare, and went back to the condo, and attempted to stay awake until 10:00 local time, but I think both of us failed, and arose very early the next morning.
Sunrise does not come early to Hawaii, it's after 7:00 before it gets light. When it was light, we headed outside to some clouds and mild temperatures, and took a short walk to the ocean beach and to downtown Kapa'a a few blocks away.
I will say at this point that it is a grueling day to get to paradise, but after a few hours there, you start to feel it was all worth it. Minnesota had been having a very mild winter thus far, but in spite of that, the contrast to the tropics was incredible. The beautiful flowers, the colorful birds, the lush foliage made for a wonderful contrast.
Soon, we headed off in the car and drove to Opaeka'a Falls, and Wailua Falls near the city of Lihue (pronounced "Luh-HOOEY").
Wailua Falls is almost 200 feet tall, and the double falls makes it a spectacular site. The view is from right next to the highway, so it's pretty much effortless to get there.
Near the falls, we drove down a very narrow and crooked road to an ancient Hawaiian village site that is being restored, and walked around the area for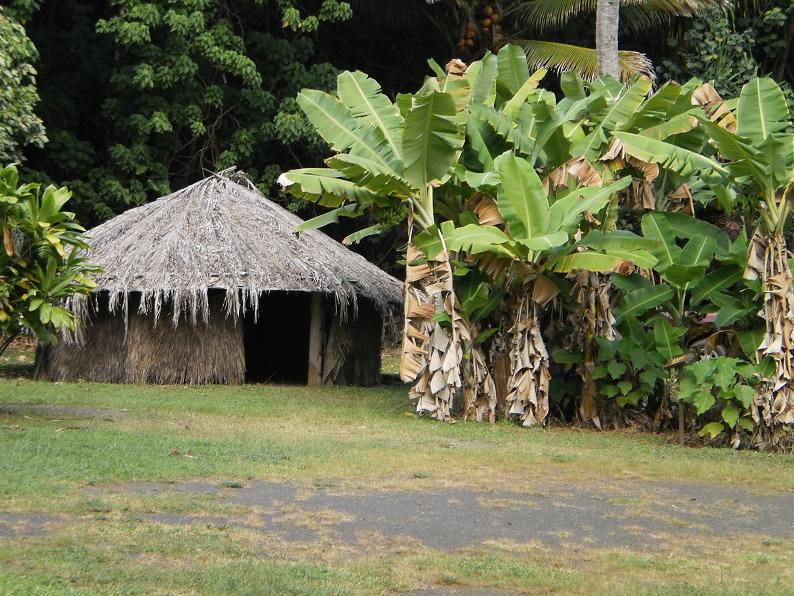 about an hour.
I should mention chickens at this moment. Kauai has chickens all over the place. You can hear the roosters crowing any hour of the day, and mother hens with their chicks can be found in the city or in the country. They come in all colors, and all sizes, and all shapes and ages.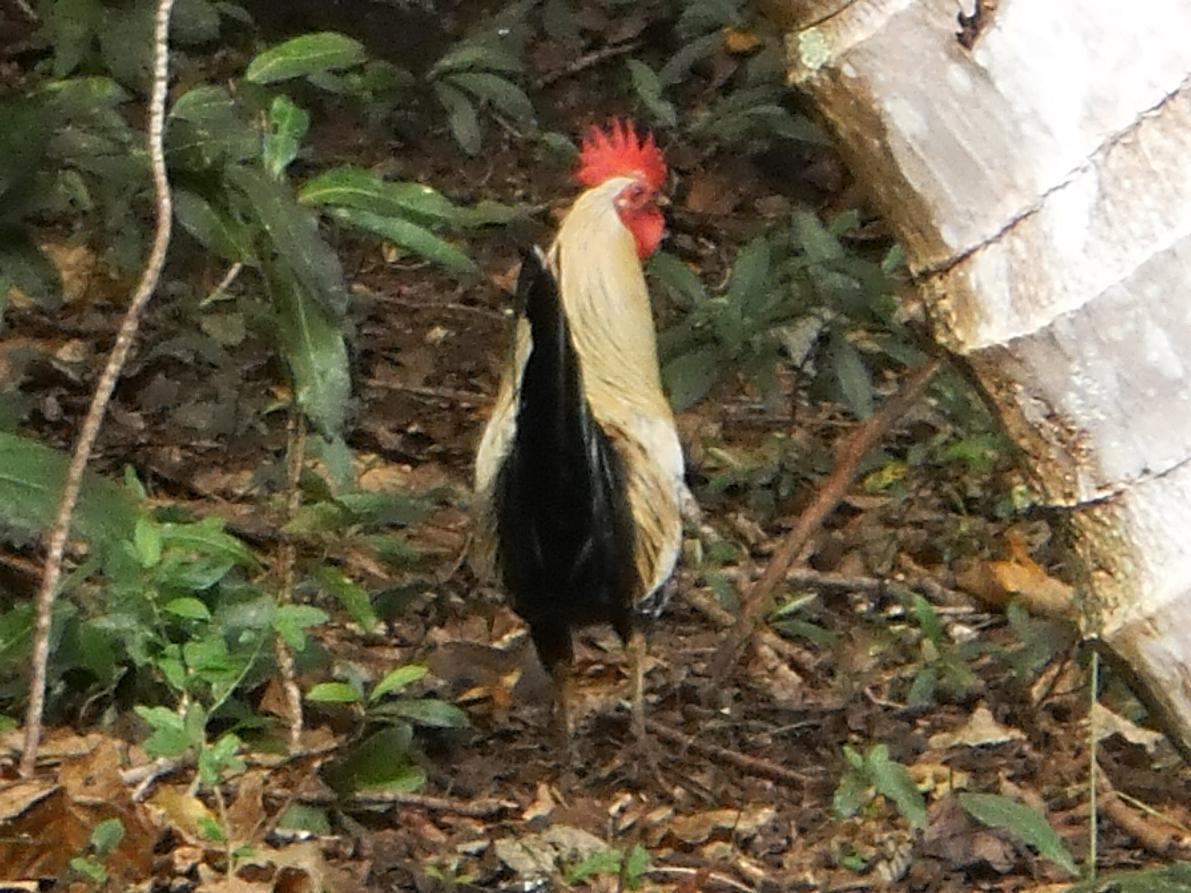 In the afternoon, we stopped at a local Farmer's Market, and walked around for a while and bought some papaya, bananas, pineapple, and a mango. The fresh fruit is so much tastier than what we can buy in Minnesota, so it was a real treat to have some for breakfast each morning.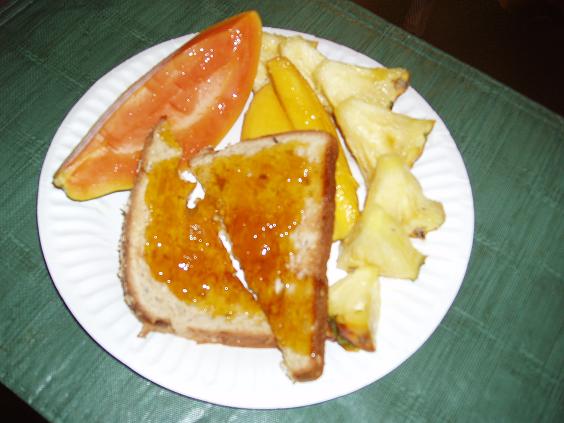 The next morning we were up early again and after the sun was up, and the morning traffic had eased, we headed toward Waimea Canyon, called "The Grand Canyon of Hawaii". The weather was clear so we could see a great distance, and there were some spectacular views.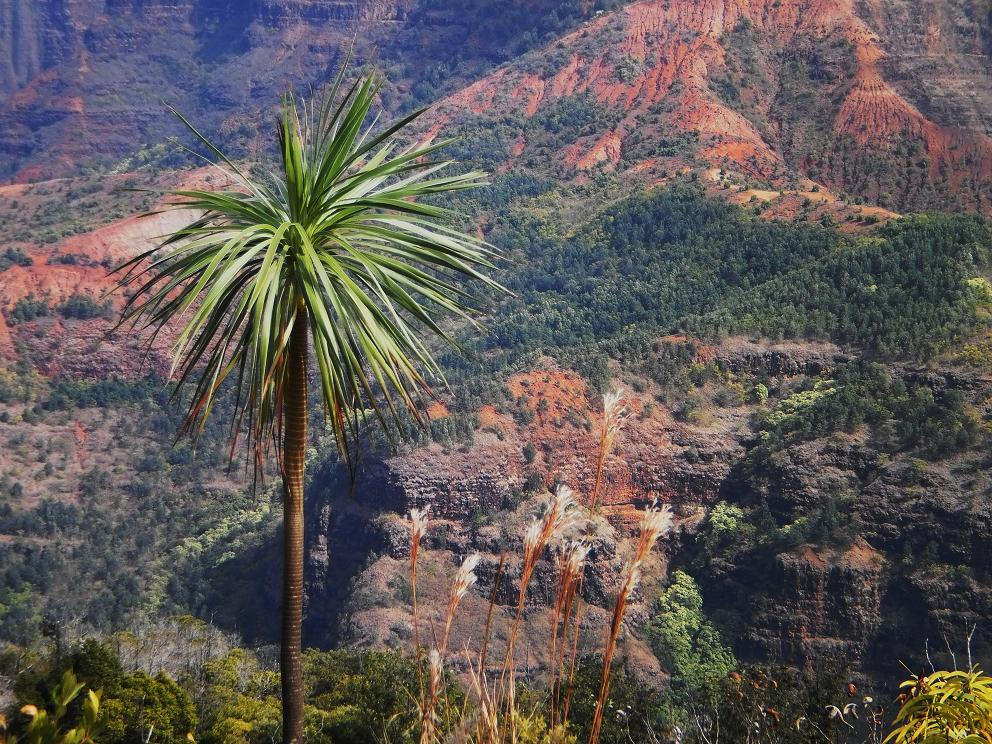 The red soil mixed with the other earthy tones made a nice contrast for some beautiful scenery.
We had a great meal in a restaurant in the national park, and then went on a hike on one of the trails within the park.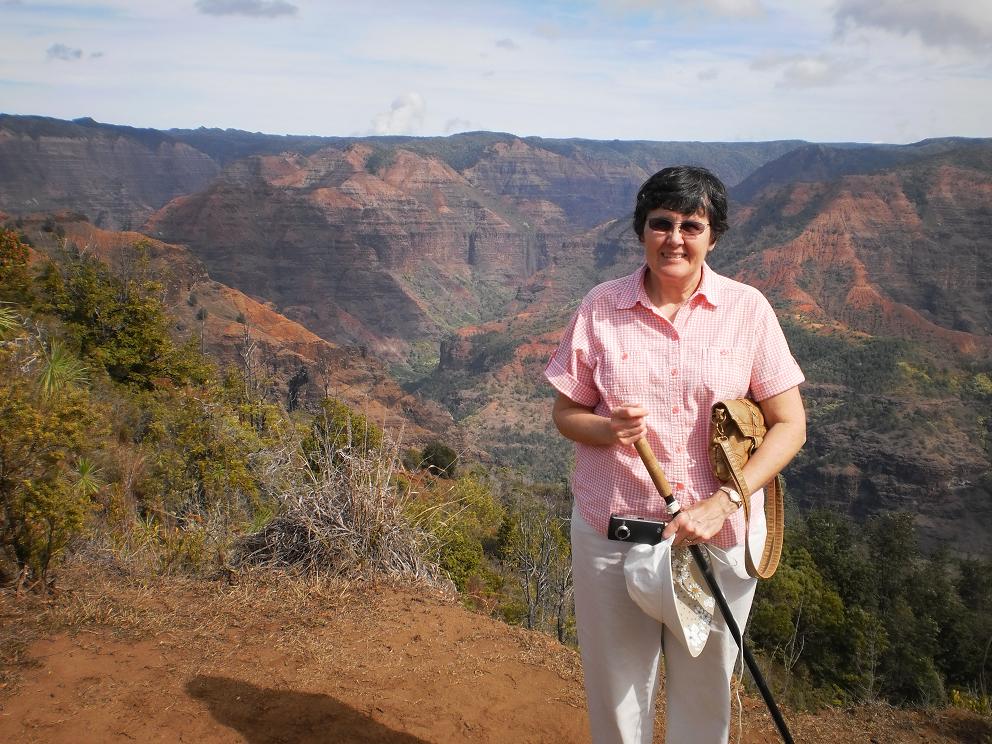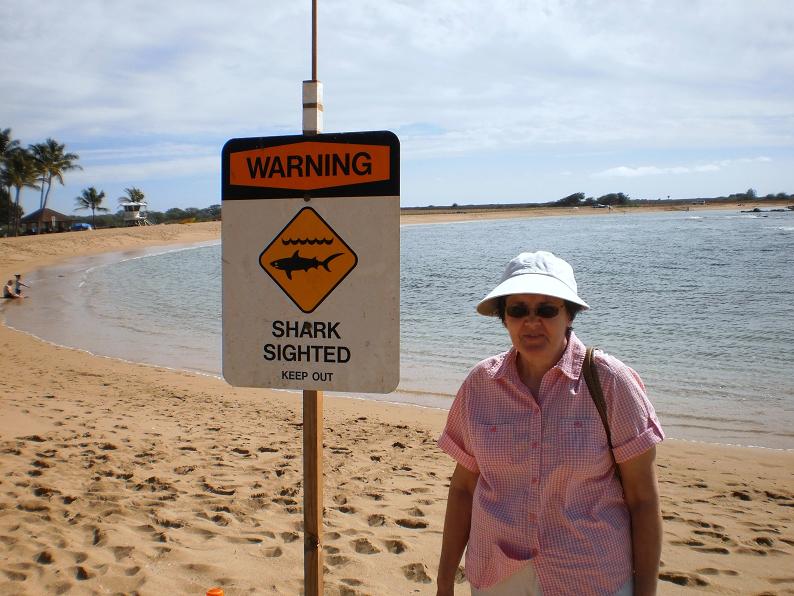 After leaving the national park, we headed to an ocean beach that was supposed to be very beautiful and have some tide pools and walking trails, and we were surprised to find the beach closed because of a shark sighting! This was a big enough event that it was even on the evening news.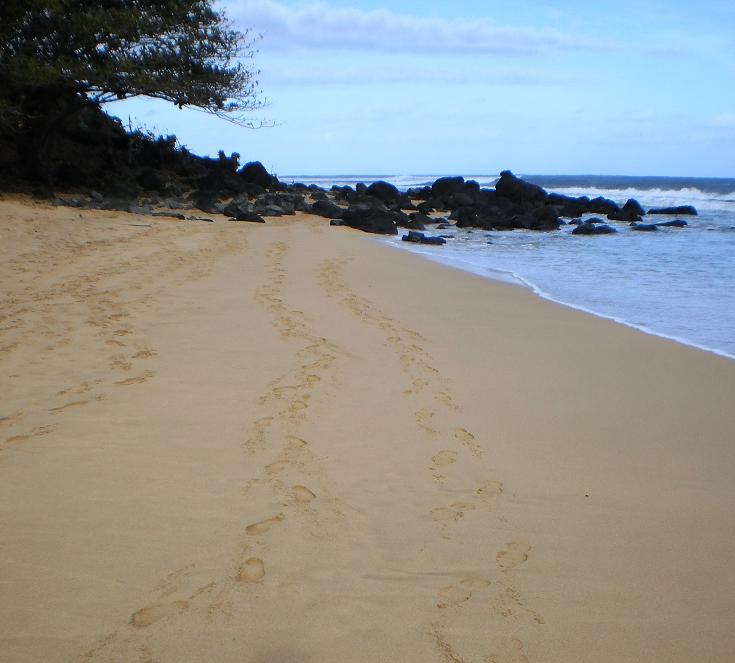 We headed back toward the city and looked for a good place to eat, and believe me, there is no shortage of them! We went to a place called "The Bull Shed" that was right on the ocean beach, with a beautiful view.
The next morning, we headed north and west through some pretty undeveloped country and many one lane bridges. We saw some huge waves at Haena Beach Park and walked through some tide pools with tiny fish temporarily trapped.
We went to another beach area, but it was totally full, with no parking spots, so we headed off to the "Limahuli Garden", a large area specializing in native flora of the islands. Many species have been introduced to the islands, and some have become very invasive, crowding out the native plants.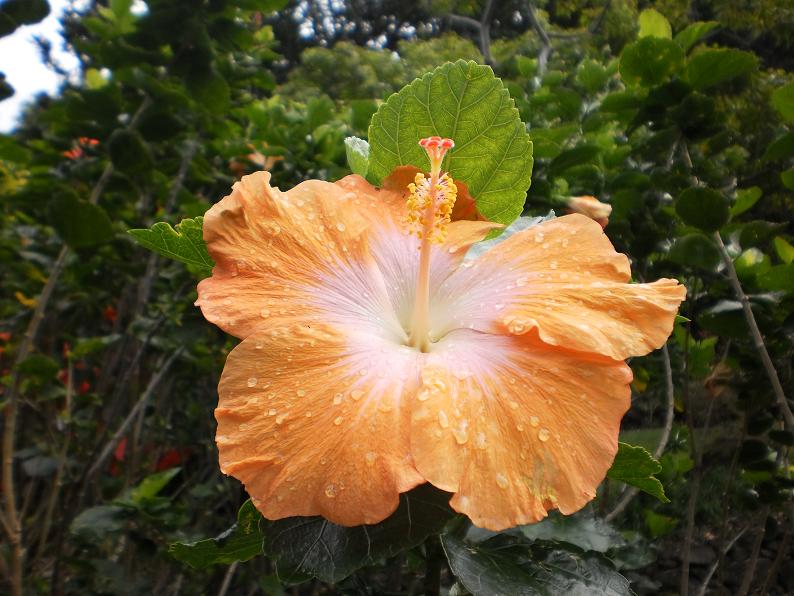 It was a beautiful location tucked at the bottom of some foliage covered mountains remindful of the jungle in King Kong and Jurassic Park. Rightfully so, since they were filmed on this island.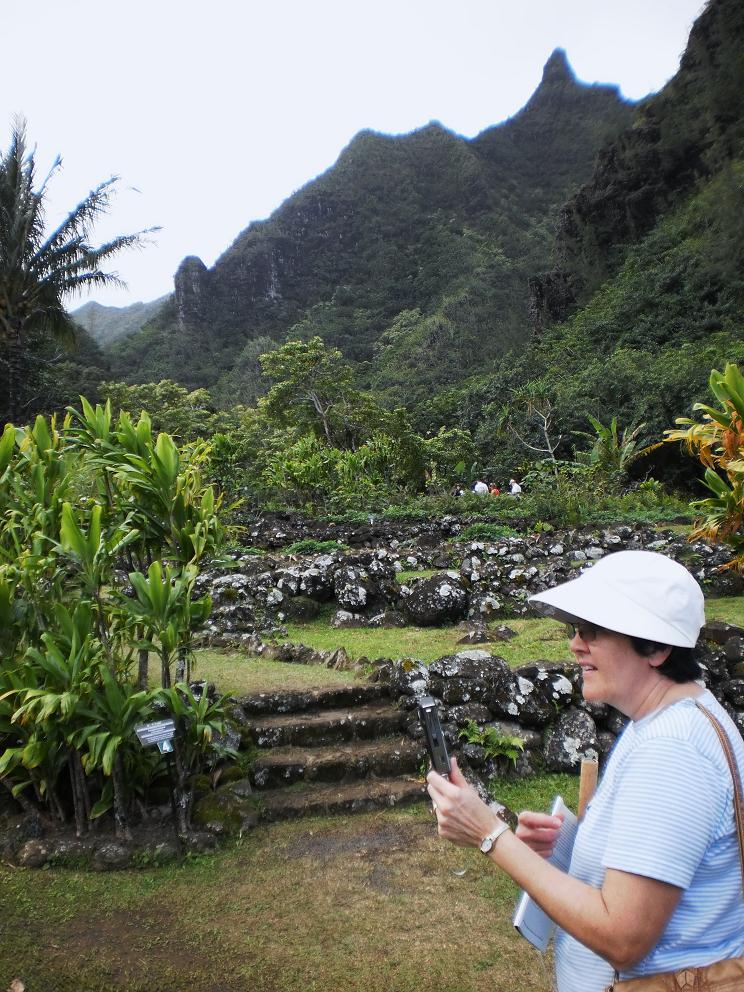 We stopped at a restaurant on the way back and had a great seafood meal. It was a roadside diner that had box lunches, and they typically came with the meat of your choice, two scoops of rice, and a scoop of macaroni salad.
From there, we went to the Kilauea Lighthouse and the National Wildlife Refuge.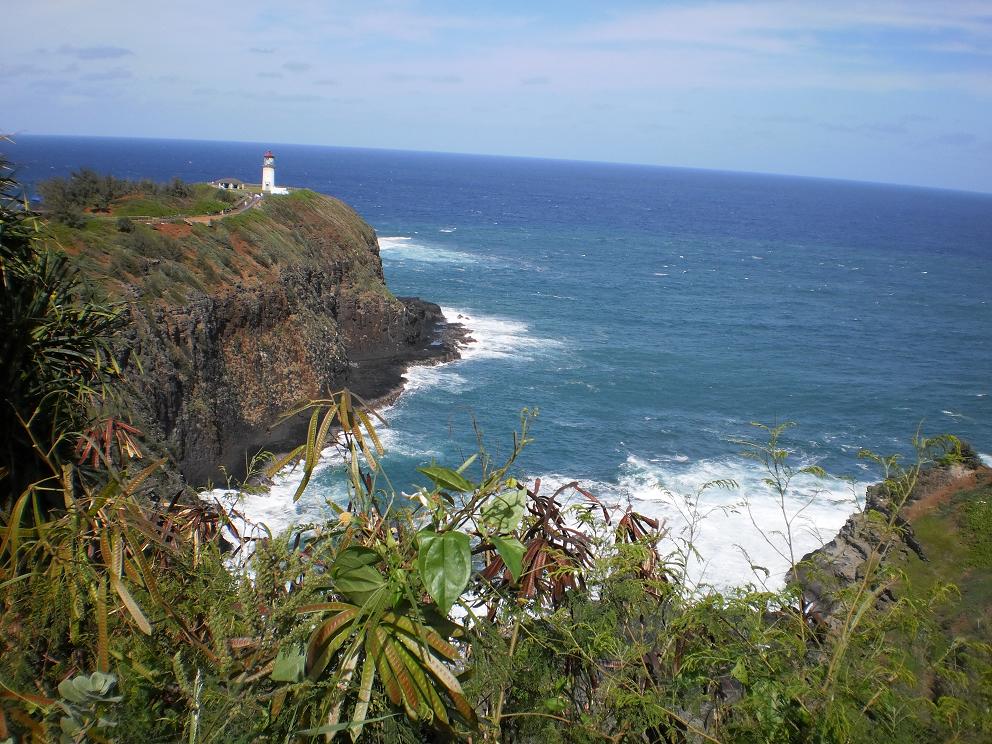 It's a beautiful location overlooking the beautiful blue ocean and rocky cliffs, but yet home to all sorts of wildlife.
We went our for pizza that night just for a contrast to all the seafood and local fare we had been having, and it was at a place called, "Bobby V's", but it had no connection with the singer.
We had a quiet evening, but still hadn't completely adjusted to the four hour time change, so it was early to bed, early to rise.
It was nice to have the computer along so we could research in more detail places to eat, places to visit, weather forecasts, and to check on the weather back in Minnesota as a contrast to what we were experiencing. A cold snap had settled in, with brutal winds and blowing snow and many urban fender benders.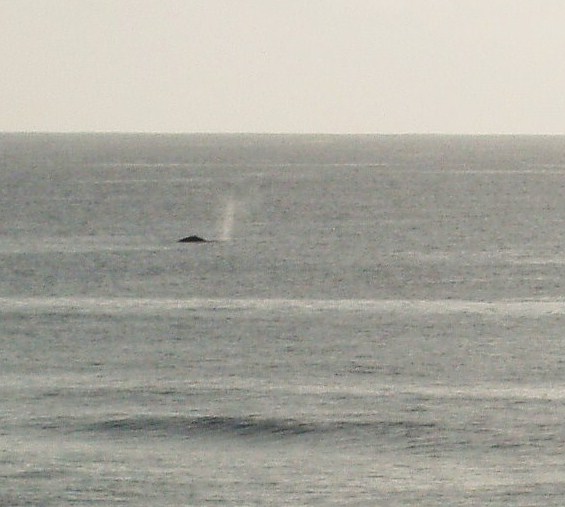 The next morning we took off for Poipu Beach and took a long but beautiful cliff trail. A number of times on our trips to various places around the island, we could spot humpback whales in the distance. They were tiny, but their spouts were visible from quite a distance.
The cliffs had been eroded over the millennia so there were many coves and inlets,
and the trail got a bit narrow at times.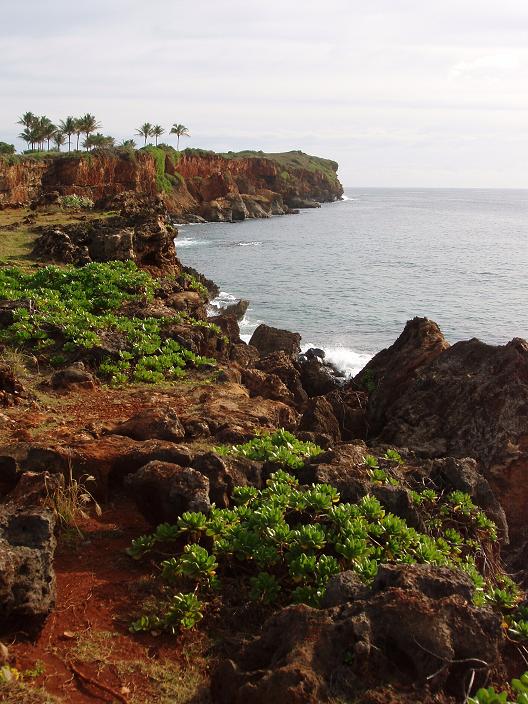 It was one of the longer hikes we took, well over two hours, but the scenery was stunning and well worth the effort.
Heading back toward our condo, we stopped and ate at a beautiful place called "Gaylord's" and had a delicious lunch, beautifully presented at an outside table. It felt kind of good to just relax a bit after the long hike.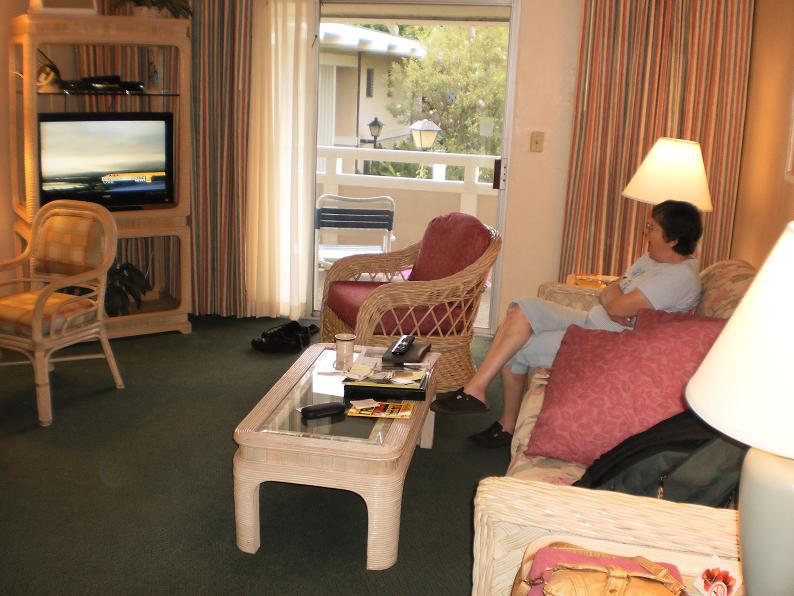 The place we stayed, by the way, was called "Plantation Hale", and it really worked out just fine as a kind of central location with lots of things to see and do in a short distance.
Sunday morning we headed off for another hike not far from where we were staying called, "The Sleeping Giant Mountain Hike", a pretty strenuous, mostly vertical challenge. It was a rough trail, very primitive, and we soon came to a place that was pretty well impassable, so we figured we'd have to head back down.
Going down can sometimes be more hazardous than going up, Joan found out when she slipped a bit and started to gain momentum going down a kind of slippery spot. She reached out and grabbed a small tree to slow her down, but in the process, wrenched her shoulder, which bothered her the rest of the trip.
We had lunch at the "Ono Family Restaurant" after a very long wait; it's quite popular, but the food was delicious. I had a mahi-mahi sandwich, and Joan had an amazing pancake with nuts, bananas, etc. in it with a coconut syrup.
We walked around Kapa'a that afternoon, and then headed to a beach just outside of town. It started to rain a little, so we headed back to the condo for a quiet afternoon.
That evening, we walked to the nearby restaurant called "Hukilau Lanai". This was the #1 rated restaurant in Kapa'a and it was deserving of the reputation. It was very expensive, but everything was wonderful! We had a drink before ordering, and then salads, breads and the entree. Joan had a mixed grill with ono and shrimp, and I had a melt-in-your-mouth opakapaka, also known as a red snapper.
It was definitely the best meal of our trip, and the most expensive, but worth it!
It was dark in the restaurant also, as you can see. That's a massive aquarium behind us, but we had a view of the beach and ocean to our right.
On Monday, our last day on Kauai, we drove to Lyngate Park, ready for snorkeling, but it was too windy and cold to have any little fishes come in to the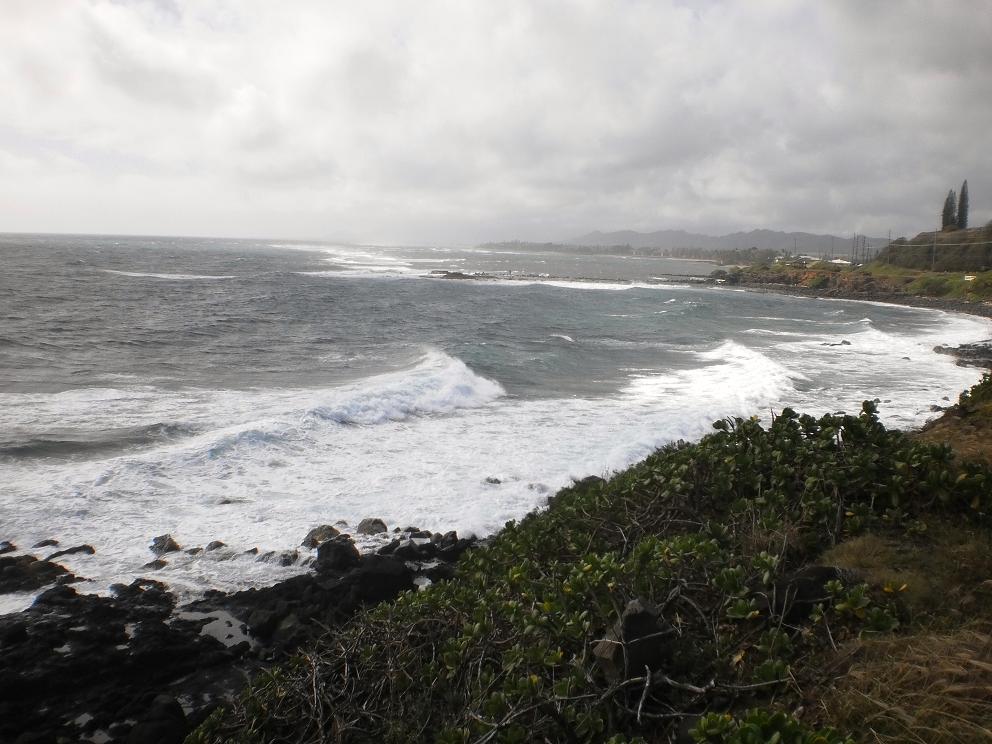 shallow area, so we pretty quickly decided to end that little experience, and drove instead to a sandy beach. The wind was still blowing strongly, with some big waves.
On Tuesday, we flew from Kauai to Oahu, a brief but a bit bumpy trip that lasted about a half hour in the air. We got our rental vehicle, and immediately headed out of Honolulu, a hustling, bustling metropolis, to the more serene rural areas in a little city called Kailua where we had a cottage rented for a week.
The next morning, we drove off to find the Byo-do-In Temple at Kane'ohe, and it turned out to be just a beautiful temple and area. It was set in the back of a very large cemetery, and the mountains came down right to the temple.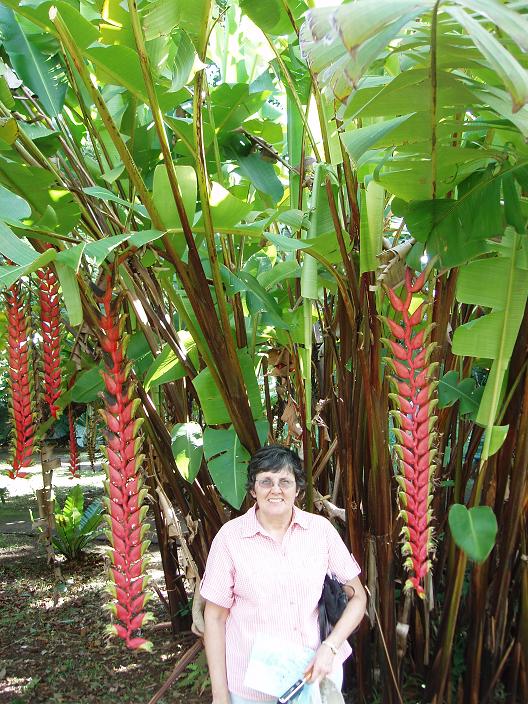 From there we went to the Hoomalahia Botanical Garden and strolled around for quite a while. It was another beautiful setting with many exotic plants and trees. We drove north from there, and had lunch at Kaneohe at the "Uahi Island Grill", and it was another of the local plate lunches with rice and macaroni. Roger had a spiced chicken that he really liked; Joan's hamburger was good, but nothing special.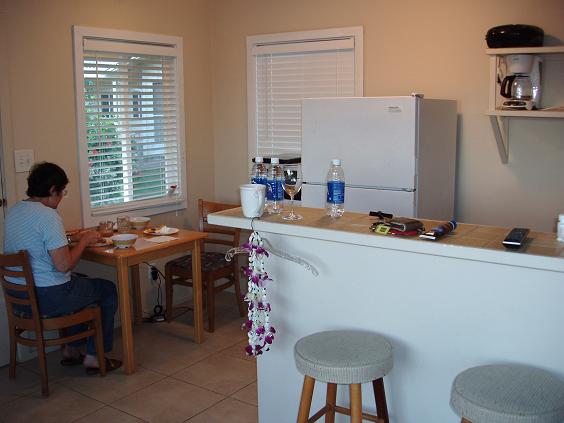 We headed back to our little cottage, which was very close to the ocean. We had a view of the ocean out one of the windows, and the azure and
turquoise color of the water was striking, and it was within about a half a block for us to walk to.
We ate at Kailua at a very nice restaurant called The Kalapawa Cafe and Deli, and had an outside table. We had stuffed chicken and steak, and it was delicious.
The next morning, we headed north again to the Polynesian Cultural Center, and got there shortly after noon, when it opened. The weather was beautiful, sunny and mild, and we saw various island cultures from Samoa, New Zealand, Fiji, Tahiti, Tonga, and Hawaii. Each had a separate interpretive site, and there was a lot of native skills and traditions displayed at each of them.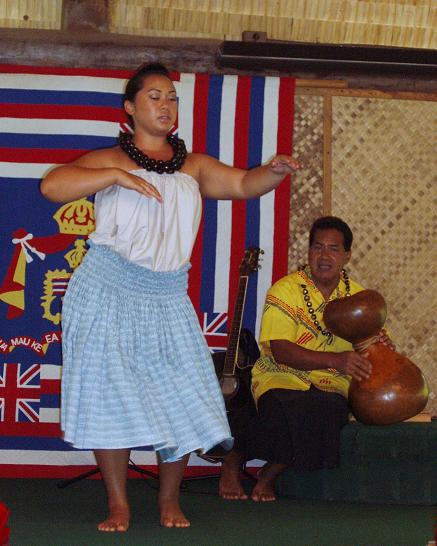 In the evening, there was a luau, followed by a large show that went into the evening. It was a full scale production with a story about the Polynesian Islanders settling the area, with lots of dancing, fire twirling and singing. The show was over about 9:30, so we headed back and had about an hour's drive.
On Friday, we drove to the Maunawili Fall Hike, which was in a rain forest, and there was to be a beautiful falls at the end of the trail. This was a very rough trail that crossed over a creek a couple times and so many roots on the trail that it was very difficult to traverse.
The scenery was amazing, though we had to watch where we were stepping so much, I'm sure we missed a lot of the beautiful sights.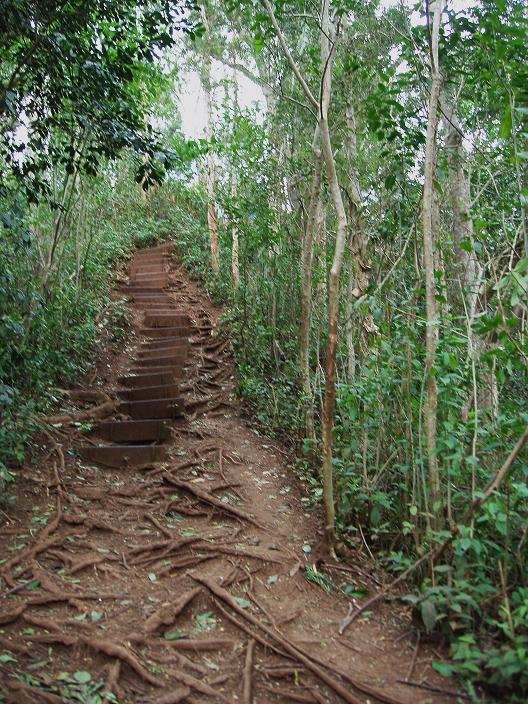 After a couple of hours of hiking, and running into a rocky stream, we decided we'd gone far enough and turned around and headed back toward the vehicle. We had a leisurely lunch, Joan rested her arm, and we had a quiet afternoon.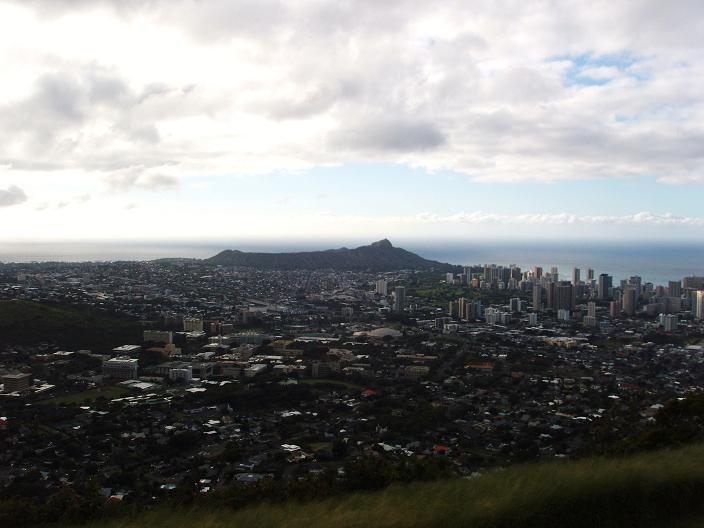 The next day, we drove to Waikiki and up to Round Top Drive in the mountains above Honolulu. It was a spectacular view. Diamondhead was clearly visible, standing out in contrast to the urban sprawl that covered so much of the land. We meandered our way back toward our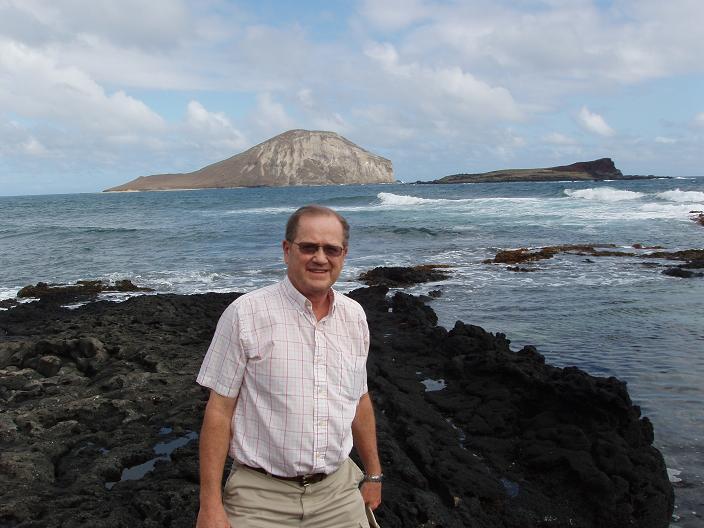 home base, stopping at a number of places next to the ocean. There were tide pools, high waves, black lava, white sands, and a variety of landscapes.
On Sunday, we went to Makapuu Beach Park, and walked on the rocks overlooking a very rugged shore.
While we were looking at the ocean, we could see a young woman floating on a surfboard, and soon, we could hear her screaming for help. She was being pulled out to sea by the current.
Her boyfriend was on the shore, helpless. Luckily, a local man came running up, the fellow in the black muscle shirt, and continually motioned to her to paddle to her right, away from the rocks and toward a sandy shore. She made it to shore fine, but it could have been a tragedy just as easily.
If you look carefully, you can see her floating out just to the right of the men on the shore.
We headed back, and had a great Italian meal at Zia's Cafe, probably the second best meal of the trip. Joan had a scallop and shrimp scampi, and Roger had a Spicy Seafood Arrabiatta that had shrimp, clams, and mussels.
On Monday, our last full day on the island, we drove north further than we had gone on the last trip, and spent some time walking and wading in a tide pool that had lots of tropical fish in it.
It was another beautiful site. We headed back and went for one more walk on the beach before starting to pack for the trip home the next day, since we had to be out of the cottage in the morning.
The color of the water seemed even brighter on our last day in this location.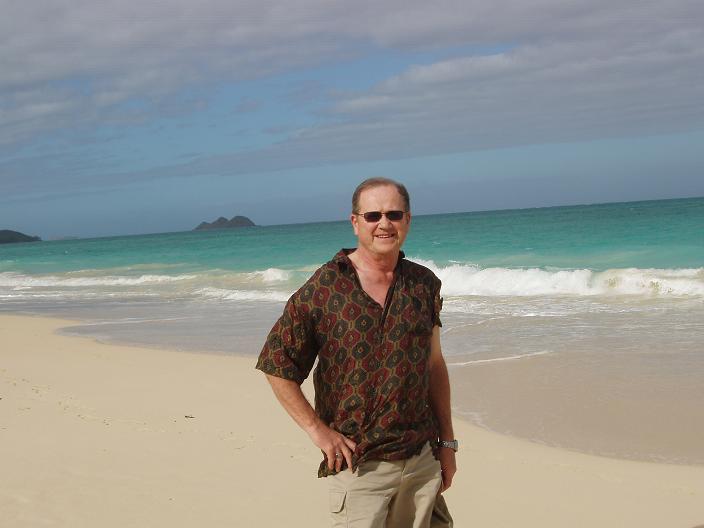 In the morning, we packed up the car, and started meandering toward Honolulu, though our plane didn't leave until after 10 that evening.
We stopped at a couple of scenic views on the way, and eventually made our way to the Waikiki Aquarium, and we were both quite impressed by the facility.
We spent some time at a massive shopping center, had a leisurely lunch, did some reading in a very nice park, and then headed to the airport to turn in the rental car, and get to our gate.
The flight was on time, and we headed to Salt Lake City, then home.
We do love Hawaii.
Photo from the luau at the Polynesian Cultural Center: