Twenty Fifth Anniversary Surprise
July 1, 1992
I don't know when the idea first hit me that I should try to surprise Joan on our 25th anniversary, but it was a number of months before the actual event. Derek, our elder son, was in school in the state of Washington, but would be home for the summer, and his friend, Julie, had a trip scheduled over the critical July 1st date, our anniversary. I knew that Julie was a gourmet cook, so my initial thought was to have her cook a fancy meal and surprise Joan.
I wrote Julie, in Washington, a letter asking if she'd cook a gourmet meal, and if she would, to consider a menu, and how we could prepare it without Joan knowing about it. One idea I had was to simply use someone else's house, and we'd go there to eat. We eventually came up with the idea that we would get most of the food early, and hide it in the room Julie was using.
The next idea I had was that we should share this meal with some of our closest friends, especially three couples that we have been close to many years, and have gone camping with on numerous occasions. I made a very fancy invitation in calligraphy, and sent it to all of them, asking that they not mention it to Joan, but to hold that date open. I also asked that they dress as "formally" as they could, without spending any money.
Then I had to make sure that Joan also had something to wear that would be in the spirit of the evening, so I kept my eyes open for a gown of some type. I finally did run across one at a garage sale! It had been a prom dress or a bridesmaid's dress, and looked to be about Joan's size. It even had shoes to match the outfit, so I sheepishly purchased it, and took it home and hid it.
The next thing I did was to write to all of the people who had been in our wedding party, and told them of my plans. They were spread out all over the country, so I simply asked them to give Joan a call that same evening, to surprise her on our 25th anniversary.
I also wrote a note to Alejandro Robles, who was our Spanish foreign exchange student, and asked him if he would call also. I gave him the approximate time, and figured out what time it would be in Spain for him to actually call.
The last big piece of the jigsaw was to contact someone who would actually make house calls to give Joan a "makeover", so I called a local hair salon, and I knew someone who I used to work with who sold Mary Kay cosmetics. The beautician was a bit harder to find, but I finally did convince someone to do it (her name was Linda), and Bunny Evans, the Mary Kay representative, agreed to come out and apply makeup.
All the pieces I could think of were in place, and the date got closer. Julie arrived, and we surreptitiously planned the meal, and how to pull it off. We bought all groceries we could ahead of time and hid them in Julie's room, and when I was keeping Joan busy on the actual date, she would go and pick up the meat which had been ordered at Reichel's Meats....a rolled roast.
I had heard from all three of the couples that they could be there that evening, and gave them a specific time to arrive, ideally after Joan had gotten her hair done, had her makeup applied, and gotten into the gown.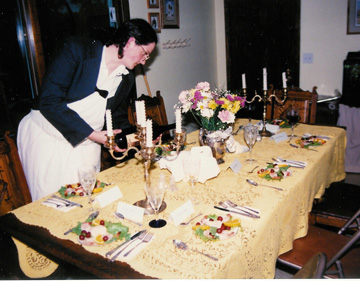 I had to get Joan out of the house the day of the surprise party. We had been looking at buying a pull-behind camper, so that was my excuse for taking Joan to the cities for the day. And therein lay the one glitch in the evening. We found a camper, purchased it, and all that had to be done was to have the car wired to fit the plug on the camper. This is where the biggest glitch of the plan occurred. The kid there could not, after what seemed hours of trying, figure out how to wire that plug for the taillights. I was getting more and more impatient, knowing the tight timeline I was under, and so I finally said that we just HAD to go, and we'd come back tomorrow to get it finished.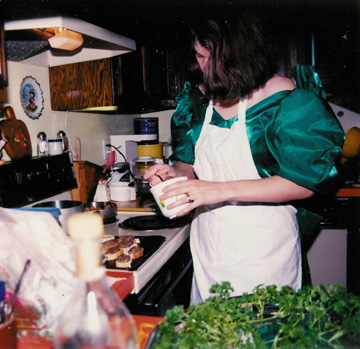 This little delay put us 15-20 minutes behind schedule, and so, when we got home, both the hairdresser and the make-up person were there.
Joan didn't quite understand why I got so impatient, but i just told her I was sick of waiting, since he didn't know what he was doing, and maybe when we came back there would be someone who knew what they were doing.
Joan was also a bit puzzled when we pulled into the driveway and saw all the activity. Julie was busy cooking in the kitchen, the dining room table had been set with our best china, and there were two ladies waiting to work on her hair and makeup!. I also went and got the formal I had picked out, and then told Joan we were having company later to celebrate our 25th anniversary. She was totally surprised.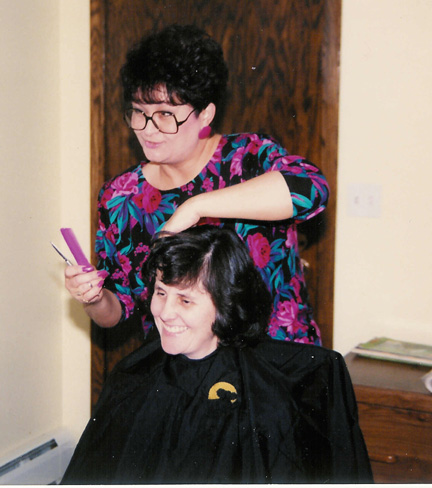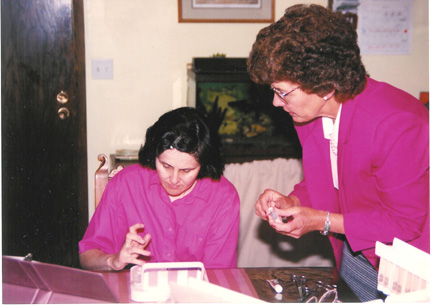 Soon, she had her hair cut and styled, makeup applied, and her formal dress on...a pretty good fit, considering it was a wild guess at the size, and our company arrived, right on time. Julie had fixed some great appetizers, and I had bought some wine, so we visited for a while.
Soon, the phone calls started! Her maid of honor called, and also the other two people who had stood up for her at our wedding, and later in the evening, Alex from Spain called too.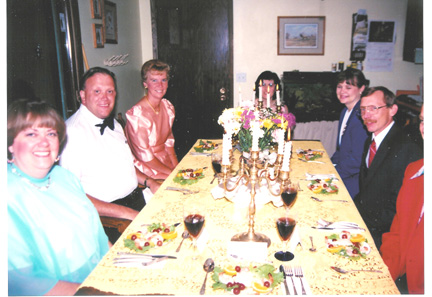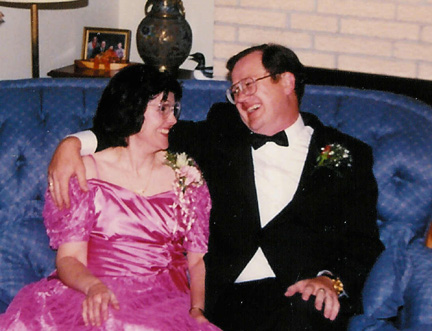 All in all, the evening was great fun! Julie had cooked a great meal, we had a very nice time visiting with our friends, and I had really surprised Joan, even after 25 years!