Trip to Seattle,  July 4-16  1994
<![if !vml]>
<![endif]>We headed out to Seattle on July 4 with Kent to pick up Derek from Lutheran Bible Institute.  Our plans were to sight see in the Seattle area first.  We ate lunch in Mandan and camped in Medora at the Red Trail Campground.  A burrowing owl and a pronghorn were spotted as we drove through Teddy Roosevelt National Park.  There were purple & yellow cone flowers blooming.  We walked the Wind Canyon Trail and saw petrified stumps and logs and two herds of buffalo.  There were July 4th fireworks at the campground.
In Bozeman we went to the Museum of the Rockies.  There were great displays of Maiasaurus specimens gathered by John Horner.  We went to see the Missouri River headwaters and the Madison Buffalo Jump.   Kent spotted a badly injured osprey – we told the Fish and Wildlife about it.  We saw a folk art statue exhibit.
On our way west, the mountain scenery with boulders and pines was beautiful.  There was a sandhill crane in a pasture near Deer Lodge.  In Missoula we bought a "Bogie", Indian flute and a copper bracelet.  We stopped at Catalo Old Mission State Park and walked around.  The church was made with straw & plaster walls.  In Coer de' Alene we bought peacock copper ore.  We did some hiking at a state Riverside Park that had a swinging bridge and pitcher and bowl rock formations in that looked like conglomerate and saw a waterfall.
<![if !vml]>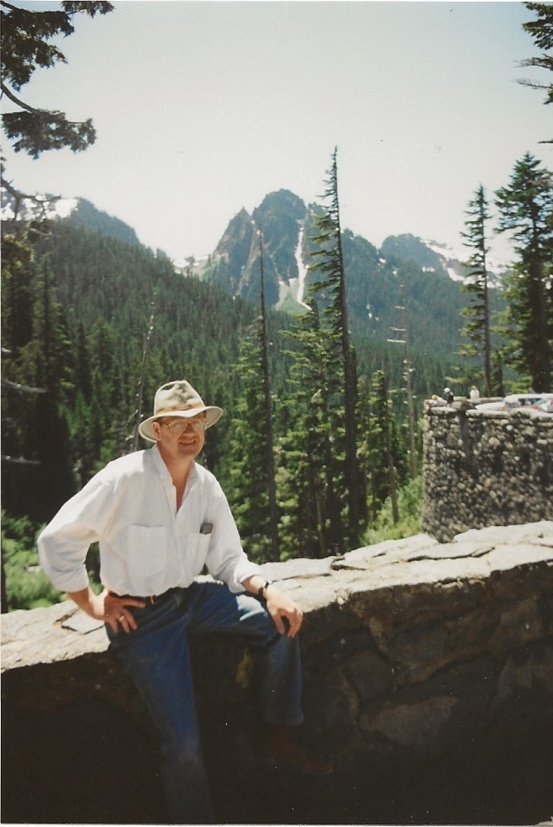 <![endif]>
Near Spokane we stopped at a lookout above the Columbia River and stopped at Gingko State Park.  There were petroglyphs outside the visitor center. 
<![if !vml]>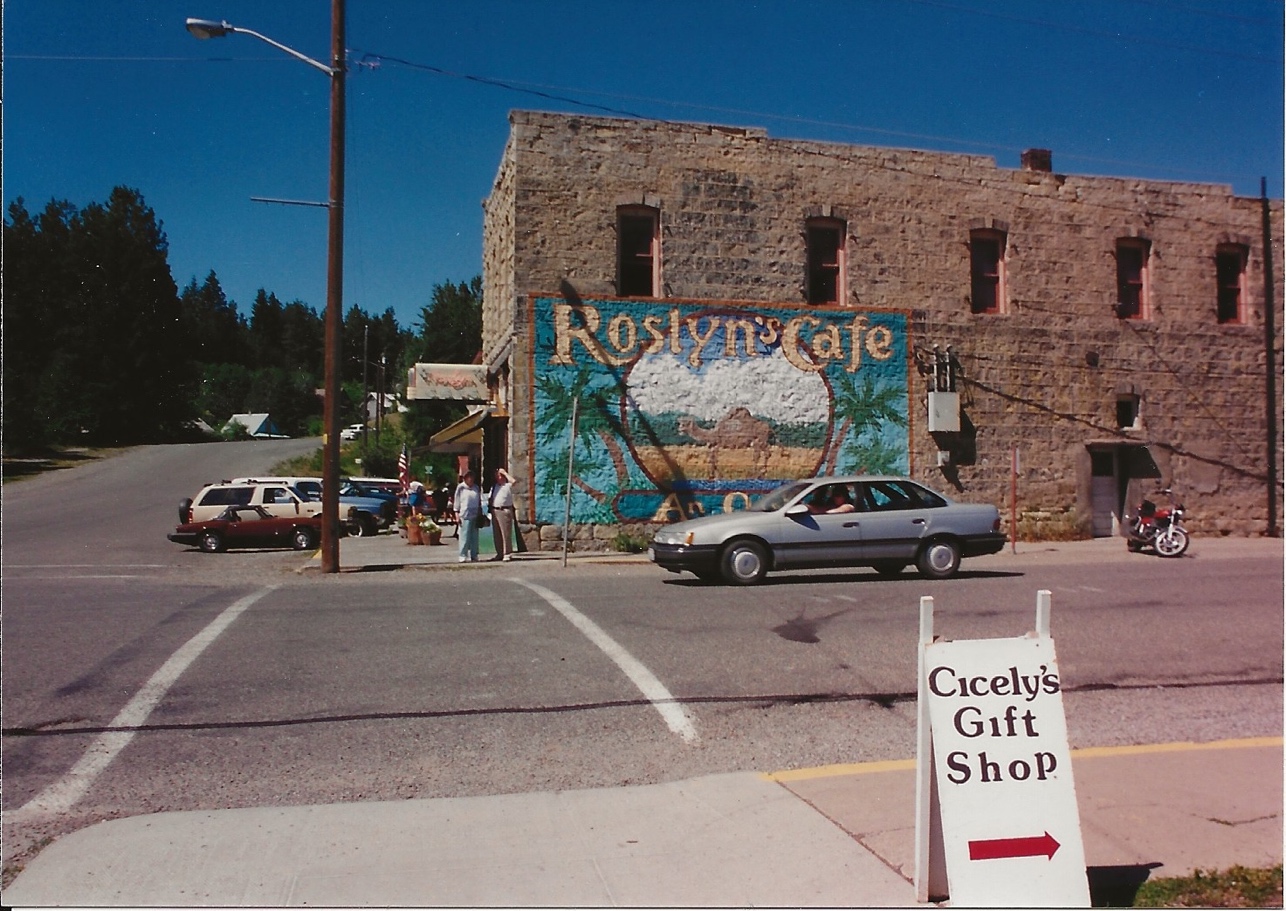 <![endif]>
Northern Exposure was filmed at this location, so we ate at the Roslyn Café and shopped at Rose Ann's store. 
We visited Snoqualmie Falls Park that was used as a backdrop for Twin Peaks.
<![if !vml]>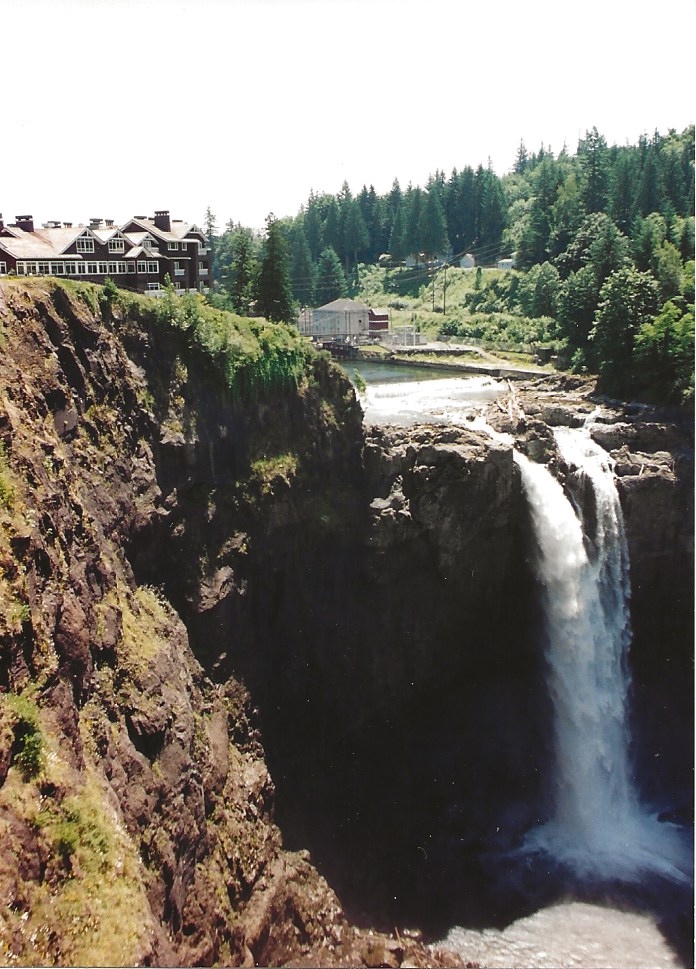 <![endif]>
At Lutheran Bible Institute we walked the waterfront and pier with Julie Jordan.  We saw Derek do a "chicken" routine with Jr. High kids.  We saw the famous "slugs", saw Ocean and Pacific Beaches and did a half hour rainforest hike at Quinault.  The next day in the Eulah area we walked Madison Falls Trail.  There were large, big leaf maple trees there.  We drove around Crescent Lake – it's 600' deep and surrounded by forest-covered mountains.  We walked the Ancient Groves Nature Trail and saw a doe & young fawn cross the road. 
Next, we walked 3/4 mile down to La Posh beach.  There were interesting sea stacks.  It was high tide so the pools were covered. 
At Neah Bay were toured the Makah museum.  On the way back we stopped at a beach and saw hermit and other crabs, seaweed, <![if !vml]>
<![endif]>bivalves, etc in the tide pools and under the rocks.  We stayed at Port Angeles. 
The next day we headed to Dungeness and saw a few shells, a multi-star fish and several blacktail deer and two fawns.  Heading back we saw Hurricane Ridge, deer, and wildflowers.  At Port Angeles the aquarium had sea urchins, star fish, sea cucumbers, anemone, etc.
We headed to Packwood on 101S and drove up the mountain and hiked on it.  We saw two coyotes by a church on the edge of town.   The next day we headed to Mt. Rainer where we hiked the Grove of the Patriarchs trail – saw a chipmunk and black-tailed deer.  We also hiked the Wonderland Trail by Reflection Lakes and the Nisqually Vista Trail at <![if !vml]>
<![endif]>Paradise.  There were wild flowers and we could see several groups of hikers on the snow fields.  Went to the top of Nerada Falls and walked over two single-log suspension bridges at Cougar Rock over the Nisqually Glacier riverbed.  Went back to Packwood along a trout stream. 
On July 13 we left for Mt. St. Helens and drove up to Windy Ridge just a few miles from the crater on the East side.  We saw the new lava dome, downed trees & pumice and thousands of logs in Spirit Lake.  We walked down to Meta Lake – it had been covered in snow.  The trees on the edge of the blast zone had a grayish look.  At the visitor center we saw a movie on the eruption.  We visited the Ape Caves, but didn't go on the tour.  We saw the lava tube area. (stumps & log castings) and went to the west entrance and saw great exhibits. 
On July 14 we went to Pikes Fish Market in Seattle and saw <![if !vml]>
<![endif]>a lobster crawl off its display. There were many crabs, squid, salmon, etc. to buy, plus fruit and veggies.  The Aquarium has a large squid at least 10' across.  There was a large Alaskan King Crab, a salmon ladder, harbor and fur seals, a dome with kelp & fish of all kinds, a tidepool display, a shore display, free shore birds, and puffins. 
We toured the Curiosity Shop.   The next day we drove through a dust storm with heavy winds and dark dust clouds.  At LBI we finished packing Derek up and drove a Coeur D'Alene for the night. We got home on July 16 after driving 4,877 miles.