Part Three
Sweden, Malmö, Öland, and More: July 1-July 7, 2012
Malmö is a beautiful city. We stayed close to the heart of the city, with many things within walking distance.
After gettting settled we walked to a nearby park that had a large castle with a moat. It was a fortress. We saw it from a distance, and decided to save it for another day, since it was getting late in the afternoon.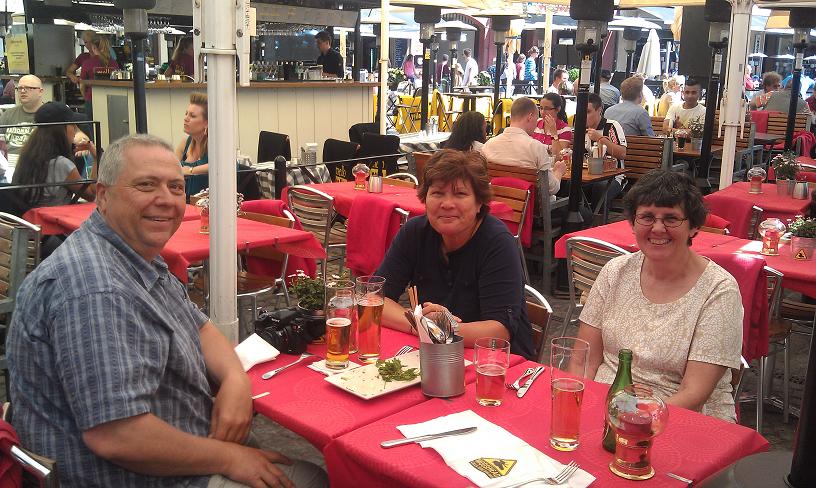 The town square, full of restaurants, was only a couple blocks away, so we wandered around there a bit, and ate at one with outdoor seating.
It was fun traveling with Rod and Joanne. They took us places and had us try things that we never would have been exposed to without their willingness to share their time with us. This meal was no exception, with moose and bison on the menu.
From there we walked around the square with the ancient buildings, statues and architecture, and had our "light" evening meal at a Spanish res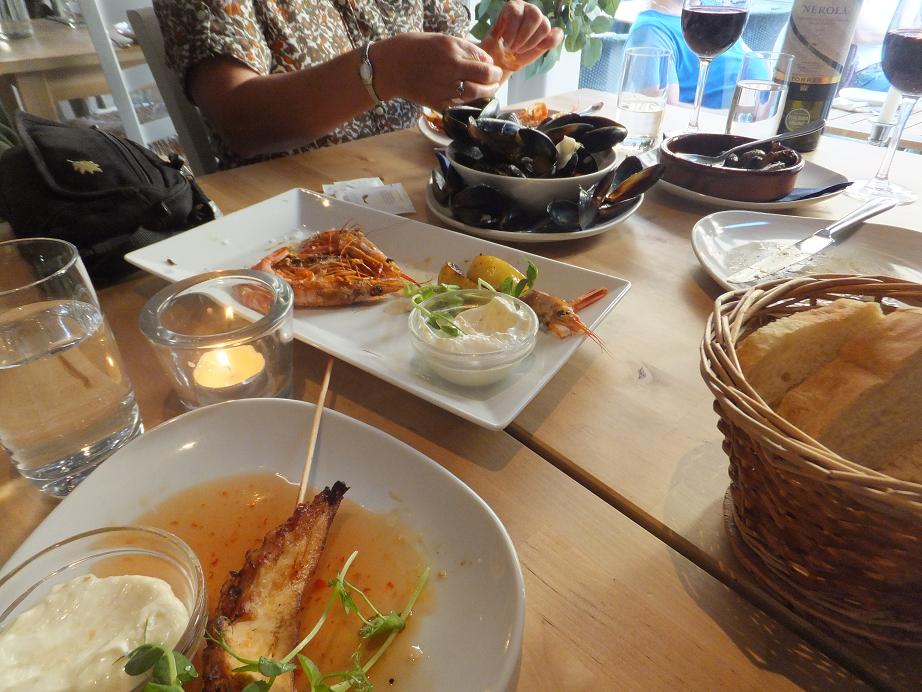 taurant that served little plates called "tapas".
We ordered an assortment, and then shared them, so we all could get a taste.
The next day, Monday, July 2, Joan and I walked down to the harbor lighthouse, and around the area near the piers. There was a lot of construction going on in the city of Malmo, I guess a sign of prosperity.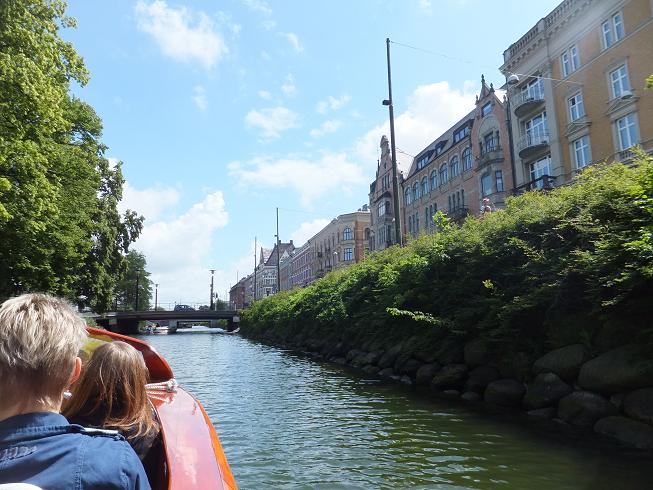 Later in the morning, we met Rod and Joanne and went on a canal tour of the city under many low bridges, some so low we had to duck our heads!
We had lunch, then walked to see the fish market and then we toured the fortress/castle. It was quite impressive.
It was built over many centuries, starting at about the 12th century, and had been modified many times. Parts of it, though, were original, and when you walked into some of the spaces, you could just feel the age.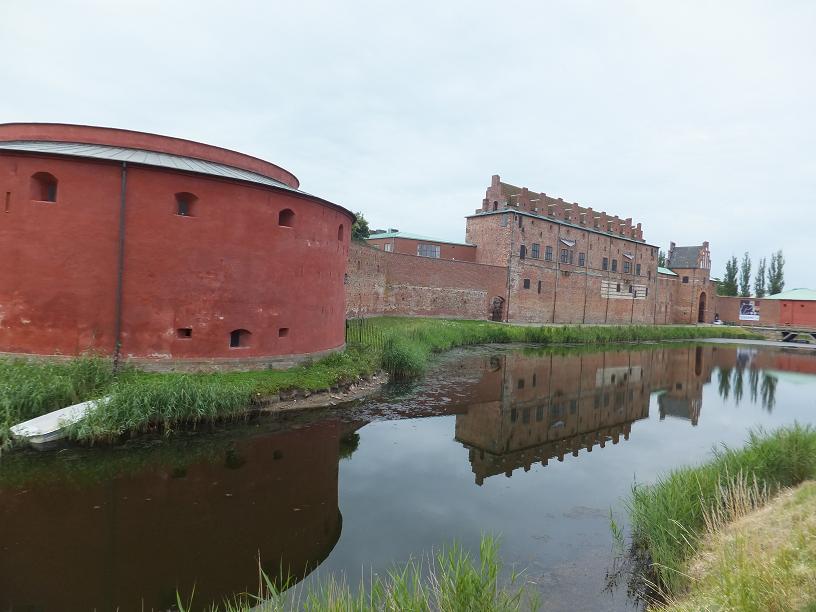 We were able to tour most of the space, including the more palatial areas that were for the king, and much of the furniture dated back to the 16th and 17th centuries.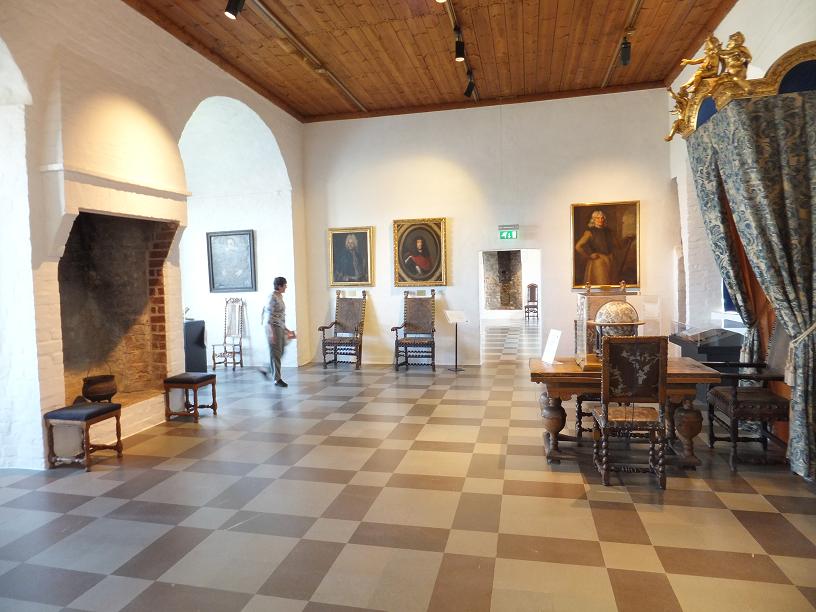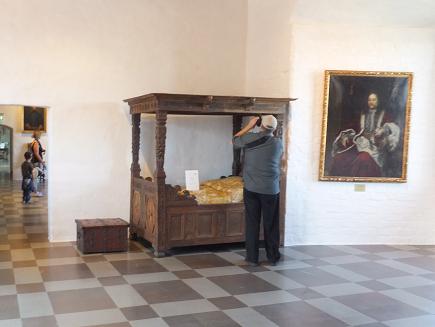 It was very impressive, and well kept and preserved.
In the evening, we walked to another restaurant called the Mando Steakhouse, known for the many thousand plank steaks they have served. It was a little cool, so we decided to sit inside. Another delicious meal.
Rod and Joanne left for Denmark the following morning, but Joan and I had one more day in Malmo, so we walked back to the park area. The fish market was open where they sell fish caught that morning.
In the afternoon, Joan and I walked to St. Peter's Cathedral. It had a massive alterpiece with intricate carvings and lots of gilding. The baptismal font was from the 1400's.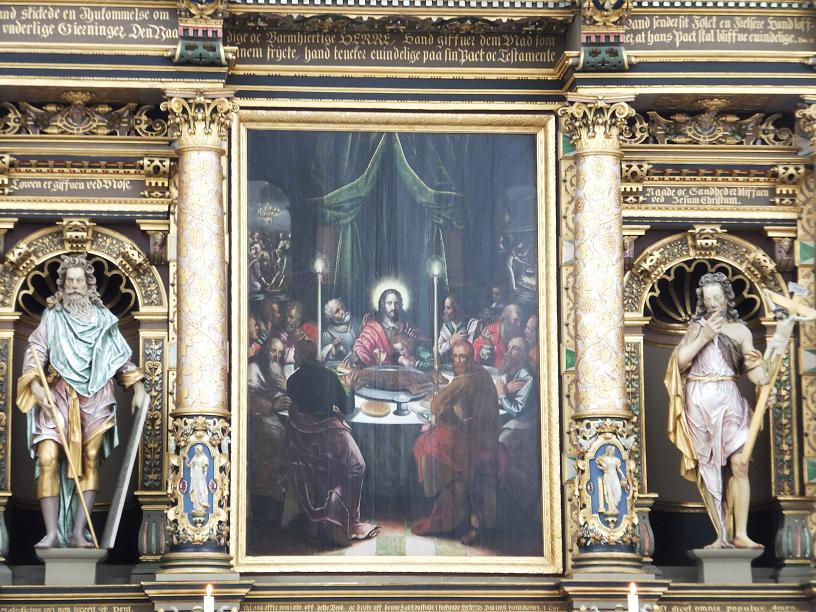 The next morning, Wednesday, July 4, we had an early breakfast, and headed over to get the car that had been in a parking garage for three days, and we headed east toward Kalmar. We stopped for lunch at a small cafe at a golf course along the way, and had a tasty meal. Luckily, they could interpret for us to English.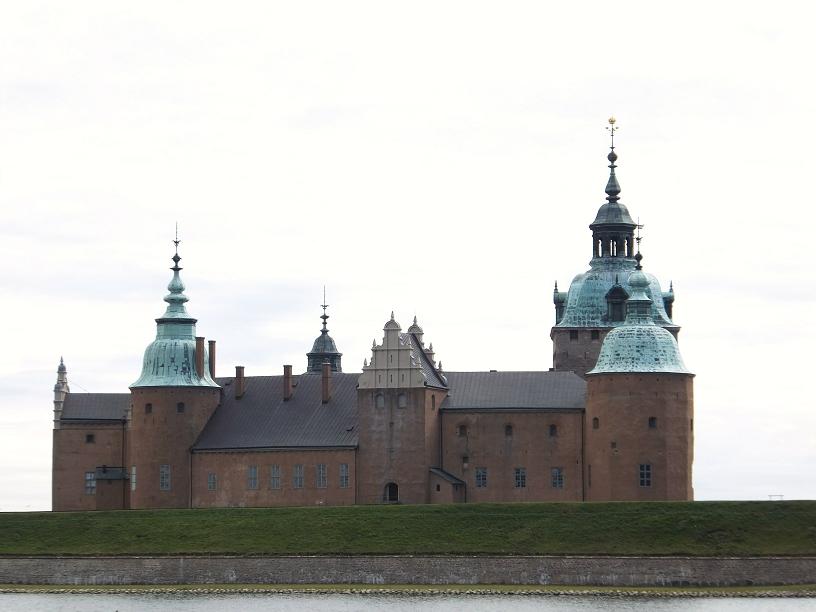 We got to Kalmar, and went to the famous castle. It was early enough in the day that we could get a tour in English, so we walked through the large structures.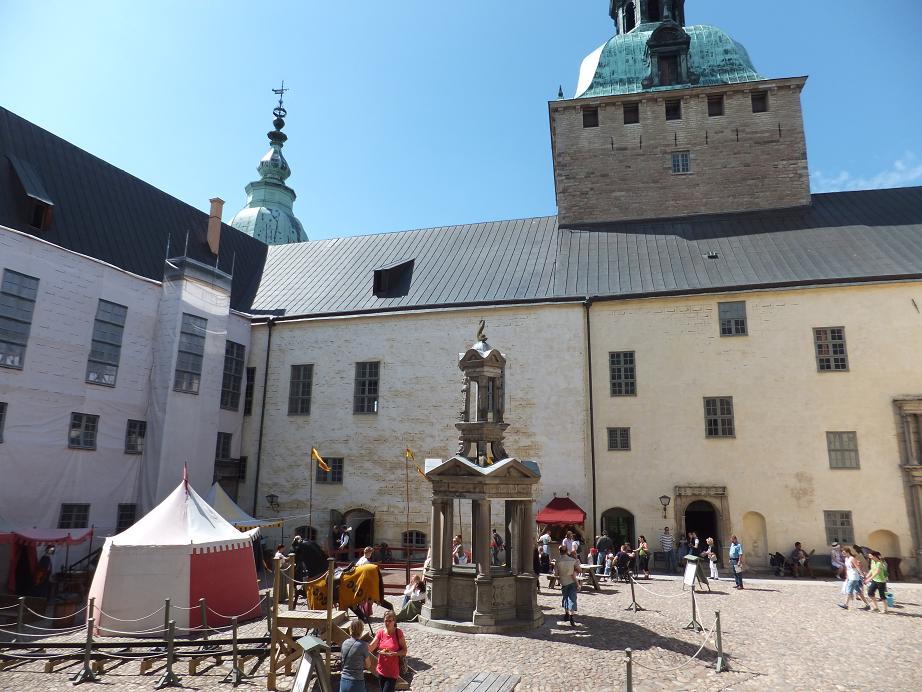 The castle was alive with activity. There were re-enactors in period costume with most of the activities geared for kids.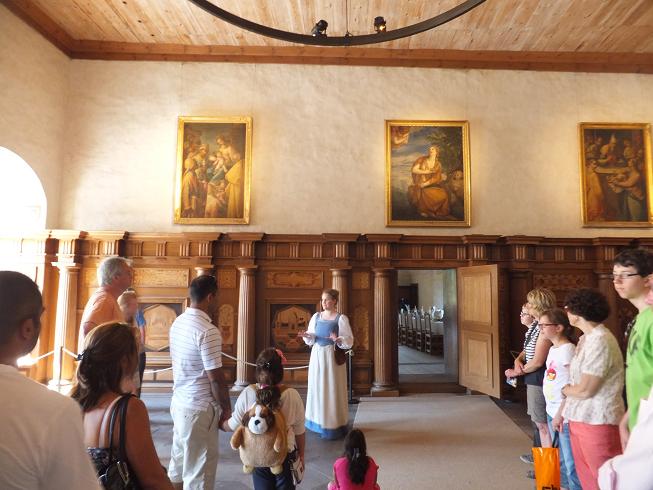 Our lodging for the next couple nights was within walking distance of the castle, a nice park, and a very nice restaurant. They had a buffet/smorgasbord with a large variety of meats, vegetables, sauces and breads, and we sat outside. There was a swing band playing very close to the restaurant. There was a beautiful view of the castle.
We went back later in the evening for a drink, and more live music. It was a beautiful evening in a beautiful setting.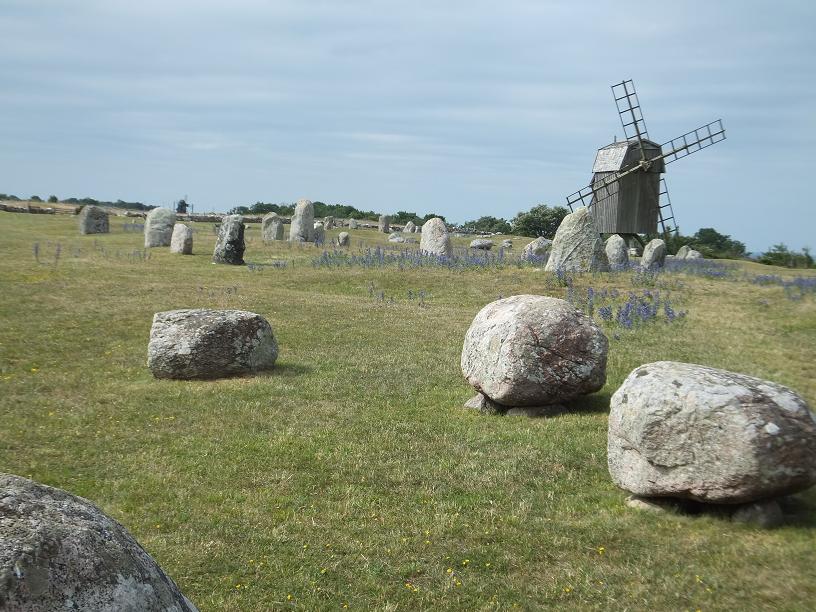 Next morning, we headed to the island of Öland. There was a long high bridge that connected the island to the mainland. We headed south to see the many ancient headstones and runes along the road, and the many windmills.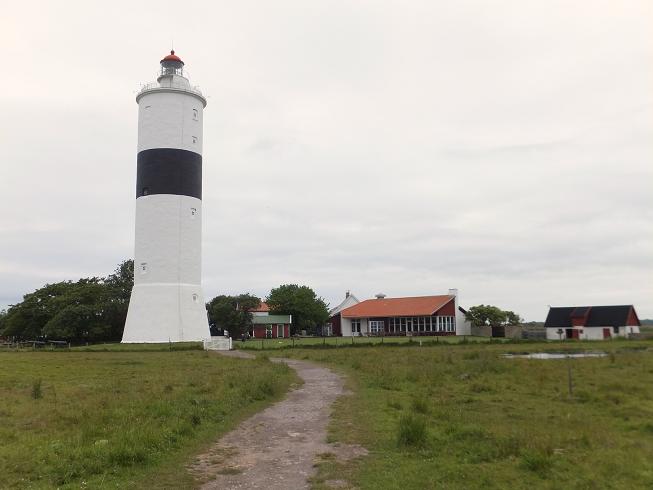 The stones were placed where they are in the bronze and iron age, and some are burial sites, some are markers carved in memory of a person or event. The many windmills, now long abandoned, were used for grinding grains.
On the southern tip of the island, there was a large bird sanctuary and a very tall lighthouse.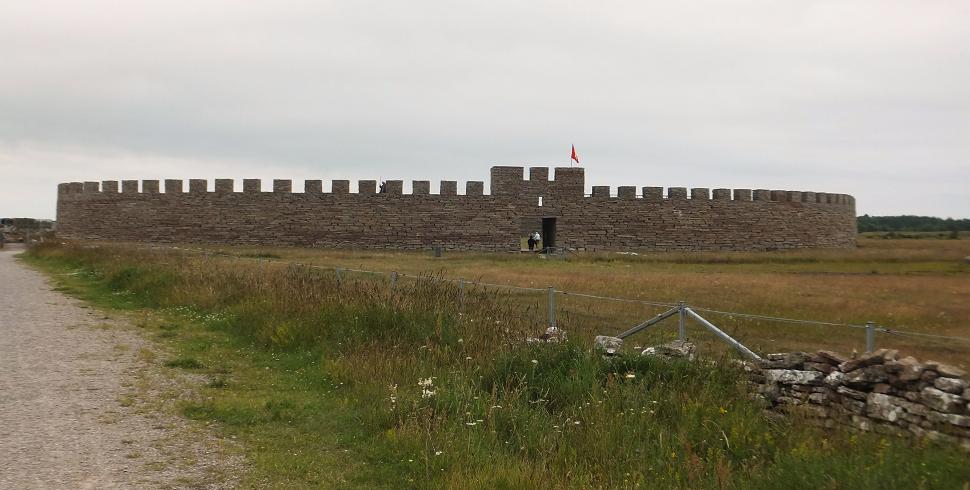 Our next stop was at Eketorp at a reconstructed ring fort. Again, the reconstruction was very well done, and costumed re-enactors were busy with a number of activities.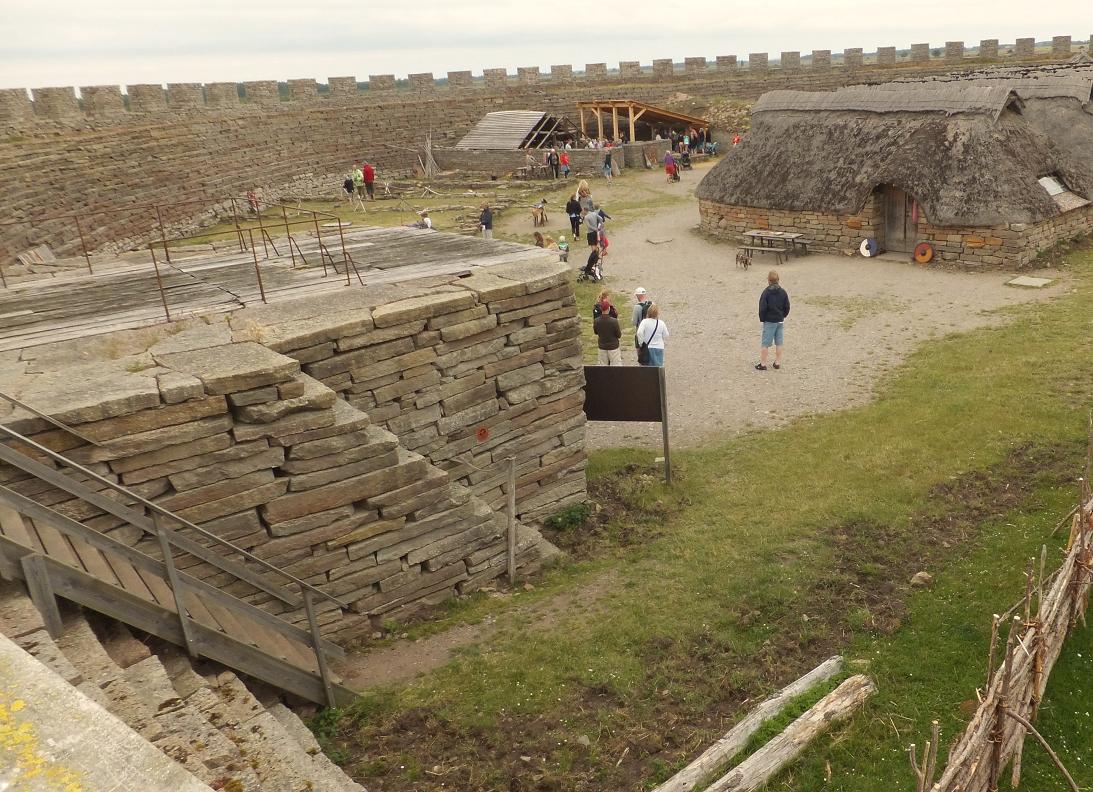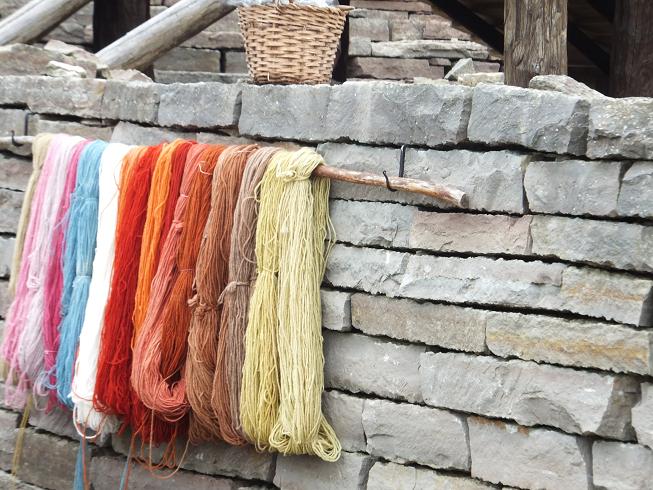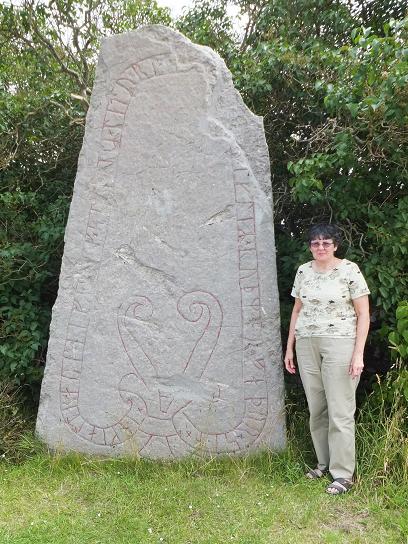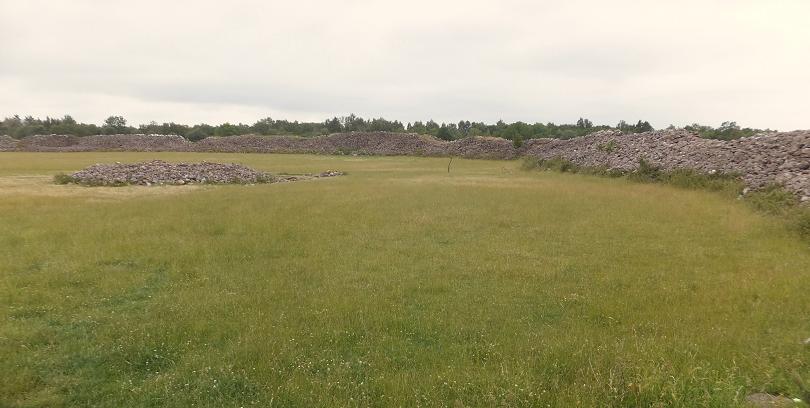 We saw many more runes on the drive around the edge of the island, including this large one.
Our next stop was another ring fort, but this one had not been rebuilt. It dated from the 500's until the 12th century.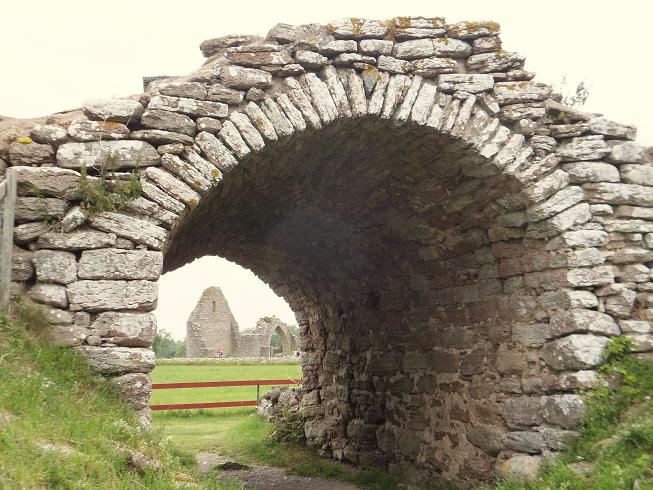 Nearby, viewed through the entrance to the ring fort was the ruins of a chapel named St. Knut's Kapell, also from around the 12th century.
We headed back to Kalmar, and walked downtown to eat. We went to a very nice restaurant, and ordered a plate of shrimp with salad, and were surprised when the shrimp came cold, with their entire body still intact including their beady black eyes. They tasted good, but were a lot of work to get to the little meat inside them!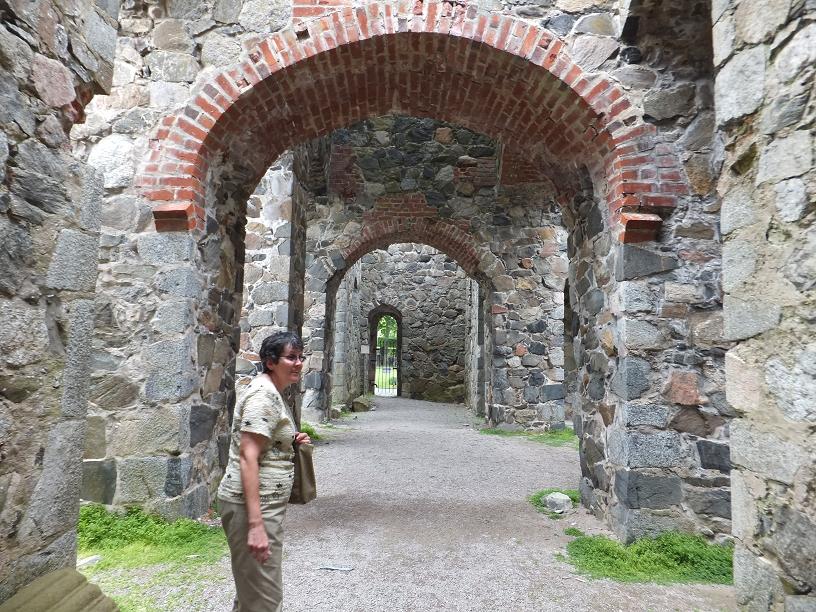 The next morning, we drove toward Stockholm to a motel close to the airport at Arlanda. We had some time after we checked in so we drove to Sigtuna and walked around a little, and visited the foundation of the ancient church again.
This time we went inside the ruins, and then went to see the "newer" church, built in about the 14th century.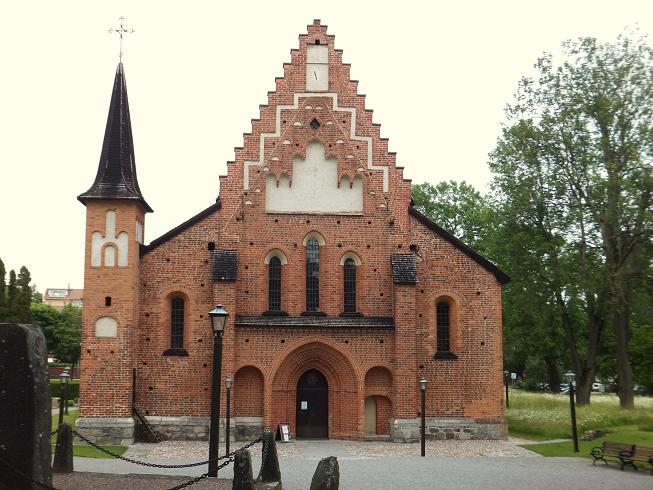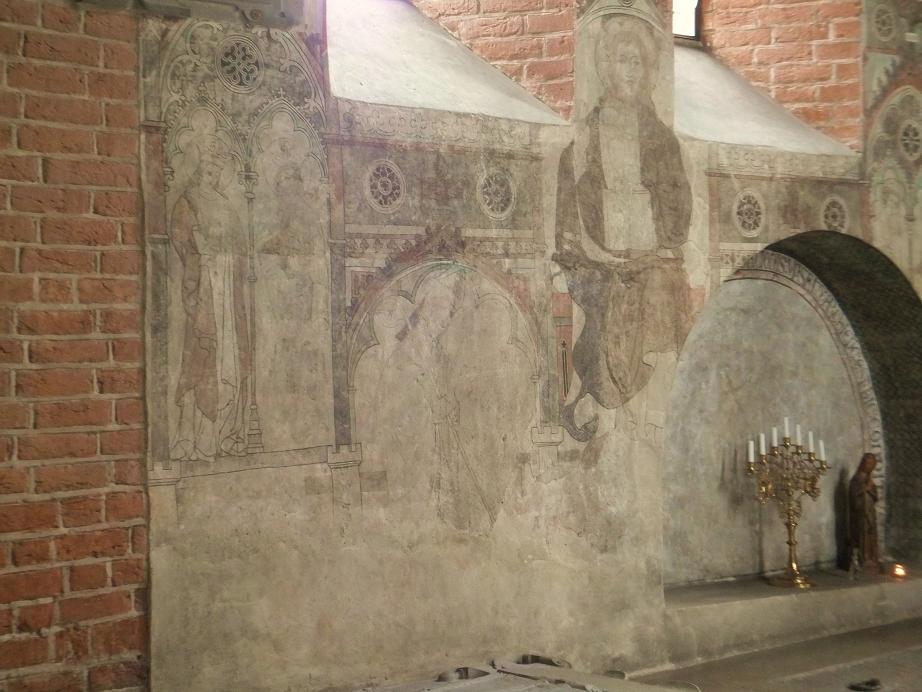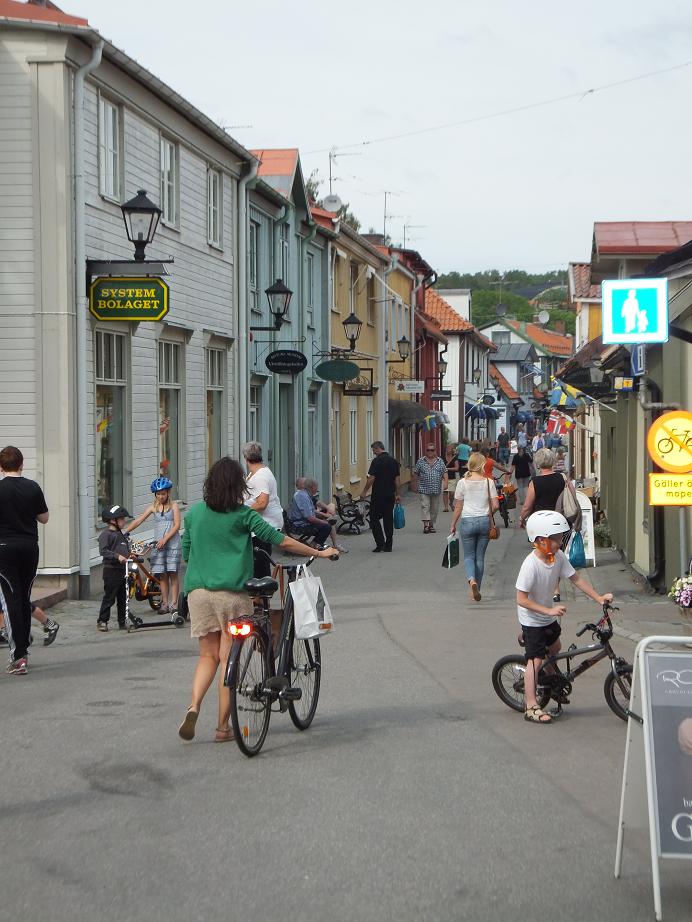 We walked around down the main street that dated back to the 10th century, and then headed back to the motel to get ready for our flight home.
There was a lot of waiting and a lot of hours flying before we reached home. I found it rather interesting that we left Amsterdam at about six in the evening, flew through seven times zones, and got home about 7:30 in the evening.
It was a wonderful trip. I've been asked what the highlight was, and I can't name one specific thing, it was more a combination of many, such as finally meeting Marit after 30 years, eating foods that I had never experienced before, seeing places I had only read about, visiting places that have such a strong connection to my past, and who I am because of them, and so much more. Spending time with my brother and his wife was really special too. He did a wonderful job of researching where our ancestors had lived, which really made that aspect of the trip special.
And yet, it was good to be home.