Kentucky, Tennessee, and Ohio, Sept.26-Oct.5, 2010

We left early in the morning and headed straight east into Wisconsin and the rising sun. We were on our way south and east, and my preference was to miss the Twin Cities morning rush by heading east first, and then turning south toward Illinois and eventually Kentucky and Tennessee. We drove for a good chunk of the day, eating near Madison.
There is a lot of road construction going on no matter what state you are in, and we hit our share. We came within a few inches of being rear-ended at one of the construction stops on the freeway. Luckily, the driver of the pickup managed to hit the brakes hard and turn left at the last moment, barely missing us.
We stayed in Champaign that night, and headed off again bright and early in the morning. We passed Nashville in the mid afternoon, and went to the Natchez Trace parkway. The Natchez Trace is interesting because it's been a transportation route for perhaps 10,000 years, and was used extensively as the United States expanded west. The route was used so much that it was literally a sunken road, and parts of it are still visible to walk. We drove the parkway which pretty well paralleled it, and it was a beautiful drive.
There were several walks and historic sites, and one of the most interesting was a tobacco field with its drying barn. We stopped several times to look at the many sights.
That night, we stayed in Savannah, Tennessee, as small town close to the Trace. We ate at a local restaurant called, "Worleybirds" Here's a video about the cafe!
http://video.google.com/videoplay?docid=-4970966475252947568#
I ordered "fried corn" as one of my side dishes because I had no idea what it was! It turns out it is deep fried cream style corn that has somehow been breaded into small balls. It was good, but since I don't eat deep fried food, I only sampled it, but it was an interesting discovery!
The next morning we headed to the Shiloh Battlefield. It's a national park dedicated to the Civil War battle that took place there.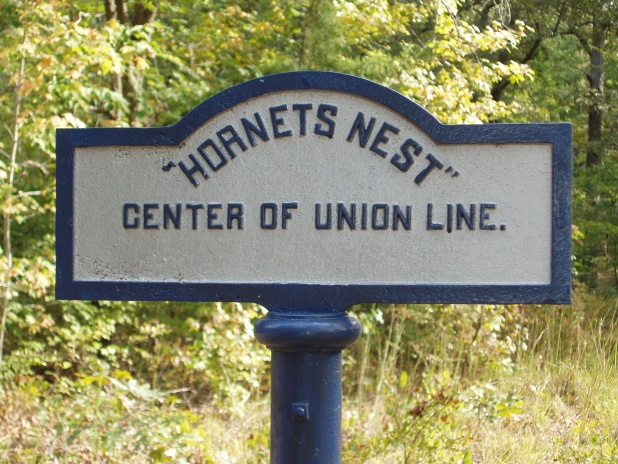 It's a beautiful park, and very well kept.
We picked up some literature on it, and took a driving tour. We stopped several times and walked out to the multitude of monuments that have been erected there by the many states that participated, including Minnesota.There were also prehistoric Indian mounds, so we walked through them and enjoyed the beautiful Fall day; we also saw several deer enjoying the day. There was one monument that looked like a castle that you could take a spiral staircase to the very top. I believe it was 136 steps total, as counted by Joan.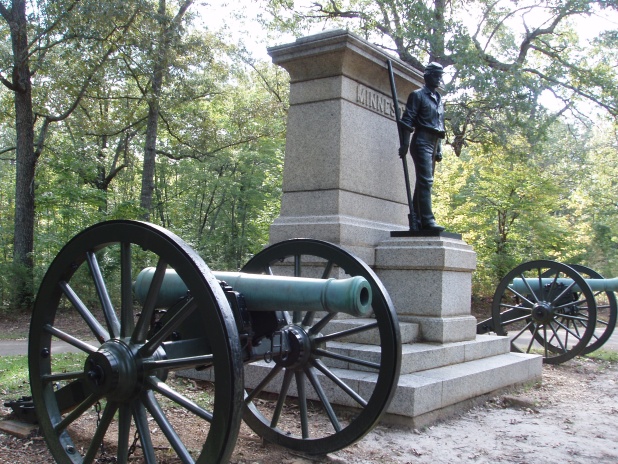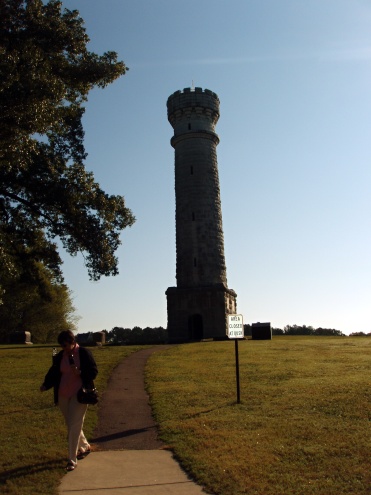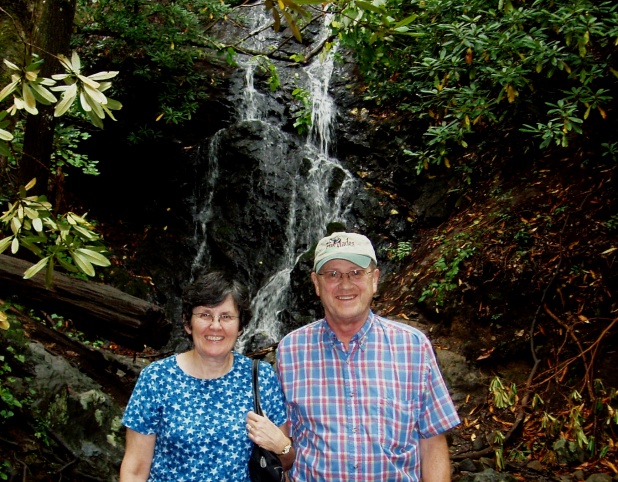 From there we headed to Chattanooga, and looked around the area. It's a beautiful city nestled in the Smoky Mountains.
We drove up Lookout Mountain, which was the site of another Civil War battle, and had a tremendous view of the city. Chickamauga National Park is another Civil War battle site, and we spent the majority of the next morning there.
In the afternoon, we went to the Chattanooga Nature Center that had a nice long walk through some forested areas. We found a very nice place to eat for supper, and then headed back to the motel.
Early the next morning, we headed toward Gatlinburg and the Great Smoky Mountains. We hit some rain on the way, but it gave a kind of eerie feel to the low clouds and wooded mountains. Because the Smoky Mountains are so old, they are not the rocky crags and steep cliffs, but more like wooded rolling hills. But they are mountains, nonetheless, and we drove many miles of very crooked roads.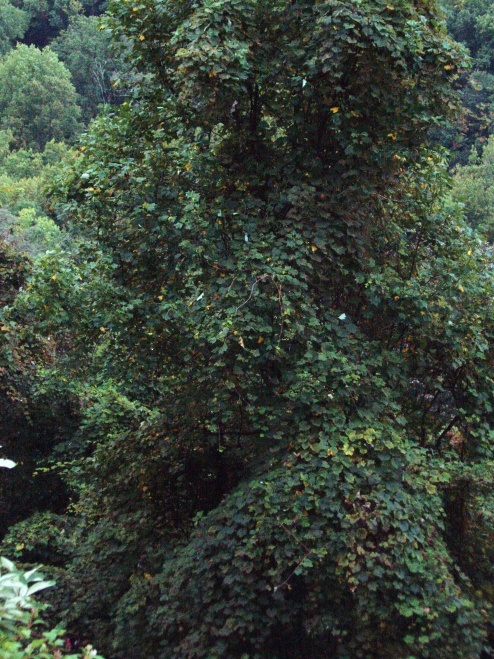 This was our first experience seeing kudzu. If you don't know what this is, kudzu is a short sighted idea gone very, very wrong. It's an ornamental plant brought in as a ground cover, and now covers literally millions and millions of acres. Under the right conditions, the vine can grow 60 feet a year. It is out of control, and a real invasive problem. We saw lots of it in this area.
We got to Gatlinburg, and got settled in, but I have to say I never realized that it was such a tourist city! The whole downtown area was filled with shops and stores that catered to the tourists, and it was fun to walk down the streets and look at all the trappings. Not my favorite place to drive, however in all the urban hubbub, narrow streets, bustling tourists….. I much prefer a crooked mountain road!
The next morning, we headed to an area close to the Appalachian Trail, and we walked on the actual trail for a 100 yards or so.
The whole trail is over 2,000 miles in length, all the way up to Maine and south to Georgia. From there, we drove to the trail to Clingman's Dome.
The walk to the dome itself was about a half mile, all up hill. It was amazingly cold and windy, and we were literally in and out of the clouds, so much so that at times, we could hardly see ahead of us.
When we got to the top, finally, it was even colder and windier, and there was a cement spiral walkway that took us even higher so that we could get a look at the entire vista. My fingers were numb, and I was glad I had put a vest on under my coat, but the view was amazing! We were the first people up there that morning, and we met a handful of people on our way down.
From there, we went on a few back trails of the national park, and enjoyed the beautiful scenery.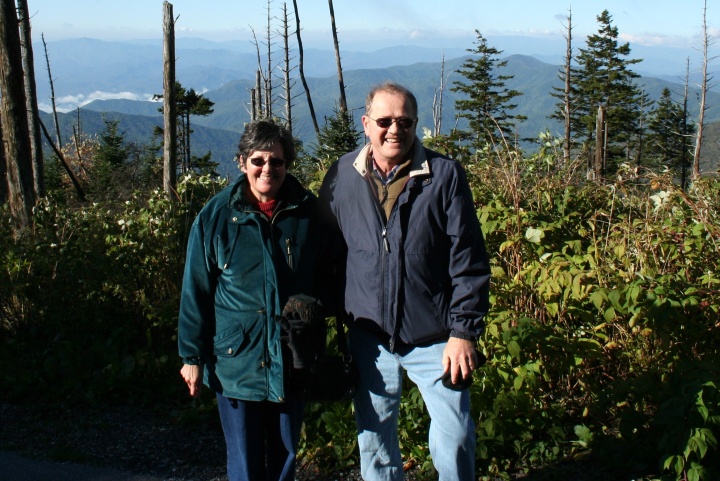 In the afternoon, we walked around Gatlinburg a bit more, and then drove to a place that made beautiful pottery. It was called Alewine Pottery, and we visited with the potter for a while, and bought a couple of pieces.
On Saturday, the next morning, we headed off in beautiful sunshine toward Ohio. My Uncle Ray and Aunt Pat live here, as do their three girls and some of their grandkids. It was a long day, and we hit rain when we got into Ohio. The rain stayed with us the entire visit, but luckily, we had nothing planned outdoors, so it was not that big an inconvenience.
My cousin Barb and her husband, Bill, were wonderful hosts for the evening, and we had a very nice visit with them and a wonderful meal. We spent most of the next day with Pat and Ray and two of their daughters, and it was very enjoyable.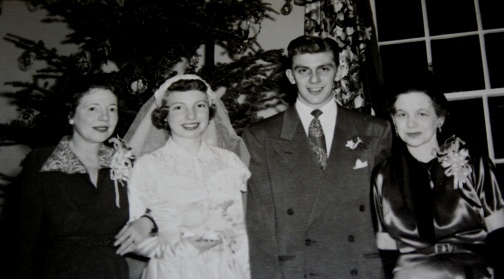 Pat and Ray will have been married 60 years this coming December.
The next morning we headed west toward Minnesota. Driving through Chicago was our biggest challenge, and we made it with only a few slowdowns in thick traffic. We stayed just east of Madison that night, and took our time getting home the next day, stopping at a few antique stores. We arrived home about 5:45 p.m. We had driven just over 3,000 miles total, 3,097 to be precise.