Arizona, etc.
Actually, the title is misleading. I was in four states. Simultaneously. Colorado, New Mexico, Arizona, and Utah. It wasn't easy. But that's a later tale.
On Friday, March 15, 2002, all of the schools in the area were canceled due to large amounts of snow. We received about 18 inches.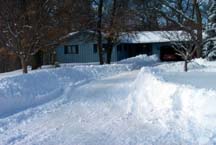 We were ready for a change of scenery!
We flew out of Minneapolis relatively late in the afternoon of Monday, March 18th. It was a three hour flight to Phoenix, and pretty smooth. At Phoenix, we disembarked, got our luggage, and headed to the rental vehicles. As a rather pleasant surprise, our "budget" vehicle turned out to be a white Ford Ranger pickup! It had a "topper" on the back, which worked out great for stashing the suitcases easily, and it was equipped with four wheel drive if it was needed. Which it was at a few points on our journey.
We spent the first night in Phoenix, and it was after seven in the evening by the time we got settled in our motel room. We had seen a place to eat not far from the motel that looked fine, and we ate there. The waitresses had western outfits, and six-guns at their waists, and there was sawdust and shavings on the floor, so we knew we were in the west! Actually it was a family restaurant, and the food was very good.
In the morning we headed toward the Grand Canyon. It was a few hours drive through the desert, and there was a variety of flora, and very little fauna. The large Saguaro cactus were closest to Phoenix, with other varieties along the way, but they were the most impressive.
Our first stop was at a cliff dwelling called, "Montezuma's Castle." It was a smaller group of dwellings built high on the cliffs, and you could walk to the base of it, but not get close to it, due to its fragile nature.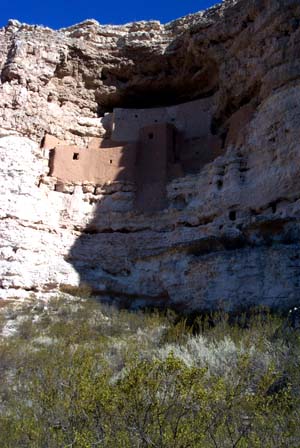 It was interesting to see how the Anasazi Indians used the natural formations as part of the structure itself, and tucked it neatly beneath an overhanging rock formation.
We soon were in a little town called Tusayan, which is where we stayed for a couple days. It was just outside the Grand Canyon, and it worked out very nicely. We did notice quite a bit of snow in the more shaded areas. The day before, apparently, had been a real mess with a few inches of wet and heavy snow falling. The roads and open areas were fine, but the snow gave a nice contrast in some areas.
And then on to the Grand Canyon. There are really no distant views of the canyon. It's pretty much right there when you get close to it. I was really impressed at its immensity. You just don't get the same awesome feeling from a picture. It's pretty humbling, that's for sure. We went into the main part of the park, parked our car, and caught a shuttle bus to the very edge of the canyon. They don't allow private vehicles into this section. There was not a large crowd, so we had no trouble getting around. The cooler temperatures were also nice. The place in the summer can be intolerable at times, hitting well above 100 degrees in the shade, so this was much more preferable. It was light jacket weather, with sunshine, so we started walking along the precipice.
Not only is the Grand Canyon immense and intimidating, it is also quite beautiful. The contrasts in color of the various layers of rock and sediment, the misshapen trees, the crags, valleys, and cliffs, made a beautiful panorama. I took a lot of pictures, naturally, but as I said earlier, they cannot do justice to the reality of experiencing it.
I bought a book while I was there titled, "Death in the Grand Canyon". It is pretty new, and documents all of the deaths that have been caused by the Grand Canyon. There were a couple of real surprises in the book. No child has ever fallen from the top of the canyon…only adults. And no one has ever died while riding a mule down or out of the canyon. The author suggested putting signs at the rim that say, "Children, watch your parents."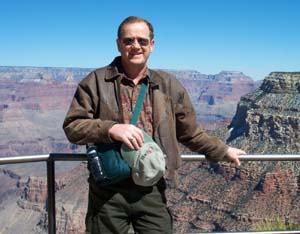 Near Tusayan, as we drove to the Grand Canyon, we spotted a coyote sitting very near the road, and then walking toward the road. It looked like it was very used to the traffic, and my guess is that it was panhandling, hoping some motorist would throw it some scraps of food. The feeding of wild creatures is a big problem for the park.
We went to see some cliff dwelling ruins near Tusayan, and we saw much more spectacular dwellings at Mesa Verde later in the day.
On the way to Mesa Verde, we drove though "Monument Valley". This is a 18 mile loop on very bad roads that weaves through some majestic and impressive red rock formations that rise many stories in the air.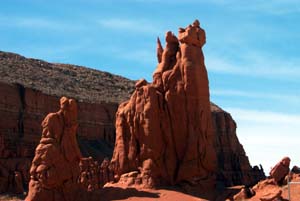 They are natural formations, but are beautiful, and the day was perfect for it, with brilliant blue sky and small puffy white clouds giving a nice contrast to the red rock formation.
We also drove through "The Painted Desert", which is aptly named, due to the large variety of hues of color in the sand and rock. Just after this, we stopped at "Four Corners", which is where I was able to visit four states simultaneously.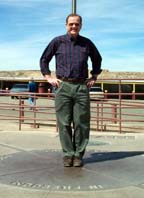 It was out in the middle of nowhere, but there were some people selling curios. It is the only place in the United States that it is possible to put one limb in four different states.
It's a long drive to Mesa Verde, even from the national park entrance…about 20 miles of winding, climbing road. A mountain road, really. There was rather long and steep walk down to the ruins, but it was well worth it….it was called "Spruce Tree House".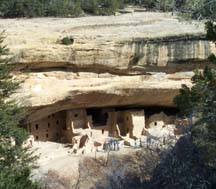 That whole part of country, north of the Grand Canyon, is filled with ruins built right on the cliff shelves. That evening we stayed in town called Cortez.
The next day, we headed toward the Navajo and Hopi Indian reservations It was a very windy day, and there were wind advisories out for truckers. I can see why. I used the four wheel drive on the pickup to help with stability.
The reservations were fascinating. They have remained very traditional, even in the building of dwellings, and in following many of the customs of their ancestors. Many places had crafts for sale, and we did enter a couple of little ancient pueblos in "Old Oraibi" that were actually the homes of the people. Some of the artwork they do is marvelous. Joan bought a couple of kachinas, which are small figures of elaborately costumed characters important in Hopi mythology. It was a very friendly area of the country, but poor. One of the villages we wanted to see was closed to "outsiders" because of a special ceremony taking place on that day. Pictures were not allowed of the structures or of the Indians.
From there, it was on to "Meteor Crater".

It was formed about 39,000 years ago. It was a huge iron-nickel meteorite, hurtling at about 40,000 miles per hour, with an explosive force greater than 20 million tons of TNT. The meteorite estimated to have been about 150 feet across and weighing several hundred thousand tons, in less than a few seconds, left a crater 700 feet deep and over 4000 feet across.
From the crater, we headed to Flagstaff, and our motel. We ate in Flagstaff that evening…..I made it another goal of this vacation to avoid any chain restaurants in favor of more locally flavored places….it just seems to me that if you want one type of food you can get right where you live, you are missing out on a potential treasure, and we have run into some wonderful places with great food this way. Okay, once in a while it backfires, but it has been very seldom. The risk of eating in totally unknown place is worth the benefit.
Early the next morning, we headed from Flagstaff to Sedona, which is a very touristy city located in a beautiful location, tucked in beautiful red rock formations, in a deep valley. The only problem was that it was snowing quite heavily, and it was accumulating on the ground and on the road, and visibility was quite poor. I hoped that it was very localized, and we headed out on the mountain road, on which we would descend a couple thousand feet in altitude. This too, should alleviate some of the snow problem. Well, it was localized, and soon we drove out of it into more of a sleet, then rain. We drove around Sedona, and noticed a McDonald's Restaurant there that had green arches! And no tall towering golden arches! The town must have an ordinance against anything over two stories tall, and all of the buildings blended well with earth tone colors. I don't know why the arches were green, but there was a sign that it was the only green McDonald's arches in the world.
We did some tourist shopping, and bought some small things.
We also found an antique store, and bought a few things there too. I got a "ceremonial peace pipe" that has a pipestone carving of a bison on the top of it….quite nice, and a nice souvenir, made from a piece of stone that originally came from Minnesota!
We went to a site outside of Sedona that had ancient petroglyphs on a cliff wall, and this was really neat.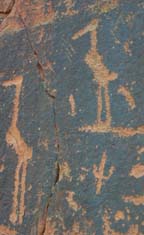 The drawings were about 600 years old. We also saw a national site called Montezuma's Well, where the Indians of the area had taken a natural "bowl" where water collected, and ran irrigation ditches to provide moisture to their crops.
We hit a little more snow on the way back, but only enough to make us appreciate it when the sun was shining. We again ate in Flagstaff, and headed to the motel for our last night in the great southwest.
Monday morning was sunny and crisp one, with frost on the truck. We needed to get to Phoenix by mid or late afternoon to catch our flight, so we drove the scenic way to Sedona again, down the beautiful mountain pass. It was much clearer and brighter, so we got a much better view of the red rocks and cliffs.
We headed on toward Phoenix, and found an immense antique store just off the freeway. We spent a few hours there, perusing the items, and I did find one neat book with some great photographs in it of many of the national parks in the west. It fit just fine in the suitcase.
And then we headed to the airport for the flight back, the wait for baggage, the shuttle to our vehicle in the cold Minnesota winter air, with lots of snow remaining on the ground, and the drive back to Cambridge. We got home about 1:45 A.M.
It was a fun trip to some wonderful sites we had not seen before, and a nice break from the relentless Minnesota winter.