Arizona, January 1-8, 2004
Because we had such an early flight, and we could park the car relatively cheaply for a week, we went down on December 31, and stayed in a motel close to the airport. This worked out well, except for the fact that we had to catch a 4:30 A.M. shuttle to the airport. 4:30 on a New Year's Day morning is a pretty quiet time, if anyone would like to know.
We flew with Sun Country, which was nice because they fly out of the smaller terminal. The Minneapolis/St. Paul airport is extremely large, and this was much more convenient. The flight took off on time at 7:10 A.M. and arrived in Phoenix at 9:30, so we had a full day ahead of us. We got the rental car, and headed toward Casa Grande National Park in Coolidge, and went on a walking tour of the ruins.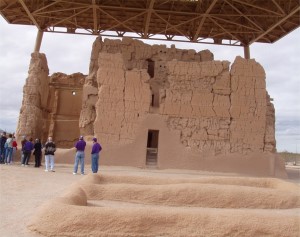 These buildings were right out in the open, made of baked mud, and some parts were originally three stories high. The weather was sunny and in the low 60's, quite comfortable by Minnesota winter standards.
From Coolidge, we headed toward Tucson, and checked into the motel. We ate at a local restaurant, picked up some tourist information, and read it over to plan more of the week.
The next morning, we headed for Saguaro National Park West, just outside of Tucson. I learned that I had been pronouncing this cactus wrong my whole life...it's actually "Sa WHA roe", since it's Spanish in origin. We drove through the park on a gravel road that went by a large variety of dessert flora, many of them being various types of cactus, all of which were dwarfed by the gigantic saguaro cactus.
We stopped at the Visitor's Center, picked up a map, and hiked to some petroglyphs that were high on a trail.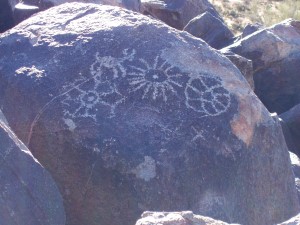 The park is very large, with lots of hiking trails, and from many locations, Tucson can be seen tucked in the bottom of the valley.
That afternoon, we headed to a Pow Wow in downtown Tucson that was made up of tribes from all over the country and South America.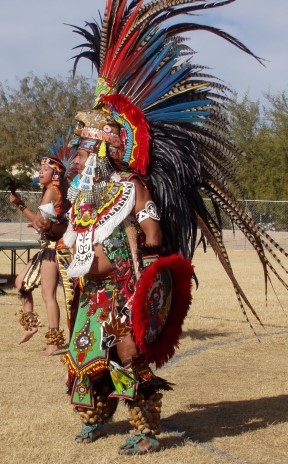 We had some traditional food, fry bread, and buffalo stew, walked around looking at the items for sale, and heard a number of Native American singers and dancers from Inca, Mexico, South Dakota, and elsewhere. From there, we called it a day, went and ate supper, and headed to the motel. The weather was again just right, low 60's and sunny.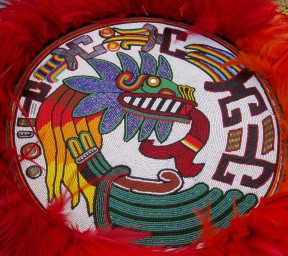 The next morning we arose early, as is our usual modus operandi and we headed to the West Saguaro National Park for a sunrise over the mountains. Mornings were cool, in the high 30's, so it was brisk, but beautiful as the sun rose over the mountain and cast a bright orange hue on the tall cactus, each of them casting a distinct long shadow.
The desert is beautiful in its own way.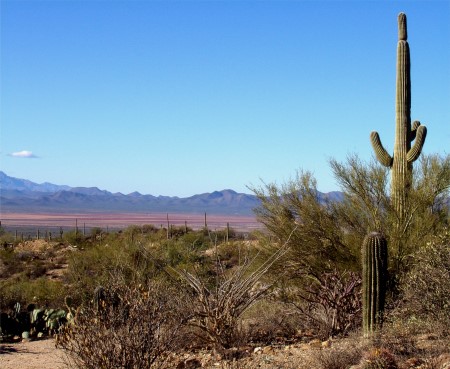 The distant mountains had a blue/gray cast, and the desert floor often had a cast of mauve or pink to it, making it look like a Charles Russell painting.
From our early morning walk, we headed to the "Arizona Sonoran Desert Museum", and saw many animals and plants indigenous to the region. The word museum really doesn't fit the place well, since it is very large, with much of it outdoors, including some beautiful trails.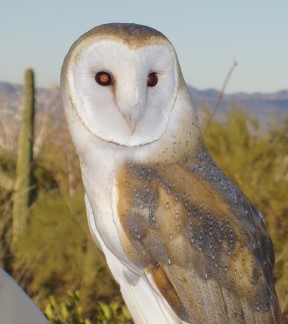 There were many knowledgeable "docents" around, volunteers who had learned many facts about the plants and animals, and we saw a "free flight" demonstration of three birds, including the barn owl (pictured), a great horned owl, and a hawk.
We also saw a group of javelinas (hav-a-LEEN-uhs) that live in areas throughout Arizona.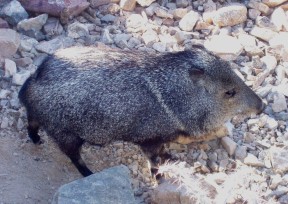 They remind one of a pig, with their flat snout.
We had a nice lunch in the restaurant at the museum, and then went for a nice long walk on one of the nature trails at the museum before heading off.
Our next stop was the San Xavier Mission, which dates back to the 17th century. The inside was totally painted with various religious scenes, as well as geometric designs, many of them dating back several hundred years.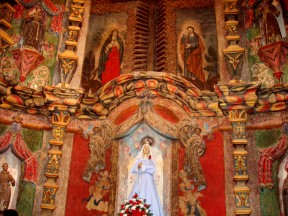 This is an active mission, so there were people in the pews in prayerful reverence as we tourists bustled around snapping snapshots.
Early the next morning, we headed toward Catalina, and up to the top of Mount Lemmon, which is about 8,000 feet.
it was a pretty drive, and there was snow at the top of the mountain, but not much. They were doing road construction on several miles of the road, so that made for some slow going. We came back down the mountain, ate at a delicious French restaurant for lunch, and headed to the East Saguaro National Park, which had a bit different habitat that the western one.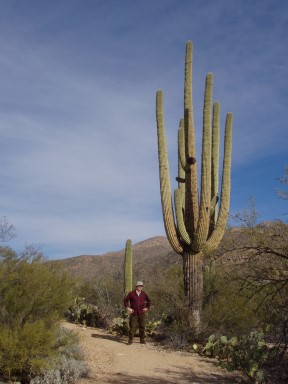 We went for a couple of walks on the trails there, with lots of giant saguaro cactus.
On Monday, the 5th, we rose early and headed south to visit Kartchner Caverns State Park, where we had signed up for a tour. The cave is fascinating for a number of reasons, but I found the fact that it was a "living" cave, with bats, growing stalagmites and stalagtites, and very high humidity to be really different than any other cave I'd ever been in.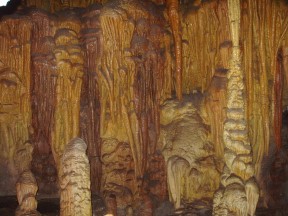 We couldn't take any pictures, but this one is from the desert museum, which gives you an idea of what it looked like in one section. It was also an interesting tour because Joan and I were the only two on the tour, with our own tour guides!
From the cave, we went and spent the afternoon in Bisbee, an old mining town in the southeastern corner of Arizona, built right on the hillside of the foothills of the mountains. We ambled our way back toward Tucson via a scenic highway.
The next morning we headed to a city called Globe to see more ruins, this time made mostly of rocks that had been the part of a large complex, and inhabited by people called the Salado. It was set up so you had to actually go through some of the very low doors, and could climb a ladder to the second story. The weather again cooperated wonderfully, with sunshine and in the low to mid 60's. We heard on the news that Minnesota was in the throes of sub zero temperatures, which made us even more appreciative of being in this part of the country!
From these ruins, we headed to Tonto National Monument to walk to some cliff dwellings far above the river and valley below. It was a rather strenuous hike up to the dwellings, but well worth the effort.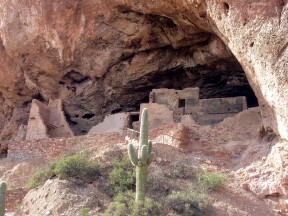 The ruins were completely accessible so that you could walk on the floors and look through the windows just as it was designed. Much of the dwelling had disappeared over the ages. These dwellings had been used in the 13th, 14th, and 15th centuries.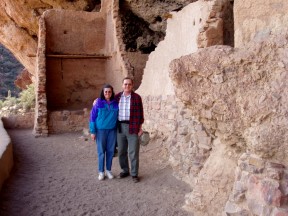 We were pretty much alone at the ruins the majority of time, but finally a fellow showed up, well ahead of the rest of his family, so I asked him if he'd mind taking a picture of Joan and me, which he willingly did.
From Tonto National Monument we had a decision to make as to how to get to Phoenix. We could backtrack at least an hour, and go that way, go north another hour to hit a road that headed to Phoenix, or take a road that was labelled as "rough, minimum maintenance, and minimum use". It also said that it was 27 miles, unpaved. Well, I thought that sounded exciting, and since I had control of the vehicle, I thought that might be exciting, so off we went.
They were right about the minimum maintenance. I hate washboard roads because they kind of bounce the car around, and this was not a good road on which to be bounced around!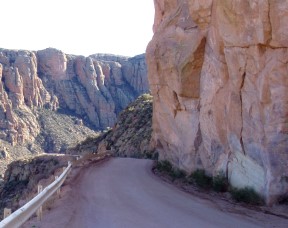 It was a sheer drop to the right, on Joan's side of the vehicle. There were many hairpin curves, with very limited visibility and if you met a car, one of you had to come to a complete stop on a wider part of the road so the other could pass. But it was beautiful! As long as I went slow enough, we really weren't in any danger, although Joan commented a number of times about the severe lack of guard rails, so I don't think she felt quite as comfortable. The road eventually came to a literal box canyon, with sheer walls on three sides of us, with a narrow ribbon of a road clinging to the side of one of the sheer cliffs.
It was a slow 27 miles, but well worth the time.
We eventually got to the Phoenix area, and ended up staying in Tempe, a suburb, and a university city. We checked in and asked the person checking us in for a good place to eat. He was a young fellow, and he said one of his favorite places was a place called "Pita Jungle" where they specialized in vegetarian meals, but had a full menu also. We headed there and had the best meal of our trip. I had a shrimp dish with mango and ginger that was absolutely wonderful! We liked it so well we went there the following evening also and we were again very pleased. So tuck that info away if you are ever in Tempe!
Our last day before heading home was to a regional park just outside the Phoenix area called Usery Mountain Park. We went for a long uphill hike of 1 1/2 miles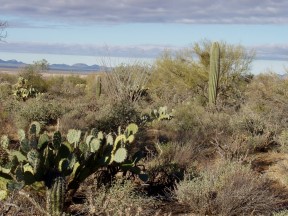 to a small cave. The path was a bit treacherous at times because of the loose gravel, and sharp rocks, but the path was sloping enough that you didn't feel your life was in imminent danger. The walk down took almost as long because of the footing.
In the afternoon we walked around Mesa, and found a few antique stores to visit, and then went to Tempe downtown, and bought a few Arizona souvenirs as a reminder of our trip.
The next morning, it was off to the airport, getting rid of the rental car, and catching the flight back to Minneapolis. It was an enjoyable week in a part of the country much different from here, and a nice break from the bleakness of a Minnesota winter. But yet, it's always good to come home.