Travelogue, Trip West, July 4-13th, 2001:
Itinerary: Theodore Roosevelt National Park, Dinosaur National Park, Royal Tyrell Museum, Waterton Lakes National Park, and Glacier National Park..
Lots of national parks, that's for sure! No hair raising adventures, near dehydration, or total exhaustion this trip, just lots of miles and lots of wonderful sites. Oh, we did have a couple of mishaps, but I'll get to that later!
We headed off west on the Fourth of July, which seemed kind of symbolic, heading for all those amber waves of grain in North Dakota and Montana. We spent our first night in Medora, North Dakota, right next to the Theodore Roosevelt National Park. Teddy Roosevelt liked this area, and came here often. He had a ranch here, and did lots of hunting. They have a very nice museum dedicated to him.
The park is in the heart of the badlands. It is hot and pretty much treeless, but the rock formations, the deep canyons and striations of color that are produced in the erosion, make it very beautiful. I think it's a bit more rugged that the badlands of South Dakota, close to Mount Rushmore.
Anyway, we took a long drive through the park after upper, and saw some really interesting things. First, we got very close to some wild horses. They were grazing along the roadside, so we could drive quite close to them. They are majestic looking creatures, and very healthy. One of them was blocking the road, just ambling along, so we couldn't get by for a while, but we didn't mind.
A bit later, we saw some bison grazing in the distance, and some closer to the road. They are an impressive animal when you get close to them. They are so big and powerful that I can just imagine what an adventure it must have been to hunt them on horseback. There were a couple of lone buffalo, older males that were alone in a couple places, and one took the opportunity to roll in the dirt while we were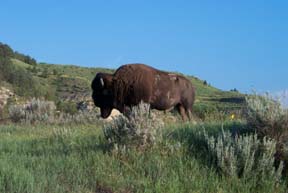 watching...a deterrent to insects, I am sure.
Later that evening we walked around Medora, which is tourist town. They had fireworks that were supposed to start about 10:30, but started closer to 11:30. We had already gained an hour of time, going to Mountain time, so it really was 12:30 our time before they started. They shot them off next to a large hill, and they were fun to watch. The state allows fireworks by the public on the 4th of July, so really you could look throughout town and see Roman Candles, firecrackers, etc. being set off.
They finished about midnight, and the town quieted down, and we headed to our little pop-up camper for the night. We took off next morning for a full day of driving toward the west and Canada.

The weather was hot, the winds were stiff, and the hills were steep. The car drank gas much faster than usual, due to the air conditioner, the terrain, the wind, and the electrical things, like the CD player and little refrigerator running inside the vehicle that are powered through the cigarette lighter. And pulling the pop-up camper, of course made a large difference.
We drove the majority of day, and ended up in a town in Canada called "Medicine Hat". We went to a restaurant to eat, and decided that a motel room for the night sounded awfully attractive, due to the heat. The meal was great, and the motel room much more comfortable than our camper would have been. With the exchange rate in Canadian dollars, it was quite reasonably priced also.
Next morning off we headed for Dinosaur Provincial Park in Alberta, Canada, not far from the Montana border.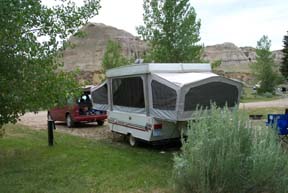 We got there early in the day, about 10:00, and got a very nice campsite in a flat area surrounded by the badlands on all sides. We headed off almost immediately toward the Royal Tyrell Museum which was about 65 miles away, but worth the journey. It is one of the best museums in the world devoted to dinosaurs, and they have displays that are phenomenal.
We got back late in the afternoon, and still had time to go exploring in the park itself, and go on some of the trails in the area.
The next morning, we headed toward Waterton Lakes National Park in Alberta, Canada, a few hours away, where we met our friends from Cambridge in their rather large recreational vehicle. Of course, next to our little camper, everything seems large! We got some absolutely gorgeous camping sites in the campground, large, and very close to the emerald colored lake, surrounded by mountains. The cool wind came off the lake, and the view was majestic. It was a short walk down to the very tourist themed town, which we went to a few times just to look around and get a few necessities, like cups of coffee. Okay, that's not a necessity to everybody, but it is to me!
There are several beautiful walks and hikes in the park, and we took many of them. Some of them were extremely long, and we didn't take those. Some were much longer in reality than they appeared on paper. Joan and I took one that was mile long, and had an elevation gain of 700 feet. This doesn't sound like a whole lot, but it was 90% up hill. Coming down was great though!
Dwaine and I also took a pretty much uphill hike that was even longer and bit more treacherous because of the uneven footing on much of the path. It eventually led to a very pretty little waterfall. He was having trouble with his leg that he had injured earlier though, so we didn't go any further but headed back. It was much less strenuous in some ways going back, but you do strain other muscles going downhill, and he was limping pretty well by the time we got back to the campground. I could also feel the strain on my knees. I exercise on basically flat land, although the path is uneven at times. Hills are much more difficult, no doubt about that!
We stayed at this park in Canada for three days, and really enjoyed it. The scenery really has to be seen to be appreciated; pictures cannot do it justice.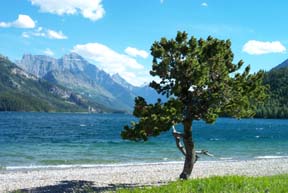 Abundant wildflowers of a variety of size and color were also in profusion, and added to the sublime beauty of the places. We saw very little wildlife other than the goats and deer that frequented the campground, and there are grizzly bears in the area, so there were many warnings about them. Nothing like sleeping in a camper that has a very thin layer of canvas to protect you from Grizzly Bears!!
We soon headed off, camper in tow, to Glacier National Park, in upper Montana. This is much larger than Waterton Lakes National Park, but equally majestic. We again were very lucky in getting some great wooded camp sites. It was a bit unsettling to see the large sign they had posted at the entrance: "BEWARE OF GRIZZLY BEARS. CAMPERS HAVE BEEN SERIOUSLY INJURED AND KILLED IN THIS CAMPGROUND!" Yeah, but we had that layer of canvas to protect us!
Again, we did lots of hiking and driving to take in the glorious scenery. The most exciting drive, though, is called, "The Highway to the Sun Drive". It is about 60 miles or so, round trip, and it takes you high on a narrow and curvy road to Logan's Pass, and over the mountain. The road is essentially a sheer drop on one side, and sheer cliff on another, and the curves are very sharp at places, so that sometimes you are surprised you don't meet yourself coming back at you! We left very early in the day to take this drive, so we missed most of the traffic going the one direction. We were at Logan's Pass by 8:00 in the morning, and there were very few cars in the parking lot at the visitor's center, which didn't open until 9:00. They have a long walk back to a "hidden lake" that takes off from the visitor's center, and we headed off on that. This was also a very long trek, but well worth it.
We saw a huge Bighorn Sheep ram off in the distance, up on a slope, and had several close encounters with mountain goats, so that was exciting. The lake, also, was very beautiful, and reflected like a mirror with the mountains in the background. The color of the lakes is something very difficult to convey in writing. It is an azure/emerald/turquoise mixture that is just beautiful, and I've seen it in some tropical waters also.
We walked back down the long trail to the Visitor's Center, and headed down the other side of the pass, and had lunch with our traveling partners. Good sandwich, lousy pasta salad.
We then headed back over to the Road to the Sun Highway, to go back to our campground. This, I think, turned out to be Joan's least favorite part of the trip. On the way back, her side of the car was on the "cliff" side the majority of the way, so her view was mainly pretty much straight down. She didn't mind it quite as much when there were barriers of some sort, but when there was nothing, it really bothered her. And on those sharper curves, it does give one a feeling of coming very close to the edge, and you are prevented from moving further in because of the oncoming traffic, who have a sheer wall to deal with. In spite of that, the scenery is spectacular, and worth the drive. The Visitor's Center at the top was filled and overflowing when we passed it this time, so we were lucky to have gotten there early.
We headed back to the campsite, and went for another hike later that afternoon. I must admit that just knowing that there may be a Grizzly Bear out there, somewhere, does give a whole new dimension to hiking in the wilds. The chances are rare to even see one, much less be attacked by one, but still, it does give one pause.
That evening, Jack Gladstone, the Blackfeet Indian who performed in Cambridge this spring, gave a performance in the park, so we attended that. We visited a bit with him prior to the performance, and really enjoyed the evening. He has a beautiful voice, and his songs are both entertaining and educational.
The next morning, around 10:30 or so, we had everything packed up and stowed away, and the camper hooked to the car, and were ready to take off to start working our way home. The weather was again beautiful, although a bit warm, but we hadn't hit any rain this trip at all, so we considered ourselves pretty lucky in keeping everything dry.
We headed off, and out of the park, and I must say that I found it a bit sad to be leaving such a beautiful place. But we had many miles ahead of us, so off we went, heading east, toward Minnesota. We drove from the time we left until later afternoon, with only a stop for gas and a bite to eat, and made it through a pretty good chunk of Montana before evening was upon us. We cheated and found a motel room for the evening, and were up bright and early and on the road again the next day.
The fog was thick early in the morning, and lasted for a long while. We had driven in it about an hour when Joan asked me if the road was causing that rough driving. I said that I thought it was the road, and it soon improved. A couple miles later, however, I was looking in the rear view mirror, and noticed that the trailer was noticeably crooked. I looked for a place to pull over in the fog and checked the tires. Sure enough, the one on the passenger side was shredded, and it was running on the metal hub.
I had just purchased some flares for the trip, so I found one, walked back a couple hundred feet and placed one on the side of the road. I pulled the car off the road a bit further, dug out the scissors jack and lug wrench, and after a bit of struggling, managed to get the trailer up, the lugs loosened, and the shredded tire removed. The spare, luckily, was in fine shape, and after a bit more struggling, I got it on and tightened. We were on the road again.
Joan felt it best that we get a new spare as soon as possible, and it worked out just fine that the next place we stopped for gas also sold and mounted tires. It took 30-40 minutes total, I suppose, but we now had a new spare, a full tank, and were on the road again, headed through the remains of Montana, toward North Dakota.
We got into Bismarck in the late afternoon, and found a very nice motel. We got settled, and went and did a bit of "antiquing" before the stores closed. No great finds, but it's always fun to look. We went out for the evening meal, and relaxed in the evening, ready for one more day on the road, and home.
The next day we started early again, and reached Valley City, North Dakota at about 10:00 A.M. They had a gigantic antique mall which we went through, and ate in the city too. From there we headed into Minnesota at Fargo/Moorhead, and took the freeway south.
It gets a bit far between towns on the road, and I had slightly misjudged how soon we would reach a larger city to refill. It ended up being a lucky thing. We were about 15 miles from Alexandria when the tank was getting disturbingly empty….emptier than I like to let it be. So I turned off at a little town called Brandon, population, 400. They had two gas stations, so I pulled in, filled up, and we were on the road again. Joan said she thought she saw something flapping by one of the trailer tires, so we both got out and looked at it, and it looked just fine, so we headed back toward the van. For some reason, I thought I would check it a little more, so I knelt down, and felt the part of the tire you couldn't see, and it was peeling away from the tire. Darn. Well, since we were in town, I opted to find a service station, and a young guy changed the tire in less than five minutes with all the "right" equipment. And so we were back on the road again, about two hours from home.
We made it home with no more flat tires on the trailer or on the vehicle. It was a little past 8:00 in the evening, and we were finally home, after 10 days on the go, and 3,118 miles. I figure at about 60 miles an hour, that's about 52 hours of driving!
The End