Kauai and Oahu, January 3-12, 2002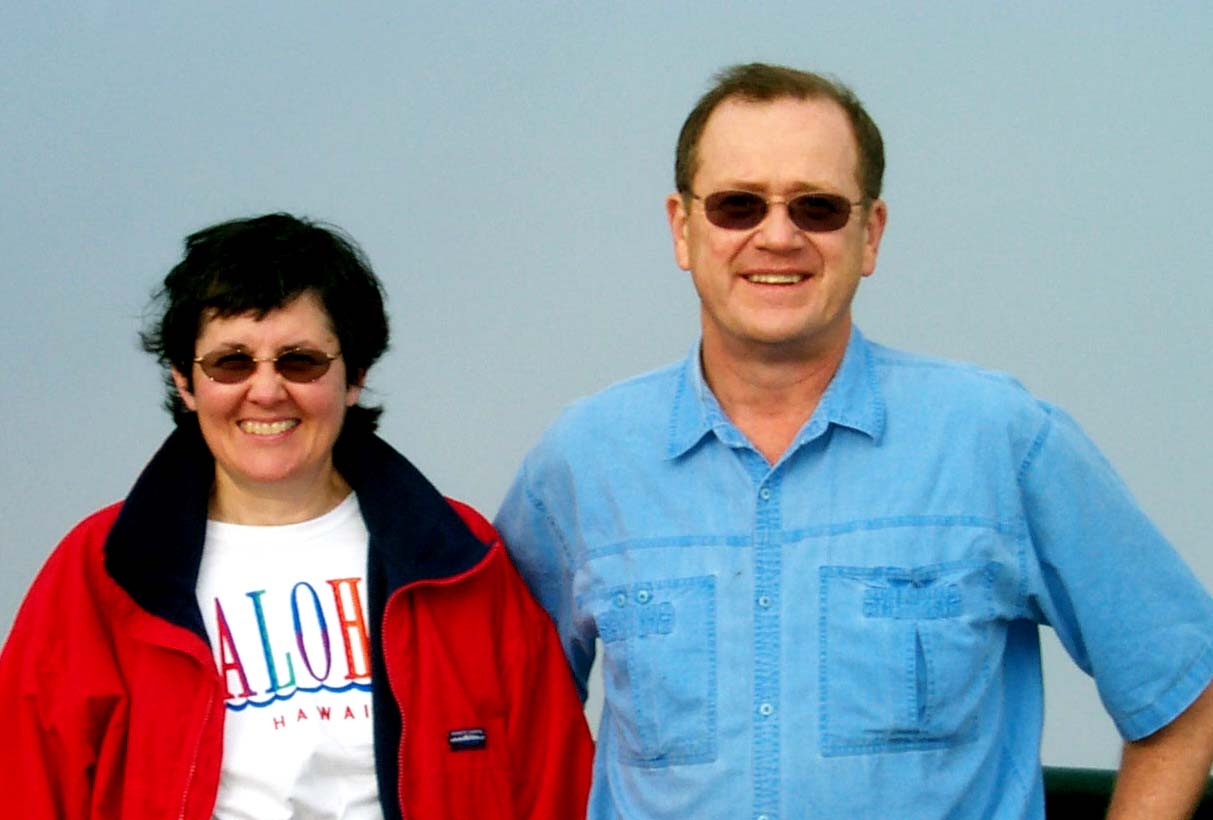 The trip didn't start off as smoothly as planned. We'd gotten up at 5:00, left for the airport by 6:00, gotten there, by 8:30, which was about two hours before the flight, and checked in. The check in was a bit slower than it used to be, but the line moved along, and we headed toward our terminal to catch our flight. There were already throngs of people there, and about 100 in line, so we sat down for a while. The line kept growing, so folks could get their passes checked, and soon they started boarding the plane. It was a big plane, and I'd guess we had about 300 people on board. And it was full.
About 90 minutes later, and about 45 minutes later than its scheduled departure, the plane took off, heading for Los Angeles. The flight to Los Angeles was pretty smooth, and went quickly, and we arrived in Los Angeles for a two hour layover, and then back on the same plane. Soon we took off heading for Honolulu, and it was early afternoon.
A couple hours into the flight, the turbulence got quite bad, and the flight attendants got everybody back in their seats, and buckled in. There really was some rocking and rolling, and every once in while, you could feel the plane drop for a bit, leaving your stomach slightly higher than your body.
Then, about six rows in back of us, there was shouting and yelling for help. Of course, you can imagine one's first thoughts, but this was because some young man was having a seizure. Lots of folks rushed to help, and there happened to be two doctors on board, but they had him lie in the aisle for quite a while, so it was a bit unsettling. When I fly, I like things to go boringly normal, no turbulence, no sick passengers. This too, is a long flight, about five hours from Los Angeles to Honolulu, over the Pacific Ocean, so there is not a lot of options once you're into the flight for a time.
Things did eventually settle down, and the turbulence decreased, and we landed in Honolulu about 4:45 P.M. Of course, times get all screwed up. We lost (or gained, depending on how you look at it) two hours to Los Angeles, and a total of four hours to Honolulu, so it was really 8:45 in Minnesota. Follow that?
We had to catch a small commuter plane to the island of Kauai, and that took off about 6:30, and arrived on the island about 7:15. It was after 8:00 P.M. when we got out of the airport with our luggage, and got to the car rental, and after 9:00 by the time we got to Kapaa, the town in which we were staying. So it was really after 1:00 A.M. Minnesota time, and we were a bit on the tired and numb side, only wanting to crash for the evening.
This is the tough part of going to Hawaii, all the hassle of getting there. The good thing was that we WERE there, and we had the next 9 days to enjoy ourselves!
The motel we stayed in, called the Plantation Hale (pronounced hollee) was beautiful. It had a full living room and kitchen, a little deck, and pretty much all the comforts of home. It was nice to have the extra room and the ability to cook and fix snacks, rather than the confines of a "regular" motel room, and we enjoyed it very much.
The next morning, we stepped outside to about 75 degrees, sunlight, and the ocean, and everything seemed worth it. We went for a drive in Kapaa, and headed toward a waterfall, some ancient ruins, and a vigorous hike to the top of a larger hill that verged on a mountain.
The scenery was spectacular with a view of the distant mountains, their peaks shrouded in clouds. Flowers seemed everywhere, with beautiful green and waxy foliage, and a marked absence of insects to bother us.
It was warm, and the hike was tiring, but we got a beautiful view of a good share of the island, which is not that big. From there we headed back to town for a lunch at a place called, "Gaylord's", and I had an "ono" sandwich…Joan had a shrimp salad. After lunch, we went for a drive to see more of the island, and went through a museum in Lihue. They had a feather cape and helmet made totally of brilliant bird feathers, and a lot of history of the island.
Later, we drove to another falls, a double falls, actually, and it's the one that was used in the opening sequence of "Fantasy Island". It was beautiful.
We then headed back to Kapaa, and went to a art fair/market that was in town. We bought some fruit, a small wooden trinket bowl, and on the way home, we stopped at a "farmer's market" and bought some pineapple and some pineapple/mango jelly.
The next morning was Saturday, January 5, 2002. We headed toward Waimea Canyon early, and it was very cloudy most of the way there, and even cloudier when we got there. As a matter of fact, we were in the clouds, and fog, and had no view of the scenic view we were supposed to see.
We waited around, because we could see the clouds moving rapidly, but the clouds that moved out had clouds move in right after them. We had driven up about 3,500 feet on some very narrow and crooked roads, so I was hoping we could see a great distance, but it was not to be. So we started down, and eventually, we got to a place where we had a good view of the canyon, called by Mark Twain, "The Grand Canyon of the Pacific". The red soil, contrasted with the green trees, made for a magnificent sight, and you could really see how rugged it was.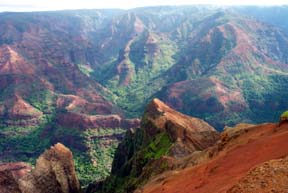 I should comment at this point that one interesting thing about Kauai is the chickens. They are all over, wild. Apparently, when the massive hurricane hit 10 years ago, lots of chickens and roosters escaped captivity, and they have pretty much gone all over the island. The crowing echoes pretty much wherever you go. I don't know if they are caught for food or not, but there certainly is plenty of them, some of them very pretty.
We found several more views of the canyon, so even though we hadn't seen it from the very top, we got a very good feel for what it looked like, and how big and rugged it really was.
From Waimea Canyon, we headed down the road further to its end. We took a very very long very very bumpy pot holed road to the high sand dunes of the ocean, and saw the cliffs of the coast. The beach was beautiful, and we enjoyed the scenery.
From there, we headed back toward Waimea, since the road is essentially a dead-end, and you can't circle the island. From where we stayed, you could drive north a couple hours around the island to a dead end, and the same on the direction we had just come from. There is one stretch that is so wet and boggy that they can't build a road to connect the two ends.
At Waimea, we stopped in a little deli/bakery, and had lunch. Once again, some of the most delicious seafood, and best coffee. Joan had a ginger drink that she wasn't too fond of, but I kind of liked the tartness of it. After that we had to have a "shave ice" at a place called, "Jo Jo's", which is famous for its ice treats. It was good.
In the later afternoon, I headed off on a brisk walk in town, and did some exploring. I did find a place that was selling Hawaiian CD's, so I bought three of them. They don't have any cheap CD's there though, they were about 20 dollars apiece. I love that Hawaiian slack key guitar music, though, it's so beautiful to listen to.
We went over to a shopping center close to where we were staying that had a "hula show" that was put on by a group of smaller kids and teen agers. They were actually very good, and it was fun to watch. We went to dinner from there, and again feasted on the tropical menu of fish and fresh fruit. Wonderful again.
Sunday, January 6th brought more sightseeing at a white sand beach that had cliffs overhead. It was a beautiful day again….I'd say temperatures were consistenly in the low 80's, and we saw lots of sun every day. Evenings might have gotten down to the low 70's, I suppose. Almost perfect.
We headed from the beach to the airport and a helicopter flight of the island. Our pilot's name was Warren, and he was very good. Joan was very impressed with his takeoff, flying, and landing, and she said she never had any anxious moments with the flight. What a beautiful island from the air!
The green valleys, the gigantic waterfalls of thousands of feet, the Waimea Canyon from a different perspective, and the Napali coast, which has cliffs right up to the ocean's edge. It was expensive, but well worth the money because it is, indeed, some of the most spectacular scenery on the face of the earth.
In the later afternoon, we thought we'd take a bit of a break and go see a movie, so we went and saw, "Lord of the Rings", which was quite good.
That evening, we went to a traditional lauau, and enjoyed some native foods, and some very good entertainment, with a show about the native customs of the Polynesians.
Monday, January 7th, we headed north, to where the weather reports had been talking of record surfs. The road was winding, narrow in places, with one-way bridges, and lots of spectacular scenery. We saw some taro fields up close, which was the staple of the islands before the white man…it's a purple root that grows in the water, and was cultivated…it was used much like we used the potato, with many varieties of foods made from it.
The reports were right, the surf was very high, and the beaches were closed, even to surfers. It was fun to watch the gigantic waves come it, and all of the power that they contained. It was windy also, which added to the energy.
We went on a hiking trail that was 11 miles long to its end, but we didn't go even a good portion of that. It was a hard trail and slippery because of the wet large rocks, so Joan thought discretion was the better part of valor, and decided we shouldn't risk sprained ankles.
No sense of adventure, just common sense.
There was a neat lighthouse on the north coast that had a wonderful view of the ocean, and it was the home of the nene, which is the native goose of the islands. It's pronounced "knee-knee", in case you were wondering. The view of the large waves, and the beautiful surroundings was a far cry of the cold and desolation of Minnesota at this time of year.
We soon headed back toward Kapaa (pronounced "Ka-pa'-a"), and then on to a sheltered beach where we did some snorkeling. Now I am not a swimmer. Last swimming class I took with my son, the class was called "The Sinkers",so that gives you an idea of my comfort level in high water. But this beach was sheltered with a rock barrier, and quite shallow for much of it, so the snorkeling was pretty safe. The variety of fish that were there was amazing! And the colors, and sizes and shapes were more something out of a Disney cartoon. It was amazing to see. I had to be careful of sunburn, of course, so we had lots of sunscreen along, but I still managed to get a bit red.
In the distance, we could see some kites close to the ocean, and they were "kitesurfing". In a nutshell, a surfer has a big kite that they can control, and it literally pulls them across the surface of the ocean on a surfboard. Not something for me, that's for sure, but they were quite good at it, and could control their direction amazingly well. There needed to be quite a strong wind in order to propel them across the water.
Since this was our last night on Kauai, we emptied out the rental car, brought everything in to the suite, and headed off to eat at a Chinese restaurant called the "Panda Garden". I had a Chinese beer which was very good. I normally don't drink beer, but this was quite mild, and I didn't mind it at all. The food was typical of the island. Wonderful.
Wednesday, January 9th, we headed to the airport in the morning to fly from Kauai to Honolulu. We got there early enough to catch an even earlier flight, so we were in Honolulu by 9:30 in the morning, and got a sporty little red compact car for the time we were there.
I hate driving in Honolulu. First of all, it's very congested, second, there are lots of one way streets that lead you past where you really want to go, and third, there is hardly any parking space ever available. It took a good deal of searching to find our hotel, which was called the "Astin Coral Reef". There was parking in the subbasement, for 24 cars, but amazingly, there was one vacancy left, so I grabbed it, and we checked in. We were not greatly impressed with the hotel. They could not find our reservations, but luckily had extra rooms.
After we got our things in, we headed off to the north, out of the city, and to several beaches that again had gigantic surf. We mainly drove the coast, stopped periodically, to enjoy the scenery, and had lunch at a little restaurant tucked off the highway a little way. I must say that I made a conscious effort to try to eat at smaller out of the way places, and to avoid both chain restaurants, and typical tourist stops. We ate at a little take out place in a shopping mall that was called "Drive In" although you couldn't drive in, and the food was again wonderful. I had a "Mahi mahi" fish with rice and macaroni, and Joan had an order of shrimp that she said was the best she had ever eaten. Ambience was not the greatest, but the food was worth the stop.
We headed back toward Honolulu and the hotel, and walked around Waikiki Beach in the later afternoon. Lots of people around, and we shopped a little at the many ABC stores they have and the International Market, with hundreds of little open booths, many selling exactly the same things.
We ate at a little restaurant close to the hotel, and I had an order of grilled shrimp with a Cajun sauce that were just great! I did stay on my low fat diet for the most part, avoiding red meat, and fried foods, and although I am sure I ate a bit more "liberally" than I would have at home, I still managed to have some of the most wonderful foods.
In the morning, we headed toward the Hanauma Bay Nature Preserve, and it was a beautiful area. We had purchased inexpensive snorkeling equipment in Honolulu, and I took my old pair of glasses, and kind of wedged them inside the mask, and put the mask on. It worked amazingly well to see under water. I am so blind without my glasses that it just is not any fun at all to look at nothing, so this made the adventure very enjoyable. I had rented prescription masks before, but this worked very well. I'm sure it must have looked a bit strange, but it was mainly the fish that were seeing me, so I was not too concerned about any fashion statements I was making.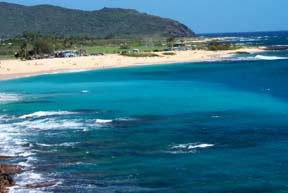 The variety of fish that were here was amazing. Big tropical fish, tiny tropical fish, and many colors, and some iridescent, some bright yellow, some thin, some fat. I saw an eel not very far under water, sticking its ugly little yellow head out a hole in the coral, and I was glad I hadn't put my hand or foot close to that spot, and we saw another eel, slithering along the sandy bottom at another place. It was a neat experience, and as the morning progressed, throngs of people kept arriving to enjoy the beach and some others to enjoy the snorkeling.
After we were done, we went for a walk along the beach into some rugged coral/volcanic formations that were beautiful, and the color of the water in that bay was the brightest azure or turquoise that I have ever seen. It was simply vibrant, and no picture could do it justice.
We ate lunch at Kailua, and drove back along the ocean, again enjoying the beautiful scenery, white beach, black lava, and the colors of the ocean. We headed back toward Honolulu, got cleaned up, and headed out to a restaurant called "Smorgies" that had, you guessed it a smorgasbord for a flat fee. Nice variety of native foods as well as the standards, so we filled up there, and walked around Waikiki Beach and the International Market again.
Friday, January 11, our last day in Honolulu. We packed in the morning, and checked out of our motel, and headed to see the sites one last time. Our plane did not leave until late afternoon, so we had some time to so some sightseeing before we left. We went for a drive that took us high above Honolulu on a very crooked mountainous road. It was amazing how quickly Honolulu stops and the rainforest begins. From there we drove to the Manoa Falls Trail, and went on a hike in the rainforest that went up to a waterfall. The waterfall is small, but it falls a great distance, and I'd estimate that the hike was about a mile long, mostly uphill. Beautiful foliage, warm temperatures, wild birds singing, and bright sunshine filtering through the canopy of trees made it a very pleasant journey.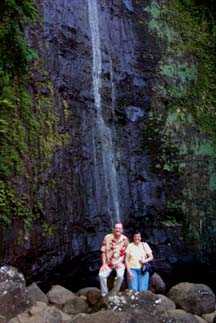 From there, we headed to our last stop before heading to the airport, which was at the Bishop Museum in Honolulu. This is the home of many of the historic treasures of Hawaii, including many things that were the original possessions of the Hawaiian royalty. The beautiful feather ceremonial helmets and capes, made of bright red and yellow bird feathers,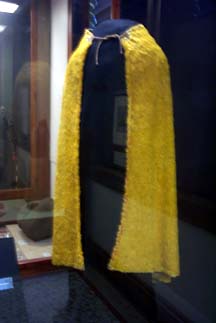 and some of the history of the islands was really neat. We saw a show there of hula music that was supposed to be historically accurate, and the two teenaged girls who did the dancing were quite good. Their instructor sang and accompanied them on the ukelele, and explained the dances.
And then we headed to the airport. The flight back was a direct one. It was a little over seven hours in the air, but of course, checking in and getting luggage after all made it a pretty long day plus we had lost four hours in time zones coming back. We landed about 6:30 A.M, after flying all night, and got home about 8:30 A.M. The flight was bumpy again, and so it was hard to rest, and the seats we had were exceptionally small due to their location, so it was not the most comfortable of flights. Again, though, that is part of the price you pay for visiting paradise.