Maui, March 26-April 4, 2007
This was our third trip to Hawaii, our first trip to Maui. We left from Minneapolis around noon on Monday, March 26th, and had a stop of a couple hours in Seattle before the long flight to Maui. We got to Maui about 6:00 P.M. Hawaii time, but about 11:00 P.M. Minnesota time, about 12 hours since we had left.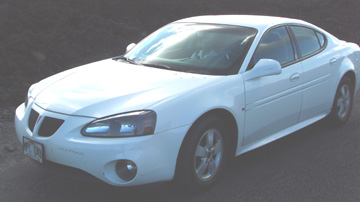 We got the car, a Pontiac Grand Prix, with no problems, and headed out in the darkness toward our place of residence for the week, a condo in Kihei (pronounced KEY-hey). The darkness caused us some consternation in finding the place, and it took a couple phone calls before we finally found it and moved our stuff in. We were very tired due to the hour and the length of the trip, so didn't do much other than go to bed.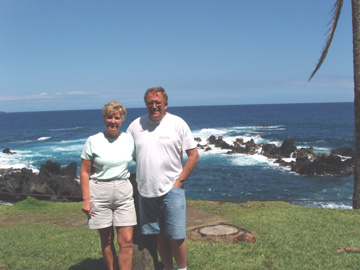 A five hour change in time really screws up one's biorhythms. Neither Joan or I slept very well, and we both woke up early...in both Minnesota and Hawaii times. We had arranged to meet Gary and Lynette, our long time close friends for the day. They had scheduled a vacation completely independently of us, but we ended up in the same city for a couple of days where our vacations overlapped. A nice coincidence. We drove the road to Hana our first morning.
LYNETTE AND GARY
The "Road to Hana" is an experience that some love and some hate. It's a long crooked trip through beautiful country, but the roads are narrow and serpentine, and there are something like 53 one-way bridges where you have to wait if a car is approaching you, and they have to wait if you made it to the bridge first.
It's beautiful country, green and tropical, and there are several waterfalls and gorgeous views of the ocean, but the road is very winding and slow.
I got a little upset at National Car Rental on this trip when the "OIL IS LOW" light decided to come on just when we were in the middle of nowhere. When we finally got to Hana, we checked the oil dip stick, and indeed, it was very low, so I bought a quart and put it in, which seemed to take care of the problem. It did set one to wondering though, if they hadn't even checked the oil, do you think they checked things like the brakes? Not a good thought when you are in the mountains!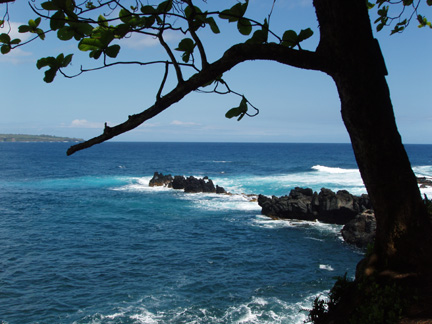 We soon stopped at a local stand and had some delicious homemade banana bread and pineapple. The weather was perfect, sunny and about 80 degrees.
We drove on to more beautiful waterfalls and scenery, and I couldn't help but notice the total and absolute difference in this setting as compared to Minnesota in winter. What a marvelous contrast!
The flowering trees and plants often threw in a bit of brilliant color, and the thick foliage definitely gave a tropical air to the region. It was fun having Gary and Lynette along, though Gary did get a little motion sickness in the back seat on our way out...we didn't really stop much, so there was a lot of turns in a row.
We got back to Kihei at about 6 or so, and went and ate at a very nice restaurant not far from the beach. Then Joan and I headed back to our place and watched T.V. for a while.
The next morning, we headed over to where Gary and Lynette were staying and went to the beach with them. We tried snorkeling but the waves were pretty big so the bottom was stirred up. One large wave sneaked up on Joan when she wasn't looking and kind of bowled her over, so after that, she decided she was done with snorkeling. With both of us being very cautious in the water, I had no problem with that either. I really should learn to swim one of these days!
We had lunch with Gary and Lynette at a Mexican restaurant, and then headed back to our place, and bummed around a couple of beaches and did some sightseeing in the afternoon. Gary and Lynette flew out the next day.
The next morning, bright and early, we headed toward Haleakala National Park, and the inactive volcano located there. It's a long drive to the top, and we got a little certificate saying it was one of the steepest changes in elevation in such a short distance, and it also congratulated us on surviving it, though it really wasn't that difficult.
It was chilly on the top of the mountain, and we had passed many groups of bicyclists going down the hill in organized clusters. It must be a great view, but sitting on a bicycle seat for that long, and descending at the speed they were going is not our idea of enjoyment, so we passed that activity by, and walked around instead. We took a short brief hike to the top of a hill next to the parking area, and then headed off on a longer trail called the "Sliding Sands Trail".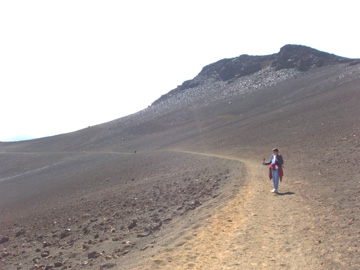 This was a long path down toward the center of the crater. We walked down about a mile, maybe a little more, and sat for awhile, and then started to head out. We were at about 10,000 feet, so Joan could really feel the effects of the altitude. We had to stop quite often to let her heart rate go back down. It was a long walk out in a very desolate but strangely compelling environment.
Later that afternoon, we went to a beautiful beach and spent a couple hours in the sun and sand, mostly walking the shore. The weather was again, well, perfect.
Saturday morning led us to a flea market/farmer's market in Kahului. It was an interesting place with a real variety of flowers and fruits and vegetables and tee shirts and knick knacks and novelties.
We bought a shirt for Ezra, our grandson, but mainly spent the time looking around at the various things for sale.
After that, we headed off to see the deep valley of 'Iao that features the 'Iao Needle, a natural rock pinnacle and surrounded by the walls of a crater. It was once used as a natural altar, and the 2,250-foot stone pillar covered in green, is a basaltic core that sticks into the air. It has been compared to Devil's Tower in Wyoming. It's a beautiful site, in a tropical setting. It was also the site of many battles between warring Hawaiians.
From there, we headed north to Lahaina, which was originally a whaling port. We didn't spend much time there, it was very busy touristy area, but we did see a Banyan tree in the city that was pretty much a city block in size! From Lahaina we headed around the northern coast.
Later, we walked to an area that was called was called "Dragon's Teeth" because of the lava formations there.
Makalua-puna Point was created from one of the last lava flows on Maui, probably around 1790.
There were some beautiful lookouts. At one, we could see a blowhole spewing water, and some beautiful beach.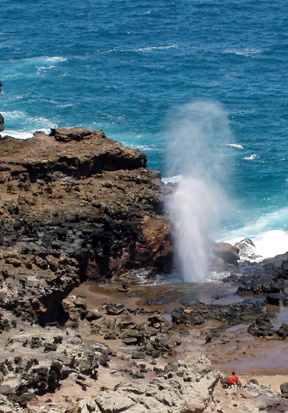 We had read about a "one way" road that allows two way traffic for about 18 miles that loops this area, so I decided we should try it.
There are other roads that one thinks of as narrow and challenging, but this road is the scariest one that I have ever driven! When they said narrow, I had no idea that our driveway was wider than this road in many places that were carved into the side of a mountain! Every so often there would be an area that would be slightly wider by about a half a car width, and this is where you had to squeak when you met a car! It was also a mountain road so it wound up and down at steep angles, and there were sharp hair pinned curves. One curve was so sharp that I'm pretty sure I met the end of our vehicle just as I was rounding it.
The first third of the trip was most exciting (traumatic?) but after that, I kind of got the hang of it, and felt we might actually survive the challenge. I would guess that we averaged under 10 miles an hour on this trip with the slow speed and frequent needs to tuck over to let cars get by.
After the road widened, a city came into view and we stopped for a late picnic lunch. We had a little trouble finding a park or beach, but eventually did, and enjoyed some time on the beach.
From there we headed back to Kihei and found a very nice restaurant. Speaking of restaurants, and going out to eat, I'm not sure I have mentioned this, but I have a rule I try not to let us break, and that is when we are traveling, unless we have no other choice, we avoid any chain restaurants. Part of the joy of travel, to me, is to try new foods in places that we've never been to before. On this trip, we ate at some restaurants that were okay, but more that were absolutely wonderful. Joan checked some of them out in the "Maui Revealed" book that we had, but more often, we just found places that looked inviting. I would venture that the "Ono Fajita" that I had at a Mexican restaurant in Paia was probably the most unusual food I ate, but it was absolutely delicious. I would never have guessed that a fish would taste that good!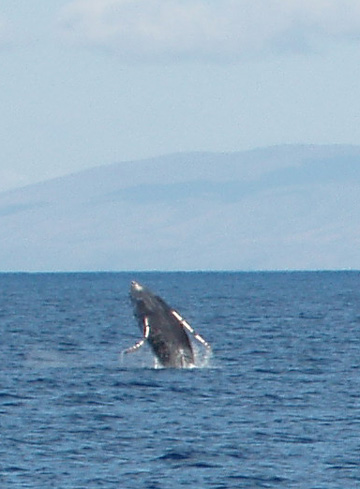 But I digress. The next morning, Sunday, started with a trip to Ma'alaea Bay & Harbor for a whale watching cruise. It was another beautiful sunny day, with calm seas, so it was perfect for the activity. We headed out,and very soon found a mother with her baby, and the baby humpback whale was practicing its breeching and jumping moves. We stayed and watched the two of them for quite a while, and I got a couple pictures that are pretty good, if I do say so myself! The timing of catching a whale at full breech is more luck than skill I think!
After the whale watching trip we had a nice lunch in Ma'alaea, and then headed south to some of most beautiful beaches in the world.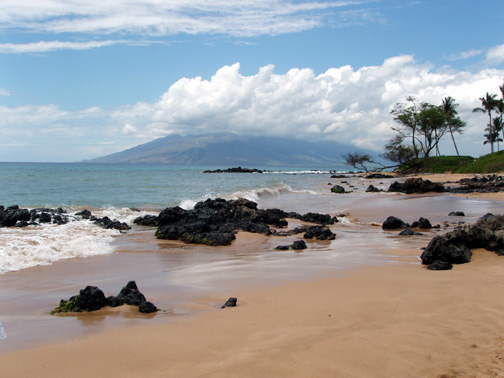 It's also a very ritzy area with some of the most beautiful hotels and resorts on the island. Luckily, access to the beaches is open to the public.
This is the area around Wailea.
Monday morning, we headed to the large Maui Ocean Center, a beautiful aquarium. It was set up beautifully, and one of the interesting things they have is an Underwater Journey where you can walk through a tunnel in a 750,000-gallon tank.
In the afternoon we went to the C&H Sugar Museum, and toured that small museum. The island is still full of sugar cane, and the fields are actually burned off before the cane is harvested.
From there we headed to another beach that was full of surfers, and a very beautiful area...again! The weather, of course, was about perfect.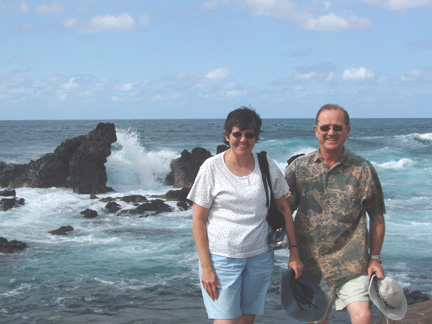 We also saw a couple of green sea turtles swimming near a barrier close to shore, so that was kind of neat. They are endangered, and we'd gotten a closer look at a few of them at the aquarium.
We went back to Paia and did a little gift shopping. We bought a wooden carving of a mother humpback whale with her baby as a memento our our whale watching trip, and Joan picked up some things for future gifts.
We ate at a very good Mexican restaurant, and that's when I had my Ono fajita.
We walked a bit from our condo and there was another beautiful sunset.
Tuesday was our last full day on Maui. We went back to the Road to Hana, the Hana Highway, because we had missed a few things early on the route because we weren't sure we'd have time to see them all.
We stopped at the first falls, which turned out to be quite a walk back to a rather mediocre waterfall. The journey, in this case, was much more interesting than the destination. Nice walk though, and we visited with a few people along the way.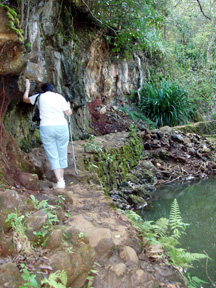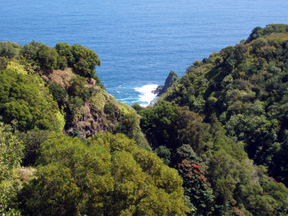 The next stop was at the Garden of Eden. No, not that one. This one was a large cultivated area with various trees and flowers beautifully displayed. We walked quite a bit, and enjoyed the scenery. One of the more interesting sites we saw was a small mounded island sitting out in the sea that was in the opening scene of Jurassic Park.
We headed back toward Paia, and ate lunch there in a pizza place that made their crust of flatbread, and it was very good. The gal in the next booth had a large bandage on her shoulder, and I heard her telling her dinner guests that she had biked down the mountain at Haleakula, and had fallen close to the bottom. This reinforced my thinking that I'm glad we hadn't done it!
Wednesday was the day of our return. We had some cleaning to do and some packing to do, but by mid-morning we were packed and ready to leave. We drove to Kahului, and did a little more last minute shopping for snacks and souvenirs, and then headed to the airport. We had to fly to Honolulu first, and we tried to hook up with a friend of mine who was at the airport, but with long lines, security checks, and only about an hour's layover, we just didn't have time to connect, other than by cell phone.
After a long wait in the ticket line and getting our seats changed so we were sitting together, we got on the plane and headed back to Minnesota, where it was 16 degrees when we landed after a seven hour flight. It was early morning, and we were back home by about 8:00 A.M.
We really loved Maui.