Cape Breton
June 28-July 8, 2002
The first part of the trip was pretty uneventful, but exciting because of the anticipation. We headed to the airport very early, since the flight was about 7:30 A.M. We flew to Boston, and rented a car…a Hyundai, which is a compact car made in Korea….small but efficient.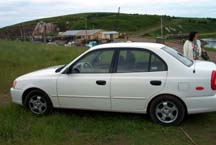 We soon headed north out of Boston toward New Hampshire and Maine. I wasn't real impressed with the rental car, since it had this "shimmy" at right around 70 miles an hour (or 110 kilometers). I figured it needed an alignment, and would mention it upon our return.
We lost an hour going east, so it was mid afternoon by the time we got on the road. We stayed by the coast to see if we could see any pretty spots along the ocean, but it is so built up there, there just was no pretty scenery. Lots of houses and stores and restaurants, but little scenery.
We got as far as Brunswick, and decided to stay there for the night. We found a motel, and a very nice place to eat, and turned in early, since it had been a long day already.
In the morning, we headed north toward Canada, and crossed New Hampshire, Maine, and New Brunswick before reaching Nova Scotia, and then Cape Breton Island. As we got further north, the chance for nice scenery improved but the roads were crooked, and it was slow going through the populated areas.
We got to the border crossing, and with but a couple questions, we entered Canada. We stopped at the first town to exchange our dollars for Canadian dollars, and it was a nice feeling to get about 50% more money in the exchange. We also lost another hour, so that it was now 4:00 rather that the 2:00 that it was in Minnesota.
We drove a few more hours, and as we entered Cape Breton via the Canso Causeway, it was approaching suppertime. We checked into our motel, and found a nice place to eat. Of course, we ordered seafood.
In the morning, we headed off toward the north, and a very big saltwater lake called Bras d'Or. We went to a reconstruction of a gaelic village through the ages, and it was very interesting. We were the only ones there, and there were a large number of costumed re-enactors, so we had nice chats with them all.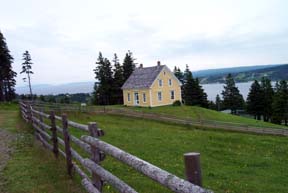 We stopped at a lovely little place called "Rita's Tea Room" for lunch. Rita MacNeil is a very popular singer in Canada, and is from Cape Breton, so she has her gold records, pictures with other stars, and various other pieces of memorobilia for display in the restaurant. It was very nice place, with beautiful flowers outside. I doubt whether very many people in the United States have ever even heard of her, but she had a national television show for a number of years.
The lupine were in full bloom, and all over the island. They are the taller variety, with many different colors, and they added so much beauty to an already beautiful landscape.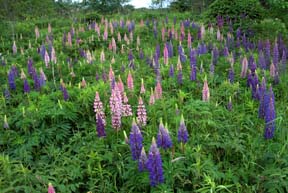 In the later afternoon, we headed for a supper meal with a friend of ours, Carole, from our last visit. It was a difficult time for her, because she had just lost her sister suddenly, whom she also said was her closest friend. She still wanted to have us for a delicious meal of fish chowder, and then we headed off to a dance with her. Her brother in law, whose wife had just died, had driven up from New Brunswick for the weekend, and he came with us too, as did his father. I wondered how difficult it was for both Carole and Allen, to go to a dance that had given both of them so many hours of pleasure in the past.
The first thing we walked in the door, I looked to my right, and saw Joan's cousin from Minnesota sitting there. His name is Frank Jondal, which was Joan's maiden name.
We knew he'd be in either Nova Scotia or Newfoundland, but never really expected to run into him. He's a retired teacher, and travels alone in a van to wherever the music is. We saw him at several dances during our stay. Frank is very gregarious, and he willingly posed with another tourist for a picture. We ran into him several more times. Small world, eh?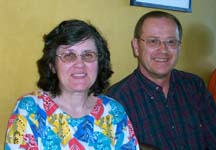 This was the first exposure of Joan and me to a true Cape Breton dance, so we were spectators, but it was a fascinating evening. A typical dance is with live music, usually a fiddler and a piano player tucked away in a corner of the dance area. They play numbers while groups of people dance together, as well as dance as couples. It's a combination of old fashioned square dancing, couples dancing, and controlled pandemonium due to the rookie dancers on the floor. There is a protocol for the dancing, but Joan and I failed to discover it.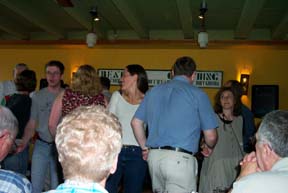 The dances are strathspeys, jigs, and reels, in a certain order, with certain steps done to each, and a pattern followed.
Another interesting aspect I thought, was that the dances start at 10:00 and end at 1:00! We guessed that was traditional so that the farmers, etc. would have time to finish their work, get cleaned up, and arrive at the dance before it was over.
We headed back to Port Hawkesbury after the dance, and said goodnight to Carole and Allen, and Allen's dad, and went to the motel. They seemed to have enjoyed themselves at least a little that night, but I just can't imagine the emotions they must have been feeling.
The next morning was a Sunday, and we had rain. The weather had been pretty good up to this point, and quite comfortable, with much of the nation including Minnesota in the midst of a tropical spell. We headed north in the early afternoon to go to a place called "The Red Shoe" which has great musicians playing, and serves food. The music started at 4:00, so we got there a little earlier to make sure we could get a table, because the place is small. Andrea Beaton, a young fiddler, was the featured performer, and is quite good. It was a fun afternoon. There was also a dance that night, but we decided to skip this one, and catch up on a little rest instead.
Monday, July 1, happened to be "Canada Day" in Canada. It was their 135th anniversary of independence, as well as our 35th wedding anniversary! Every community had a celebration of some sort, and we attended the one in Port Hawkesbury, with live music, a very very large birthday cake with a huge red maple leaf in the center, hot dogs, watermelon, games for kids, and soft drinks.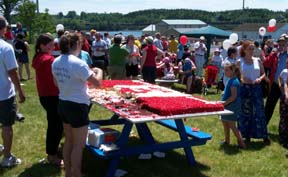 The sun had come out, and it was another beautiful day. There was live music of course, a group from New Brunswick called "Kindle". They were very young, but very good, and of course, there was the ubiquitous fiddle present.
That evening, we went out to a very nice restaurant to celebrate our anniversary, and had some delicious seafood. One can get very spoiled while on vacation. And guess what, we went to another dance that night in Brook Village, in a remote part of the island. We ran into Joan's cousin again, and visited and enjoyed the music. He'd met a young couple who were from the area, and had convinced the young lady to ask me to dance, so, throwing caution to the wind, I went out on the dance floor, young lady in hand. She was very nice, and talked me through the various moves and patterns of the dance. She was a fiddler originally from Missouri, but had been in Cape Breton for four years, and had totally immersed herself in the music and the culture, and you would swear she was a native. She had the accent down perfect, and it turned out, the fiddling too, since we would see her perform a couple times later in the week.
The dance is long, in total, maybe 20 minutes, and is made up of three "sets", with very short breaks in between. Each set is different, of course, with different steps and protocols. Some of the group were just great, and had such intricate footwork that it was fascinating to watch.
This dance is also a lot of work. As one who perspires easily, I worked up a pretty good sweat, but lots of others did too. When it was over, I sat down, and just decided to take it easy for a while. The young man who was with Jennifer, the gal I danced with, was not a dancer, so Joan didn't get a chance to dance that night, though she said she didn't mind at all!
Soon, 1:00 was approaching and we headed back to the motel.
The next day brought sunshine, which was good, because we were heading north, toward a place called Cheticamp, on the west side of Cape Breton, and it was a French, or Acadian community. Like another foreign country, in some ways.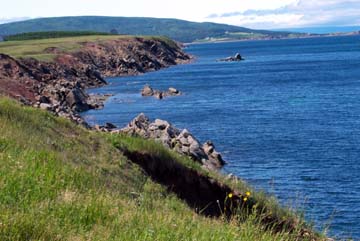 We headed toward a whale watching vessel, and soon there was a small group of 10 of us headed out to the ocean. It was cool but not cold, breezy, but not windy, and all in all, a pretty nice day. We soon spotted a number of Minke whales, and shortly after that, some Pilot whales.
They were not afraid of the boat, so they came pretty close to the vessel, and I managed to get some pretty good pictures.
It is impressive to see them swimming in the ocean, so free and so graceful, gliding through the water and the waves.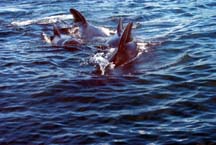 We stayed in Cheticamp, right next to the Highlands National Park, and that evening we went downtown for some live music, most of it in French, some in English. The group was very good, and Joan and I both had internal debates as to whether the lead singer was man or a woman. Eventually, she was introduced, so we knew for sure, but she did have a very nice, though deep voice.
We headed off to the Cabot Trail, which circles the national park the next morning, bright and early.
It is beautiful country, with high cliffs jutting down to the ocean, winding mountain roads, and scenery that is spectacular.
We took our time, and in the late afternoon, ended up in a little tourist town called Baddeck. It is pronounced "buh-DECK", if you are curious. We found a tourist information stop, did a little shopping, and ate at a very nice restaurant right in town. There was no dance around this night so we went to a local "ceilidh" (which is pronounced "KAY-lee") which is a musical party. To our surprise, Jennifer, the gal with whom I had danced, was the fiddler, and she was very good. It was her first night at this venue, and she had not met the piano player before, but they did just fine. They did have a sample of the dancing for the audience, and Joan and I were coerced into being one of the four couples doing the dance. They assisted us through it, and though it was different than the other larger dances we had been to, it was fun.
The next day, we explored around Baddeck, and went on a couple short hikes,one of which was to a very pretty waterfall and cascade,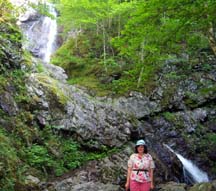 then off to the "Gaelic College" about 20 kilometers from Baddeck. This is a really interesting college, because it is focused on preserving the gaelic language and customs of the area.
They have many Scottish displays, and we were surprised to see the "Clan Anderson" represented along with all the McPhersons and MacMannis's, etc. We also attended a program where students and teachers played various instruments such as the bagpipe, harp, etc.
Then we headed back to Baddeck. There is so much beautiful country, and much of it is very close to the ocean. I had called Natalie MacMaster's parents earlier in the week, and we had arranged to meet with them in the early evening, so we headed down to where they lived and we had a really nice visit. They are excited about Natalie's wedding in October, and they really like the fellow, another fiddler, who she is going to marry. They are such nice people, and so friendly. We were heading to a dance that night at a little place called Glencoe Mills, and rather than just give us directions, they called a neighbor who was going, and arranged to meet us so we could follow him. Good thing. The place is waaaaaaay out in the country, and we probably would never have found it!
It was a great dance. Another wonderful fiddler, and piano player, and yes, we did dance quite a bit. It was rainy, humid night, and it took me no time at all to get pretty soaked.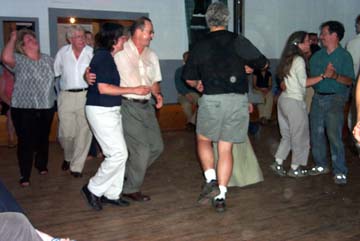 It was fun though, and by the end of the evening, as 1:00 approached, we both actually felt we had at least the basics of the dance figured out.
We headed back to Baddeck via another route, and it started pouring torrential rain. And then the fog set in on top of the rain, to lower visibility further. The road again was dirt, small, and very secluded, and the driving rain made it even more difficult for us to believe that we hadn't made a wrong turn somewhere. We hadn't and we eventually arrived at the highway that took us back to Baddeck.
The next morning, we headed toward the city of Sidney to look around, do some sightseeing, and a little shopping. It was a rather rainy day, with some fog around the coast, so it was good day for it. We went back via the seacoast, and stopped at a couple very quaint villages with boats docked at the harbor of many different colors. It was very picturesque part of the island.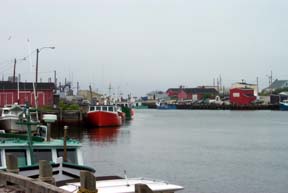 That night, we again went to the ceilidh in Baddeck, and Jennifer Williams was playing again. It was a full house, and an older gentlemen who was a native of the island tried to teach the audience a song in gaelic. It was interesting, and pretty when he san it, but it is really a difficult language.
Finally, the next morning, it was time to leave the island, so we headed off toward Boston via New Brunswick, Maine, New Hampshire, and eventually Massachussetts. We took two days to get back rather than making it in one grueling day, which would have been about 14 hours on the road.
New Brunswick is also very pretty, and we stuck pretty close to the coast. We stopped at one place on the Bay of Fundy, and walked to the beach to see the wide variation in tide levels. The sea had withdrawn a few hundred yards at this place, and there was a vast sand beach. The bay is known for its great changes in tidal levels.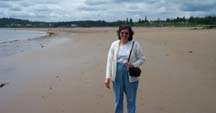 Soon we got to the United States border, and spent the next 90 minutes or so waiting in a very slow moving line. Odd, that we entered Canada so quickly, but it took so long to gain re-entry. Eventually, we did get across, and were back on American soil. We stopped at a few places, near the ocean, and stayed close to Acadia National Park in Maine, which we toured the next morning.
The car had been fine, and since there are almost no four lane roads on Cape Breton, I hadn't gone fast enough to be bothered by that shimmy and vibration that bothered us earlier. Now that we were on better roads, though, it was back, even worse, and the wheel had a wobble I could feel even at very slow speeds, so I thought I had better look around. The passenger tire on the front was the problem. There was no tread, and there was wire showing from the radial belt. It was worn to the point that it was scary, so we called the rental company in Boston. They initially said they would send another car for us, but we were still five hours from Boston, so it would take them that long to get a different car to us. Another option was to find a new tire. On a Sunday morning. Amazingly, there was one store open, and they had a tire that they put on, and they commented that the tire would not have made it very many more miles, and it could well have caused a blowout if we hadn't stopped. All part of the adventure, I guess.
We did make it back to Boston with no problems, other than a lot of traffic, traffic jams, and construction detours.
The plane took off on time, it was a smooth flight, and we landed in Minneapolis, caught a shuttle to our vehicle, and headed home. It's always a great feeling to get home, though, and this was no exception.
Cape Breton is a wonderful place, and I think we shall return there soon. We have made some great friends, had some wonderful experiences, seen some of the most beautiful country in the world, and heard some of the best music there is. That's a heck of a vacation!