Our Trip West, October 2-8th, 2002
We started out Wednesday morning, October 2, and headed west. We had no reservations, and no firm destinations other than Mount Rushmore. We decided to go "the back way" rather than freeways for some of the trip, just to see some areas we hadn't seen before, and to make the trip a bit less monotonous.
The first day entailed a lot of driving, with few stops, other than some antique stores we ran into along the way. We got as far as Mitchell, South Dakota, best known for its Corn Palace. It's a large structure we had seen before, so we didn't stop this time. It is covered on the outside with different mosaics made entirely of corn seeds of various colors, and it is "new" each year, with new designs being added.
And so we headed west again, via I-90 again in the morning. There was not much scenery, mainly prairie lands, with few trees and few hills, so we didn't make any stops until we got to "The Badlands".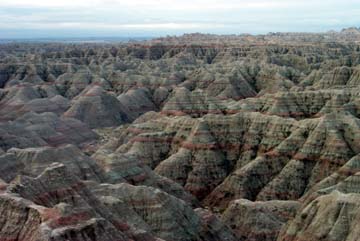 I'd seen them a number of times before, but I'm always impressed with the desolation and beauty of the area. October is a great time to see them, especially on a sunny day.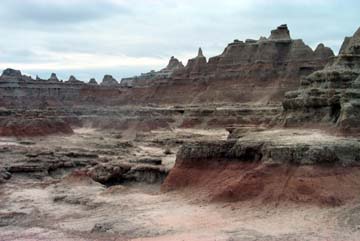 The temperatures in the summer can be intolerable. We stopped at a number of places, and took some hikes up into the badlands themselves. There is a nice variety of color and scenery, and we did see a number of deer, antelope, and buffalo.
Since it was relatively early in the day, we decided to head west further, into Wyoming, and see the "Devil's Tower" National Monument.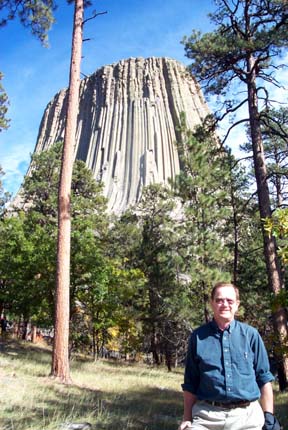 It is one impressive natural structure, that is for sure. It can be seen in the distance for many miles, and towers over everything in the vicinity. It's really the core of a volcano, basically, with everything else eroded away around it. We drove in and parked, and took the long walk around the base of the tower, which was about 1 ½ miles. There were a number of climbers heading up, pretty much vertically. That is excitement that is not for me. I can go up a pretty good angle, but 90 degrees is too darn much, ropes or not. When you get close to the structure, you can see the vertical lines that make it look like it is a gigantic crystal.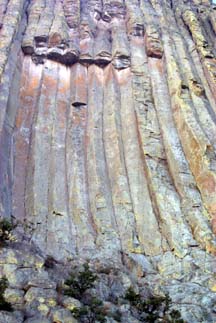 They are very geometric, and very big! I'll have to watch "Close Encounters of the Third Kind" again after the visit.
From there we headed to Spearfish, tucked in Spearfish Canyon, which is beautiful country. So much color in the forests made it a very pretty drive.
The next morning we headed to Roughlock Falls and Trail, and took a hike to see the falls. They are not large, but it was very pretty, with a lot of gold and yellow leaves mixed in with the green of the pines.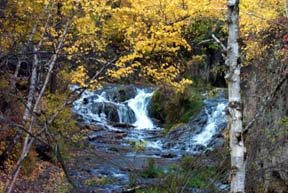 The weather cooperated wonderfully our entire trip. It was quite cool, especially in the morning, but we were prepared for that, and dressed appropriately. Thankfully, we really hit no rain on the whole trip, which was quite different than back home, where they were receiving quite a few inches of rain.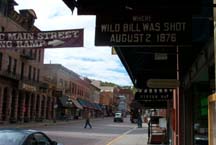 Next, we headed to Deadwood, legendary town of infamy, and where Calamity Jane and Wild Bill Hickock are buried. We also saw the place where Wild Bill was shot in the back playing poker.
Keystone is a small tourist town tucked into the Black Hills, which is where we stayed for the next two nights. A few of the small shops and sites were closed due to it being pretty much the end of the tourist season, but most were open, and there were no crowds, no matter where we went. Keystone is only about two or three miles from Mount Rushmore, so we headed there in the late afternoon.
What an impressive piece of work Mount Rushmore is! There is a trail (with 250 manmade steps!) that leads you up to the base of the monument, so we took that, and you really do get close enough to appreciate the size of them.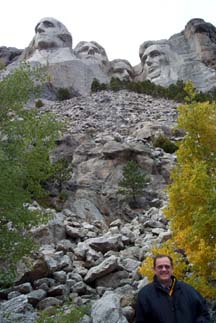 Of course, their heads alone are 60 feet high, so that gives you some idea. We went down to the visitor's center after the hike, and from there you get the conventional view you see in all the pictures.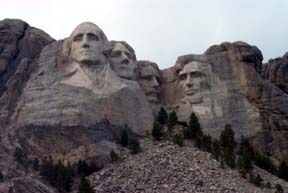 There was a very small crowd, which made it nice, and on the way down, we ran into a mountain goat lounging on one of the large boulders to the side of the path.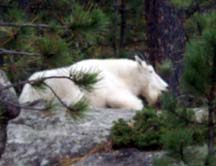 It was quite content to just lie there, observing all the activity in distant parts of the monument area, and as we got further away, we could see one or two more in the distance.
From Mount Rushmore, we headed back to Keystone, had a nice meal in town, and retired to the motel for the evening.
The next morning, we headed off to the "Needles Highway", which was a very beautiful drive.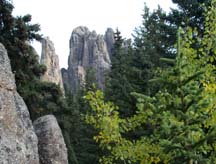 It's an extremely crooked road, with lots of hairpin curves, so you don't make very good time, but that's really not the object of a drive like this. The needles are rock formations that are like church spires, sticking straight up to the heavens.
We took a pretty long hike on the "Cathedral Spires Trail", and got a closer look at some of the "needles".
From there, it was on to the Custer State Park. There were lots of animals out and about. We saw mountain goats, pronghorn antelope, white-tailed deer, buffalo, prairie dogs, and wild donkeys. This is a large park, with varied scenery, so it was a very pleasant drive.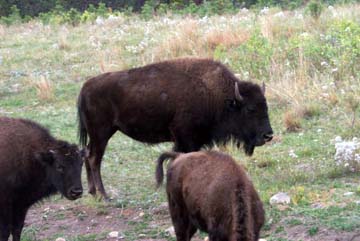 After leaving Custer State Park, we headed toward Crazy Horse Mountain. It had been 11 years since we had been to the Black Hills, and when we last visited this monument, only a bit of Crazy Horse's head was done. This time, the entire head was done, and we could see where his extended arm would be. This carving, when it's done, will dwarf the carving at Mount Rushmore. Crazy Horse's head alone will be almost 90 feet high, and the entire carving will be almost 500 feet high.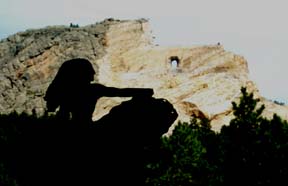 But I don't think I'll see it completed; it's a long term project of many decades. They have some beautiful displays of old Native American art and artifacts, and that in itself is worth a visit.
On the way back to Keystone we stopped at a national forest and walked for a while on a trail there, but it was so thick with trees that there was literally no view of the surroundings, so we headed back out. There was lots of quartz pieces laying about, so Joan collected enough for her class.
Back at Keystone, we headed to an abandoned gold mine and toured the site. It was carved into very hard stone, so there were no supports needed for the cave. They also found very little gold, so it was eventually abandoned. It was interesting to see the process used in mining and refining the gold, however.
We again at in Keystone, and spent a quiet evening at the motel, a bit tired from all the fresh air and exercise.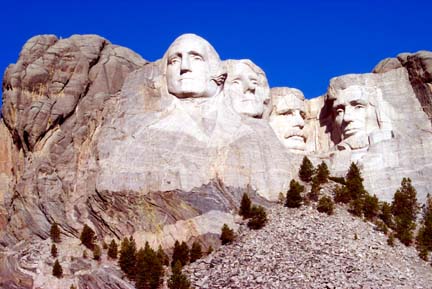 The next morning we headed back to Mount Rushmore to see it one more time. It was about 9:00 in the morning, and the most folks I counted that were visible at one time was seven. That's the way I like to visit places; I hate fighting crowds and traffic to see things. I took some more pictures of the monument with the morning sun shining brightly, and then we headed off toward Hot Springs.
No, it wasn't to enjoy the hot springs, it was to see a mammoth dig! The conditions had been just right thousands of years ago to cause a deep pit to formed that trapped many mammoth in it. They eventually died, and the pit filled in, only to be discovered in the 1970's. The bones are not fossilized, they are still bone, and there sure is a lot of them!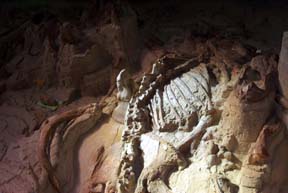 It's impressive to see those large ivory tusks laying in the clay, and to ponder the creature to whom they belonged.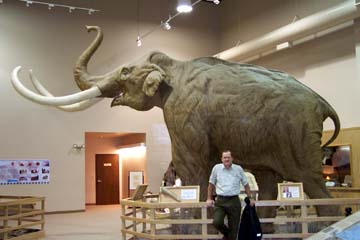 We had an extensive tour, I took a number of pictures, and we were off again, heading eastward, and toward Minnesota.
Since the weather was still sunny and cool but beautiful, we drove through the Badlands again, and enjoyed the unique topography of the area. We stopped at a couple places, and went on some short hikes.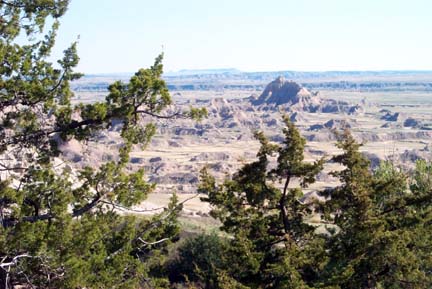 From there, we caught the interstate, and headed east, making it as far as Chamberlain before stopping for the night.
The next morning we ambled our way east, stopping at a number of antique shops and malls on the way, and got as far as Pipestone, Minnesota, in the far southwestern part of the state. In Pipestone, we stayed at a unique place called the Calumet Inn, which is a very old hotel that has been remodeled into what I would consider to be closer to a bed and breakfast, with each room unique to itself, with many antique things weaved in.
In the morning we again meandered toward Cambridge, with frequent stops along the way, avoiding Minneapolis so we wouldn't run into the Twin's Baseball Playoff crowd. We got home about 8:00 that evening.
It was a nice vacation, relaxing, yet exhilarating because of the beautiful scenery. We drove about 2,000 miles total, but many of those were on very crooked roads! Our housesitter/dogsitter had done a great job keeping everything tidy, and the dogs happy, so it was nice to be home again.
No matter where I wander,
No matter where I roam,
Be it ever so humble,
There's no place like home.