Everglades and the Florida Keys
January 2-9, 2003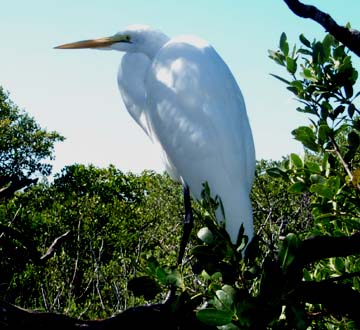 We flew out of Minneapolis on Thursday, January 2, in the early afternoon. The weather cooperated, and we drove to Minneapolis from Cambridge, parked at an off-site parking site, and got a ride to the terminal. We had "e-tickets", so checking in was a breeze…we had all the information on our ticket, so they looked at them briefly, and headed us on to our gate that was specified on the ticket. We were about an hour early, so we both pulled out a book, and started reading. After about 45 minutes, we noticed they still hadn't put up our flight sign, so I went and checked the "big board" where all the flights and gates are listed. We then found out we were at the wrong gate! The "e-ticket", though efficient, was not accurate. So we gathered our things, and headed off to the correct gate, which was a block or so away….Minneapolis is a very big airport. As we were rushing there, we heard on the loudspeaker, "Roger and Joan Anderson, you have four minutes to report to your flight or your tickets will be cancelled", or something to that effect. We increased speed, and barely made it. Another lesson learned….check and double check your departure information!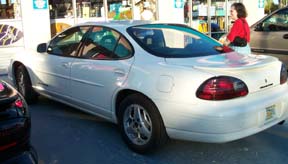 We hoped this was not an omen, and thankfully, it was not. The rest of the trip went smoothly, including the flight to Fort Myers. We arrived, got our bags, got our car (a nice new white Pontiac Grand Prix) and headed toward the motel. It was about six o'clock, so it was almost dark, and we were tired. The weather was very nice, low 70's, and clear skies.
The next morning we headed out of Fort Myers toward the Everglades. Our first stop was outside Fort Myers, in a place run by the Audubon Society called "Corkscrew Swamp Sanctuary". They had a very nice boardwalk that was about 2 ½ miles long through prairie, swamp, and ponds. There was a lot of interesting wildlife that could be seen in a distance: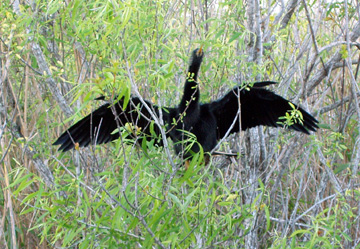 Great Egrets, Heron, Anhingas, Limpkin, and a few smaller ones. It was a cool morning, but with a light coat, it was very comfortable, and was a very nice walk in the green forest and swamp.
We headed further south toward Everglades City, where we stopped and ate, and then entered the Everglades National Park. We stopped at the visitor's center, got a map of the park, and headed off toward the park itself. The first place we stopped was an area called Royal Palm, and we went on the "Anhinga Trail" which turned out to be our favorite, so we returned a number of times. It was a very nice trail, much of it boardwalk above the water, and the amount of wildlife, and how close you could get to it was amazing!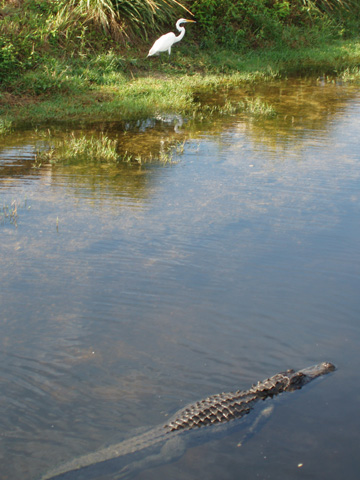 At the beginning of the hike, there is a pond, and it's there we spotted our first "wild" alligator on the other side. The profusion of large birds, great white heron, great blue heron, green heron, egret, stork, anhinga, and many more was not only amazing, but they were so close to the path that it was as if they were posing for us!
We had binoculars, so we could see them very close up, and I regretted not having a camera with a super telescopic lens on it so I could get even closer pictures.
Soon, we saw more alligators near the water, sunning themselves on this cool morning. They are an impressive beast, that is for sure. They were of various sizes, some of them quite small, some of them disarmingly large.
It was a bit intimidating knowing these creatures were literally all around you, mostly hidden in the water, and could appear literally at any time. We walked further, and saw more large birds, some beautiful foliage in the bushes surrounding the trail, and I had the thought that this surely was like no place in Minnesota, winter or summer, and it really was an environment of its own, unique and exotic.
We headed back toward the car, and headed further south into the Everglades. The national park is an immense area, most of it not accessible by road. The only place to stay in the Everglades is in Flamingo, down at the southern tip, far from any other town or civilization. We found our room, which was pretty basic, but it worked out fine. It had been built in the 70's, I would guess, and it hadn't had much maintenance since then. It was approaching the evening meal, so we headed off to the only restaurant in town. It actually was a very nice restaurant, with a full menu, and we decided to have some seafood. Joan had shrimp coated in coconut, and I had a mahi mahi, which is also known as dolphin, but not the mammal, the fish! I think that's why they now call it mahi mahi, so that people don't confuse it. Anyway, the meal was absolutely delicious, with great side dishes, and a beautiful view of the sunset.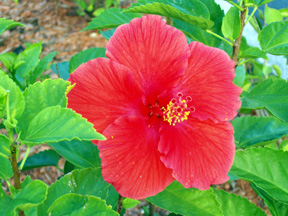 We headed back to our room, watched a bit of television, and retired for the evening.
The next morning was quite cool, in the low forties, so we dressed warmly as we headed out to go a trail that was located not far from Flamingo. Again, the profuse abundance of wildlife was amazing, and the variety hard to believe. The sky was alive with flocks of large birds, some in a semblance of formation, others quite random. A couple of lazy alligators tried soaking in sun at the edge of the swampy area.
From here, we headed back up the road, close to the entrance of the Everglades, and walked around the Anhinga Trail again. More varieties of birds, more large alligators, more single birds, posing for the camera.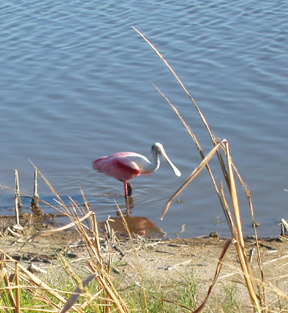 From there, we headed to the Gumbo Limbo Trail, and viewed a different ecosystem of large trees, fern, and underbrush very unlike the more swampy areas. The Gumbo Limbo is a tree that is tropical, and was used for a variety of purposes.
We went on one trail through a mangrove forest, and this was really different.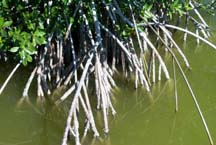 The Black Mangrove have adapted to being able to grow in a salty water by sending up roots to act as breathing tubes. The Red Mangrove have lots of shallow roots actually above soil level to help anchor the tree, and keep it out of the salt water. A fascinating adaptation.
We went on a longer hike, 1.6 miles one direction (and probably about the same back!) that was quite flat, and there was a canal next to it. The path led to a rather large mud flat because the tide was out.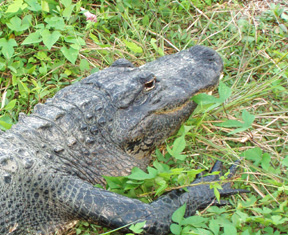 On this trail there were lots of mosquitoes to keep us company and to keep us moving, but we did find one very large alligator on the other side of the small canal that must have been 11 or 12 feet in length. He was immense. I tried to get a good picture of him, but Joan didn't want me to get too close to him. Not that I would have!
We were lucky in many ways that the temperatures were cool. The insects were not bad at all, with the exception this one trail, called "The Snake Bight Trail".
We went back to Flamingo and and went on a "back country" pontoon boat ride that was about two hours in length. It was interesting to see the canal system, and the variety of plants, and we were impressed at the vast expanses of open water.
We did see an American Crocodile, which are quite rare, and only reside in places where there is salt water unlike the alligator, which needs fresh water.
When we got back to Flamingo, we discovered there had been a partial power outage, and almost everything was closed. They had combined in the restaurant with the snack bar, and were serving an open air buffet, which was literally the only meal in town. The power came back on in full about 10:30 P.M.
In the morning, we packed our things, and headed out of the national park, but stopped one more time at the Anhinga Trail, and again were impressed by the variety of birds and the abundance of alligators.
We headed toward the Keys, but stopped at an alligator farm so we could see the creatures close up in a controlled environment. It was a very clean and well run place, and we took a ride on an airboat, which was very exciting.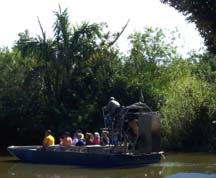 The driver did some very tight turns at a high speed, in the open water, and the spray got us pretty wet. They glide quite nicely through the water and the reeds, though they are loud. We saw many alligators living in the wild, as well as numerous birds, and interesting foliage, and it was a memorable ride!
We saw a young woman handle a pretty large alligator with ease, and she also showed some snakes, and fed a bunch of alligators too. She was quite versatile. She passed around smaller alligators with their mouths taped shut for the audience to look at. We also tasted a little crocodile meat, but it was hard to taste since there was so little of it.
She also had snakes, and both Joan and I got our picture taken holding the albino boa constrictor.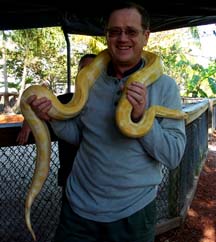 From there we headed toward Key Largo. I always think of that Birdie Higgins song when I hear "Key Largo"… "We had it all….just like Bogie and Bacall…just like we did in Key Largo…". Our first stop was the John Pennecamp Coral Reef State Park, where we went on a two and half hour trip to a coral reef.
It was a glass bottom boat so you could see the coral and the fish through the bottom of the boat.
It was about 6:00 when we got back to shore, and we went and found our motel, and then went to eat at a great restaurant that had absolutely wonderful mahi mahi.
The next morning, we headed south on the one road and many bridges that connect the many keys. I think I read that there were 42 bridges in all, and one of them is called the Seven Mile Bridge.

We spent a good share of the morning in the Dolphin Research Center, which is a fascinating place. They work with a large number of dolphins, and do a lot of research. We decided we couldn't quite afford to actually swim with the dolphins ($250.00 plus rental of a wet suit, admission, etc.) but for a few bucks, we could actually go and pet a dolphin and shake hands, or more precisely, shake its flipper.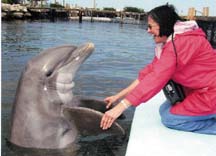 We watched a number of the activities and research they were doing, and it's very apparent that the dolphins are quite intelligent, and enjoy performing. There were very few people there, so we had good views of the whole place.
From there, we headed south again toward Key West. I never realized all the small islands, or keys were connected with a solitary road, but they are, and as I said earlier, there are lots and lots of bridges. It's a nice drive, though, and each island has its own personality or "look".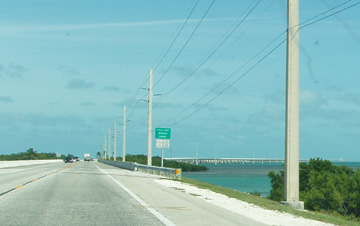 At Key West, the last island, we were at the furthest point south in the United States, and we had driven more than half way to Cuba from the Florida mainland.
Key West is very touristy, but a neat looking city, with lots of activity, but we had already had a pretty full day, so we got on that one highway, and headed the other direction, back toward Key Largo. We ate at a restaurant that was right across the road from where we were staying called Ballyhoo's, and the food was marvelous! They had a large and varied seafood menu, and though the outside of the place looked a bit tough, it was some of the best food we'd had on the whole trip, which is quite a statement.

The next morning, we headed south again to Long Key. There was another hike through a mangrove forest here, and then we stopped at a pier to see some gigantic tarpon off of a dock. They were maybe three feet long, and congregate around the pier because people feed them on a regular basis.
Our next stop was a wildlife sanctuary where they rehabilitate injured birds. It was neat because one could get so close to them, and wild birds had also come there for sanctuary.
The next morning, we left the Keys, and headed toward Fort Myers, via a quick trip to the Anhinga Trail in the Everglades for one last walk through the myriad of wildlife. We arrived in Fort Myers in the early afternoon, and decided we should try to find some manatees, since we hadn't spotted any in the wild.
We went on a pontoon boat on the river, and there were lots of manatees, but it was difficult to get a good look at them. There were a couple reasons for this. Because of the mangrove, the water has a lot of tannic acid in it, and is therefore quite brown. You can only see a foot or two into it before it is too dark in color.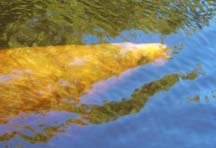 The other reason is that the manatee really never surface, except for their nose to take a quick breath. And they don't surface for very long either, just a couple seconds. It was enjoyable floating on the river, though, and enjoying the scenery.
From there, we headed to Fort Myers Beach, and a quick walk on the white sands before a very beautiful sunset. It was cool and windy, so there were no swimmers, but the beachfront was bustling in the tourist district, and we found a place to have our last good meal of seafood.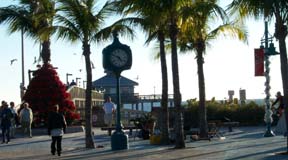 From there, back to the motel, and the task of repacking for the flight home. We checked out in the morning, and went to Bonita Beach, and walked on the shore for a while. The beach was literally covered in seashells, and many were very beautiful.
We collected a few of them, and then headed back to turn in the rental car, get a ride to the airport, and check in for the flight home. We arrived back in Minnesota about 4:30, but it was close to 7:00 by the time we finally got home. The weather had been unseasonably warm while we were gone, so there was still no snow, but the weather was now much cooler and more seasonable, and markedly cooler than the "cold spell" of Florida.