Florida Everglades and the Keys
January 2-9, 2007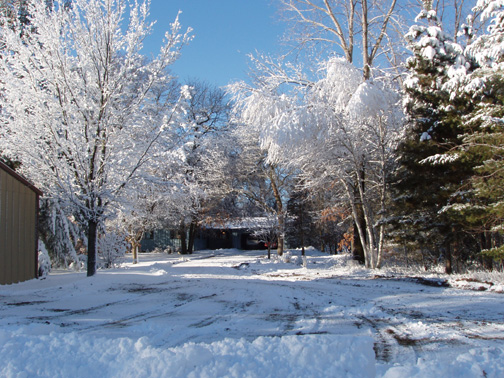 We flew out of Minneapolis on Thursday, January 2, in the early morning. We left a snow filled winter wonderland because of the New Yearís Eve rain and snow we received. The rain prior to the snow caused the snow to stick to branches and wires, and the tree limbs were bent low because of the weight.
The weather cooperated, being cool and clear, and we drove to Minneapolis from Cambridge, parked at an off-site parking site, and got a ride to the terminal.
We had "e-tickets", so checking in went smoothly, as did boarding and a smooth flight.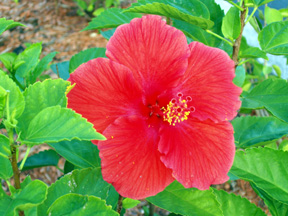 We arrived, got our bags, got our car (a nice new white Pontiac Grand Prix) and headed toward the motel. The weather was very nice, low 80ís, and clear skies. It was a wonderful contrast to the wintry cold we had left, and the bright green foliage and blooming flowers, along with a warm temperature felt great!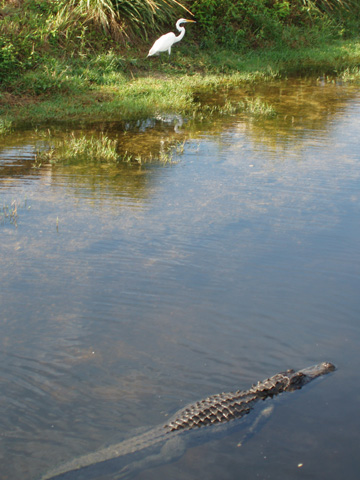 The next morning we headed toward the Everglades. We stopped at the Everglades Visitorís Center, and went on a short boardwalk to see lots of different wildlife.
Our second stop was the "Anhinga Trail", near the edge of the national park. It was a terrific trail, much of it boardwalk above the water, and the amount of wildlife, and how close you could get to it was amazing!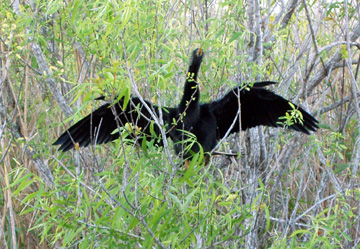 At the beginning of the hike, there is a pond, and itís there we spotted our first alligator on the other side. The profusion of large birds, great white heron, great blue heron, green heron, egret, stork, anhinga, and many more was not only amazing, but they were so close to the path that it was as if they were posing for us! I regretted not having a camera with a super telescopic lens on it so I could get even closer pictures.
Soon, we saw more alligators near the water, sunning themselves on this warm and sunny morning. They are an impressive creature, that is for sure. They were of various sizes, some of them quite small, some of them disarmingly large. It was a bit intimidating knowing these creatures were literally all around you, mostly hidden in the water, and could appear literally at any time.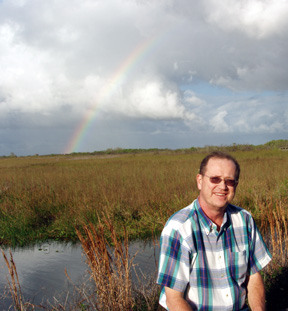 We walked further, and saw more large birds, some beautiful foliage in the bushes surrounding the trail, and I had the thought that this surely was like no place in Minnesota, winter or summer, and it really was an environment of its own, unique and exotic.
In the morning, we stopped one more time at the Anhinga Trail, and again were impressed by the variety of birds and the abundance of alligators. Itís amazing how they almost pose for you, or at least totally ignore your presence.
The next morning, we headed south on the one road and many bridges that connect the many keys. I think I read that there wer
e 42 bridges in all, and one of them is called the Seven Miles Bridge.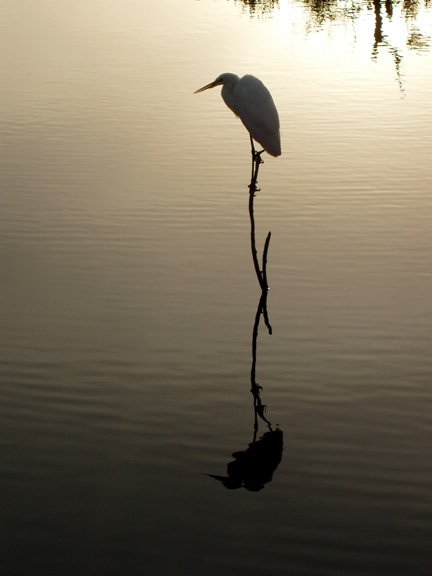 From there, we headed south again. I never realized all the small islands, or keys were connected with a solitary road, but they are, and as I said earlier, there are lots and lots of bridges. Itís a nice drive, though, and each island has its own personality or "look".
From there, we headed back toward Homestead, and a quick walk on the Anhinga before a very beautiful sunset. Later, we found a place to have another great meal of seafood.

One day, we headed toward Miami to a park on the ocean, and we ran into a number of iguanas in the wild. They had apparently escaped from a nearby zoo, and were doing quite nicely living in the wild! They are a bit of a scary creature when you see how fast they can run on their hind feet!
One day we drove deep into the Everglades to the point where we could see many structures that had been damaged by a recent hurricane. The wild life had not been decimated, however, there was still abundant activity.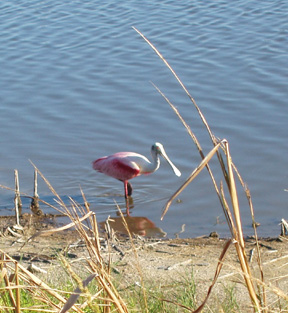 From there, back to the motel, and the task of repacking for the flight home. We checked out in the morning, and went to Bonita Beach, and walked on the shore for a while. stop was outside Fort Myers, in a place run by the Audobon Society called "Corkscrew Swamp Sanctuary".
They had a very nice boardwalk that was about 2 Ĺ miles long through prairie, swamp, and ponds. There was a lot of interesting wildlife that could be seen in a distance: Great Egrets, Heron, Anhingas, Limpkin, and a few smaller ones.
While we were walking along the boardwalk, I noticed one of stranger creatures we would encounter on our trip...a giant grasshopper! I mean giant, too! I would estimate that this insect was probably five inches long, maybe longer if you count the antennae. It was just hanging around chewing, and cooperated just fine when we took pictures of it. I'll try to present here as close to life size as I can.
Soon, it was off for the airport, a delayed flight, and home after midnight. It was about ten degrees as we drove back to Cambridge, arriving home a bit after midnight. The snow was still there, making it a large contrast to the green of the Everglades.