We flew out "New Yearís Eve" morning, headed for Las Vegas. It was an 8:00 flight, so we had to be to the airport pretty early. The flight was through Sun Country, so it was at the little terminal, which helped make things go easier.
The flight was fine except for a toddler who was so tired she was close to hysterical and screaming for about an hour. She was about four rows behind us, too close.
We landed in Las Vegas, got our rental car, a Pontiac Grand Prix, and off we headed for Palm Springs.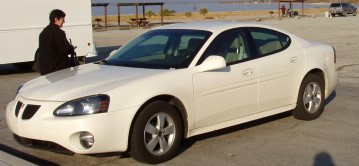 We headed across the desert and mountains, and you could tell how much rain they had by the green tint to the desert and the amount of sediment that had washed across the roads at low places. We got to our motel, found a Mexican restaurant within walking distance, and had a nice meal. We saw the new year in by Minnesota time, but didnít make it California time. For any Eagle's fans out there, you might enjoy the name of a motel that was very close to where we stayed. Yes, it's the Hotel California.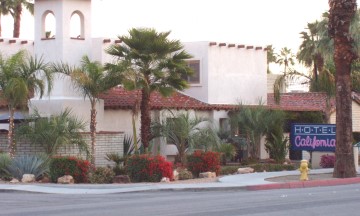 In the morning, we headed toward La Jolla, a suburb of San Diego, and went to our motel. It was New Yearís Day, so kind of quiet. We went down to the sea and watched the surfers and the seals, and enjoyed the cool but rainless morning.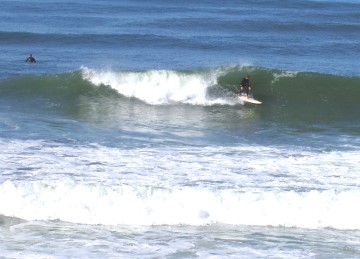 Later in the day, my brother, Rod and his wife Joanne, came by and picked us up to show us some of the sites of the area we hadnít seen before.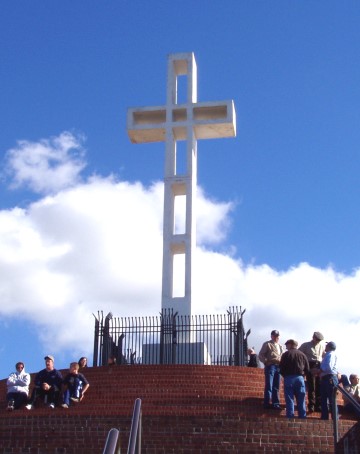 We went to the top of Soledad Mountain, which as a huge white cross that can be seen for miles. We also went to Cabrillo National Monument and the lighthouse.
We stopped for lunch and I tried a squid sandwich which I must say was a bit bland and chewy. After that we headed to Balboa Park in the light rain, and walked through the area. Itís a magnificent park, and the massive pipe organ was being played in honor of its 90 birthday.
After the park we headed to my brother Rickís restaurant, called "The Spot" which is in downtown La Jolla.
We had some wine and some food, and it was great to see Rick again.
From there we headed back to the motel and called it a night.
The next morning, we headed to my niece Lauraís place, where we stayed for two nights. Itís a beautiful place, hard to explain. There are about five levels, some of them just a few steps different. It has a beautiful kitchen area.
Wil and Laura and Rod and Joanne and Joan and I headed out to Torrey Pines,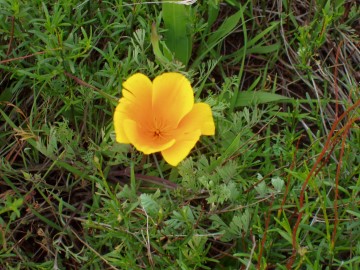 a large park, and hiked for a while. It was cool and cloudy, but no rain. From there we headed back to Laura and Wilís, and had great meal. Rick came over after work, and we had a rousing game of Trivial Pursuit while Wil made his grandmotherís recipe of enchiladas, helping his team from a distance.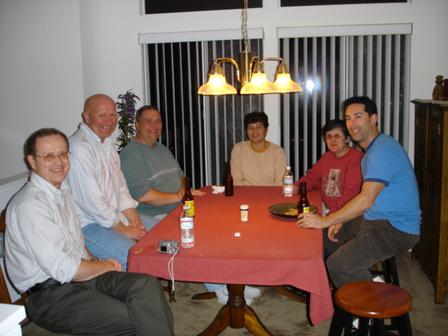 Left to right: Roger, Rick, Rod, Joanne, Joan, Wil. Missing: Laura
After the meal, we chatted a while and went to bed, after another busy day.
In the morning, Joan and I headed out to the Birch Aquarium. They had a great exhibit of sea horses, and there were a couple of pretty strange ones!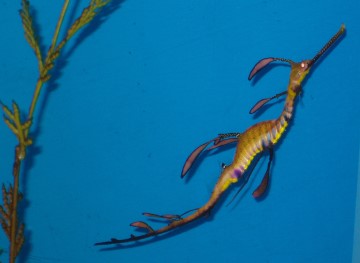 We went to "The Spot" for lunch and had a nice visit with Rick. I took his picture by the restaurant.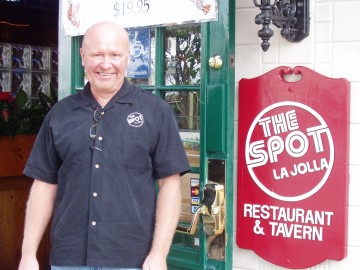 In the afternoon, after Laura got home from work, Joan gave her a lesson in lefse making. This is a type of traditional Norwegian potato bread that Joan learned from her aunt and grandmother, and has been a favorite at all Thanksgiving and Christmas gatherings. Laura wanted to learn how to make it, and was a natural.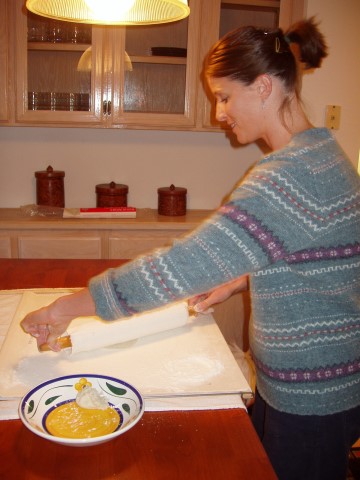 We had brought a ricer, a rolling pin, and lefse turner, and had sent Laura a pastry towel, so she now has all the tools to do it on her own.
It was delicious.
Laura, Wil, Joan and I went out to eat at a very nice Italian restaurant for the evening meal, and we really enjoyed our time with them. It was raining very hard off and on all day, but it didnít spoil anything we wanted to do.
In the morning we took off after meeting Rod for a cup of coffee. We found a wonderful Mexican restaurant for lunch...it was paper plates and plastic dinnerware, but it tasted just wonderful.
We stopped at the San Luis Rey Mission and toured it.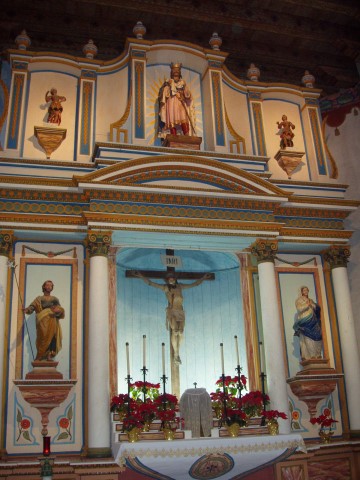 It was very interesting, though chilly. Itís a massive place, with some interesting architecture and artifacts.
We headed north along the coast, and between rain showers saw some beaches and state parks. We ended up in Huntington Beach for the evening. We ate at a Hawaiian restaurant, and walked down a very long pier where you could get a great view of Catalina Island.
In the morning we headed to Joshua Tree National Park. We drove through the park north to south, and went on a few short hikes.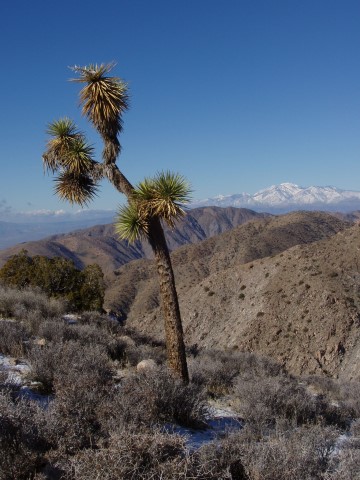 The weather was overcast, but it didnít rain. The road to the Salten Sea was closed due to washouts, so we went to Indios and stayed there for two nights.
On the morning of the 6th we rose to sunshine and cool temperatures. We headed toward the Salten Sea and spent some time there. Itís an interesting place, formed after a dam broke. Itís saltier than the sea, and the beach is made up of the shells of small shelled barnacles. Billions of them.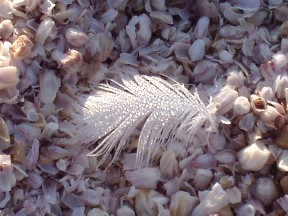 We next went to the Anza Borrego Desert State Park. We went on a very difficult trail to "Hidden Valley" that had been badly washed out several months before destroying the existing trail and washing most of the palm trees down the stream. I would have labeled the trail "extremely difficult", since we had to climb over and jump down boulders and small washes.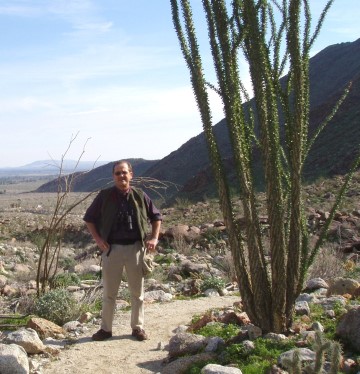 We headed back to Indios and ate at a nearby casino.
In the morning, we headed toward Las Vegas, which in most cases would be very easy. The way we headed in the fog and rain and mist however, was toward a blocked pass where it was snowing heavily. We had to turn around and backtrack back to Indio and go via a lower pass through the mountains. We had gone about 2 Ĺ hours out of our way total, so it was a long day of driving. Eventually the rain lightened and disappeared, and we found a place to stay in a little town called Needles, California, close to the Arizona border, on old Route 66.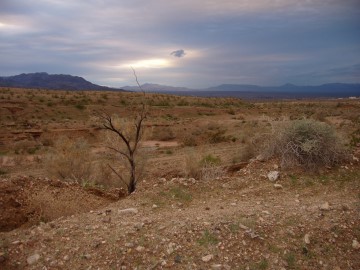 We did find an antique store to visit after lunch in a Chinese restaurant, but found no treasures. We did go briefly to Arizona, and took a road called the "Needles Road". It was gravel and rough, made for off road vehicles, so we didn't go far, but I shot some pictures of the sun going down that were very pretty.
In the morning we headed out to Las Vegas, through the desert. We hit dense fog, very dense fog on one high pass, and some rain, but by the time we got to Las Vegas it was bright and there was no rain. We went downtown to the strip and Joan called her best friend from high school.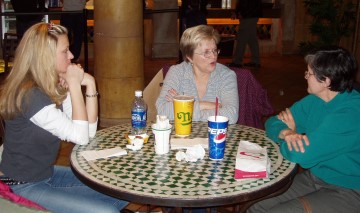 Patty and her daughter, Jenna, met us at the Luxor for lunch and we all had a nice visit. They were on their way to hunt for a wedding dress for Jenna, who is getting married in June.
We visited a couple of other casinos, and then headed to the airport to turn in the rental car and get to our gate.
We were there in plenty of time in spite of slow security lines. The plane was running an hour and a half late.
We left Las Vegas about 7:30 P.M. and got home about 2:30 A.M. Another long day.
It was a fun trip, great to see our relatives, and we saw some beautiful scenery. A nice break from the bleak Minnesota winter.
Here are a few pictures you might like to look at in a larger resolution. Just click on them.
Background is a garden of poppies at Balboa Park that I lightened considerably.