Trip to The Porcupine Mountains, Copper Harbor,
and The Apostle Islands
June 26-July 2, 2003
Donít those sound like exotic places to visit? In many ways, they are, but all in all it was a quiet and restful vacation. We left on a Thursday morning, heading east to Wisconsin, and then on to the upper peninsula of Michigan. The day was overcast, with a threat of rain in the air, but the rain held off, and actually we didnít hit rain at all the entire vacation.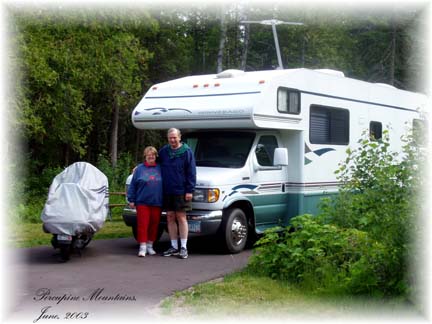 Dwaine and Marcy Norman, our close friends from Cambridge, were coming on the same trip. They travel in a bit more comfort than we did with their thirty foot recreational vehicle.
This was the maiden trip for us with our "new" Scamp. Okay, itís a 1975 vintage, but to us, itís new, and we put a bit of work into it before it was ready for the road.
I love the way it tows. Itís like thereís nothing behind you, and the visibility is excellent because you have a great big window front and back that lets you see directly behind you. It is small, granted, but we really donít need a lot of space. We can sleep in it, read in it, and cook in it if we have to, and it holds the stuff we bring along.
We got to the Porcupine Mountains, and went to the park in the late afternoon. I unhooked the Scamp, and we were ready to take off and explore the area. We drove to an area called "Lake of the Clouds" which is a high overlook down to a small lake in the wilderness and a river flowing into it. It was very pretty, but quite chilly in the breeze.
We then drove to see some waterfalls in a different area of the park. It was almost dusk, and light was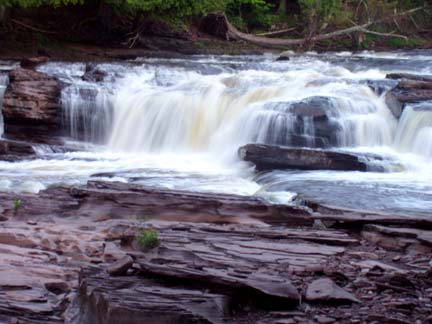 low, so I braced my camera for some pictures of relatively long exposure. Thatís why the water looks so soft and blurry....it really is! It gives a nice effect though. It was pretty good hike with lots of stairs, so we got a bit more exercise.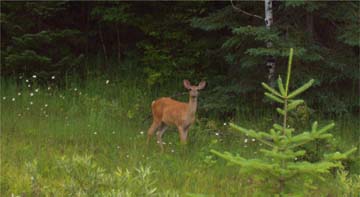 The drive back to the campground was exciting because it had gotten dark, and it was a crooked, winding, unfamiliar road. I was pretty cautious and I never try to go faster than I can see ahead, so I can always stop if something in on the road. Sure enough, we rounded a bend, and there in the road was deer, just standing. I stopped a few feet from it, and it trotted off the road, none the worse for the experience.
In the morning, Dwaine and I went on a rather rigorous hike of about five miles called "The Escarpment Trail". It was rugged, with loose stone and roots on the path, and lots of hills and valleys. The high places were quite pretty with a view of valley. It was interesting that on part of the trail, we were actually higher than the turkey vultures we could view below us!
It was also interesting because we could see our point of origin as it kept getting tinier and tinier in the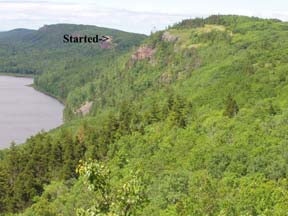 distance.
We made the hike in slightly more than two hours, and we really didnít stop the whole time, except to take a picture or two. Joan and Marcy went to the Visitor Center to see the video and learn more about the area, and then they met us after our hike for a picnic lunch.
From there, we headed back to the campground to clean up, rest a bit, and then we were off again. At this point I should explain that I like to be on the go. Joan has accused me of making her so tired on these trips that she feels like she needs a vacation when we get back home, so I tried to be a bit less hyperactive this trip. I just like to see and explore whatís in the area, and get some exercise while doing it, but I guess the purpose of a vacation should be to relax and enjoy oneís self a bit also, to "stop and smell the roses", as they say.
And, speaking of roses, our campsite was right next to the lake, and there were the most beautiful bushes of wild prairie roses right next to the rocks. There was a plethora of different flowers in different parts of the park, with the most common being the ox-eyed daisy, but there was also Purple Vetch, Harebells, Hawkweed, Thimbleberry, and many more. I took a lot of wild flower pictures.
In the later afternoon, we headed for another hike to the Summit Mountain area. This was a pretty hard hike also because it was mostly upward, and then to stairs and then to a tower for a panoramic view of the entire area. We could see the ore ships on Lake Superior, and also see the fog rolling in.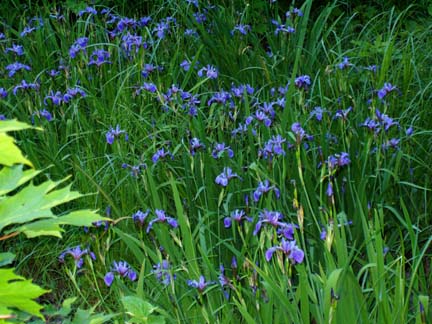 It was a cool, verging on cold night, and we had a small campfire before retiring for the evening.
The next morning, Joan and I walked the rocky shore of Lake Superior to a place where they have a boat launching. The shore was very beautiful, with lots of wildflowers, driftwood, and rocky formations.
On June 28th, Saturday, we headed further into Michigan to Copper Harbor. We stayed at Fort Wilkins State Park in a very wooded campsite. After unhooking the Scamp, we drove around and explored the area, and saw the lighthouse in the distance on the lake. Itís a very pretty area, and the cool brisk weather made it invigorating to be outside.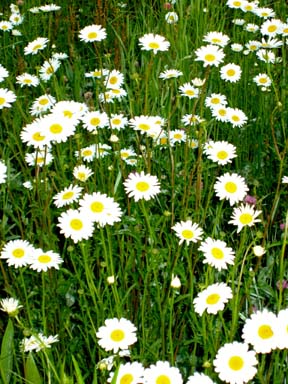 The next morning, we headed off to the highest area of the country. The road to the Brockway Mountain Drive warned to use low gear going up, and it was a steep drive with lots of twists and turns. Periodically there would be a lookout where we could pull over and see the valley. The road continued upward with profuse wildflowers in the ditches. Soon, we came to the overlook at the top, and could see not only Lake Superior but a large part of the surrounding area. The wind was blowing, and we were glad we had warm jackets!
Since we were camping in Fort Wilkins State Park, we decided to tour the reconstructed fort, so we
walked over the area, and spent some time looking around and visiting with a couple of the re-enactors that were present. It has been nicely reconstructed, and was very interesting.
From this point, we headed down again toward Eagle Rock where we toured a small lighthouse on Lake Superior. On the way back to Copper Harbor, we pretty well followed the lake shore, and when we reached Copper Harbor, we stopped at a restaurant to sample the local fare of a meal called a "Pasty", pronunced PAHST-ee. Apparently it is an English dish, and consists essentially of a meal inside a crust consisting of potatoes, meat, carrots, etc. Kind of like a stew in a thin crusty breadbowl. The miners took it for their dinners, since it was easy to transport, and a hearty meal.
We drove to a stand of old pine trees called the "Estevant Pines", some of them being several hundred years old.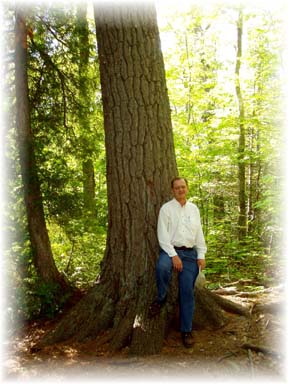 We ended up taking a pretty long and rigorous hike in the hilly region, but it was a beautiful area. On the way back, we stopped at a pretty little waterfall that was almost obscured by the foliage.
On Monday, June 30, we left the Copper Harbor area and headed toward the Apostle Islands in Bayfield, Wisconsin. The weather continued to be cool, but as we got a bit further away from the lake, it did warm considerably. We found a campground just outside of Bayfield, and got set up there. Later we went into Bayfield to look around. Itís a very tourist oriented city, and its main street runs directly into the main pier which has ferries out to Madeline Island, and lots of smaller craft.
We had a delicious dinner outside a restaurant overlooking the harbor, and had a drink to celebrate our 36th anniversary which was on the following day, July 1. After the dinner, we walked around town a little more, and headed back to the campground.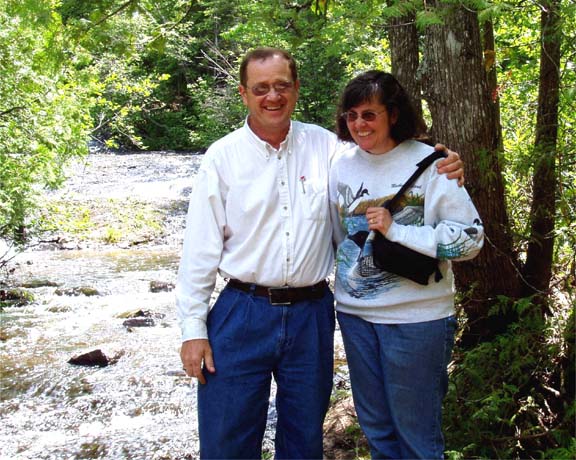 The next morning, Joan and hiked to a trail in town that leads to an old steel railroad bridge. The hike is just on the edge of town, so it is really quite forested, with a small stream flowing down a steep valley. At the end of the walk, we decided to climb straight out of the valley, rather than go back the same way, so it was a bit steep. We drove north later in the morning to the National Lakeshore area to look around, and then went out to have some late breakfast/early lunch with Marcy and Dwaine.
In the afternoon, we went "antiquing" for a while at Ashland, but found no great treasures. It was warm away from the lake, in the low 80's. In the late afternoon, we went on a cruise of the Apostle Islands in a large observation boat. It was beautiful weather, with calm waters, clear sky, and beautiful scenery. I had purchased a bottle of wine a few days earlier, and some cheap plastic wine glasses, so we toasted our anniversary in the boat during the cruise.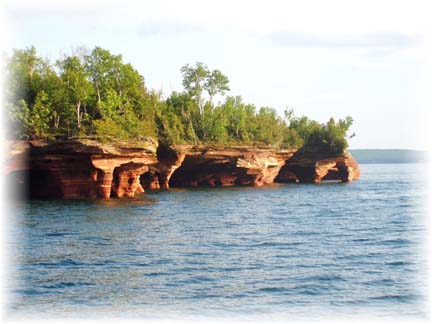 After we had returned to shore, and were heading back toward the car, someone recognized Dwaine from their seat in an outdoor restaurant, and called out to him. It turned out that it was some old friends of theirs, and she had also worked for me at the state hospital about 25 years ago. They had just purchased a sailboat/small yacht, so we toured it, visited a bit, and then headed back to the campground after a full day of activities.
Joan and I were up early, and soon had the Scamp hooked up to the minivan and we were on our toward home. We had said goodbye to Marcy and Dwaine the previous night, knowing we would be the early risers of the group, and well on our way before they were stirring.
We ambled our way home slowly through the back roads of Wisconsin, and stopped periodically if we saw an antique store. We did find one that had lots of books at a reasonable price, so I purchased a number of them.
Soon, we reached home, after a very enjoyable weekís vacation. The camper worked just fine, and is a lot easier to tow and set up than the pop-up camper.
The background for this page, by the way is a piece of the sky and clouds over Lake Superior.