Florida, March 29th to April 5th, 2005
We started to the airport about 3:30 A.M. The good news was that we were in Florida by 10:30 A.M. Florida time, so we had a share of the day to do some things and acclimate from 40 degrees and brown and dingy to 80 degrees and green and tropical.
We stayed in Orlando, close to the action of the city and the traffic. I am not one who relishes driving in traffic jams and highway congestion but sometimes you just can't avoid it to do the things you want to do. We walked around the area a bit, and then drove to a very nice park called "Wekiwa Springs State Park".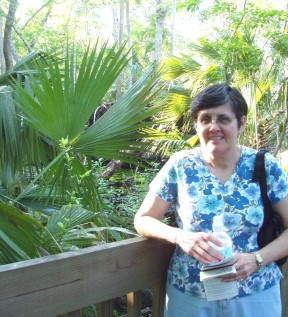 The park has a beautiful pool area, crystal clear, built around the springs that flow in, and it was quite beautiful. We walked along a boardwalk in the lush vegetation ever so different from what we had left in Minnesota. There were lots of large palm trees down close to the walk that were a reminder of the two hurricanes that had gone through the area.
We ate at a very good Italian restaurant on the way home. I have this pact with Joan that we avoid any chain restaurants when we are on vacation, which is sometimes difficult to do. You get on some of those built up strips of highway, and you can just predict all of the eating places you will see, and it takes some searching to find something local.
On Wednesday morning we headed to the Epcot Center, the only Disney attraction we intended to visit.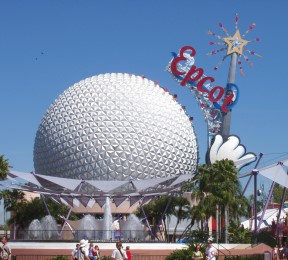 The day was beautiful with full sun, and temps in the low 80's. We walked around Future World for quite a while, and went on a thrilling ride called. "Mission-Space". All of the warning signs they had before the ride was almost enough to scare anyone from going on it. Neck problems, back problems, fear of enclosed places, heart problems, high blood pressure, etc….it said to avoid the ride. Well, we finally got to the ride itself, and we entered the "module". It really was quite thrilling! We could watch the screen as we blasted off, and could actually feel the "G" forces and motions that matched the screen. We also had the feeling of floating in space for a bit too. Not sure how they did it, but it was exciting!
From there we headed to the World Showcase area where many nations have large exhibits about their nations.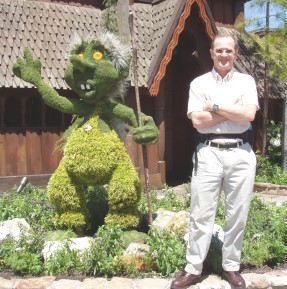 We went on some more rides, ate, looked around, and watched some of the performances from the various nations. The temperature got to 86 later in the day.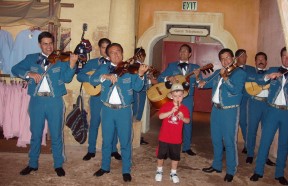 It was crowded but things moved pretty well, but I was ready to go in the late afternoon, so we headed out. In the parking lot we ran across some people who had been searching for their car. They couldn't remember quite where they had parked. Luckily, we did.
Thursday morning we headed to the Kissimmee area. This pronounced Kis-SIM-ee. There was lots of road construction that slowed us down considerably. We headed to a nature sanctuary area that had been set aside in exchange for large tracts of land that had been developed. "Mitigated Land" was the official title of the area. We went for a long walk, about three miles, through native short palms and other flora.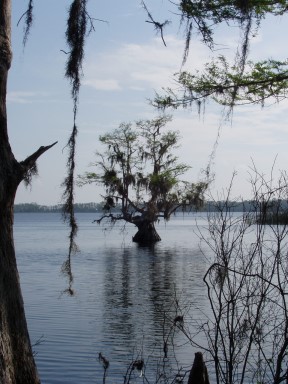 Again, it was a beautiful sunny day. Both Joan and I used sunscreen to prevent getting sunburned. We went to downtown Kissimmee and ate at a little café on a side street. It was near several antique shops so went in to a number of them. Joan found some jewelry with rhinestones that she liked, and bought a necklace and earrings. Then the electricity went out in the area, so we headed out of town! We went by a massive flea market so we stopped in for a while, and went through several buildings. Joan found a watch she liked, but that was the only purchase we made. The temperature rose to 93 degrees, with full sun, a bit of contrast to Minnesota.
We had a nice relaxing evening meal not far from our motel after another busy day.
On Friday, April 1, we headed for a tour of the Kennedy Space Center. We had made reservations for the "Close Up" tour, so we got to see sections of the center that the regular tours do not see.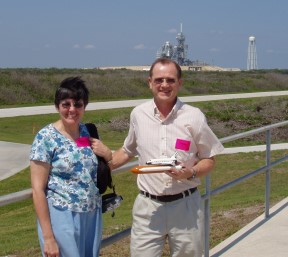 This is really an impressive place. The size of things dwarfs one. It was interesting to see the actual sites that I had seen on television so many times. The buildings are massive. We saw the launch pads, went into the building where different sections were being readied for the space flight in May, and went into a building where they displayed the massive Saturn 5 rocket displayed horizontally. It went on for what seemed to be a city block. One can just imagine the ground shaking for miles when one of those blast off.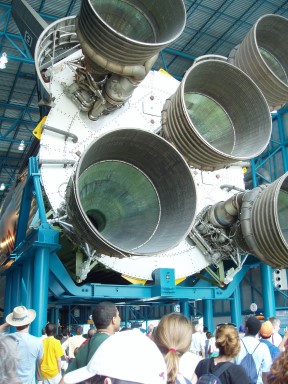 We touched a moon rock. Think about that.
That evening we ate at a very nice Chinese restaurant, and had a meal of seafood, of course. I had a shrimp curry dish that was just excellent.
Saturday, April 2 brought a morning of rain. It was a warm rain, but rain nonetheless. We headed back toward Kennedy Space Center and went to the Astronaut Hall of Fame. Since both of us have grown up with space exploration from its beginnings, it was interesting to see some of the artifacts from early flights. I have a real interest in Apollo 11, and have autographed pictures of the three astronauts on the wall of my den, so I took particular interest in that.
You probably know that the Space Center is in the middle of a gigantic nature preserve, and that during a blastoff people are kept at least 3 ½ miles away from the actual blast site. Well, when there is not a launch scheduled this preserve can be visited, so that's what we did. Did you also know that there's a lot of alligators in this area? They figure about 5,000 of them. Additional security, they call it. The weather cleared, and the sun came out.
One of the points on the map said that it was a manatee viewing area, so we thought we'd check that out, and sure enough, there they were, right in front of us!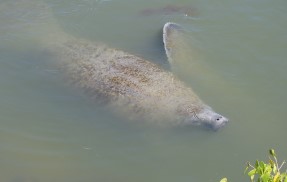 They are a massive creature, so slow moving, surfacing periodically for a gulp of fresh air, but otherwise, just grazing on the bottom of the river. The water was very clear, which made viewing quite interesting. We had seen manatees in murky river water before and hadn't really been able to observe them.
From there we went to the National Seashore, and walked the beach, collecting a few interesting shells. It was breezy, but comfortable. From there we headed north to St. Augustine, a city that dates back to the early 1500's.
We went to the "Old Town" area and indeed that is what it is, with very narrow streets, lots of little shops, and a quaint atmosphere that shows the Spanish influence of the area. We walked over to Fort Castillo de San Marcos, which is made of massive walls that are about 15 feet thick and made of a material that isn't damaged by cannonballs. We toured the various areas, and watched them shoot a cannon over the bay.
There was a local art show in the park, so we walked through that also, and headed to our motel. We ate at a place called the Gypsy Cab Company and had another great seafood dinner. From there we headed back into St. Augustine and the Old Town, and went on a walking "ghost tour" in the dark.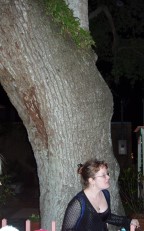 We had a young lady as our tour guide who took us to various sites that were supposedly haunted, including two cemeteries. She had some interesting tales, and told them well, so it was a fun evening.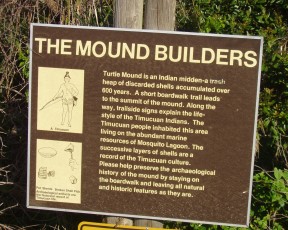 The next morning was another lovely sunny day. We drove to Anastasia State Park, and walked the beach for a while, and a few of the trails. They had a massive hill of old shells that were deposited there by a Native American culture very long ago. That took a lot of shells.
From there we went to a place called Alligator Farm and Nature Preserve, and it was much nicer than I had anticipated. It was very clean, they had very well designed displays, and lots of wildlife.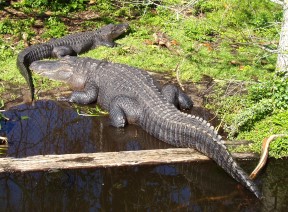 We walked around for several hours looking at the alligators, the egrets, spoonbills, and wood storks.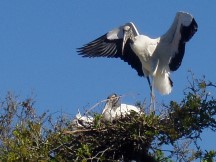 Next we went over the Bridge of Lions to St. Augustine and visited the Fountain of Youth. Yes, we drank of the fountain, and I even bought a small bottle to bring back with us.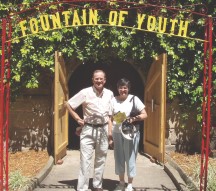 It was interesting to see the places you learn of in your childhood. The area is set up for tourism, of course, and it's amazing the strange souvenirs one could buy if one were so inclined. I settled for my little bottle of water.
Our last trek was back to the Old Town section and to a part of it where re-enactors played the role of people from the early days of St. Augustine. There were carpenters, blacksmiths, housemaids, etc, all of whom were in costume.
Our last day was spent driving back to Orlando, returning the rental car, which was a Chevy Malibu that worked out just fine, and getting on the flight back home. We got back early afternoon to mild temperatures, but still the dinginess of an early spring in Minnesota. We had some minor problems and inconveniences on the trip, some trouble with one of the motels, but none of that could sour the fun times we had, adventures we had had, and the beautiful scenery we had enjoyed.