San Diego, Monterey, and Sacramento, January 2-8, 2008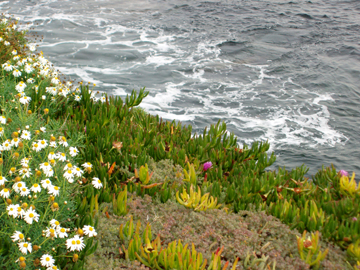 Leaving Minnesota in January for warmer climes is such a great idea. By January, the dark and cold and lack of sunshine and dearth of growing things begins to take its toll. So we were looking forward to getting to California. When we arrived in San Diego, the sun was indeed shining, and it was a beautiful day. It was a stark contrast from the negative12 degrees we had left in Minnesota earlier that morning.
We got our rental car, a brand new Chevrolet Impala, and headed out of the airport toward Coronado. We had a wonderful shrimp meal at lunch, and walked around the downtown area. We went down to the beach where the tide was out, and walked for a while and then headed to Wilís and my niece Lauraís home. We got there in the mid-afternoon, and when Laura got home we took a walk to a nearby park. We had a great meal in the evening, and turned in relatively early, since we had a very long day.

The next morning, we were up early, so we drove down to the La Jolla Beach and Cove and could see some whales spouting in the distance. We also walked down to see the seals laying on the beach.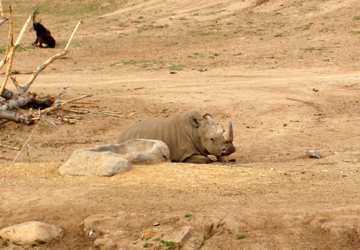 From there we headed to the "Wild Animal Park" which is a part of the San Diego Zoo. It is a massive place, and animals have ample space to feel at home. We saw two black rhinos, and they said that they are extinct in the wild, and there are only 8 of them in the entire world.

There were gazelles, elephants, okapee, large aviaries, water buffalo, and many more large African animals. There were some beautiful flamingos that we could get very close to, so I shot a few pictures.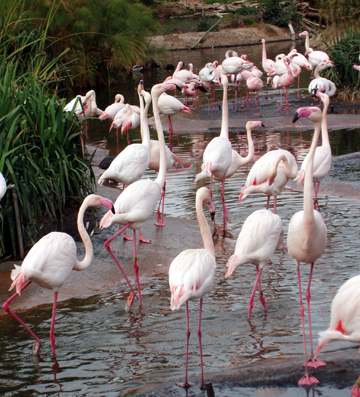 That evening, my two brothers, and Joanne, my sister-in-law, came over to Wil and Lauraís for a visit. We hadnít seen them in quite a while, so it was good to get a bit reacquainted.
The next morning we left about 5:30 to drive north to Monterey. We wanted to get an early start to get through the Los Angeles area before the traffic congestion got too bad, and it worked just fine. We did hit a pretty steady rain most of way, and the wind at times was very strong. We stopped at a terrific Mexican restaurant for lunch and it really felt good just to sit and relax a bit after about 6 hours of driving.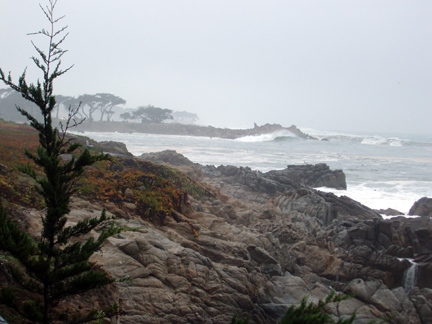 We got to Monterey in the mid afternoon, in the rain and wind.
It rained into the evening, but we found a great Italian restaurant that evening, and had a wonderful meal.
Earlier in the day, they had some terrific winds come through, and many trees were down and large areas were without electricity, so it was a little difficult getting around. The waves were still quite high, and you could see where the waves had come across the road in several places, and even up on some lawns across the road.
The next morning, the weather was quite cold, windy and dark, and the wind blew right through you to chill you to the bone. Luckily, our motel had electricity and had a little space heater which got a workout during our visit.
We headed out to drive along the ocean, but several sections of the road were still closed because of the big waves earlier. We wanted to go to Carmel to see Virginia Pope Evans, my direct connection to Ishi, the Last Yahi Indian.
Getting there was much more difficult than it should have been because of all the downed trees and the lack of electricity, so all of the traffic lights were not working.
Virginia will be 100 on March 8th, and though she is quite frail, she is just so sharp that sheís a true joy to visit with. Joan had not met her before. Poor Virginia had been without electricity for three days, and the only heat in the house was from a wood burning fireplace. She was laying on the couch covered with several blankets.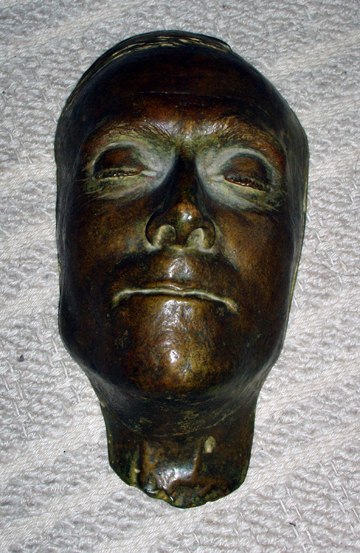 I had her autograph a book that was written by her father, Saxton Pope, and we really enjoyed visiting with her. She has many interesting stories and things to look at, and one of the things I took a picture of was her father, Saxton Pope's, death mask.
The custom of making a death mask was popular in the late 19th and early 20th century, especially of famous people. There is a death mask of Lincoln, for instance, and of Ishi, the last truly Stone Age Indian. The mask was both haunting and beautiful at the same time. You could see how handsome and how young he was. It was made of bronze from a plaster cast. Truly unique.
The rain picked up again, and though we were looking for a good restaurant to eat at, we finally decided on heading to a deli and getting sandwiches and some goodies to eat. Monterey is a strangely laid out town, and sometimes you really cantí get there from here!
The next day was a Sunday, so we headed down to a monarch preserve to see if we could see a tree full of monarchs. Unfortunately, because of the storm, several trees were down there too, and the area was closed to the public.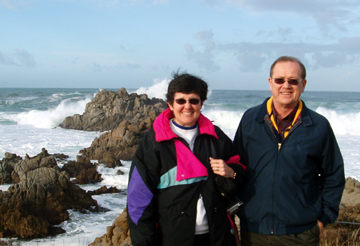 The waves on the ocean were still very high and humbling. You could just feel the power of the ocean crashing in. From Pacific Grove we headed north to the sand dunes in Marina. Seaweed and logs had washed very high up the shore.
We went to the Elkhorn Preserve next and walked around some more. It was cloudy and cool, but there was no rain, although I did get a few pictures of a beautiful rainbow, so the rain was not far off. It was cool, verging on cold, but it felt good to be able to get out and so a bit of walking around. From the Preserve, we headed toward our trip on a pontoon that went out into the Elkhorn Slough. It was a brackish (mixture of sea and fresh water) area that supported all sorts of wildlife, and because of the storm earlier, they had gathered in large numbers in the sheltered harbor.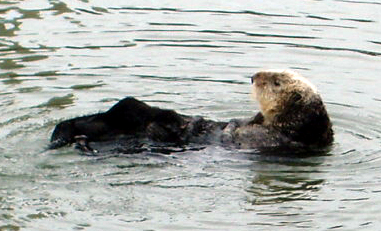 The first thing we saw was large numbers of sea otters, 20 and 30 in a group. They had also taken refuge here, and even though they are endangered, they were here in multitudes. The guide thought we probably saw about 10% of all the sea otters in California in that one location.
We again found a great place to eat in the evening, and headed back to the motel.
Monday found the sun shining! It was cool, but at least there was the sun, so we drove down to Cannery Row and walked around a little while before the Monterey Aquarium opened. We have been there before, but it is such a marvelous facility, with such wonderful displays, that we looked forward to going again.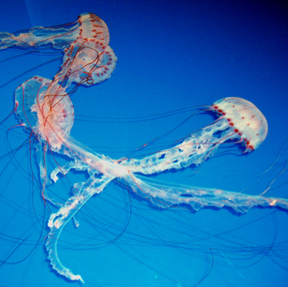 I love the jellyfish they have on display. There are many varieties, colors, sizes, and shapes, and when you think about what an extraterrestrial might be, think of how different we are from these creatures!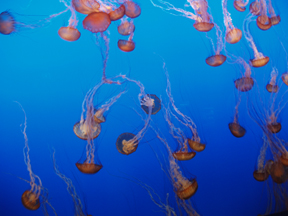 The giant tanks they have at the aquarium are really interesting too, and we saw a small white shark that is thriving so well that it will soon be tagged and released back into the ocean.
After the aquarium, we headed to the car and drove down the coast a while. Many of the coastal parks and stops were still closed, but we did see a few boats finally heading out.
On Tuesday, we left Monterey and headed toward Sacramento and toward my hiking buddy Bobís house in Shingle Springs. We hit some heavy rains, and lots of drizzle. Bob, Sarah, Megan, who is almost three, and Molly who is ten months, were all home when we got there. They are such a nice family, I really love visiting with them.
Later in the afternoon, we all headed toward Old Sacramento to look around, we went to the California Indian Museum and saw the display they have related to Ishi, the Last Yahi. I had been there on my first trip to California back in 1996, so it was fun to see it again.
From there, we headed to the Spaghetti Factory for a delicious dinner, and then back to Bob and Sarahís.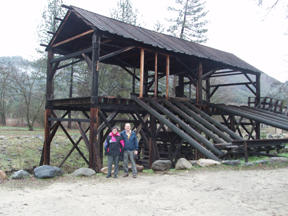 The next morning, Bob was our own private tour guide to Gold Country. We went to Coloma, and old gold town, and spent quite a bit of time there. This is where gold was first discovered, and there was an excellent state museum there.
Bob took our picture in front of Sutter's Mill. The original mill is in the photo on the right.
From there we headed to Auburn and saw an underground mine and a lot of the artifacts left from those days. You often think of the Gold Rush and mining as these old bearded guys with a pan in their hands, panning for gold, but these mines employed hundreds of miners and there was massive equipment to run them.
We headed into Nevada briefly and to Nevada City, a charming little city tucked in the hills. By then, it was later in the afternoon, so we headed back toward Bobís place, and had a delicious evening meal.
In the morning, we packed up, and headed to Sacramento for a flight to San Diego, and then home to Minnesota. It was lot of time in airports, but better than the drive would have been back to San Diego via the rental car!
We arrived back home about 2:00 A.M., hauled our things in and called it a very long day.
The trip was not what we had expected with the cold weather and storms, but we enjoyed it very much, and it was fun to spend time with Laura and Wil, my brothers and Joanne, to see Virginia Pope Evans again, and hang out with Bob, Sarah, Megan, and Molly!