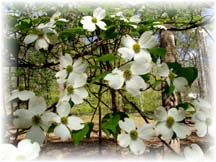 Into the Deep South:
Vicksburg Mississippi, New Orleans, Louisiana
March 27-April 3, 2003
We flew out in the early evening of Thursday, March 27. The trip to the airport was not pleasant, with a foggy, drizzly, snowy mix that made it tough to see. It started snowing more and more as we got close to the airport. The plane needed de-icing before taking off, but eventually we were in the air, and landed in Gulfport, Mississippi.
I hadnít heard of the city until I started researching cheap flights to that part of the country. It is about 30 miles west of New Orleans.
We stayed in Gulfport for the night, and headed toward Vicksburg, Mississippi in the morning. The first thing we noticed is that things were green, with abundant amounts of flowers blooming. It was cool but not cold, and the sun shone brightly.
I had long wanted to see Vicksburg, being interested in the Civil War, since it was the sight of a famous siege, and a major victory for U.S Grant, and the surrender occurred on the same date as the battle at Gettysburg.
There is a large national park there encompassing much of the battlefield. It was a little bit disappointing because of all the trees that are now present that obscure the battlefield from what it was in 1863, but it was interesting, and covered with monuments from the states where various regiments had been positioned and/ or fought.

THE MUFFLED drum's sad roll has beat
The soldier's last tattoo;
No more on Life's parade shall meet
That brave and fallen few.
On Fame's eternal camping-ground
Their silent tents are spread,
And Glory guards, with solemn round,
The bivouac of the dead.
~Theodore O'Hara. 1820-1867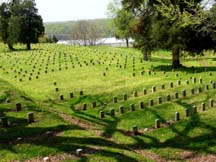 The weather was cool but very comfortable, and I prefer that to too hot. I donít do well in heat in humidity, so the coolness is preferred.
Many of the trees in the forests and in town were covered in purple flowers which we found out was Wisteria. It was beautiful, the color of lilacs, or lupine, and it actually resembled an upsided down lupine.
Apparently they only last a few days, and people said we were lucky to have seen it at its peak, as well as the Azaleas that were all over in an abundance of color. We watched a video about the Siege of Vicksburg in the national park visitorís center, looked around a bit more, and then headed to our "bed and breakfast".
It was named "Anchuca", a Choctaw word for "happy home". It was an antebellum (pre-Civil War) mansion right in Vicksburg, and it was beautiful. It was filled with Civil War era furniture, or older, and most of the knick knacks, etc. were of that era also.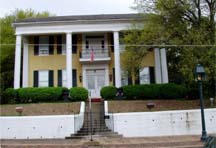 We stayed there for two days, and after breakfast on the first day, we got a tour of the house. Its one big claim to fame is that Confederate President Jefferson Davis, after his release from prison, gave a speech to the city. It was under martial law by the Union at the time, so it was brief and non-political. We went and stood on the little balcony where he gave the speech, which was kind of neat.
http://www.anchucamansion.com/
In the late afternoon we went to another old mansion that had a restaurant, and it actually still had a couple of cannonballs imbedded in the walls that people had left. What a horror that must have been for so many weeks.
The meal was very good, though very slow.
The next morning, we went to the Old Courthouse Museum in Vicksburg to see all sorts of Civil War related memorabilia. The city had been pummeled for weeks with cannon and musket, so every house, it seemed had collections of shrapnel and iron balls that had been shot at them.
There apparently was hardly a window in the city unbroken. Flags, uniforms, documents, muskets, etc. were on display, usually with explanatory cards.
In the afternoon, we drove around Vicksburg, and also visited a church that has six stained glass windows made by Tiffany. They are magnificent, and pictures do not do them justice. The texture and detail are amazing. They have been valued at a million dollars a window.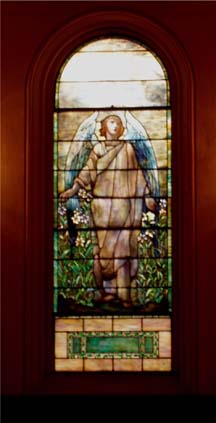 The next morning, after another large southern breakfast of all sorts of wonderful tasting delicacies that I canít even name, we headed south to hit the Natchez Trace. And what is a "trace"? Well, the dictionary says itís: " 1 archaic : a course or path that one follows 2 a : a mark or line left by something that has passed; also b : a path, trail, or road made by the passage of animals, people, or vehicles".
http://www.home.millsaps.edu/~parksjf/trace.htm
In other words, itís a very old roadway, used for thousands of years. The Natchez Trace runs for hundreds of miles, and has been left in its primitive condition, so you can see exactly what it looked like. It was used by travelers who floated or rafted down the river by boat, and needed to get back to the north. Remember "Mike Fink, King of the River"? He would have walked back north using this trail, exposing himself to robbers and killers on the way, laying in wait.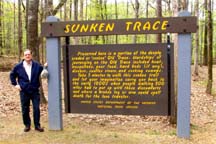 We made a couple of side trips off of the Trace. We went through a beautiful small town that General Grant said was "too pretty to burn" so it survived the war unscathed. The thing I found most interesting was church steeple that had an eight foot hand on the top of it, with its index finger pointing toward Heaven.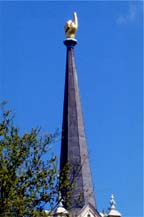 We went to a mansion that had burned after the Civil War. It must have been quite the place, since the gigantic pillars that still remained are impressive in themselves. They stand very tall, maybe thirty feet, in testament to the marvelous mansion that once was there. Hereís an experiment. This picture I have of the pillars should appear to be 3D if you stare at it long enough. Some people can do this, others canít.

Just stare at the middle, and let a third picture form between the other two.
The other side trip was to another mansion that was in pretty much original condition. It was run by an old fellow who had given his speech so many times, it kind of ran together, and he had a southern drawl that made him even harder to understand. Supposedly, Jefferson Davis, in his youth, was married in this mansion. There was ballroom in the upstairs.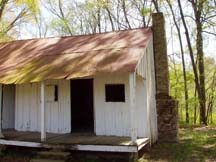 The slave quarters were a ways away from the mansion, but Joan and I walked down to them. There was a sunken road from their walking to the mansion, but the houses were small, drafty, and about as basic as they could be. A stark contrast to the affluence so close.
The entire trail was in a pretty area, again with Dogwood, Wisteria, and other beautiful
plants. At Natchez, we left the Trace, and headed to a little Pow Wow that was downtown. There were elaborately costumed dancers, and some interesting mounds and dwellings unlike any we had seen before.
The next day, we headed south and east and hiked for a while at the Gulf Island National Seashore. Our next stop was at "The Friendship Oak", which is one immense tree! Itís on the campus of the University of Southern Mississippi, and is over 500 years old.
They have built platforms in it so people donít climb on branches, and apparently a number of folks get married right in the tree! It is a beautiful thing to see.
From there, we headed on to New Orleans! We went to the French Quarter first, which is the oldest section of the city.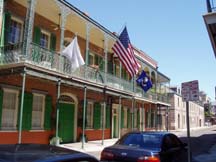 It is quite quaint, with narrow streets, high buildings, lots of activity. Shops are everywhere of all kinds, and there are more taverns than any other kind, I think! You can find some gaudy things, that is for sure, in the souvenir shops.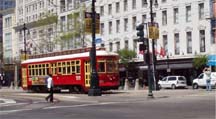 We walked around the streets for quite a while, then went to where the streetcars run. We paid our fee, and rode the streetcars into the Garden district to see all the beautiful mansions, ate stopped for lunch at a nice little place. I ordered a "Po Boy" that had grilled catfish. It actually was much better than I had expected. We got on the streetcar again, and headed back into the French Quarter, and walked around some more. We drove around the area too, sometimes a bit more than we meant to, since all roads do not lead necessarily to where you want to go!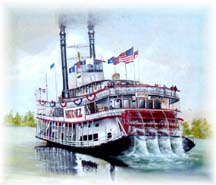 We decided it would be fun to go on an actual riverboat ride, so we went on the Natchez.
http://www.steamboatnatchez.com/jazzcruise.html
It is a real steamboat, paddle driven, which is rare, and we went to the engine room and saw the massive machinery that runs the paddle. The thing I found most interesting on the cruise was that as you are on the river, there are places where you actually look down on the roofs of the buildings...you are higher than they are! The levees and dams have been made to hold back the river and the ocean, so that New Orleans is actually below sea level by about eight feet.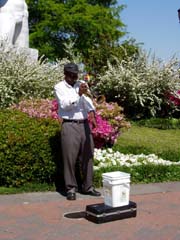 The scenery of the Mississippi River as it approaches the Gulf is not very pretty. It is mostly industrial, and there are lots of storage tanks, barges, etc. It is a much bigger river than when it leaves the little stream in Minnesota! They did have a very good jazz trio playing on the riverboat, so we watched and listened to them for quite a while.
From the riverboat, we headed back down to the French Quarter, and to a place called "Cafť du Monde". It is a cafť specializing in beignets and coffee and is a bit of a tourist attraction itself. A beignet is a fried roll served hot, smothered in powdered sugar. Their coffee and coffee au lait taste great too, and it was topped off by a saxophonist just outside the cafť playing beautifully while we tried to eat as gracefully as possible without getting covered in powdered sugar.
From there we headed to the car, and attempted to leave the city. It was not easy. The narrow streets, running hither and thither, did not want to lead us to the bridge that would put us on the other side of the Mississippi where our motel was located. After seeing more of the city than we had planned, we finally found the access, and headed to the motel.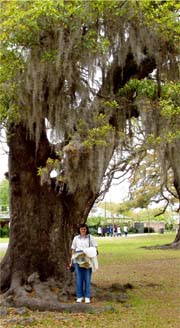 The next morning we headed back to New Orleans, and to the Audubon Zoo. It is a very large place and has some beautiful displays of animals from around the world. The first display we saw was a large group of flamingos, brightly colored, and beautiful. The zoo is divided into displays by continents, mostly, so we wandered the whole world, looking at the various myriad of diverse life we have.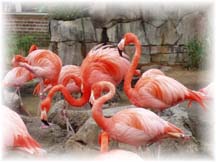 They also have an area devoted to the bayou or swamp lands of Louisiana, so we toured that also, and then headed out. It was a beautiful day to spend outside, with temperatures in the low 70's and sunshine.
We next headed off for a tour
of the bayou country, and the tour guide, and driver of the boat was a true Cajun. He had lived on the bayou his whole life, and made his living hunting and fishing. He had a thick Cajun/French accent.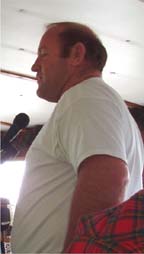 The bayou country is very different. It is a vast swampland that most would not consider livable. The alligators, poisonous snakes, mosquitoes, and other hazards make it a place I would not care for, but this tour guide, you could tell, loved it, and treasured the way of life he had.
The large cypress trees, hanging heavy with sphagnum moss, the spring water flowers, and the lush green did make it very pretty, and there were ample alligators around to remind you that this was not a very friendly environment.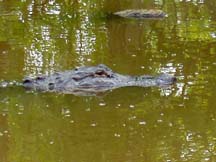 After the tour, we headed back to the motel, had a great meal in a nearby restaurant.
The next morning we headed out of New Orleans, back toward Gulfport and the flight back to Minnesota. It was an evening flight, so we had all day to spend. We walked the white sand beach near Gulfport, stopped at a shopping center to do a little window shopping, and found a few antique stores to visit.
In the afternoon, I was driving down a street in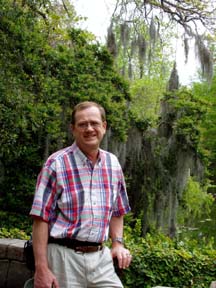 Gulfport, and noticed a "School Zone, 15 MPH" sign flashing, so I slowed way down. I got to a stop light that was red, so I stopped, and when it turned green, I accelerated. I figured the school zone was over, but I was wrong when I saw two police officers on foot ahead of me frantically pulling cars off to the side. I was one of them. A very large officer came up to the window, and stated that I had been going 36 MPH in a 15 MPH zone, and that he was issuing me a citation.
What was there to say? I figured it best to say nothing, even though I felt the area was poorly marked, and maybe a warning would have been appropriate, rather than a citation.
Addendum to that story: I called after we had been back for a few days, and the lady on the phone said, "That will be one hundred and sixty five dollars." $165.00!!!
I immediately wrote a letter to both the chamber of commerce of Gulfport and to the Governor of Mississippi. And then I paid the fine. Ouch. That ended my 43 years of driving without a ticked or even a warning.
That ended the visit to the south on a rather sour note. We headed closer to the airport, had a light evening meal, and went to return the car to the rental dealer.
Eventually, the plane arrived, we got on, and arrived in Minneapolis about 1:00 A.M. By 1:30 we had reached our vehicle, and were surprised to see a pretty thick layer of ice on it. I chopped and scraped my way to some limited visibility, and we headed home. The trees and grass shimmered in their icy coverings, but the roads were pretty good until we got further north and closer to Cambridge.
By the time we got on our back roads, they were very slippery, so I slowly crept back home to the safety of our driveway. It was well past 2:30 A.M. but we had made it safely, with many adventures and memories of our trip.
PS: The background of this page is a picture taken of sand at the beach at Gulfport, Mississippi.