Tampa/St. Petersburg, December 31, 2005-January 7, 2006
In order to get the days we wanted to fly back and forth from Florida, we had to get some times much later in the day. Because of that, we didnít arrive in Tampa until a bit after 10:00 pm,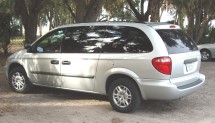 and we went to get our rental car. We had ordered a "full size" which is really a pretty small vehicle, but they didnít have any ready, so they offered us a Dodge Grand Caravan with 500 miles on it. It was MUCH bigger than what we needed, but it was new, and comfortable, so off we went. We stayed in Tampa, and celebrated the coming of the new year quietly in our motel.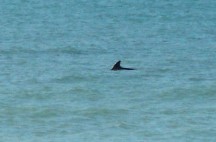 The next morning was warm, in the 70's, but a bit foggy. We headed off for Honeymoon Island State Park, and did our first beachcombing and hiking. Itís a beautiful beach, and we saw some dolphins swimming by.
In the afternoon we headed toward St. Petersburg and looked around the city, and did a little more beachcombing.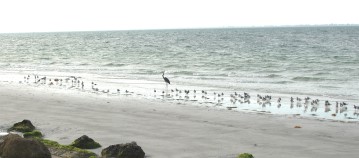 We used Tampa as our base for the first few nights, so we headed back and stopped at a restaurant for an absolutely delicious grilled shrimp dinner.
January 2, 2006 we headed off again, this time for the beach near Fort De Soto Park. It was another warm and sunny day which was quite a contrast to the cold and dingy weather we left in Minnesota.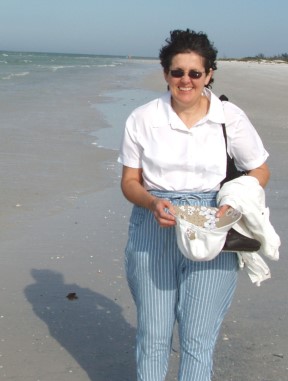 From there we went to the De Soto National Memorial. It was a partially reconstructed area with some re-enactors in costume and some information on Florida at the time it was being explored by the Spanish. We walked more, went to the beach for some beachcombing, and headed back to Tampa for another great seafood meal.
We drove on to Homosassa Springs State Park. They had a number of manatees there and a very nice refuge area.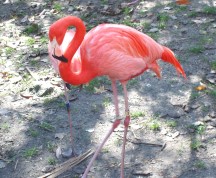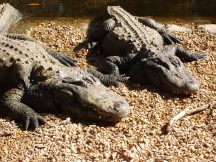 The park had once been a privately owned zoo, and there was still a resident hippopotamus there left over from those days.
We drove on to Crystal River Archeological Site, and walked around the beautiful grounds. There were gigantic burial mounds from centuries ago. That evening, more seafood and we went to see "KING KONG", a long but pretty good movie.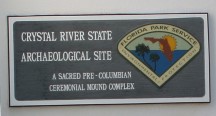 On January 4th we headed off toward Venice. No, not that one. Venice, Florida, and North Jetty Park and then Caperson Beach.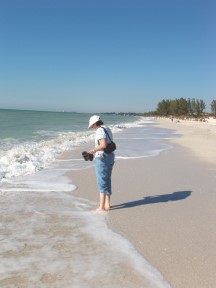 We spent some time searching for fossil sharkís teeth, which wash up on the shore. They are black and have the distinctive sharkís tooth shape, and we found quite a number as they washed up or were uncovered by the wave action. A number of other people were searching also.
Myakka River State Park was our next stop, where we went on a scenic drive and then a large airboat ride.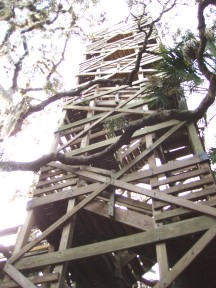 It was bit cool, so there were not a lot of alligators or wildlife to be seen, but we did see several laying on the shore, and many large birds of various types. We walked through a forest of palm trees, and climbed a 7 or 8 story observation tower. Joan was not thrilled with the climb or the swinging bridge we needed to take to get there, so we did not tarry long, and headed down, and back to the minivan.
The next day was spent mostly on the road heading toward Sarasota, and then a brief stop at The Marie Selby Botanical Gardens.
The next day proved to be much cooler, but we went to the beach anyway, jackets and hats at the ready. It was very windy, but the sun shone, and there were many birds around. We went to Lido Key, and Lido Beach, and then South Lido Beach, and then to the Mote Aquarium. Back to the motel, and then we walked a little ways to a wonderful restaurant called "Barnacle Billís". It had won an award as the best seafood restaurant in Sarasota, and we could tell why. We ate there three times in total, and it was excellent every time, and so convenient to the motel.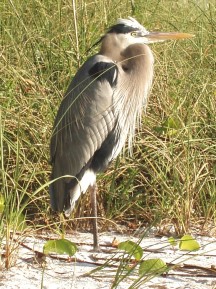 The next day was cold for Florida, the low 40's or so. We again dressed for the cool, and headed to a number of different beaches: Treasure Island, Madeira, Indian Rocks. Beachcombing was great with some beautiful large shells, and very few other people.
We walked one more beach in the morning, before heading toward Tampa and our evening flight.
In the afternoon we went to Lowry Park Zoo in Tampa, which has a variety of animals from around the world including elephants w
ith a baby, giraffes, flamingo, etc. They also had a great manatee exhibit. We also went to the science museum, and then the airport and arrived home in Cambridge at about 2:30 in the morning.
Be it ever so humble, thereís no place like home.