Texas, October, 2007
We started out early on October 8th toward the south. We didn't leave too early though because we really didn't want to hit Minneapolis at the peak of the morning rush hour. It was dismal and raining.
The first day we just drove. We headed south through Minnesota and Iowa, and reached Kansas. I really wanted to get through Kansas City so we wouldn't hit the rush hour that morning, so we drove through to a southern suburb called Emporia, and stayed there for our first night.
The next morning the sun was just rising as we headed off again, driving through the rest of Kansas, Missouri, and Oklahoma. We stopped at a couple antique malls just to break up all the driving, and at a very pretty little park with a waterfall. We hiked a bit, and then headed toward Texas. We stopped at a southern suburb of Fort Worth for the second night. It had been a couple of pretty long days.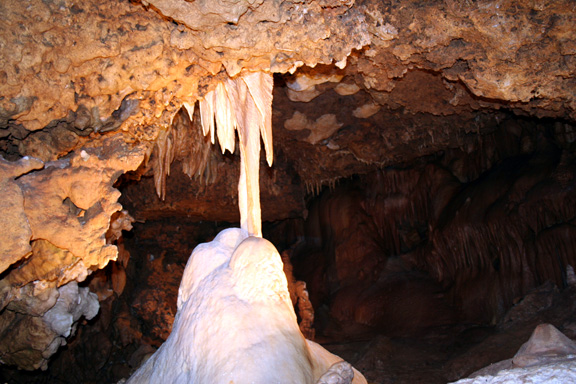 We stopped at "Inner Space Cavern" the next morning and took a tour of a cave system that had been discovered when they were putting in a bridge for the interstate. Speaking of interstates, it's interesting that we took Interstate 35 literally all the way down. It is about 15 miles east of Cambridge and heads all the way to San Antonio. Back to the cave. It was surprisingly warm in the cave because it was not a deep cave, only a hundred feet or so.
From there, we headed to the Alamo. It's so surprising to me how this is right in the heart of the city, and the skyscrapers actually cover up some of the original foundations! The day was sunny in the high 80's.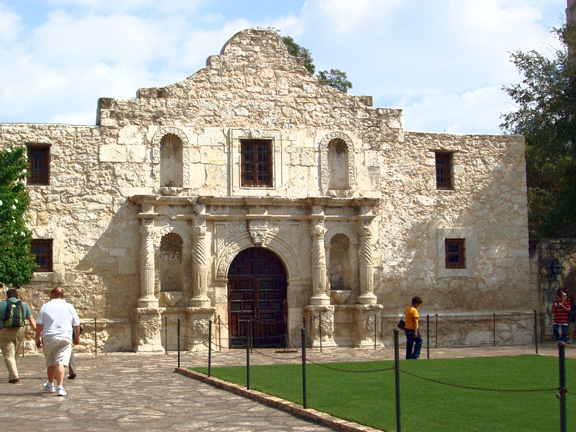 There was a number of exhibits of artifacts from Texas' history, including Davy Crockett's famed rifle, and many that were connected with the battle for independence.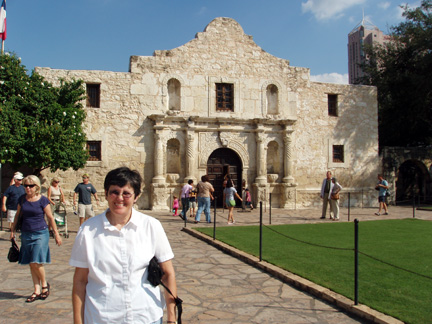 Inside the mission was the most interesting because you could see where the last battle had taken place and where the women and children had been cloistered during the last hours. Unfortunately, they did not allow any pictures to be taken inside of the rooms or the artifacts.
We got a motel room within walking distance of the Alamo and the River Walk, which is a walk along a small river that has been modified to allow pontoon boats to shuttle sightseers through a portion of the city, and with many shops and restaurants located right next to the river. We had a terrific Itali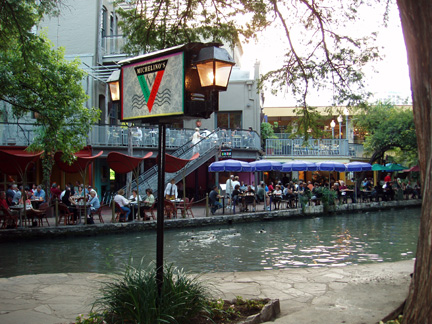 an meal there.
The next morning we drove to the part of town that was older with quite a few mansions, and then headed out of the city for our slower return north.
We stopped at the "Natural Bridge Caverns" for another tour of a cave system, much larger and longer than the first one we had taken.
It was warm in this cave also, and very high humidity. Some very interesting formations and a bit of exercise.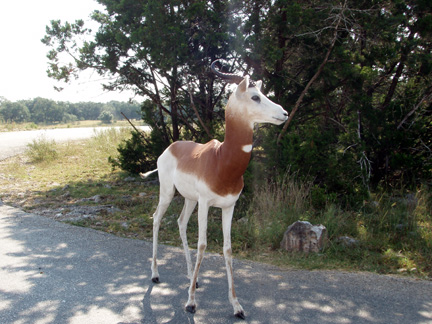 Next to the cave was a "Wildlife Safari" where you could drive through an area and see exotic animals out in the open, with no fences between you and the animals. There were several types of hoofed animals including elk, buffalo, water buffalo, African antelope, etc.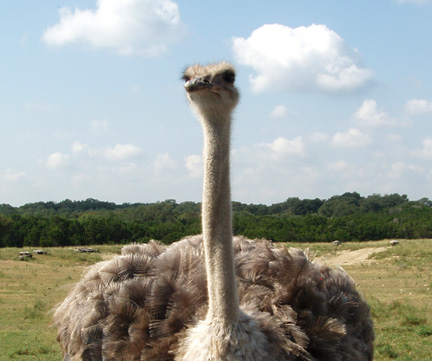 There were also ostriches and emus, and Joan almost had too close of an encounter with a hungry ostrich when she put down the power window to throw out some food that was provided. The ostrich saw the window open so came directly toward the open window, towering above it. Joan pushed the button to get the window up, and it went up at slow and steady speed just barely going up before the ostriches head would have come inside the car. I was thinking how interesting it would have been if she had been a little slower, and the ostrich had partially joined us inside the car!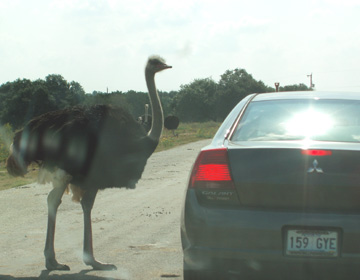 From the exotic animal drive we headed north a bit further to an historic little town called "Gruene", and walked around a bit and had a very good meal.
We headed north a bit more, stopped for the evening, and ate at a great restaurant.
The next morning we drove further north and stopped at "Dinosaur Valley State Park" at Glen Rose, Texas.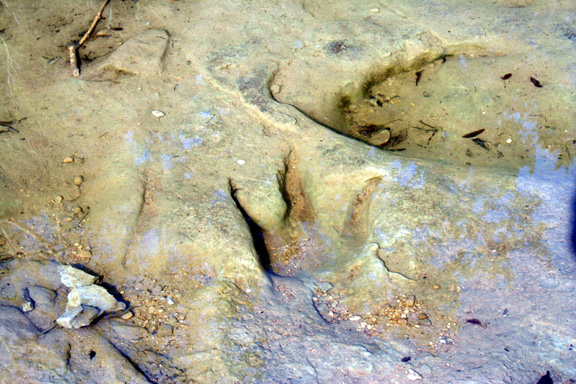 It was another warm and sunny day, very enjoyable to be outside. The park is known for its dinosaur tracks, some of them right in the riverbed that has water flowing. There were three different kinds of tracks, the first picture is of the three toed meet eater, the others were sauropods and trachodons, which were more like tree stumps.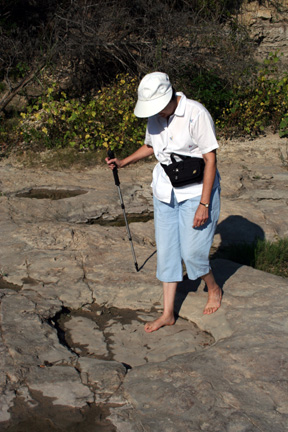 We waded across the creek to see more tracks, some of them quite large! There had been an art exhibit at the park several years previous and some dinosaurs were displayed so I couldn't resist taking a few pictures of them. It truly boggles the mind when you consider the immense size of these creatures.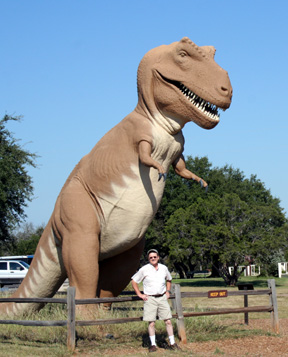 We attempted to see a couple of other sites that same day, but one was blocked with an accident on the highway, and the other by flooded waters, so we headed north into Oklahoma, and found a motel for the night, had a great meal at a restaurant called, "Two Frogs", and called it a day.
The next morning we got a bit more serious about heading north and drove to Kansas. We did stop a number of times during the day if we saw any antique places that were open, but we found no great treasures on our journey. We stopped just south of Kansas City.
From Kansas, we headed north to northern Iowa again stopping for the night in Clear Lake, which is best known as the place "where the music died", when Buddy Holly, Richie Valens, and the Big Bopper died in a plane crash in 1959.
The weather turned cold and a bit blustery as we got into Minnesota and back to Cambridge, but it was fun trip, lots of miles, lots of sights seen.
We got home mid afternoon on Monday, so we had been gone a full week.
Observations? It's a great big wonderful world out there, and there is so much to see and appreciate. Sometimes a long car ride can give a perspective as to how much unspoiled land there still is. I think the Alamo was the highlight of trip, followed closely by Joan almost getting eaten by an ostrich.