Seattle and Vancouver Island,
June 21-29, 2005
Okay, it wasn't the most brilliant plan. Have your 60th party in the evening and then have to leave for the airport at 4 A.M. But that's the way logistics turned out. It was really fun party, and actually by 11:00 everyone was gone and the place was pretty well cleaned up.
The flight to Seattle was uneventful, which is always good. It was cool when we arrived about 10:00 A.M. We rented a car, a Chevy Impala, and headed out of Seattle toward Port Angeles. We went to the harbor, and there some tall ships there. There was going to be a gathering of them sailing for Victoria the coming weekend and it was really big deal with lots of publicity.
We got our motel room for the evening, looked around Port Angeles, and ate at a very nice restaurant not far from the motel.
Early in the morning we headed to the ferry to take us to Vancouver Island, with the destination of the city of Victoria. What a beautiful city!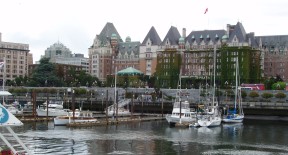 It is very European in appearance, with flowers, especially roses, everywhere. We walked about the harbor area, went to eat at a small cafe that had fresh seafood, and went to the Royal British Columbia Museum that had some wonderful displays, especially a wooly mammoth and display of totem poles from the area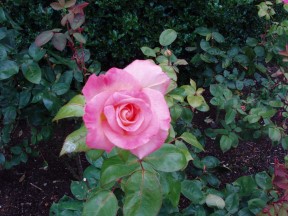 . After lunch we went on the Marine Scenic Drive, very aptly named. The homes are amazing, with lawns full of large flower beds, often only roses. We also drove up almost to the top of Mount Douglas, then walked to the top to get a panoramic view of Victoria and the harbor.
We stayed on a street that was close to a backwater of the harbor, and they had beautiful paved trails next to the stream.
Early the next morning we headed toward Goldstream Provincial Park and walked to two different waterfalls and among large stands of giant cedar. The weather was perfect, in the low and mid 60's with sunshine. If you look very carefully at the waterfall, you will see me standing at the base.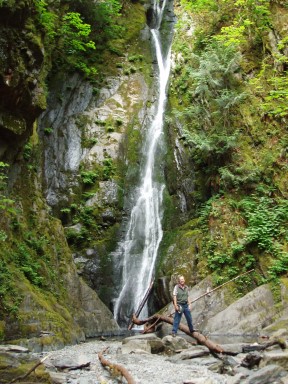 This was actually called Niagara Falls. I don't know why.
After lunch we headed toward Butchart Gardens, which is simply an amazing display of flora that has converted an old abandoned quarry into a thing of beauty.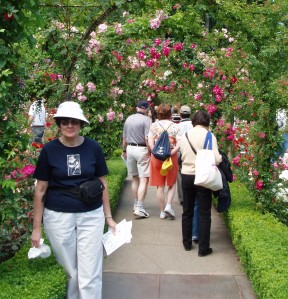 Again, roses seemed like the most ubiquitous of the blooms, but there was a variety of all sorts of annuals, perennials, shrubs and trees.
Again, the weather cooperated wonderfully, and it was a beautiful day to stroll through the gardens.
After the gardens we headed back toward Victoria and stopped at a local winery.
Their specialty was wine made from locally grown kiwi, which is apparently very ugly in appearance, so no one wanted to eat them. Therefore the crop was available for winemaking and had become their niche. We bought a couple bottles of more conventional wines after tasting quite a number.
We drove to a local beach to do some beachcombing, but it wasn't very nice, so we headed back. The next morning we headed away from Victoria toward less populated areas.
We stopped for quite a while to tour the city of Duncan, which has totem poles all over the city.
The totem poles are various sizes and shapes, with this one with Joan standing by it one of the bigger ones.
They offered a walking tour of the city so you could see most of them on foot.
We also went to the "Quw'utsun Cultural Center" and were the only ones there so we got our own tour with a Native American tour guide who gave explanations as to the symbolism of the various totem poles and customs.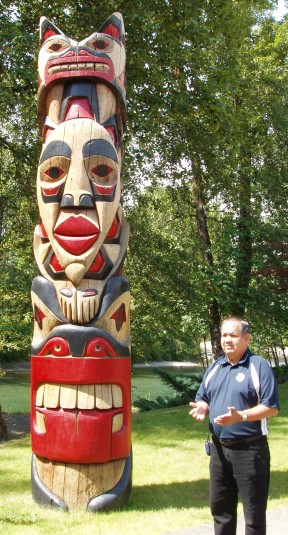 It's a pretty new cultural center, and very interesting.
From Duncan we drove on again until we came to a city called Chemainus. They had an antique mall, so we stopped, but when one is flying, it's hard to think of buying much, so we ended up with only one small book. The city of Chemainus is noted for their murals which are on the sides of many, if not most of their buildings in the downtown center.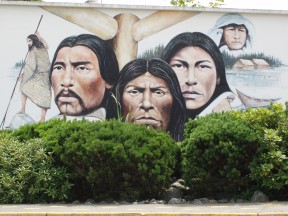 From here, we headed to another place called Parksville, where we spent the night. We walked along the harbor in Parksville where I noted an interesting sign in one of the windows. Anyone looking for some rather different employment?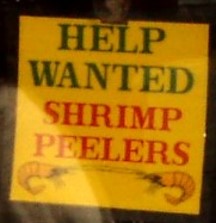 We headed out to a beach that had receded perhaps half a mile so we could walk on the sea bed and examine it. There were lots of sand dollars, shells, crabs, and various little underwater creatures.
We returned a few hours later, and the sea covered the entire area.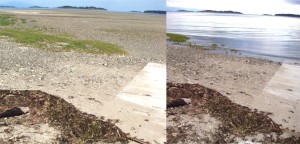 We stayed in an older cabin for the evening, and took off early in the morning for more remote parts of the island toward the west coast. We stopped in Port Alberni and watched the boats go up and down the fjiord for awhile, and then headed up and over the mountains. When we got to the coast, we went to the Pacific Rim National Park. We had a wonderful lunch at the visitor's center....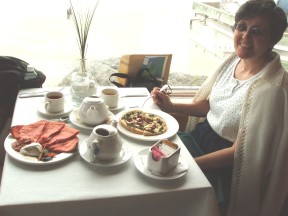 Joan had a "chicken/cranberry pizza" on Indian fry bread, and I had a smoked salmon fajita.
Delicious. Then we headed toward the beach. The area is noted for its tide pools, and it was easy to see why.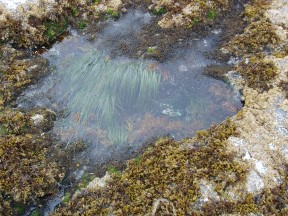 Lots of little creatures managed to either get trapped or call the little pools their homes while the tides wax and wane.
I would be remiss if I did not mention slugs. They are found all over if you look for them. We found out the black slugs are not native to the area, but the banana slugs are.
Here is my best banana slug picture: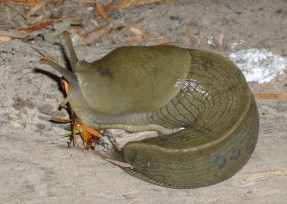 Much of the area we were in was very moist and like a rain forest, so they are in their element, no doubt.
We spent quite a bit of time at the tide pools before heading off for another remote town called Ocluelet. Here we hiked on the Pacific Rim Trail. We talked to one lady who had just finished a six day hike along the trail. Our trek was much shorter. By six days. There were posted warnings for bear, cougar and wolves along the trail, but we didn't see any of them.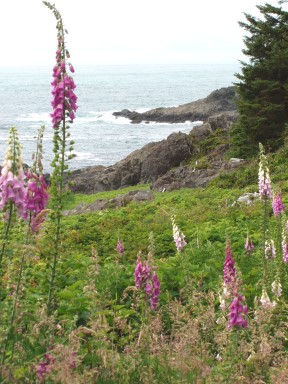 I was amazed at the beautiful variety of color in the foxgloves that were found in great abundance, ranging from white to pink to purple and combinations of all of them. They are a beautiful flower, made more beautiful in the surroundings.
We headed back on the only road that goes to that area, and stayed the night in Port Alberni. We had another delicious meal of fresh seafood at a local restaurant.
Sunday, June 26th brought us back to the mountains, more very crooked and narrow roads, and lots of beautiful scenery. We stop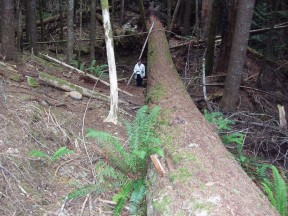 ped and hiked in an area called Cathedral Grove under giant cedars and redwoods, and I took this picture of Joan standing next to one that had fallen.
From there, on toward Sooke and then to Port Renfrew, which is about as remote a little place as you can probably find on Vancouver Island. There is one road in and the same road out, and it takes you about 90 minutes to get there on a narrow twisting mountain road. We stayed at a place called "The Trailhead Resort", and it was very nice. The TV had one channel.
Luckily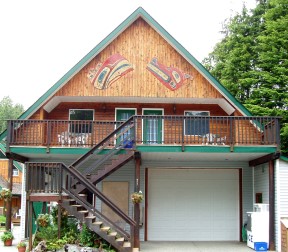 , there was a wonderful restaurant within walking distance, so we had two absolutely marvelous meals there. I had a fresh halibut with a Thai sauce that was just excellent and blackened prawns the second night that were some of the best I'd ever eaten.
Botanical Beach Provincial Park was within easy driving distance, so we went there and walked through the tide pools.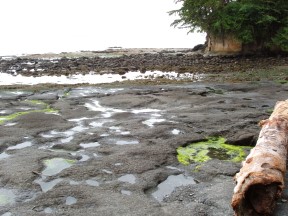 The variety of sea life in these tide pools is really amazing with sea urchins, anemones, small fish, crabs, and so on.
The next day we went whale watching in a Zodiac, which is basically a rubber raft, albeit a big one. It had two 225 horse engines, and cut across the water pretty darn fast! We traveled at about 25 knots most of the time, and depending on the wave action, we could get bounced around pretty well.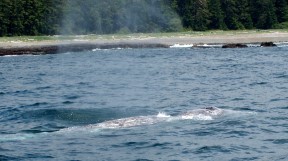 The good news was that we had plenty of room because we were the only passengers! He didn't usually go out with just two people, but he had gotten a new telephoto cam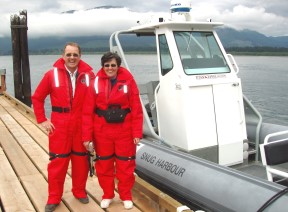 era, and wanted to test it out. We saw some beautiful beaches, some great scenery, and about seven gray whales.
Soon, it was time to head back toward Victoria to catch the ferry back to Port Angeles in the United States. We were some of the last to catch the ferry, and got back about noon. We ate at Port Angeles, on the harbor, and then headed to Hurricane Ridge in Olympic National Park. What beautiful scenery here also!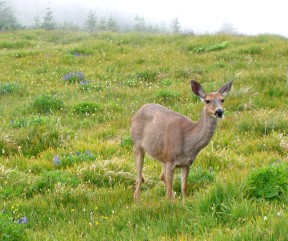 There were some deer munching close to one of the trails, and they were not afraid of humans at all.

The fog rolled in and out, sometimes blocking the view entirely of the area, but it makes for nice photographs. This is one of my favorites: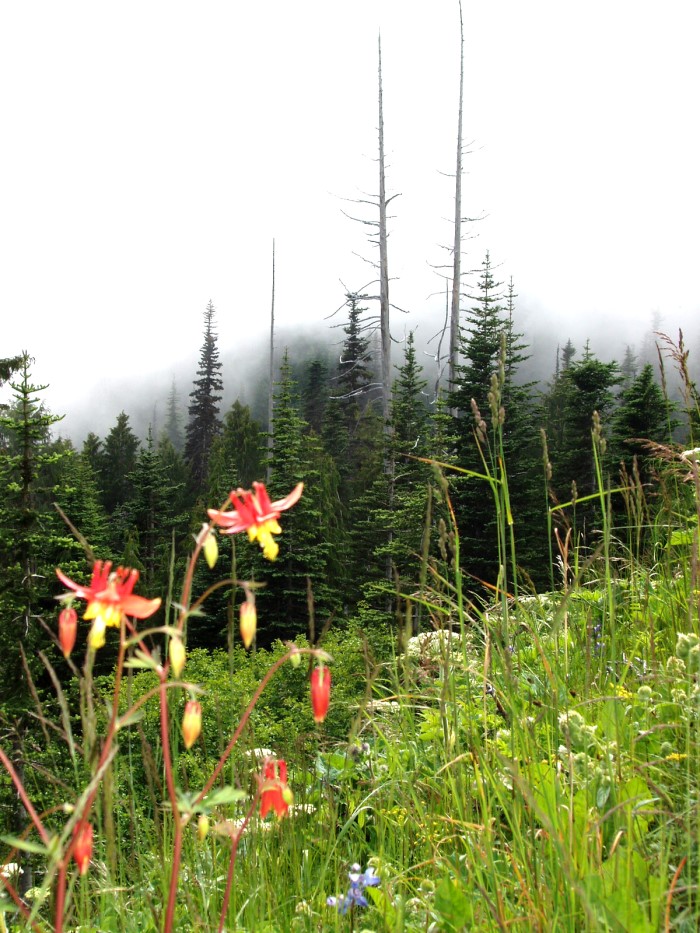 We spent a little time at the Tacomoa Zoo the last day of our stay, since it was a late afternoon flight, and then it was time for the flight home.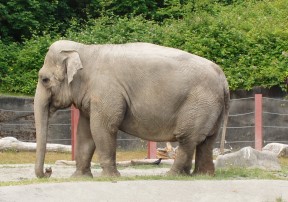 We were delayed in Seattle and then delayed again by a nasty lightning and thunder and wind storm at Minneapolis, so it was about 2:30 A.M. by the time we got home.
Great trip, great scenery, go see it if you get the chance.