Utah, October, 2009
We had a late afternoon flight to Las Vegas, and it was about an hour late. The flight was fine, and we landed and got our rental car, a bright blue Dodge Charger. We headed to the Red Rock Casino for a supper meal with a girlfriend of Joan's from her high school years, and then headed to the motel in northern Las Vegas.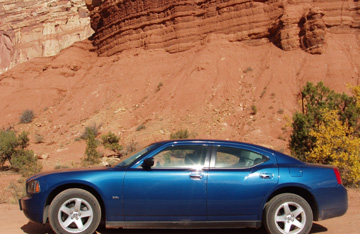 The next morning we headed out toward Arches National Park in Utah. We drove northeast for the majority of the day and just before Arches, stopped at a little place out in the wilderness far down a dirt road called "Sego Canyon". There were several petroglyphs and pictographs, some of them around 4,000 years old.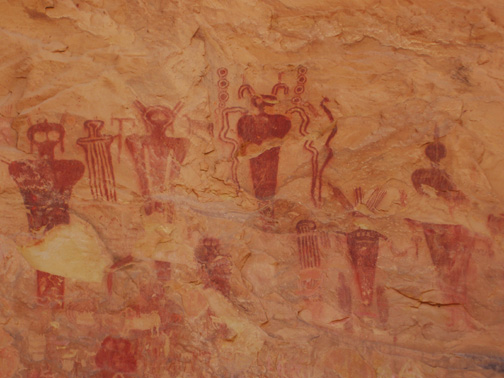 As you can see from the pictures, these Indians were definitely visited by aliens, or so it looks like from the pictographs.
In case you are interested, petroglyphs are scratched into the rock, usually scraping off a dark layer so the figures shows up, and pictographs use dyes to actually stain the light colored rock a different color.
After exploring this area, we drove to Moab, where we would be staying for the next three days. We had a wonderful meal at the Moab Brewery and Restaurant.
The next morning, early, we headed to Arches National Park. We were early enough that we were pretty much alone. We walked to "Balanced Rock", and then to a number of other arches in the park.
The weather was cool and a little cloudy with rain threatening, but it really never appeared, and soon the clouds cleared. The country is marvelous. It's such a change from we left in Minnesota with the red rock landscapes, the amazing shapes from erosion, and the challenging hills and valleys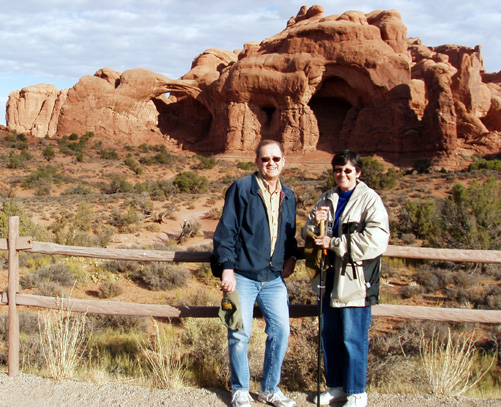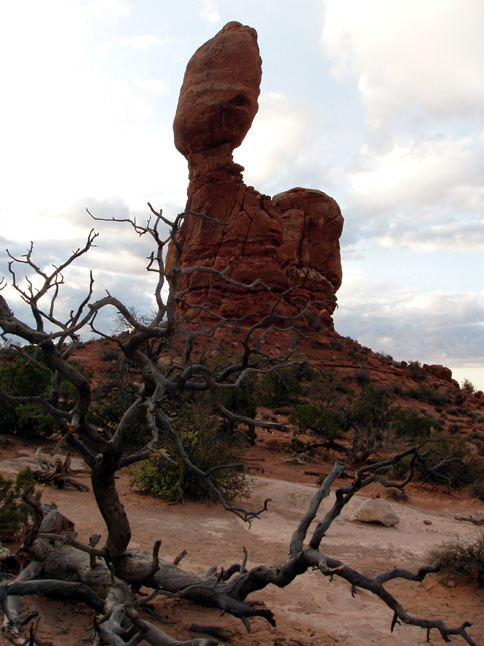 Soon we headed back to the car for more driving. The roads were good, but very crooked with sharp hairpin curves in many places. This would be nothing like we drive in a few days, however!
One of the most famous arches in the park is called "Delicate Arch", so we felt we should go and see that. That led to our first adventure.
The literature said that it was a mile and half hike to the arch. The steepness of the trail wasn't really mentioned. As we started out, we could see, far in the distance, and rather large hill, and tiny little figures just barely visible high above us. It was a bit daunting, but since that was where the arch was, we decided to head on. It was slow going. Part of trail was fine, but then another part was on what was called "sliprock", kind of smooth and a little slippery layer of rock that ran throughout the area. Get a little loose gravel on it, and it was even slipperier.
After much climbing, numerous rests for a drink of water, and to catch our breath, we reached the top, only to find that we had to walk on a relatively narrow trail on the side of the steep hill with a rather steep dropoff on the other side. Finally, though, around the corner we came to the very impressive large arch that we had hiked so far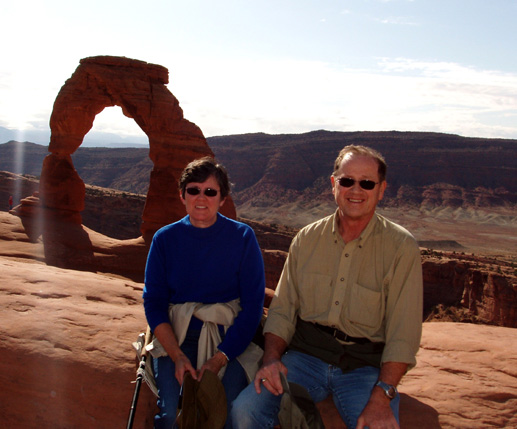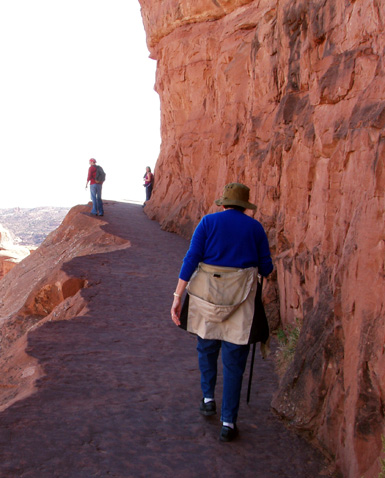 to see.
The hike down was easy. We stopped to see some more petroglyphs, and then headed to a couple more scenic areas. One area we wanted to see was very crowded with maybe 100 cars, so we decided to wait and head back there in the early morning.
We headed back to Moab for a late lunch, and ate at a very nice Italian restaurant. Our legs were a bit achy from the climb, so it felt good to just sit and relax a while.
Later in the afternoon we went for a drive along the Colorado River and saw more petroglyphs and pictographs and steep canyon walls. Some people were climbing the sheer cliffs. This has absolutely no appeal to me, and even less to Joan.
The next morning, bright and early, we headed to Canyonlands National Park, also close to Moab. This park is a high plateau, and has steep canyons that have eroded over the millions of years. We walked to another beautiful arch called "Mesa Arch". It was huge and you could walk right up to it.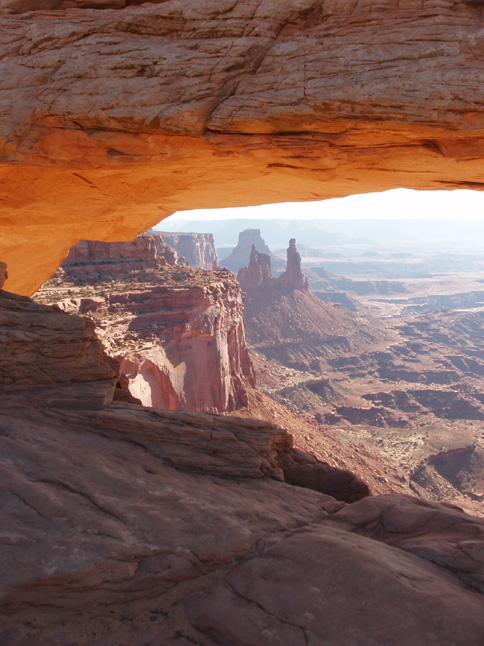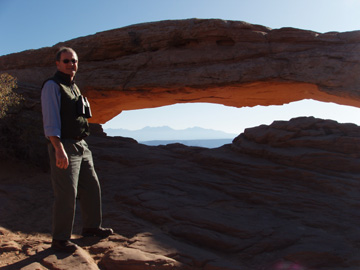 The scenery was, again, spectacular throughout Canyonlands National Park. We drove further into the park, and gained quite a bit of altitude. It got cooler, and at literally the end of the road we walked around at "Grand View Point".
We headed back to Moab for a relaxing lunch and shopped a bit. Moab is a very nice city, and caters to tourism as its main industry, so there were many shops to look in. We went to a wonderful rock shop that had some marvelous displays of fossils and minerals, and bought a couple little souvenirs of Moab.
Later in the afternoon, we headed off for another drive on Highway 128 which again was made of steep canyon walls and crooked roads. After a pretty full day, we headed back to the motel to clean up, eat a delicious evening meal, and a quiet evening.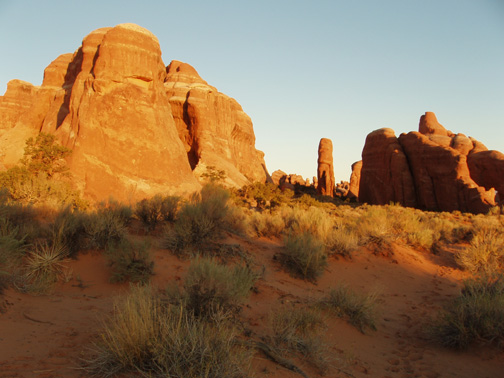 On Saturday, October 10th, we headed back to Arches National Park in the early morning to see the sun rise in that area that previously had about a 100 cars. There was no one else there, and we hiked into the "Devil's Garden" area all alone. There was a chill in the air, but the sky was clear, and it was incredible to see the first Sun's rays strike the red rock to make a brilliant orange landscape.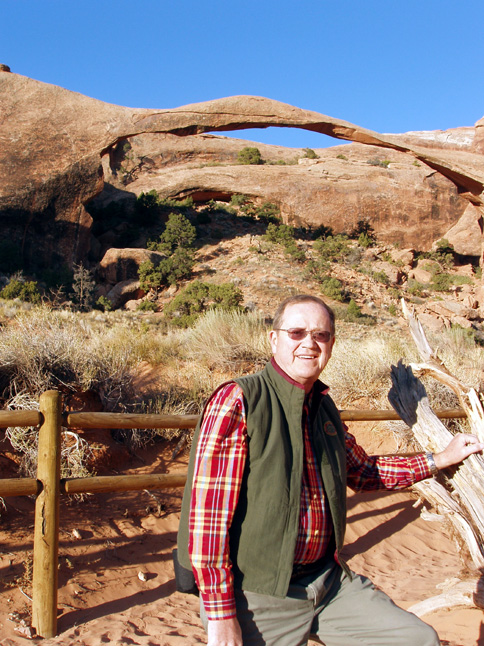 After a walk back on the trail, we came to another very large arch, this one known as "Landscape Arch" It was thin and fragile, and they had it fenced off so you could not get close to it as a safety precaution.
We hiked to another smaller arch, and then headed the mile or so back to the car, and on toward Capitol Reef National Park.
This park was again different than the others. There were white formations, some formations that had sparkly crystals that looked like diamonds shining in the sun, and some that were the red rock so common in the entire area.

The road went back far into the park, and soon the pavement ended and we had the option of driving back further on a riverbed that is used as a road when it has dried up. We drove back a couple miles on the narrow bumpy road, and parked the car in a small area that had been used by other cars before, and we walked further down the riverbed perhaps another mile or more. There were several petroglyphs on the wall along the way, and many pioneers had carved their names into the blackened rock surface, exposing the whiter rock underneath. The canyon got narrower and narrower, and the walls steeper and steeper.
Soon, we headed back to the car, and drove out the riverbed and headed to the city of Torrey to get our motel room for the night. We had read about a great restaurant called "Cafe Diablo" so we went there for our evening meal, and the meal was fantastic! It was a gourmet meal with beautiful presentation, and probably one of the best meals of our trip.
The next morning, Sunday, we headed down Highway 12 driving toward Bryce Canyon National Park. On the way, we stopped at a state park that had some Anasazi Indian ruins that had been excavated and rebuilt. Highway 12 ended up being quite an adventure! It was a scenic drive, but the road was a true mountain road with sharp hairpin curves and unprotected dropoffs. Part of the road dropped off steeply on both sides of the road, so we drove on this tiny sliver of land.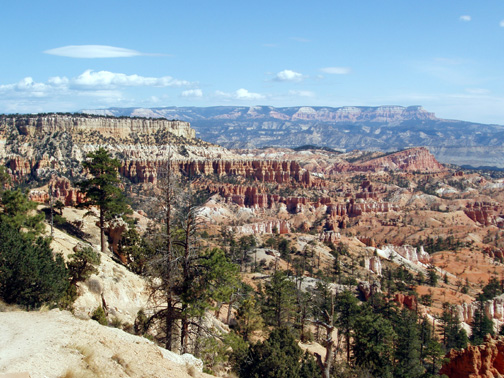 We arrived at Bryce Canyon, and after a light meal, we headed for another hike from Sunrise Point to Queen's Garden. This was quite a hike. First, you walked down a winding trail for almost a mile, then you stayed in the canyons for about another mile, and then the most challenging, you have to climb back up that mile you first went down! The shapes and colors and magnitude of Bryce Canyon National Park is incredible.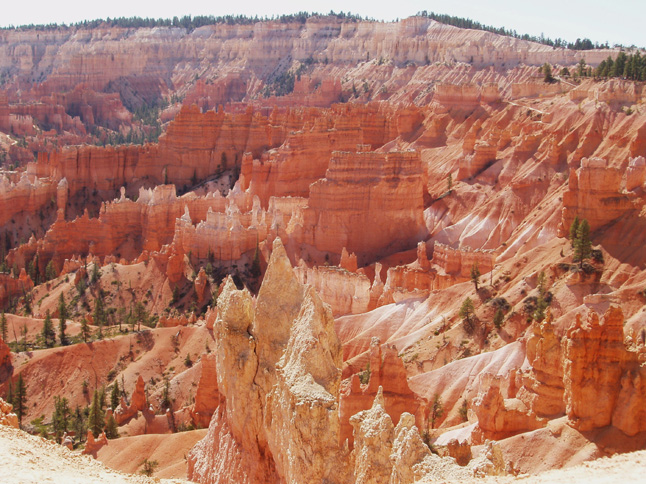 The colors were the brightest, the pinnacles and peaks absolutely amazing. The altitude is around 7,000 feet, so there is less oxygen available than we are used to.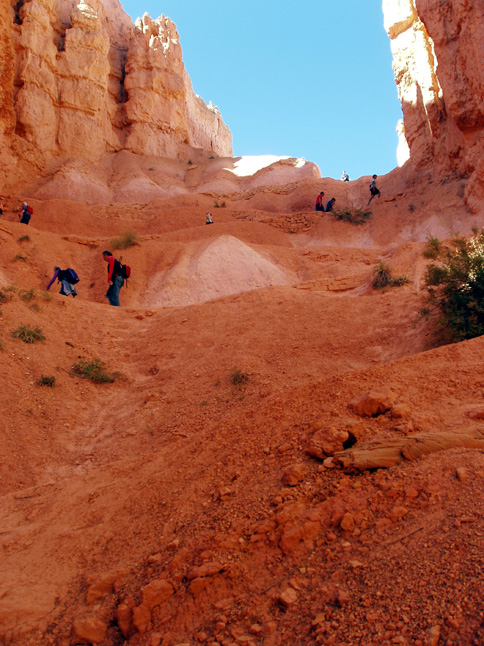 The climb out of the valley was about 7/10 of a mile up, and it was relatively steep the majority of the way. At points, the trail zigzagged back and forth on a narrow trail, switchback after switchback. The picture to the left shows a picture of people above us on the trail out of the canyon.
We were pretty tired by the time we got to the top of the trail, but we could see why some of the literature called this "The world's best three mile hike". It was beautiful and memorable.
We drove through other parts of the park, including an area that had had a recent forest fire, and took in some more views before heading for our evening meal and the motel.
Early in the morning we went back into the edge of Bryce Canyon for a sunrise view of Fairyland Point, and then on toward Zion National Park.
We took Highway 9, which was quite an experience in itself. We drove through a tunnel that was 1.1 miles long! It had been built in the 1920's for vehicles at that time, so it was pretty narrow by today's standards.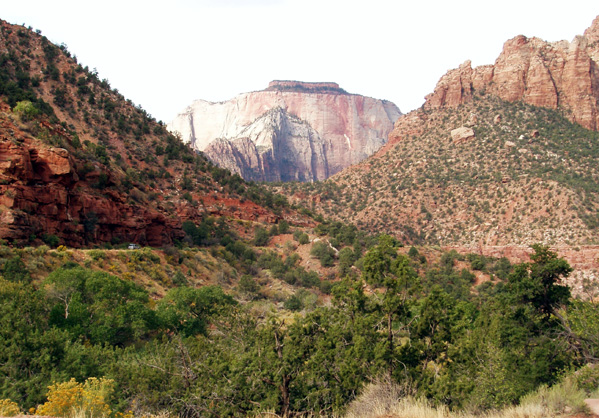 Large trucks and trailers have to be escorted through while traffic is stopped from the other direction. There were a few "windows" put in throughout the tunnel, probably for an air supply.
Zion reminded me of Yosemite in some ways with the mighty hills that looked like granite. Zion National Park controls the traffic in the park by the use of free shuttles. You need to park your car at the entrance, and take the shuttles to the various locations. While there are lots of shuttles, with very little waiting, this does put you in with the crowds, so we seldom had places to ourselves as we often do.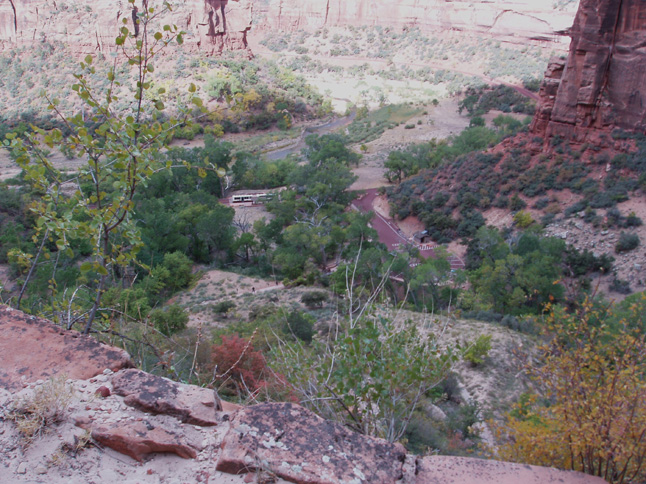 We took one more steep hike while in the park.
We actually took a wrong trail, and ended up walking longer and higher than we had planned, but the view was terrific.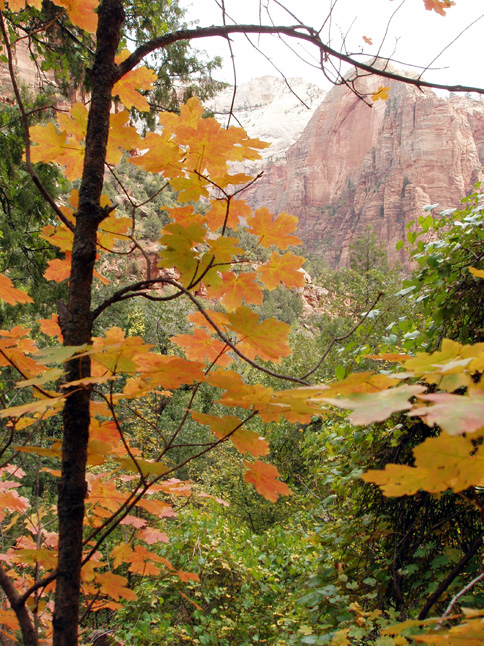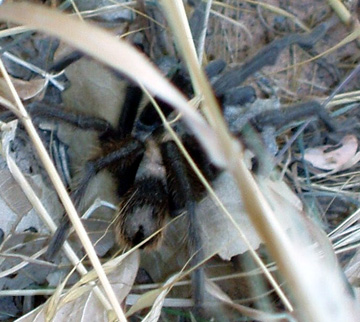 We went on a couple more hikes in the park, and on one of them, we ran into a creature we had never seen in the wild before....a tarantula! It was on the side of the trail, and we wouldn't have noticed it but there were other people who had spotted it and they were taking its picture. It was large, maybe four inches across!
Later in the afternoon, we headed back for our evening meal and the motel. We had a delicious handmade pizza at a very nice restaurant close to the motel. The setting was very nice, tucked right into the scenic hills.
The next morning, Tuesday, we headed toward Las Vegas and our late afternoon flight. On the way, we stopped at a neat state park called "Valley of Fire". It was a very nice and interesting break to the drive, and we spent a couple hours there looking around.
We went on a long hike down a sandy creek bed that had numerous petroglyphs on the canyon walls.
It was a pretty hike, though the shifting sand sometimes made walking difficult. It was warm with the sun shining down on the desert landscape.
One of our last hikes was to a number of petroglyphs that included drawings of a man throwing an atlatl (pronounced at-LAT-ul), which is a primitive throwing stick that preceded the invention of the bow and arrow.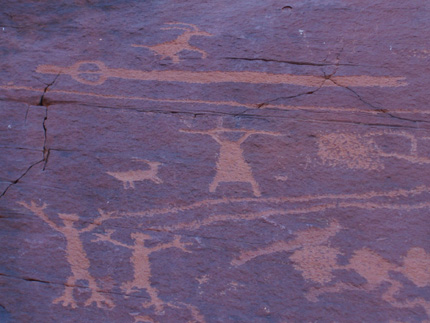 Since I have an atlatl myself, and throw it periodically, I was anxious to see that.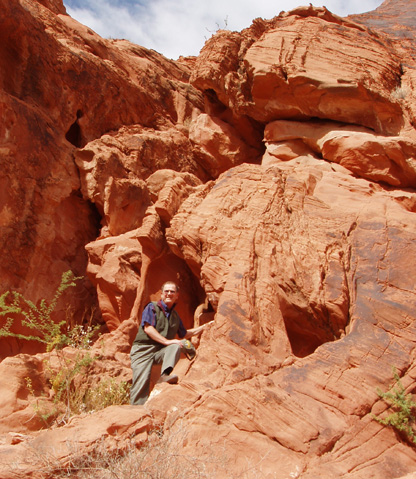 I climbed a steep path to get a glimpse of one more arch before we headed out toward Las Vegas.
The Dodge Charger had been a good car. The only criticism I have of it is that it is a bit low, and we "bottomed out" a couple times on a couple of rough areas on dirt roads.
We returned the car to the rental agency, took the shuttle bus to the airport, took the tram to the right terminal and waited for our flight. There are lots of slot machines in the Las Vegas airport, so I did a little gambling, and won $100.00. Being my wild and crazy self, I immediately cashed it in.
Our flight was basically on time, and we got back home about 1:00 A.M.
A fun trip, with lots of sights, a few adventures, and great memories.