Australia, March 12-April 2 PART 3
Doug picked us up from the bus terminal. Patsy with working with their daughter, Amanda, at her "Eclectica" shop, so Doug drove us around the industrial part of the city and we saw many of the old buildings and colleges in that area. That night Doug drove us up to see the lights of Geelong from a hilltop look out tower. We also went down to the harbor and walked past the restaurants there.
We also saw several more "bollards" carved in the likeness of historic figures of Geelong. They really are interesting, and a great tourist attraction for the city.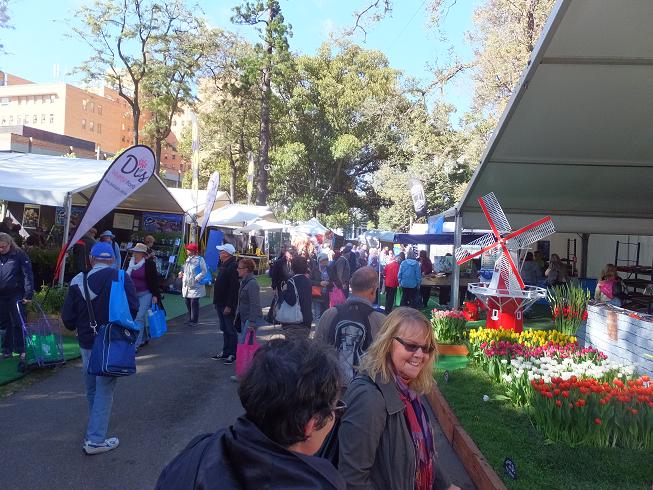 On Thursday, March 26, we caught the train in Geelong to go to Melbourne to the flower show.
There were lots of beautiful exhibits outside and also inside a beautiful old exhibition hall that had once been the parliament building. The inside had a lot of ornamentation and beautiful paintings. We ate lunch there.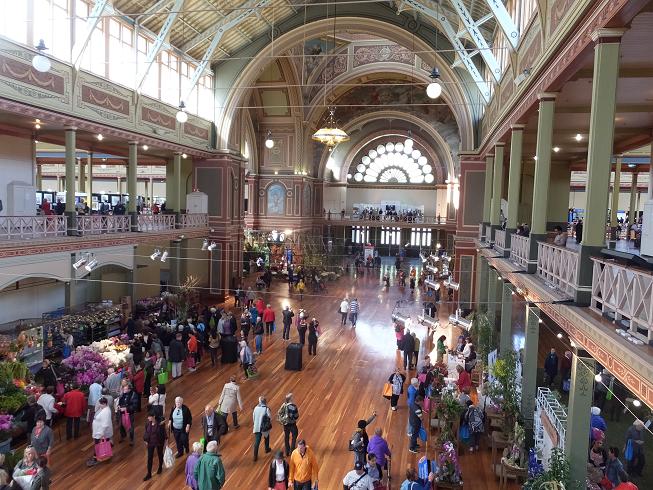 There were also the young women in the flamingo costumes wandering around, which I never did quite figure out.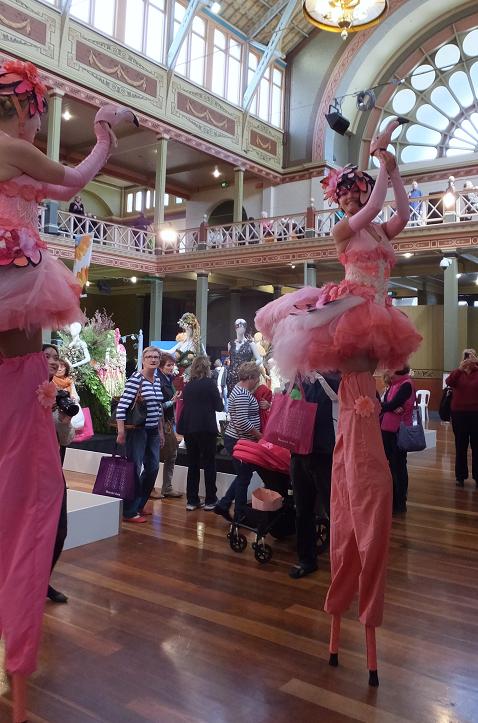 We rode a trolley to the downtown. It was very busy with people everywhere. We went inside the St. Paul's Cathedral to see the beautiful stained glass windows and mosaics. Above the altar was a fabulous mosaic that had gold leaf pieces.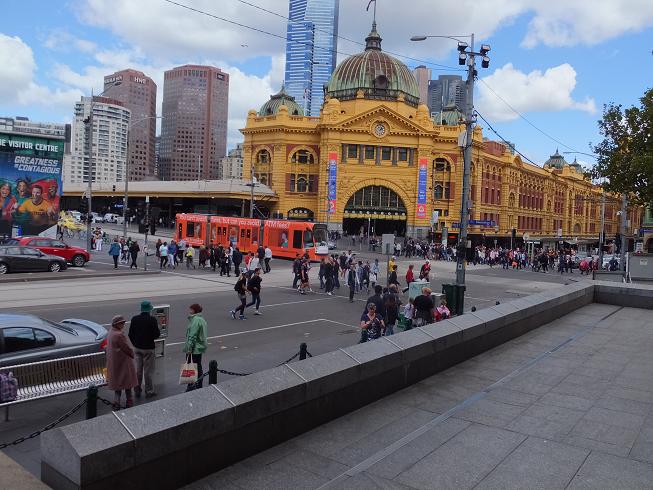 There was a courtyard nearby with a huge screen that anyone passing by was shown on. We walked over a bridge and walked along the river walkway to another bridge to catch a trolley to take us back to the central train station.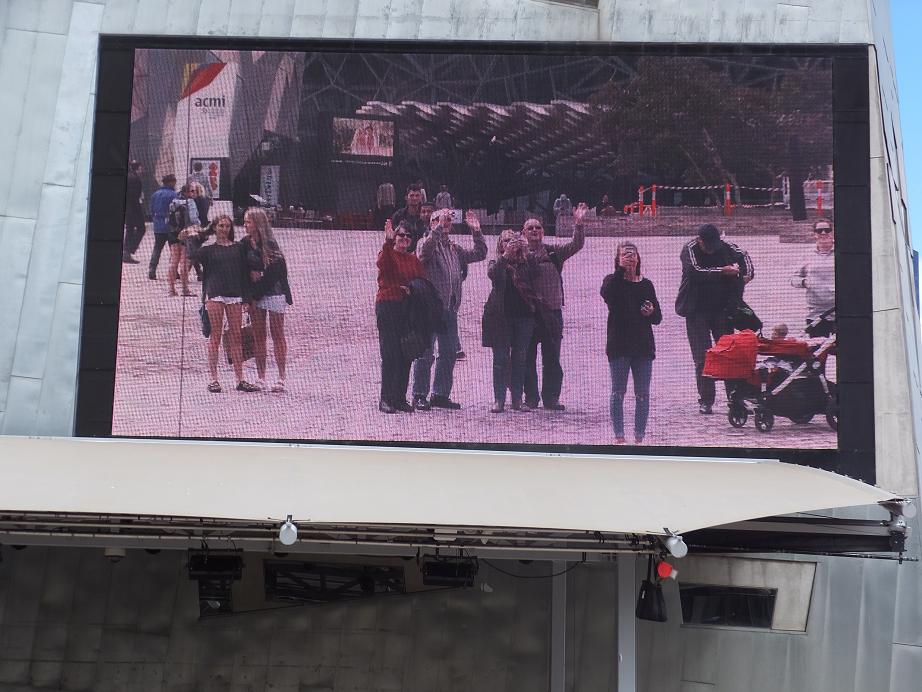 The station was several stories high with interesting domed roofs. It had a tinker toy like look and was very modern and efficient. There were many shops in it.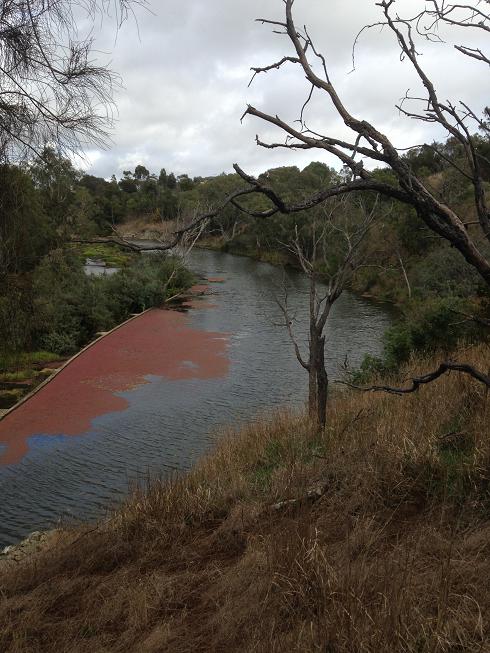 On Friday Doug and Roger went for a walk along the river and saw some birds and the remnants of an old dam that used to supply water to a mill. We went downtown, exchanged some money, went to Amanda's Eclectica shop, and went out to see the industrial harbor and a n
earby beach where we walked along the shore a bit.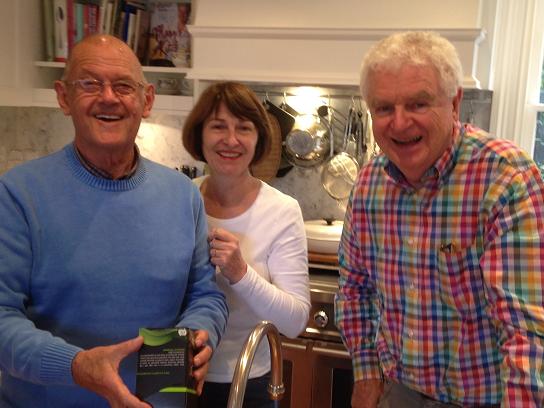 We stopped in at Doug's friends, Neville and Georgina's lovely old house from the 1840's. It was beautifully remodeled inside. We had coffee and tea and a nice visit with them. Neville said that when he was young, his generation just idolized the United States, and tried to emulate them in many ways. The U.S. had protected Australia from a Japanese invasion after England abandoned them, so they are grateful to this day.
For supper we were invited to Tony and Angela's (Doug and Patsy's friends) house. We had a wonderful meal of lamb, veggies, and sponge cake. Another subtle cultural difference is in the way meals are served. The host or hostess dishes up meals and gives you the plate already filled as opposed to our method of passing dishes around and everyone serving themselves.
Tony and Angela had been on a long walking pilgrimage in Europe that took weeks, and Tony had recently returned from a backpacking trip into the wilds of Tasmania.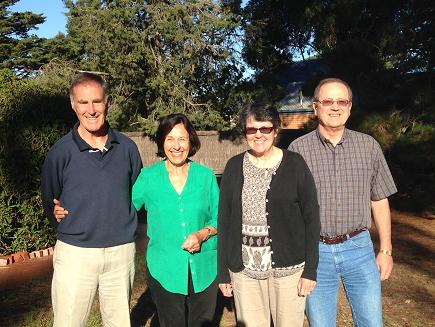 On Saturday Joan had a bad backache, so Roger and Doug went for a walk along the river and saw Rosie headed cockatoos with a head puff. We went to get our bus tickets to the Melbourne Airport for our flight to Sydney on our way back to Minnesota, and then we did a little shopping.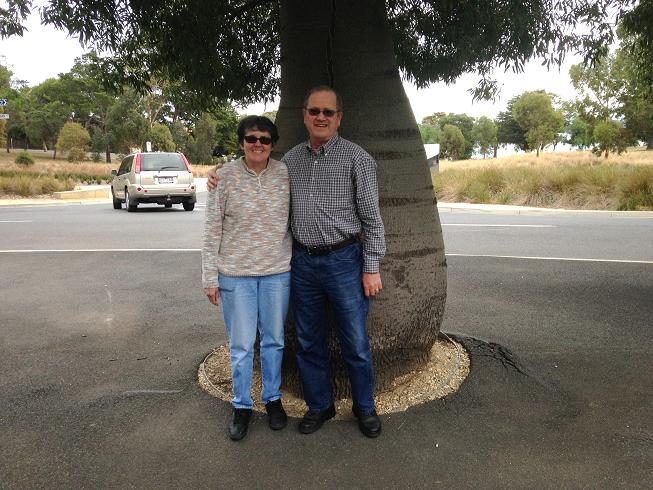 We had delicious sausage rolls for lunch. We went to the Geelong Arboretum and there was a baby shower and a family gathering on the lawns. There were lots of lovely flowers and interesting trees and ferns, and several trees that were short but had extremely wide trunks.
We had a delicious supper of chicken and veggies. and then watched a movie called "The Water Dowser" about an Australian man who lost two of his sons in the war with Turkey at Gallipoli in 1915.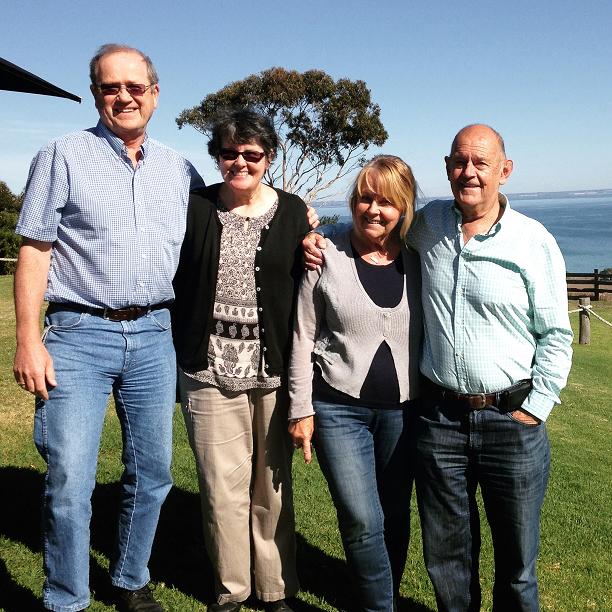 On Sunday, March 29 we headed to the Bellarine Peninsula, which is wine country. We stopped at a place called Jack Rabbit Winery and Patsy and Joan tasted two wines while the guys had coffee. There was a beautiful view of the bay with lots of small boats and birds in the trees.
We passed through several small seaside towns with lovely views.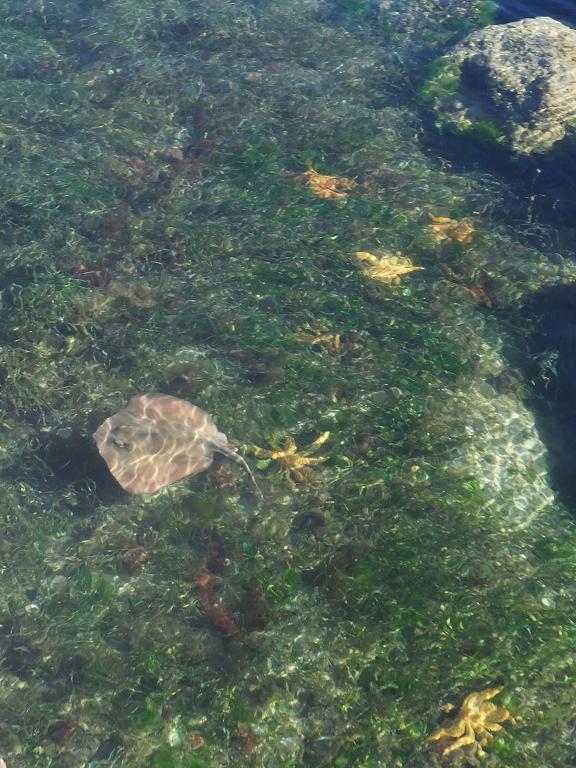 We walked a path near a lighthouse while Patsy shopped at a large outside market. There were tide pools and some lovely views.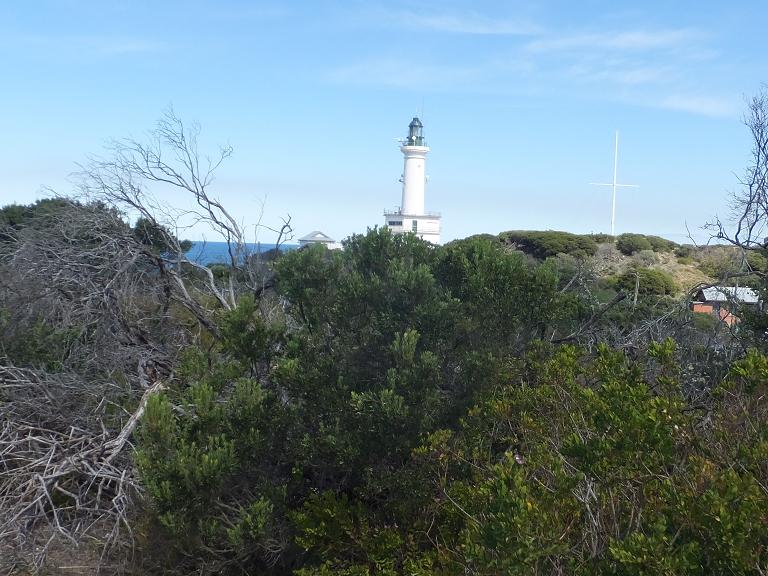 On Monday we spent the day at Sovereign Hill, a large outdoor museum depicting Australia's gold rush. We saw an ingot of gold poured and cooling and Roger got to hold it. It was worth $140,000. As you can see, they were watching him closely. The ingot was quite heavy.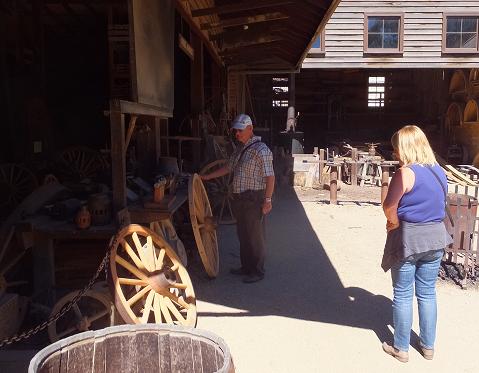 We also watched children dipping candles, saw a musket firing, some bowling with wooden balls and wooden troughs. We saw a school and practiced writing with pen and ink, saw the steam power station, saw the Redcoats fire their muskets and walked into many reconstructed period stores and homes.
Roger went up the hill to the wheelwright and we heard a very good discussion of women's clothes from 1851. There were people panning for gold in the creek. We ate lunch there also.
Next we visited the gold museum that had millions of dollars worth of gold coins and nuggets.
There was also a golden menorah and jewelry. They also had art relating to gold mining and relics of that era as well.
On the way back we drove through Ballarat past historical buildings and the flower gardens.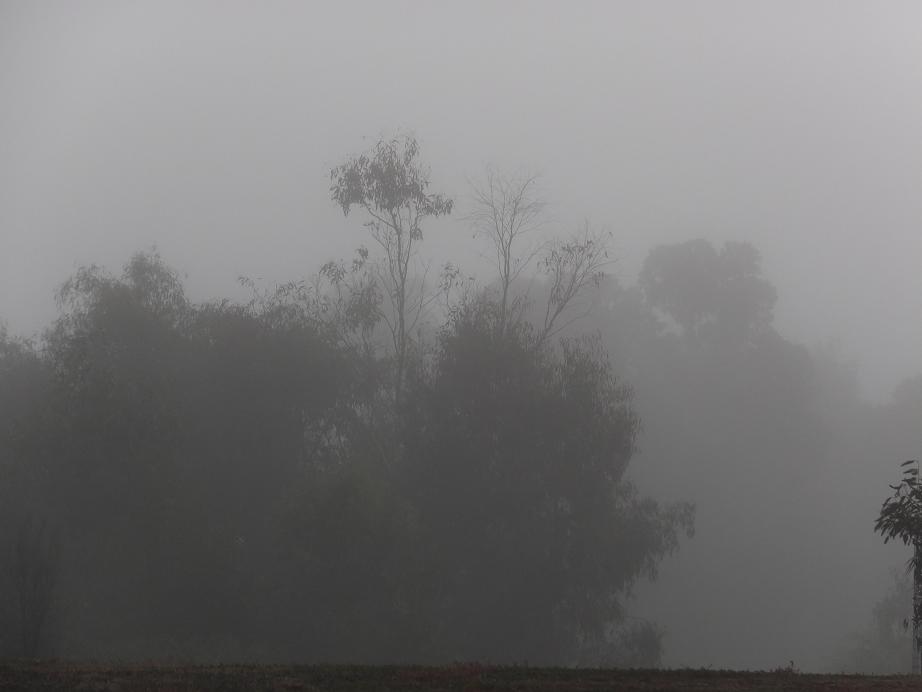 On Tuesday Roger and Doug looked for birds in the fog along the river. They saw the green small parrots. Joan relaxed at the house, and Patsy got her hair done.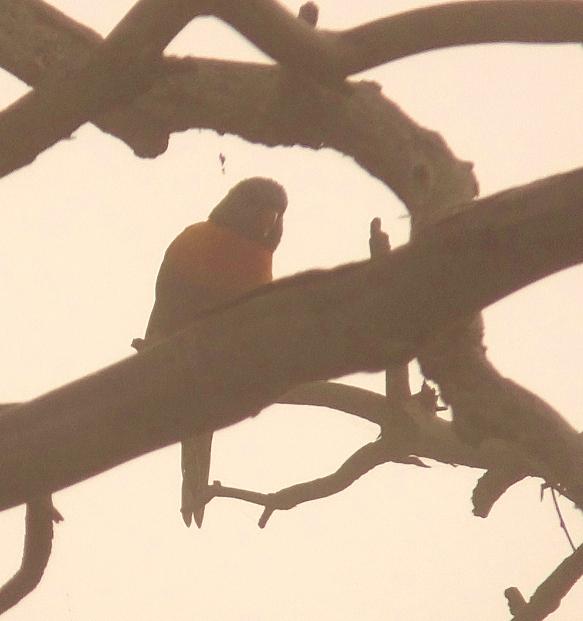 We had tea and coffee at the harbor and then went to see Nick's "new" collector's car. The car had several things that weren't quite right, as I saw them. First, they had built the steering wheel on the WRONG side of the car. Second, it was a manual transmission. While I was able to overcome that first problem, I just couldn't imagine myself clutching and shifting with my left hand. I had enough trouble with the automatic!
We had lunch at the mayor's hotel and saw the photo display there.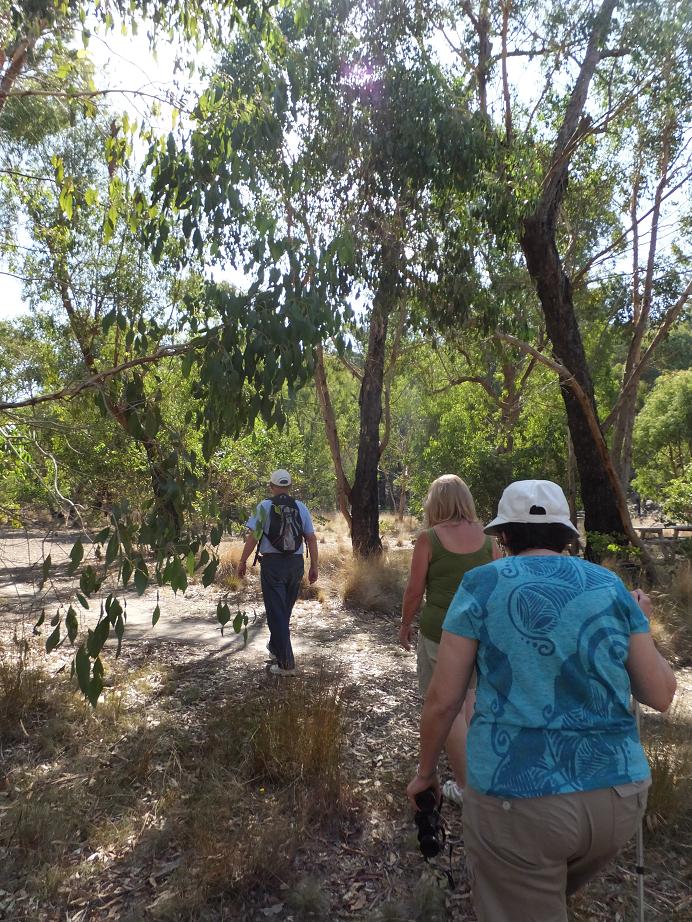 Then we headed out of town to walk in the bush at Anakie National Park. We tried to spot koalas, but had no luck. Joan fell on the rough trail, hitting her glasses down her nose, but otherwise was mostly unscathed.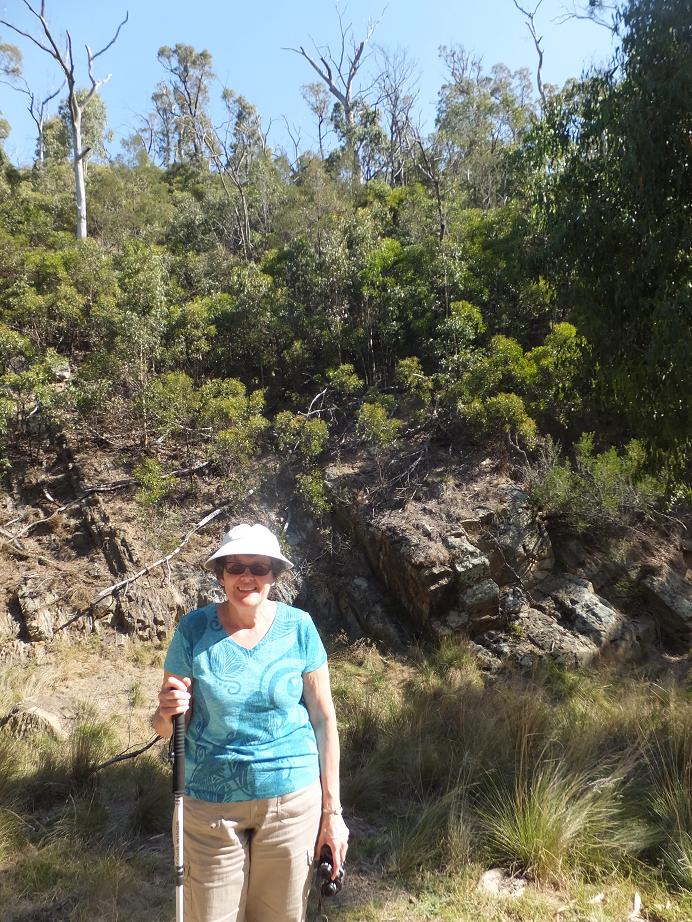 We went to see their son, Matthew's house in a protected area of the bush, and the home was quite remote.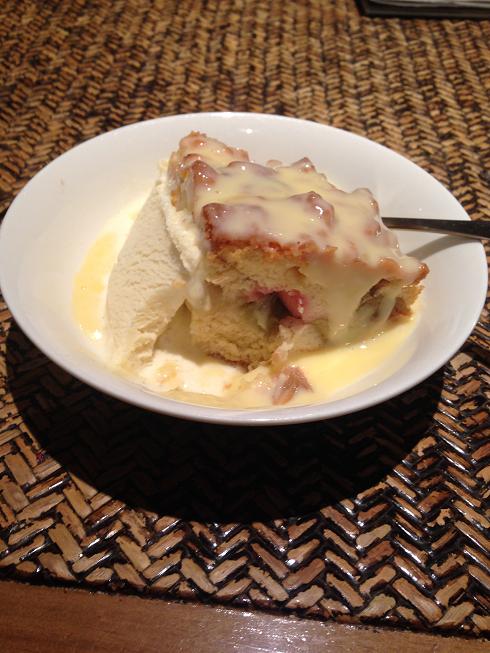 After a light supper we had a heavenly apple rhubarb cake with a custard and homemade ice cream.
On Wednesday, we headed off at 5:30 AM to get to the Gull bus and a ride to the Melbourne airport.
Doug and Patsy drove us to the bus terminal, and we said our goodbyes. I took this photo out the bus window, and I wondered why they had such large smiles on their faces.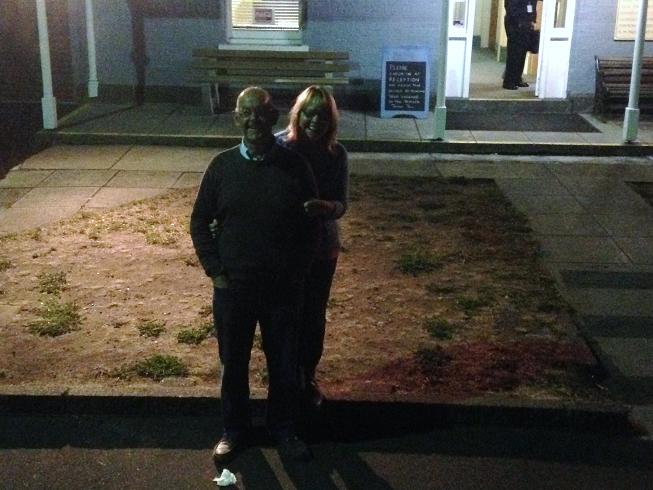 Actually, you will never meet two nicer, kinder, generous people. They basically gave up two weeks of their lives to show us what the true Australia is like, and we were so lucky to spend our time with them. While most people only get a tourist's view of Australia, we were able to experience the culture and day to day happenings. We shall forever be grateful to them.
Our flight left about an hour late from Melbourne. We had originally planned to do some sightseeing of Sydney and the harbor, but by the time we went to the Rydges Hotel at the airport, and had lunch, we decided that we would just stay there and relax. We rested, and then walked over to the airport across the road to look at some of the shops.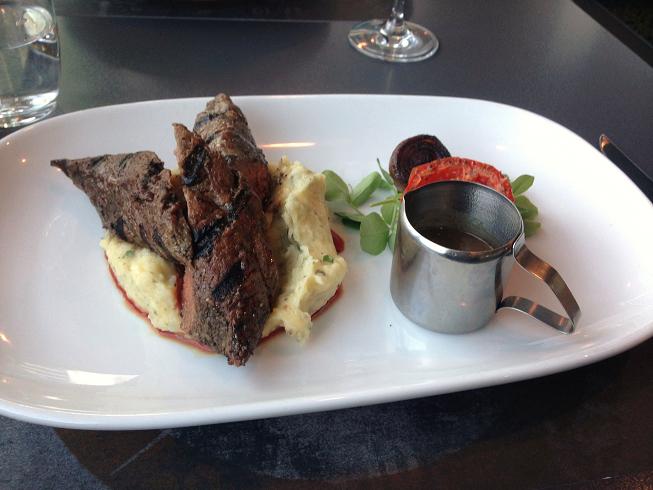 We had supper at the hotel. Roger had a kangaroo sirloin and Joan had prawns with linguine. The kangaroo was very tender and very much like a lean cut of beef. Kangaroo and wallaby, by the way, are not common meats of Australia. I think it is probably more for tourists!
We went to the Sydney airport in the morning on April 2 and it was extremely busy. We got on the plane and flew with no problems to Los Angeles. We went through customs, and then went to the gate where our flight to Minneapolis was on time.
After about 13 1/2 hours in the air, we arrived in Minneapolis about 4:30 PM and Kent picked us up at the airport.
We went out to eat with Kent, Chrysa and Phoebe, and then stayed in Minneapolis for the night. We headed home the next morning.
This was, indeed, a trip of a lifetime with lots of adventures and memories, and it wouldn't have been possible without Doug and Patsy.
******************************
While that ends our little summary of what we did, I thought I'd put on a couple of my favorite photos from the trip: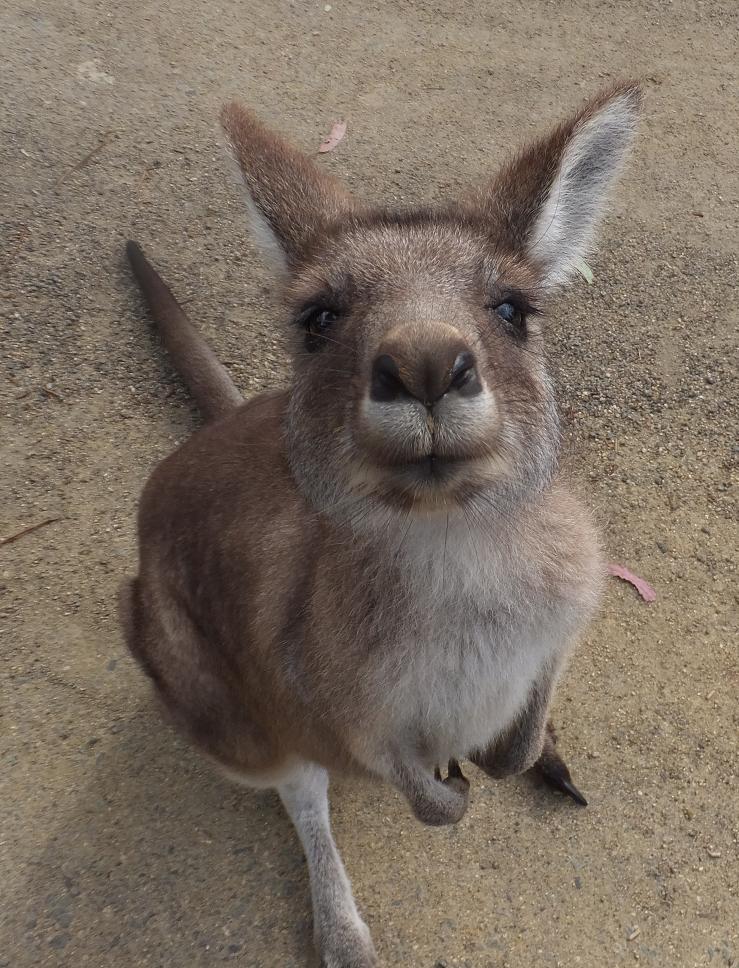 Also, from each trip we take, we try to choose one photo for our wall by the stairs that kind of symbolizes that trip. Here is the one I framed for the wall. Note the joey in the pouch: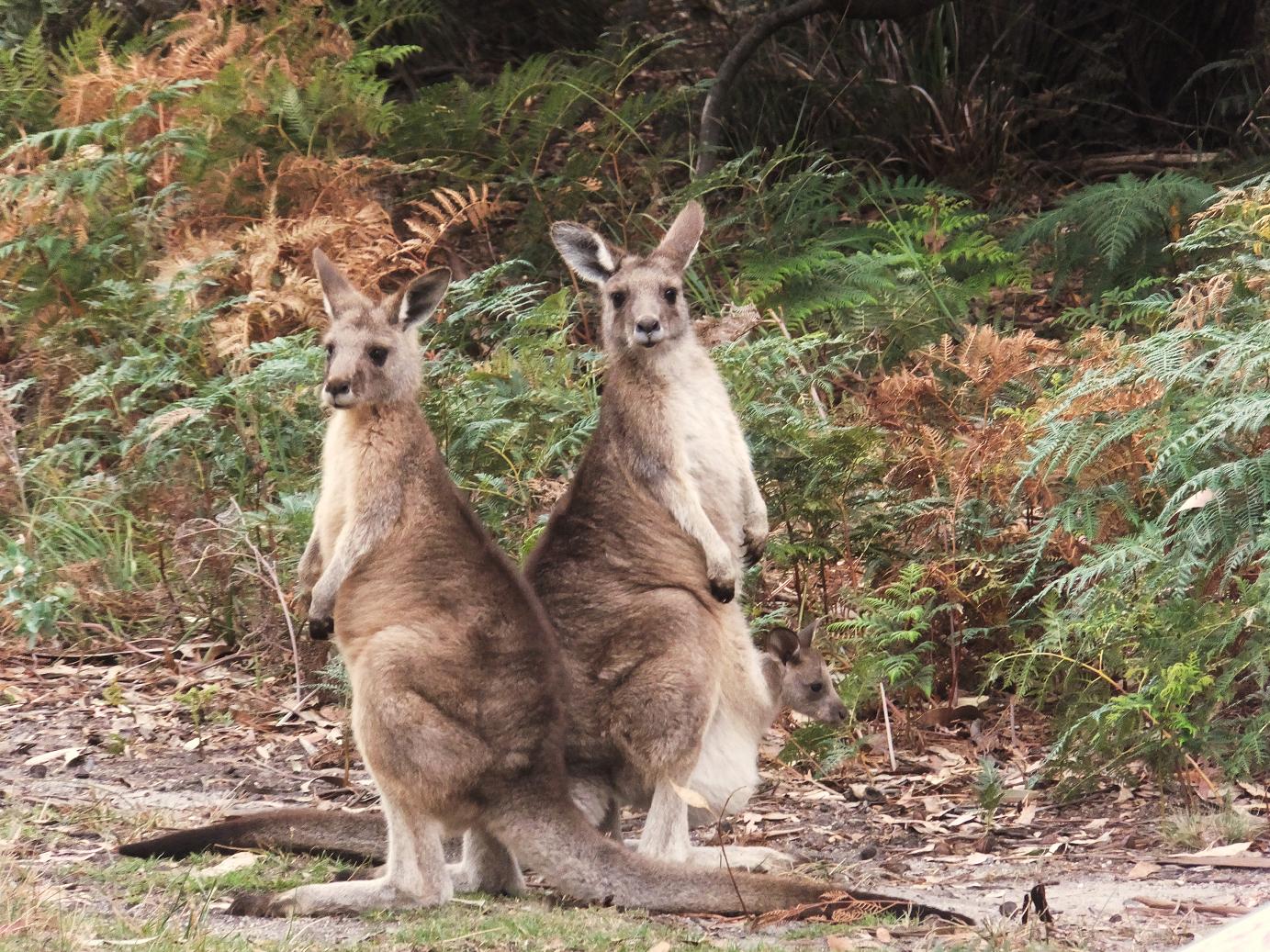 Click here to Go Back to Roger's homepage