Yellowstone, Grand Tetons, Custer Battlefield and More
July 11-20, 2011
On July 11, 2011, we headed from Cambridge to the Minneapolis/St. Paul Airport. We parked our car at an off-site shuttle, and went to our gate only to find the plane was running an hour late. We eventually took off for Bozeman, and it was pretty quiet and smooth flight.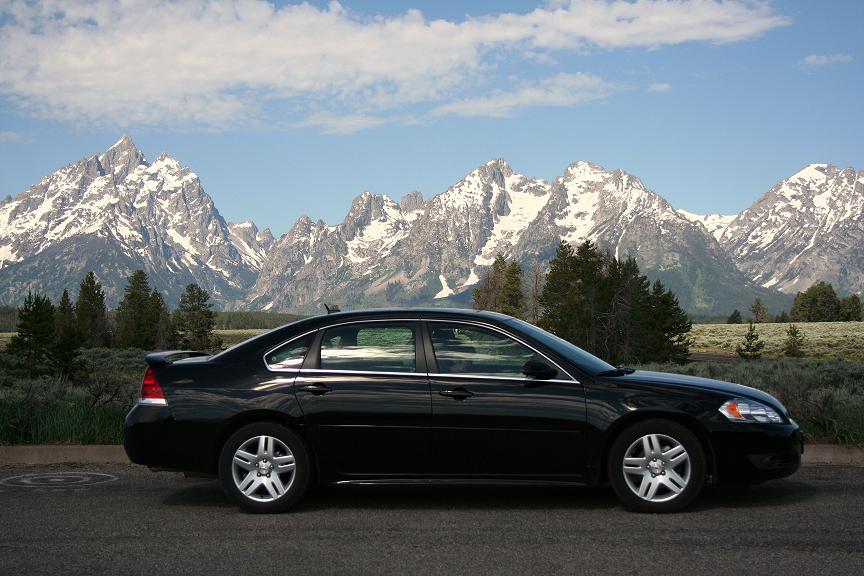 We arrived in Bozeman, collected our luggage, and headed to get the rental car, a new black Chevy Impala.
We headed to lunch at a little café called the "Naked Noodle", and then went to the Museum of the Rockies for the afternoon.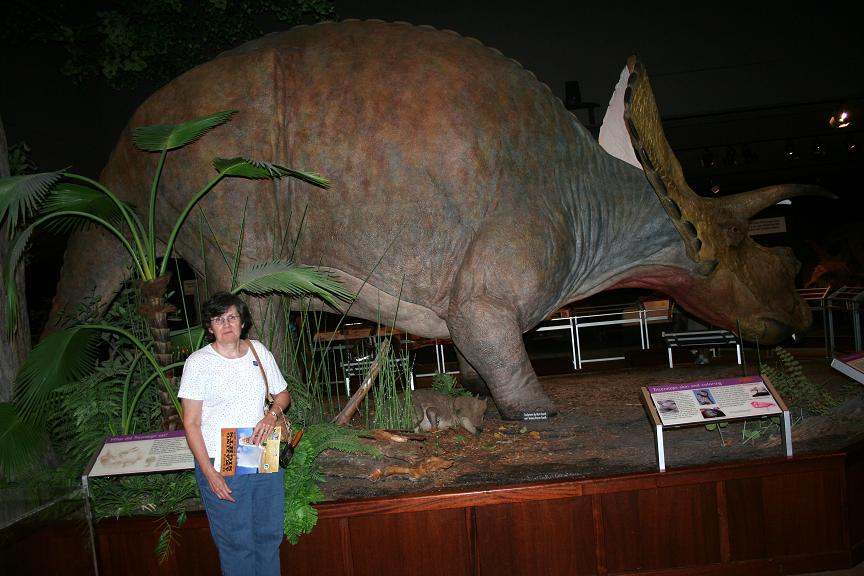 Lots of natural history things to look at including a very nice dinosaur exhibit.
There was an antique mall not too far from us, but the only thing we found was a terrific thunderstorm with small hail and driving rain and lots of lightning.
We ate at a Chinese restaurant, and then headed to the motel. It had been a busy day already.
In the morning, we headed to West Yellowstone. We figured out it had probably had been twenty years since we were there before, circa 1991, shortly after the devastating fires had ravaged Yellowstone.
We stopped to see Gibbon Falls, and then the Norris Geyser Basin. The landscape of much of the Yellowstone area is surreal, almost other worldly. You can easily imagine that this is way the earth was back when it was being formed, and of course, there's the fact that you are on top of a gigantic active volcano.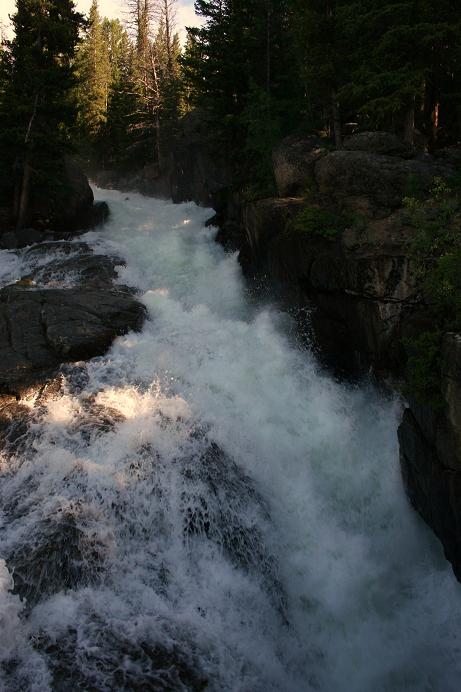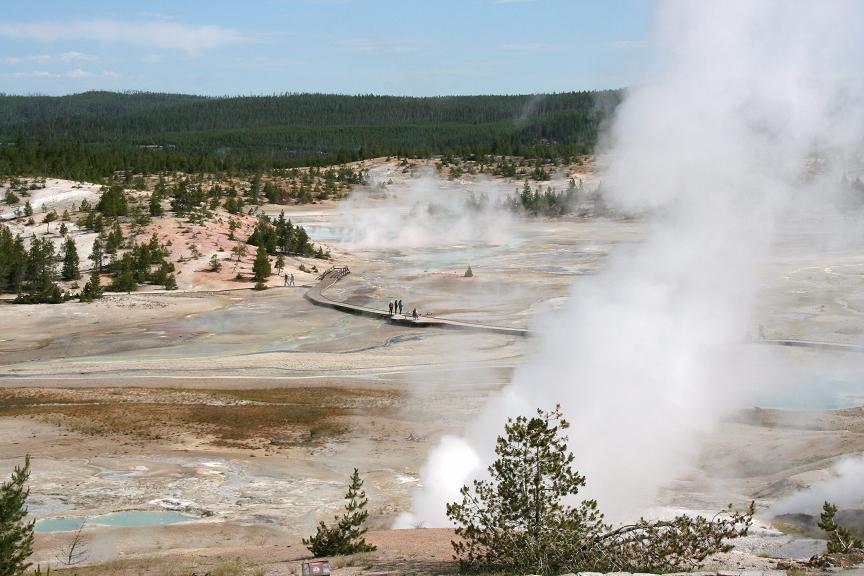 From there we headed to see the Grand Canyon of Yellowstone and its stunning falls. It's one of the most picturesque sites I've ever seen. There were lots of people there, however, so we didn't stay long.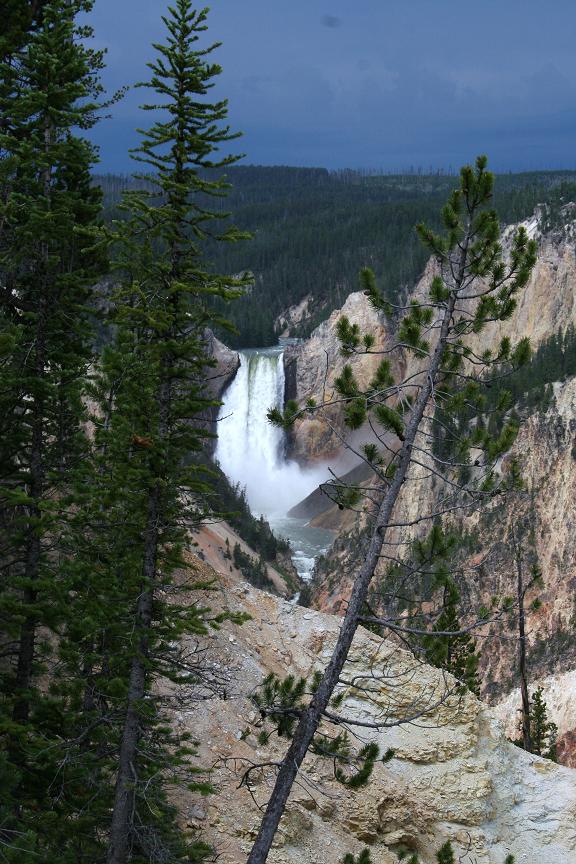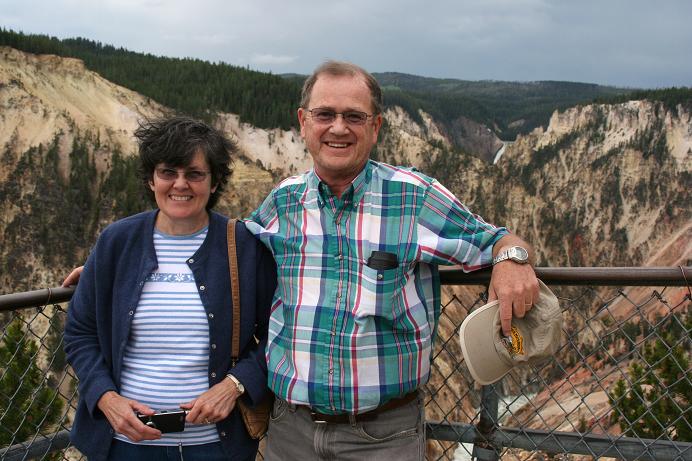 From there we went driving around that part of the park, in the Lamar Valley, and we saw a herd of bison with calves. Earlier we had seen bighorn sheep from a distance and a couple of elk. Then we drove toward Gardiner where we would stay the next couple nights. Gardiner is a busy little town with several places to eat, a couple of them within walking distance of where we staying, which I always like.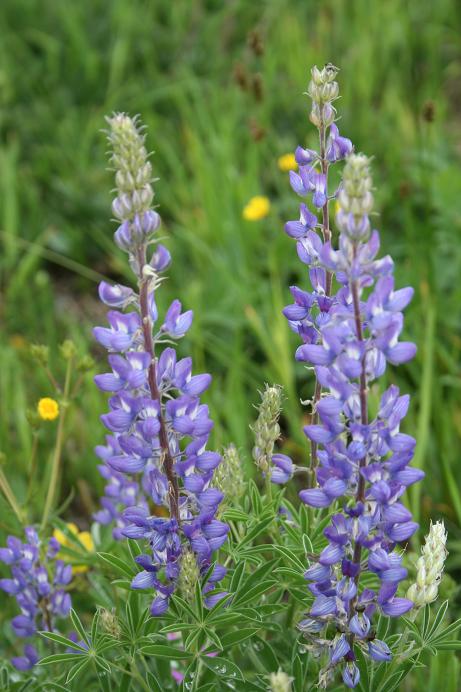 The next morning, we were up and out the door very early and headed toward Old Faithful and the geyser basin, passing Roaring Mountain on the way.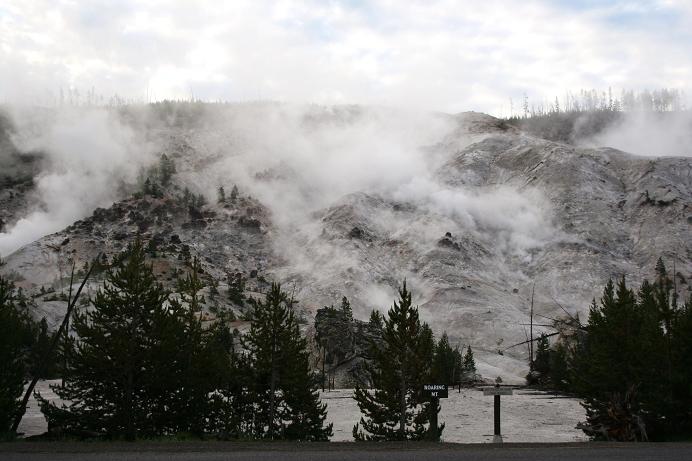 We saw several more elk.
Shortly after we got there, we were on the back side of Old Faithful when it decided to erupt, so we stood and watched for a few minutes. It is a very impressive geyser.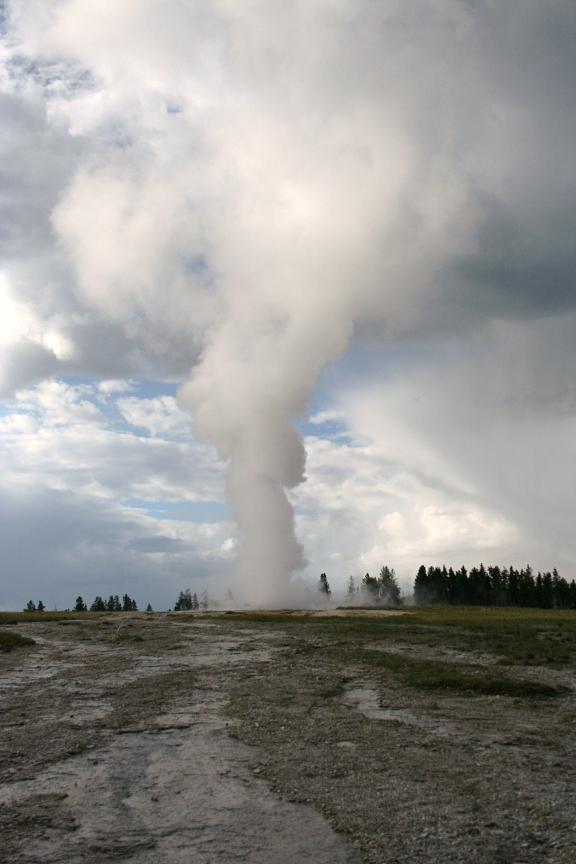 The smell of Yellowstone, especially around the geysers and the volcanic activity is not the most pleasant, but you do get used to the sulphuric smell. It reminds me of the smell of fireworks and the old wooden matches. And lots of steam.
We walked the area and the boardwalks for quite a distance observing the different pools and formations, and the steamy, boiling water.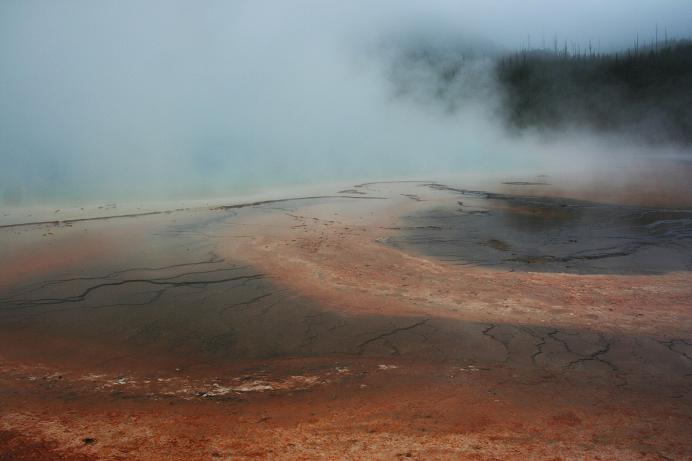 I'm including several pictures that show Yellowstone better than I could ever describe it.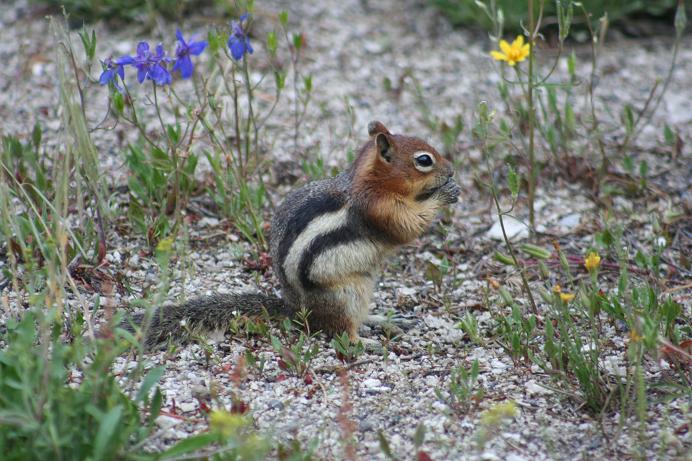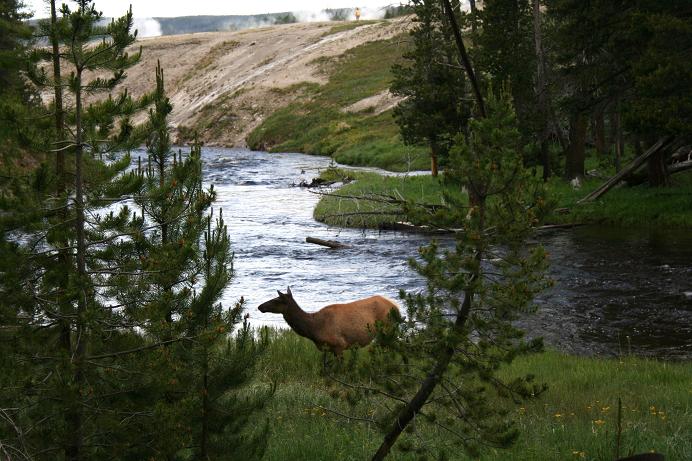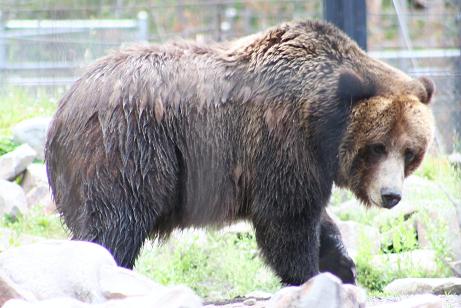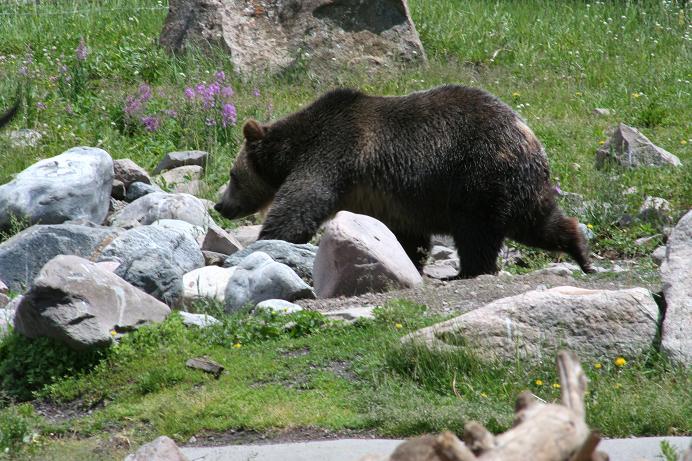 Later in the day, back in Gardiner, we went to the Bear and Wolf Center, an educational project where bears and wolves who can no longer survive in the wilderness are exhibited and cared for. It was very interesting seeing the animals at a safe distance protected by fencing, and you could just see the power and intelligence they exhibited.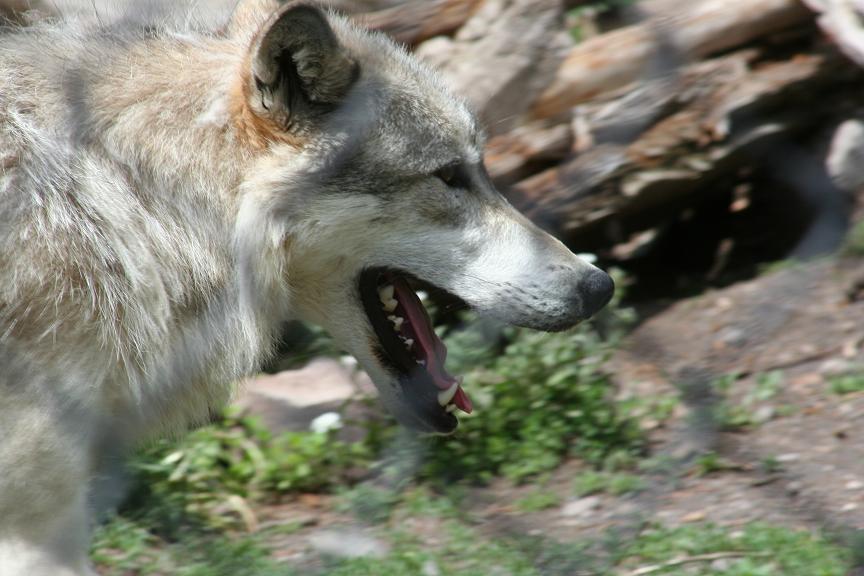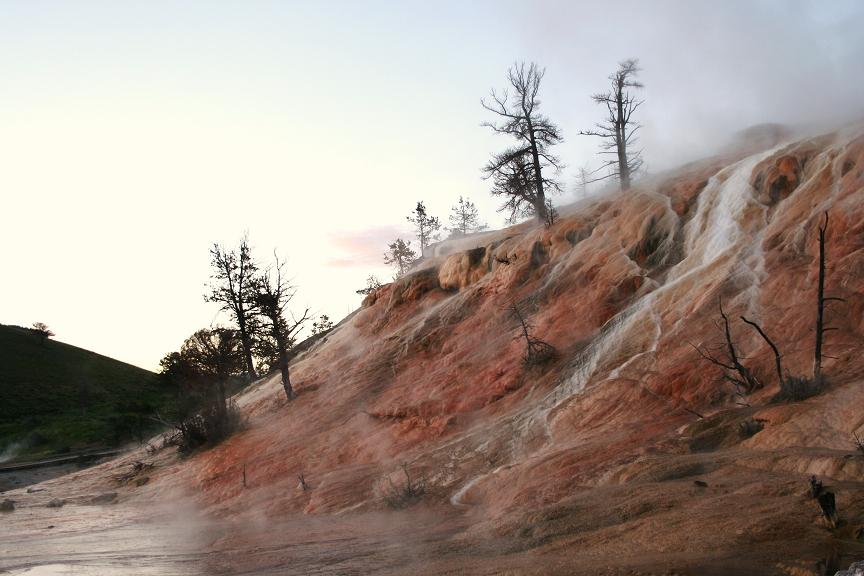 The landscape at Yellowstone is unlike anywhere else, as you can see, and you never knew when you would run into a lone buffalo, or a herd, or elk, or many other species that seem to thrive in the park. The elk below was just sleeping not far from the road all by itself. We did revisit the lower falls of the Grand Canyon of Yellowstone early in the morning when there were hardly any other people there, and were able to appreciate it a bit more. It is a spectacular view.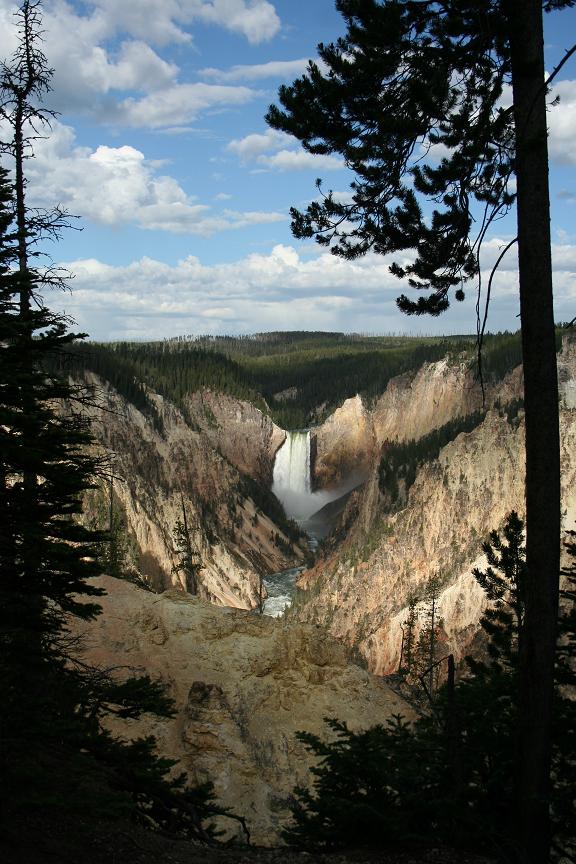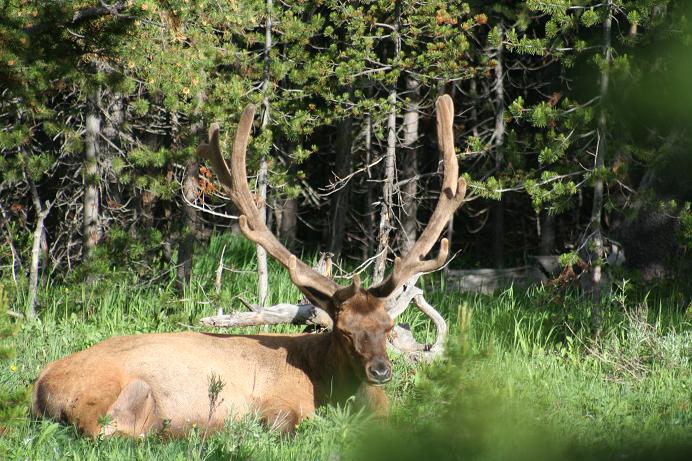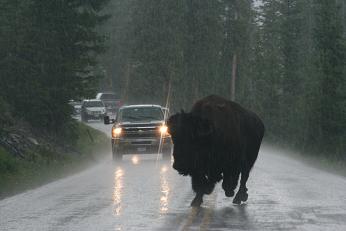 If you click on the bison, you will see a video of the poor animal caught in the rain, hail, and traffic.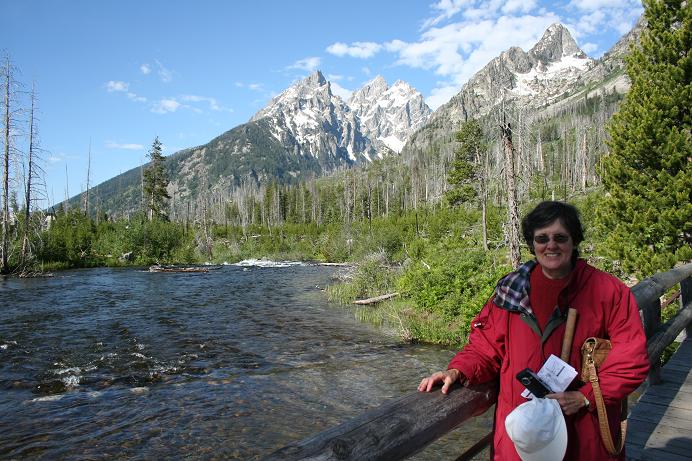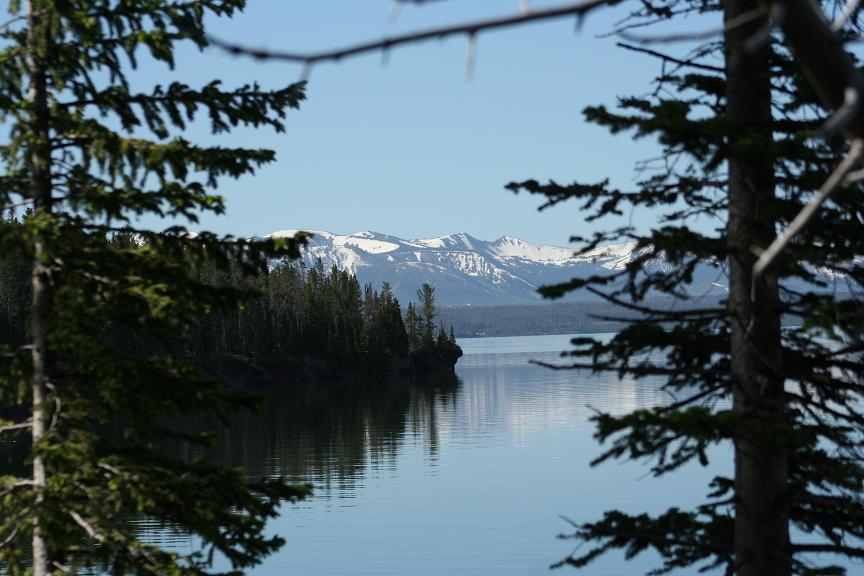 The Grand Tetons are beautiful mountains, and we took a few hikes on some of the trails; on a few of them, we ran into swarms of mosquitoes, so didn't last too long, but the higher elevations were better.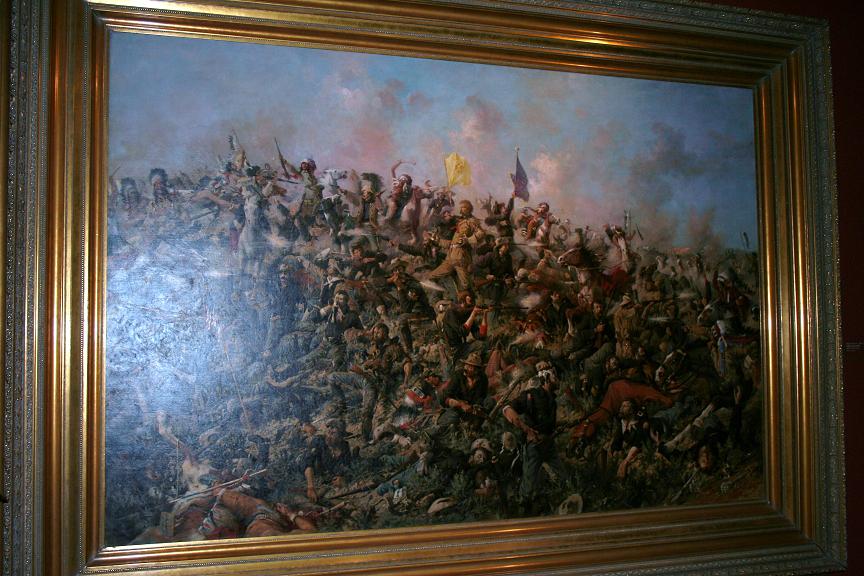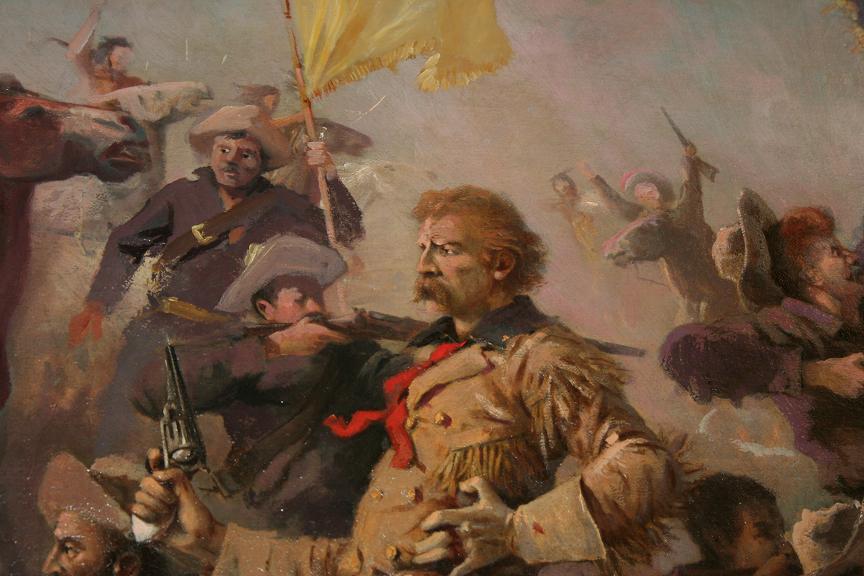 In Cody, Wyoming, there is a wonderful museum called the Buffalo Bill Historical Center where they have five different buildings filled with everything from great art to firearms to The Wild West Show. I took a couple of pictures of an oil painting depicting Custer's Last Stand, and we visited the battlefield the next day in 100 degree heat.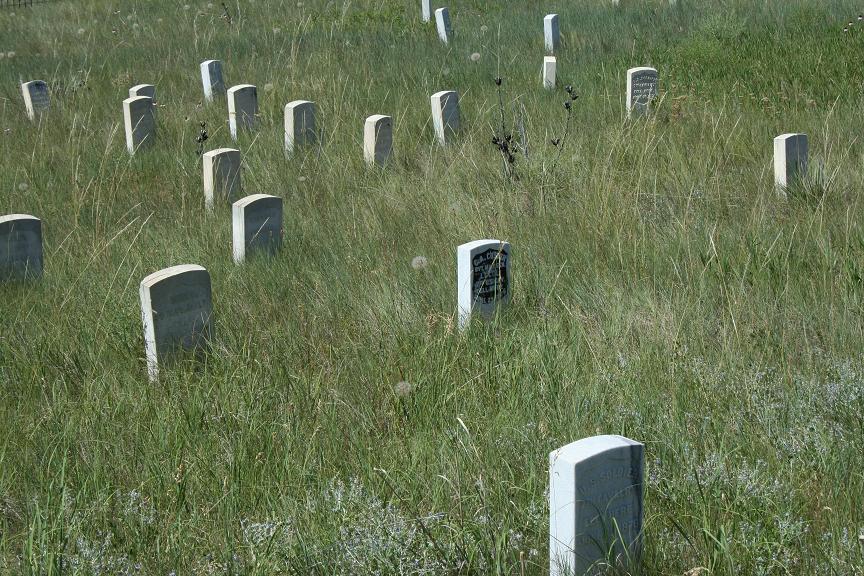 The stone with the black on it is where supposedly Custer fell. These are not tombstones, just markers as to where the soldiers fell. Most of them are buried in a mass grave.
On the way to the battlefield, we needed to go over a mountain pass, and on the top of the pass, we found two young moose ambling across the highway, and climbing over a fence with little or no effort.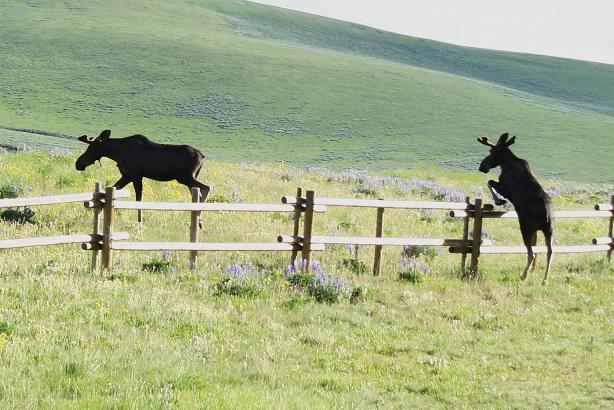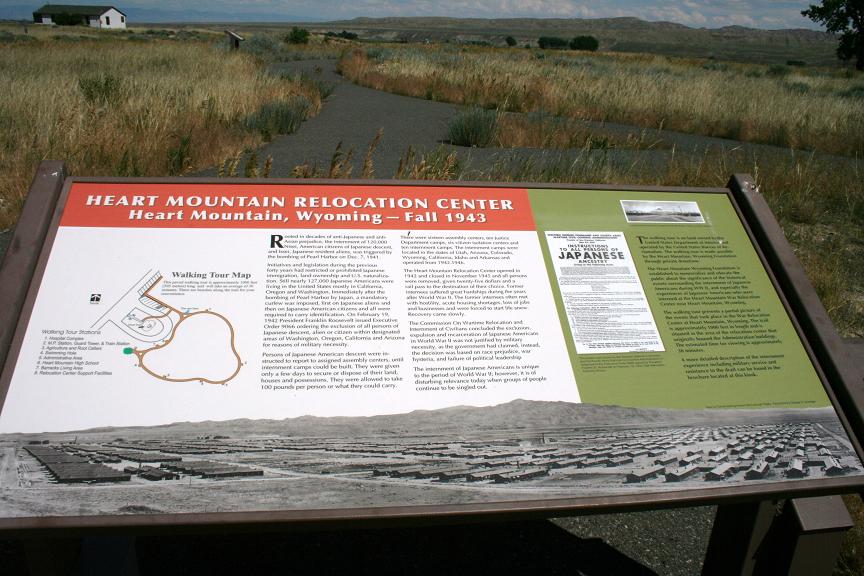 Just outside Cody, towards Powell, there is a site that is being reconstructed that talks about a rather sad chapter in America's history during WW II where a Japanese internment in the Heart Mountain Relocation Center. About 10,000 U.S. citizens were detained here behind barbed wire and armed guards on towers. The museum portion was still under construction when we visited. More information can be found at http://www.heartmountain.org/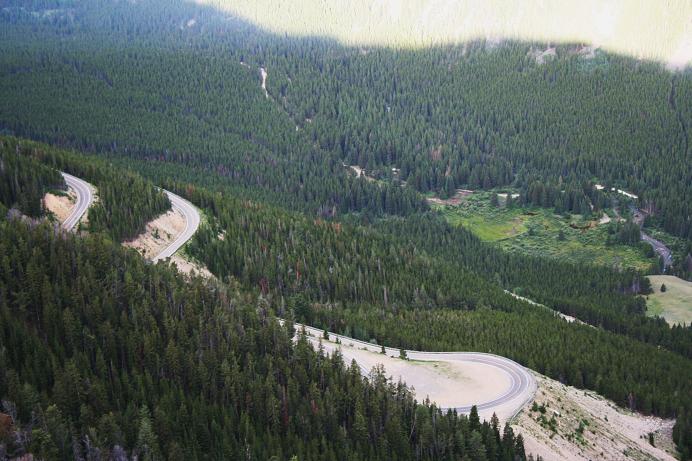 The last day of our travel, we headed back toward Yellowstone National Park via the Beartooth Pass. The Beartooth Pass reaches nearly 12,000 feet, and it is a true mountain road with hairpin curves and amazing mountain scenery. The photo shows one of the sharp turns where you wonder if you might meet yourself. The road was very much improved since our last drive over this entrance.
Once in the park, we were lucky enough to see some wildlife that we hadn't seen in our earlier visit, namely a grizzly bear and a black bear.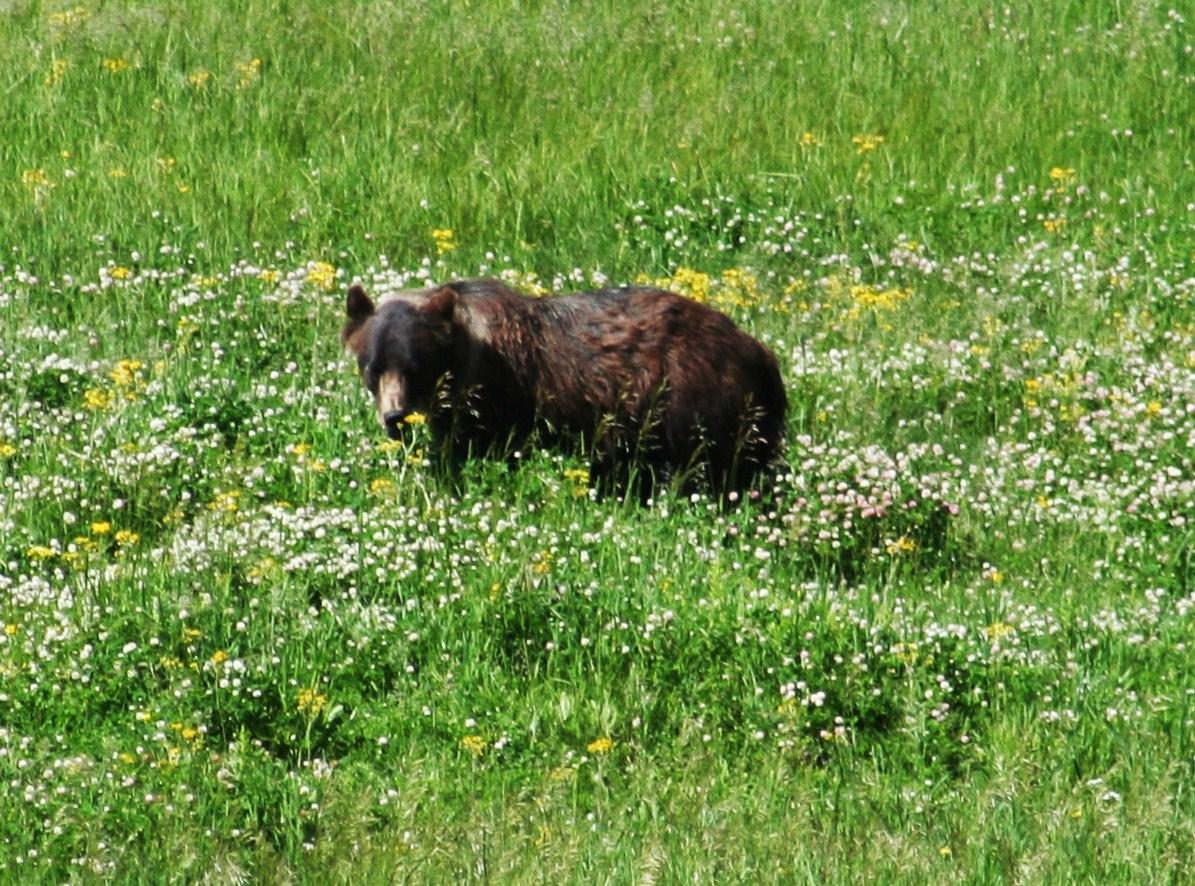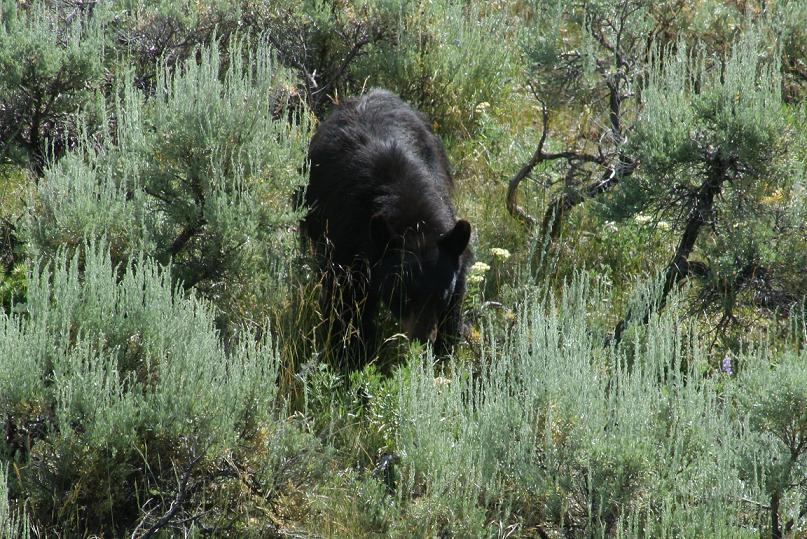 Yellowstone National Park, Grand Teton National Park, The Bighorn Battle site, and so much more in this area of the country is well worth visiting. We had a marvelous time, and enjoyed the trip immensely. We asked ourselves why we had waited so long to return. We headed back to Bozeman for the flight home with lots of wonderful memories.
In a totally unrelated occasion to our trip, while we were in downtown Cody, I walked out of a store and turned left, and saw a familiar face! Sitting there with his wife was Grayson Sorrell, whom I had met at the Moak Ranch in northern California in May. It took me a moment to recall his name, and I think he was taken aback a bit too! We chatted a bit, and then Joan and I headed on our way. It really does go to show what a small world we live in.
So that's my page. If you don't like it, this is what I think of your opinion: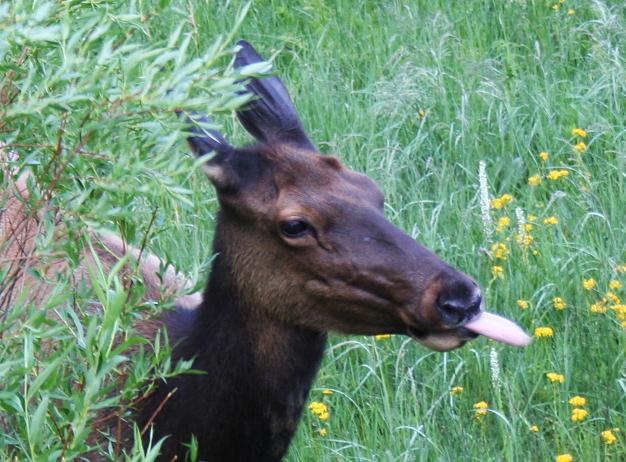 *The background coloring on this page is a photo of one of the blue shaded geysers and the steam coming from it.