A Week in Tasmania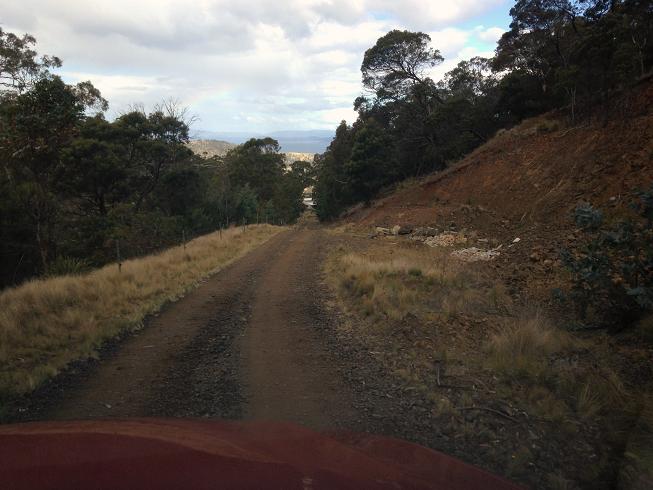 Wednesday, March 18 we got up early to take the bus from Geelong to Melbourne. We took the Jet Air flight from Melbourne to Hobart, rented a car, and drove it to our little cabin which had all the amenities we needed, and was near the top of Mount Rumney. It was on a farm with sheep , pigs, horses, and chickens. It was at the end of a long gravel road and crushed rock driveway. There were beautiful views across the valleys below.
Just a note about driving in Australia and Tasmania in particular for Roger. It takes a lot of concentration. Sitting on the right and driving on the left, and entering roundabouts going to the left contradicts over five decades of driving "opposite". Luckily, Tasmania is not very crowded, so it was only around Hobart where we encountered heavy traffic. Roundabouts are ubiquitous, with only a rare stop light in a city. All in all, it went quite well.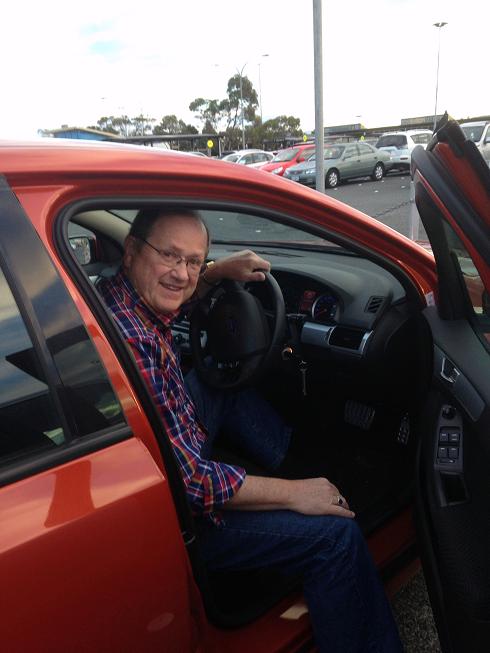 We stopped in the little village of Cambridge, outside Hobart, to get some breakfast foods and found an excellent restaurant for supper.
Thursday, March 19, was a beautiful morning with a bright colorful sunrise. We walked up near the chicken coop to see it and threw balls for the dog. We got Wi-Fi and eggs for the next day's breakfast from our host.
We decided to go down to Port Arthur Historic Site to see the ruins of the penal colony. It was just one of many places that the convict ships delivered prisoners, but few traces remain of most of them. This one is at least partially preserved.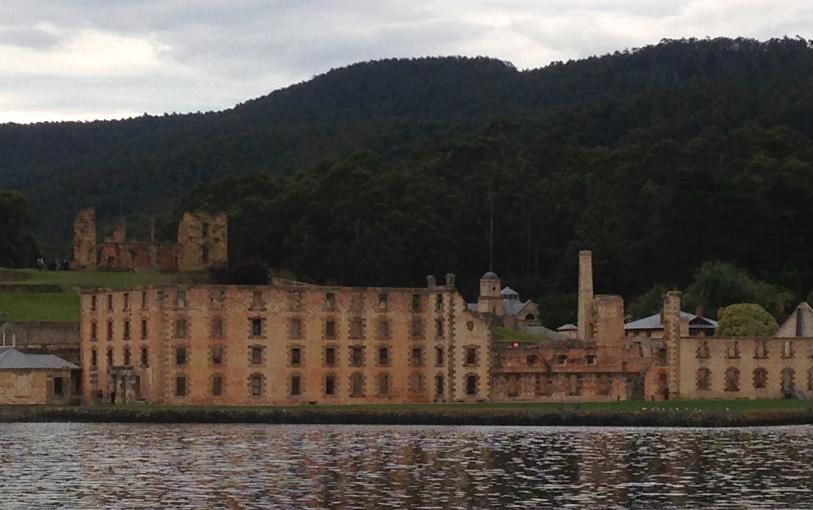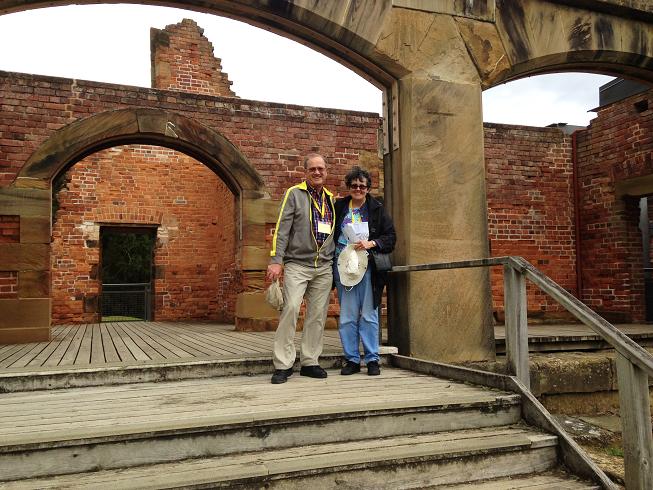 We had a cruise around the bay and saw the Island of the Dead, which was used as a cemetery for the prisoners.
We also saw Boys Island where young male prisoners were taught skills.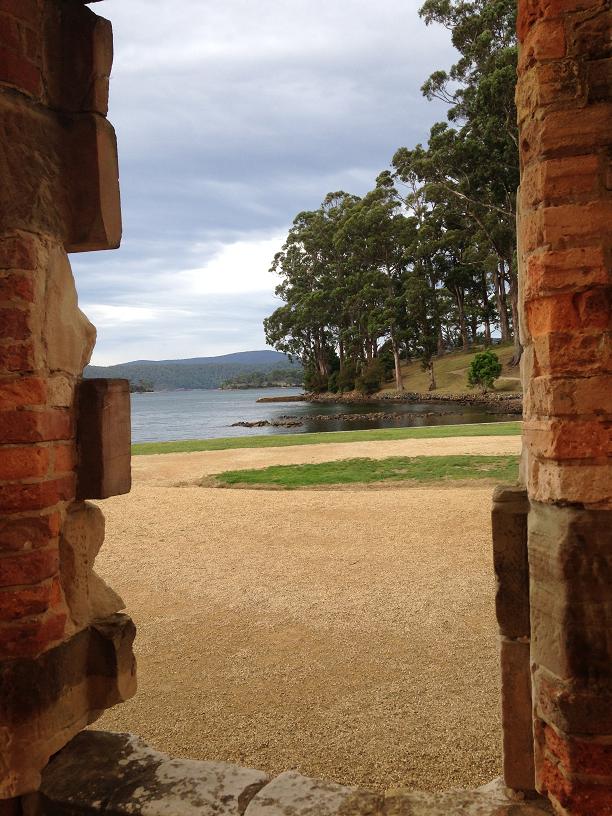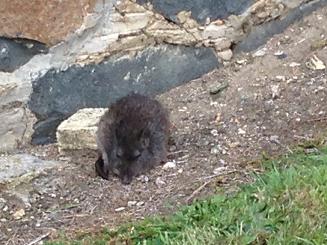 After a lunch of very good "pasties" we started on a guided tour, but ended up leaving it to see most of the buildings on our own.
We saw a strange rat sized animal up by one of the buildings. We found out later that it was a type of wallaby called a potoroo.
After we left we stopped at a grocery store for supper items: chicken, potatoes, and green beans. We headed "home" and took a detour due to a GPS error and a missed roundabout. That night there was lots of wind and some rain.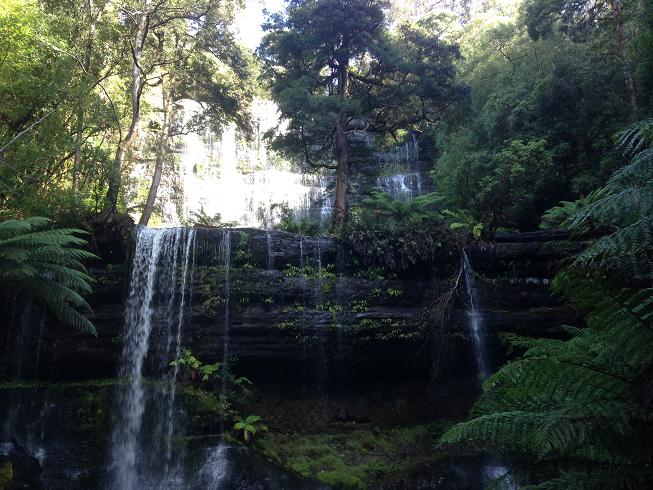 Friday, March 20 it was a lovely cool morning. We set out on a track with the bread and breakfast's dog, Diesel. He scared up three wallabies which we saw bound off. We decided to head up to the Mount Field National Park northwest of Hobart. We went through the south edge of Hobart along the river. There were hundreds of beautiful black swans and small ducks in one area of the river. It rained off and on and was quite cool. We walked up to the Russell Falls, a beautiful high falls.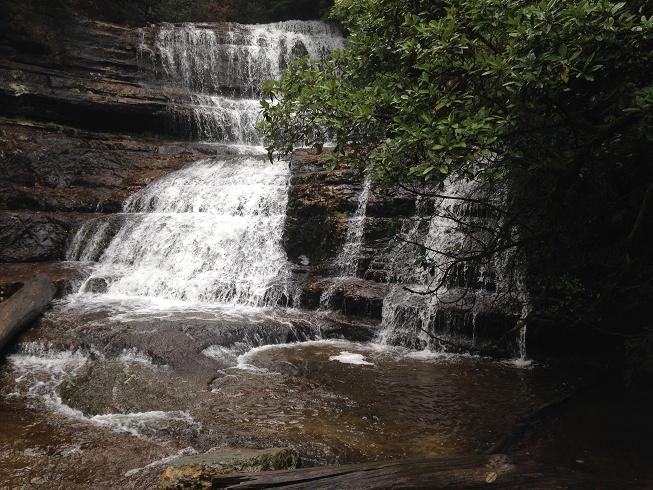 We ate at the visitor center. Roger had a wallaby burger which Joan tasted. It was mixed with some pork. After lunch we drove up the mountain a bit and walked to Lady Baron Falls along an up and down trail. We walked through giant old trees and tree ferns in the rain forest. It rained most of the walk.
We then drove to New Norfolk and looked at two small antique shops, then headed to Richmond via Bridgewater. We saw the Richmond Bridge, built in 1832, by convicts, and many colonial homes and buildings from the same era still being used. It was a lovely town.
After getting gas in Cambridge, we headed back to our bed and breakfast. Joan spotted a bushy tail possum as she went out to feed the pigs and we finished the chicken with carrots and rice for supper.
On Saturday, March 21, after breakfast, we headed north east, then south east toward Freycinet National Park. On the way we stopped to see the Spiky Bridge built in 1841 by convicts. It had sharp stone sticking up on the top of the sides. We stopped in Swansea for "Tea" which was a muffin and toast, then on to Freycinet National Park.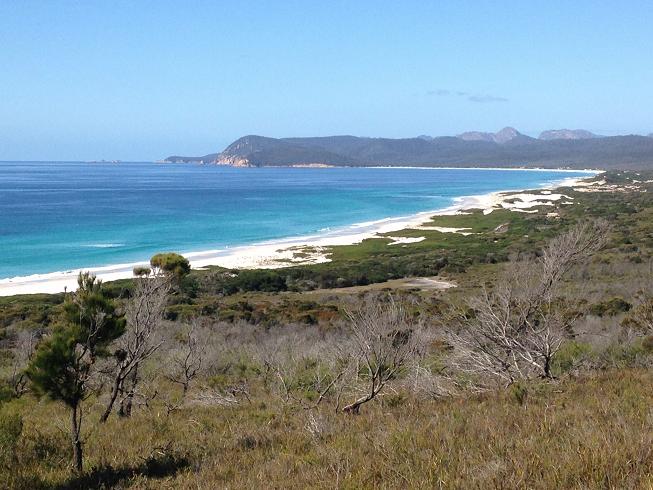 At Beautiful Beaches we walked through a lot of brush down to the beach, which had beautiful soft white sand with a few shells. The ocean had beautiful colors and waves.
For lunch we ate at the National Park Lodge. Roger had a seafood plate of mostly raw seafood.
We walked down to see the Sleepy Bay. It was a fantastic turquoise in deep blue water.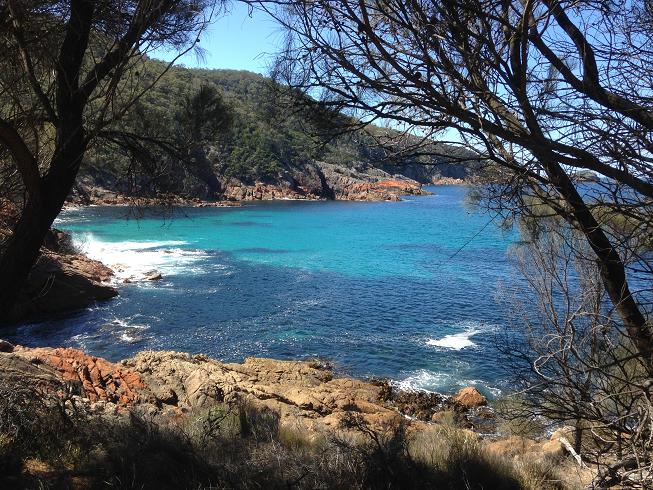 We then went to the Cape Tourville lighthouse and walked the circle trail to see lovely ocean views all around.
Heading north east again we arrived at Wintersun Gardens Motel in Bicheno. It is a nice family owned motel. We walked down to see the ocean, had pizza for supper, and ordered breakfast to be delivered at 7:30 AM.
For supper we had wood oven pizza which was very good. It had a hand tossed, chewy crust with ham, cheese, and pineapple with olive oil and pesto sprinkled on top.
On Sunday, March 22, breakfast arrived at 7:30. We had poached eggs on toast, toast, and orange juice. We had a pot to make tea and coffee in the room. We drove to see the blowhole in Bicheno. The tide was coming in so it blew high. We saw dozens of little green birds called swift parrots in the trees.
Then we drove to see the Gulch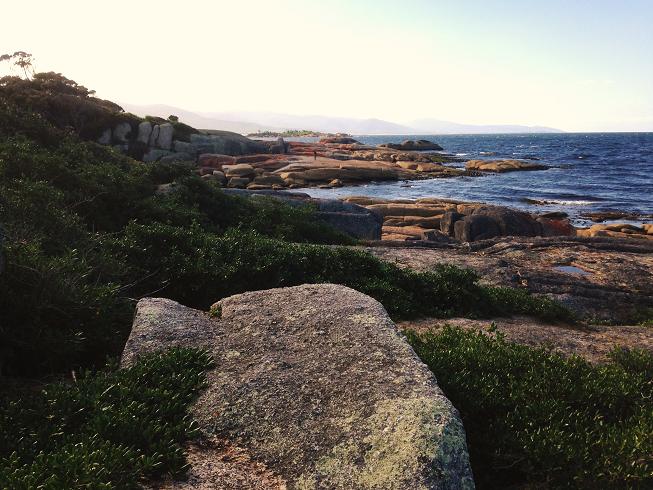 between the shore and the islands. There was a sea lion on one of the islands. In town we stopped at the farmers market and looked around.
We then headed northeast up the coast a bit to East Coast Natureworld where we could feed loose kangaroos, wallabies, geese, swans, and ducks. Roger got scratched by a kangaroo that grabbed his arm to get at the food in his hand.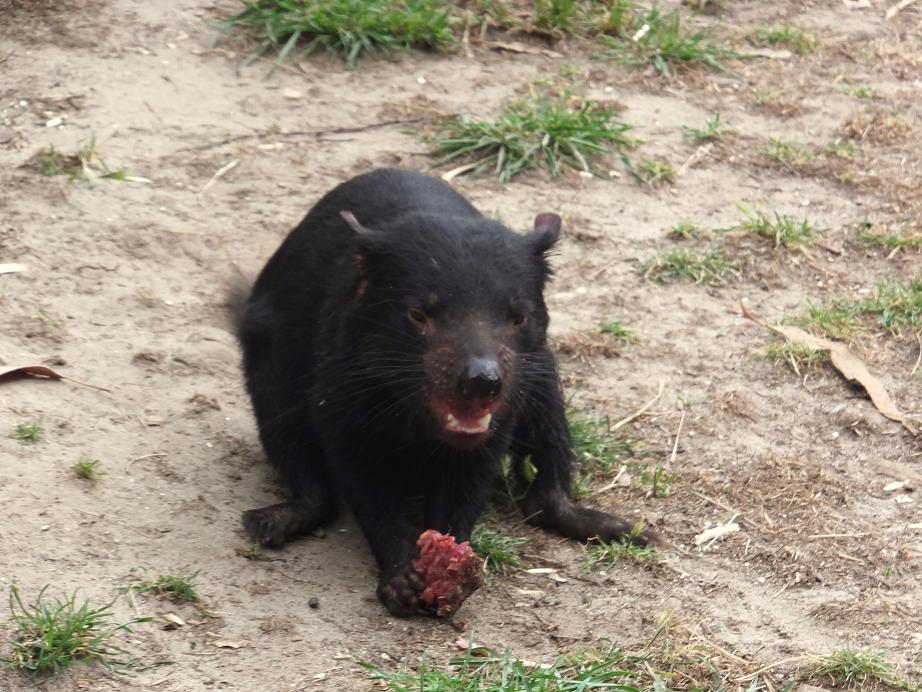 We saw the wallabies being fed and then heard about two young Tasmanian devils as the naturalist fed them. She then fed an 18 month old wombat that had been hand raised.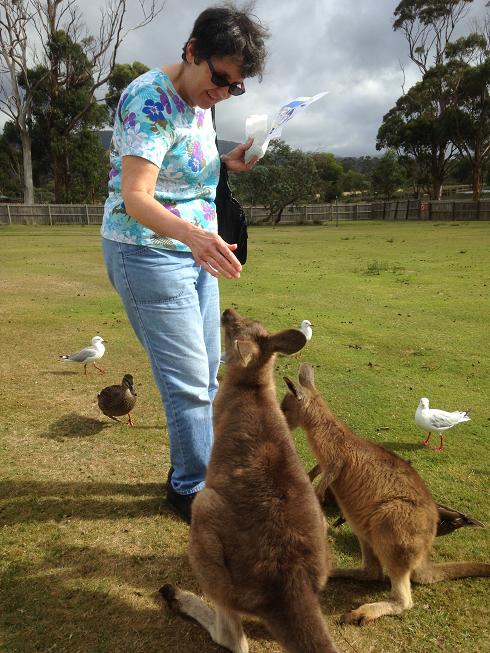 Other areas were a bird aviary with parrots and cockatoos, more Tasmanian devils, wombats, emus, snakes, eagles, nocturnal animals, and eagles. We ate lunch in the gift shop building and bought a tiny pewter kangaroo. We feed the kangaroos the rest of the food bag .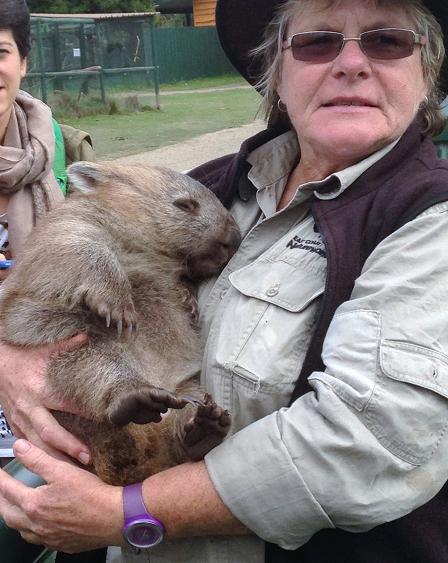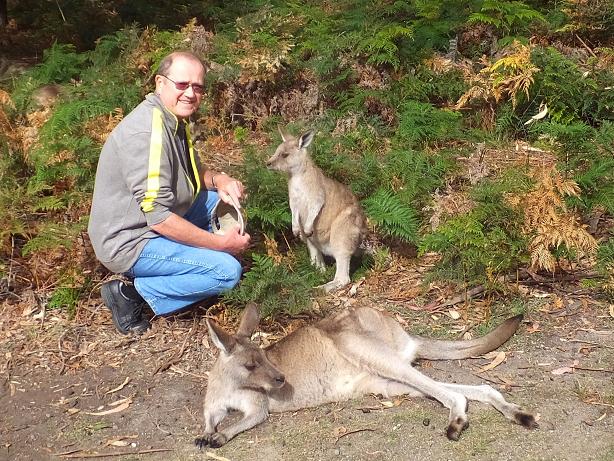 After a brief drive up the coast we headed back to the B & B in the rain. It continued to rain quite hard, so we decided to just "hang out" at the B & B. We ate supper at the Sea Life Centre restaurant. We had excellent shrimp and scallops with a magnificent view of the coast and the waves r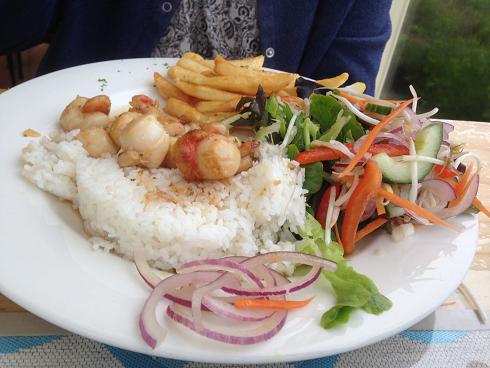 oaring into shore.
About 7:00 on Monday, March 23 we headed toward Kettering in a light rain.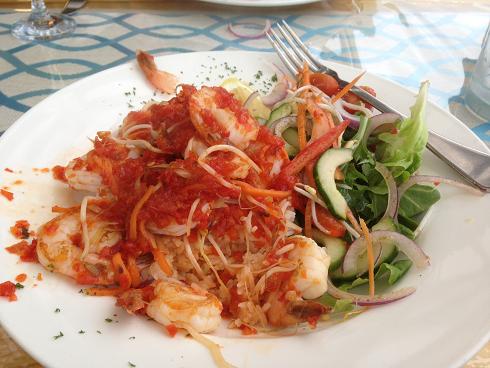 We stopped for a light breakfast along the way and decided that due to the rain we should go to Hobart to see MONA (Museum of Old and New Art). It was a very interesting building with three levels below ground that had been chiseled into the bedrock. There was a small circular elevator that took us down. We were given an Ipod and headphones that were really the only information on the art pieces. There was a dirge playing in the background. The theme was mortality and death. There were some amazing ancient Egyptian pieces of art from tombs, etc. The modern art was everything from spider webs to massive copper and bronze sculptures to a "fat" car. There was modern art in every imaginable media.
The café there was very crowded so we went to the Royal Botanical Garden. The restaurant there was closed, so we grabbed a sandwich and wrap from the gift shop. It was nice to see blooming flowers. It started to rain, so we headed down to Kettering.
Our B&B was in the country with beautiful flowers; a pasture with alpacas, sheep, and donkeys; and fantastic antiques from Indonesia. We had the use of a living room and there was a large bathroom off of our bedroom with a huge shower and bathtub. There were lots of windows with a view of the pasture and the ocean beyond. Our hosts were very accommodating. We ate supper at the Oyster Bay Bar in Kettering and had wonderful salmon and chicken dishes at a bayside table.
On Tuesday, after a great breakfast at the B&B, we headed to Kettering to the bus to Bruny Island. We went on the ferry and down to the south island where we met our boat at Bruny Island Cruises at Adventure Bay. After "tea" (a muffin and hot drink) the three boats were loaded and we headed around the point into the Bay of Islands and out to the south point of Bruny Island.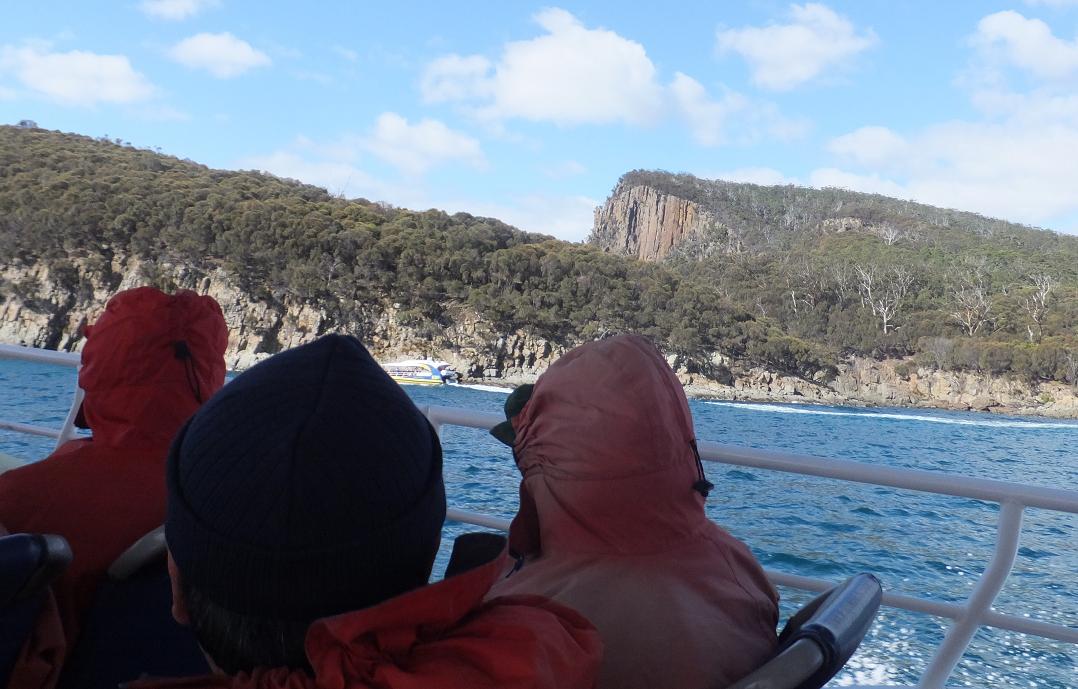 We went past enormously high cliffs, caves, and through a narrow gap between two large rock formations. There was a large blowhole (breathing rock) that you could hear sucking in air and water. It then sprayed out huge blasts of sea water & air. We saw several other formations. In order to see a group of seals, the boats went into the rougher "Southern Ocean" (Antarctic Ocean).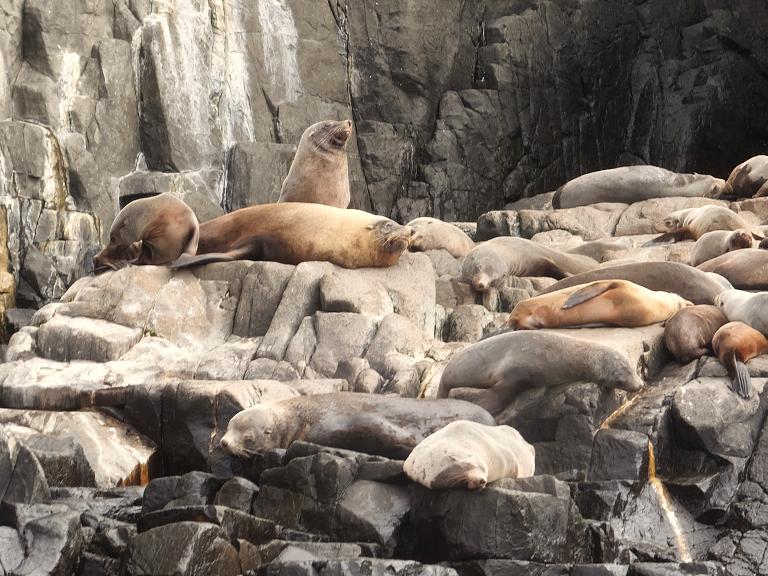 We were given ginger tablets at the beginning and each person had a huge "slicker" with a hood . Even after chewing on ginger candy Joan had trouble with the rolling of the open ocean. The seals were noisy and smelly, but fun to see. Out into the ocean further we saw several albatross, a seal eating a sting ray, and there were dolphins that followed alongside the boat. It was very cold even with the slicker and the extra clothes our B&B hosts had loaned us.
When we arrived back at Adventure Bay, there was a lunch waiting for us. The bus took us back to the ferry, stopping at a drive-thru oyster bar along the way. We waited for the ferry, which took the bus back to Kettering.
Our B&B host brought us coffee, tea and cookies. For supper we went to the Oyster Cove Inn and again had excellent meals: lamb rump roast and porterhouse steak. We came back to the B&B and sampled the Pinor Noir from our host's vineyard.
Early Wednesday morning after a breakfast at the B&B, we headed to the airport in Hobart for our trip back to Melbourne. Roger was glad to return the car to the rental company at the airport and be done with the left side driving.
The plane was an hour late getting into Melbourne, so we had to nearly run to the bus stop to catch our bus to Geelong. Doug was there to meet us, and we were glad to be back with our friends, though we both loved Tasmania.
Week 3 or our Australian visit is here.