Australia: March 12-April 2, 2015
Part One
(This was a three week trip, so I have broken it down by week.
The first week is our arrival in Australia.
The second week we spent in Tasmania,
and the third week back seeing the sights of Victoria.)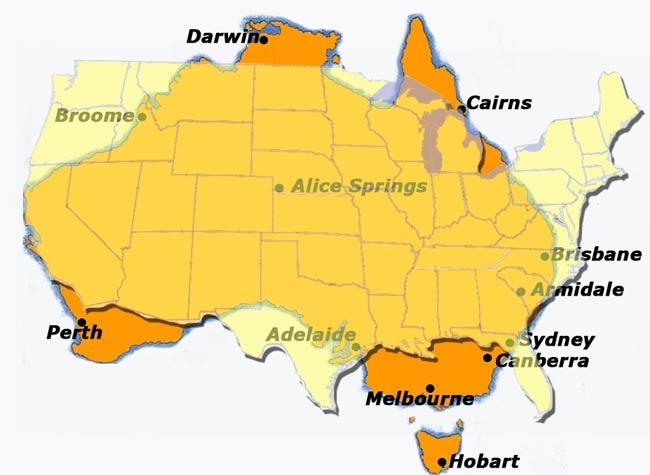 Size comparison of Australia to the United States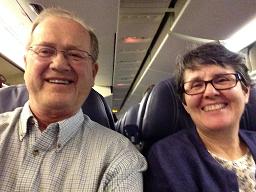 We left Minneapolis for Los Angeles at 5:30 AM on March 10. We arrived at 7:45 and found ourselves very close to the gate for our next flight from Los Angeles to Sydney at 9:53 PM. During the flight, a three-year-old girl became hysterical three times for very long stretches. We were only one row back from her. We got very little sleep.
About six hours into the flight an older male passenger became unconscious and was totally unresponsive. They laid him down in the aisle just behind us, Eventually, they revived him, and put him on portable oxygen. The doctors on board felt he needed medical care so we were eventually diverted to Honolulu, Hawaii, which was about 2 1/2 hours north of us by that time.
When we arrived, our flight crew had too many hours in the air, and so we couldn't continue on that night to Sydney. The Delta counter in Honolulu was not ready to rebook us.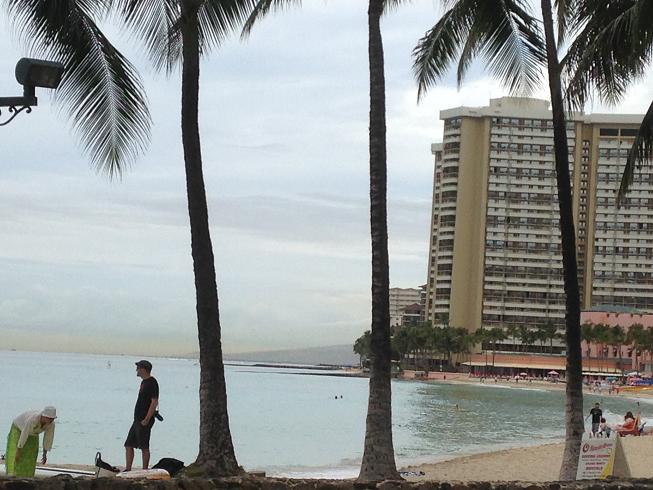 After waiting over two – three hours in a very slow, long line we were sent to the hotel Ohana West to wait for a 11:15 PM flight to Sydney on March 11. We picked up our luggage and went to the shuttle bus to go to the hotel. After a half hour of waiting we finally left the airport.
By this time it was about 7 AM. We checked in and went for breakfast. We got an email telling us that that flight had been cancelled, giving us no other options. Joan called Delta and after an hour on the phone we were booked for an 11:30 AM flight to Sydney, March 12, on Hawaiian Airlines. We could not get our Economy Comfort Seats, so Delta said they would reimburse us for those. After lunch we walked around Honolulu and went to see Waikiki beach. There were some water boarders and surfers. It was a cloudy day.
There was a lot of heavy traffic as we went to the airport on March 12 on a shuttle bus. The Hawaiian airplane seats had nearly the leg room the Delta Economy Comfort had. We were served a good lunch and free wine. Before leaving, the plane had to take on extra fuel due to a cyclone we had to divert around. This took an extra hour in the air, meaning 11 more hours to get to Sydney. We arrived too late for our scheduled 9:00 flight to Melbourne so we were told to book the 9:30 flight.
We went through customs and then went to get on a shuttle bus to Terminal 2. Thankfully after waiting a while a nice bus driver told us the shuttle didn't run that late, so we would have to walk back to the other end of the terminal to get a taxi. When we got to terminal 2 and got our tickets we had to stand in a very long security line. Joan was called over for wanding too. As we were quickly walking to our gate we heard our names called twice. As we neared the gate the agent stepped into the hall and we ran, handed her our passes and got on just before they shut the doors. The flight attendant handed each of us a bottle of water and the plane taxied out. We arrived in Melbourne 1 ½ days late. Patsy and Doug met us at the gate and drove us to Geelong. We saw their lovely home and went to bed.
On Saturday we were up early, had breakfast, and went on a walk with Doug beside a nearby river.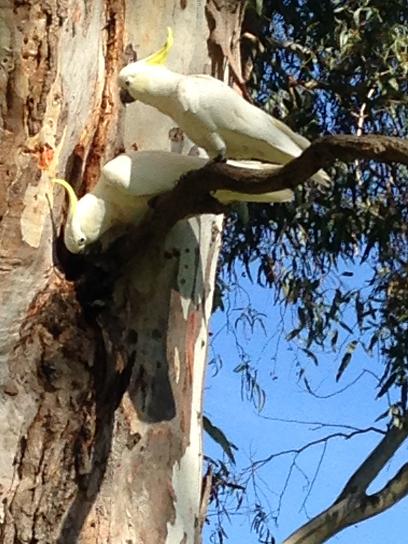 There were sulfur crested cockatoos right above us in the trees. After we picked up Patsy we walked beside another river where we saw more birds and rowing skiffs. We then headed downtown where we saw their daughter Amanda's shop named "Eclectica" and went to a grocery store. It was fun to look around and see how it differed from ours. We had lunch outside by Doug and Patsy's pool and then went with Doug to see the Aboriginal Center. The museum was closed.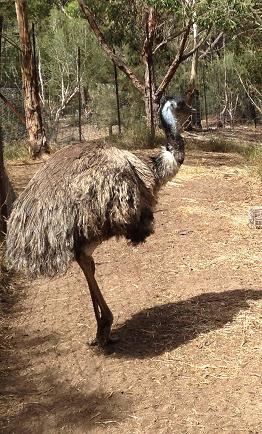 We did see an emu and her chicks in an enclosure there. She made a purring sound at us.
Doug then took us to a beach area with swimmers and surfers. One area was very windy and a man was attempting to parasail there.
That night Amanda, Nick, and Matthew came over to celebrate Matthew's birthday. Patsy fixed a delicious leg of lamb roast with veggies. Dessert was Pavlova, a baked meringue crust with a cream filling and fresh fruit. It was very sweet and very good. Doug showed us a few pieces of some of the beautiful cross stitching he has done.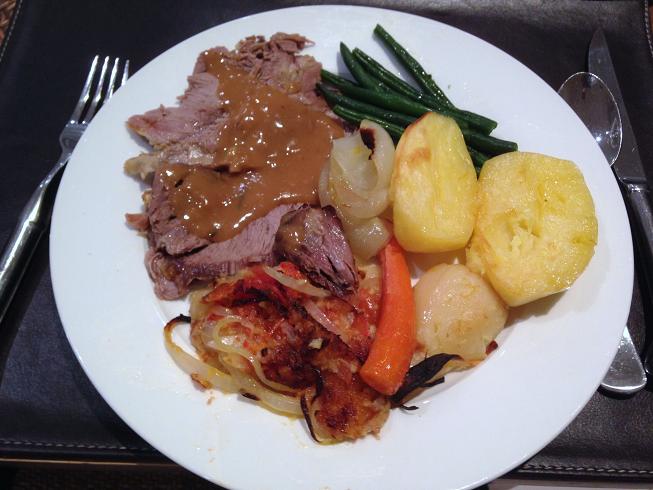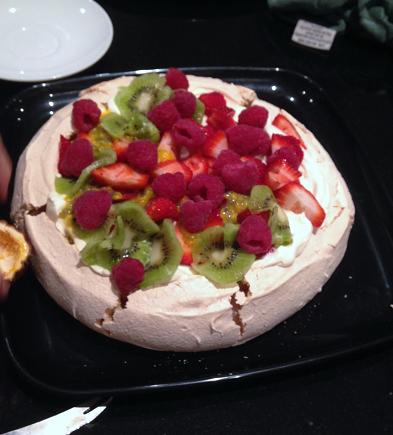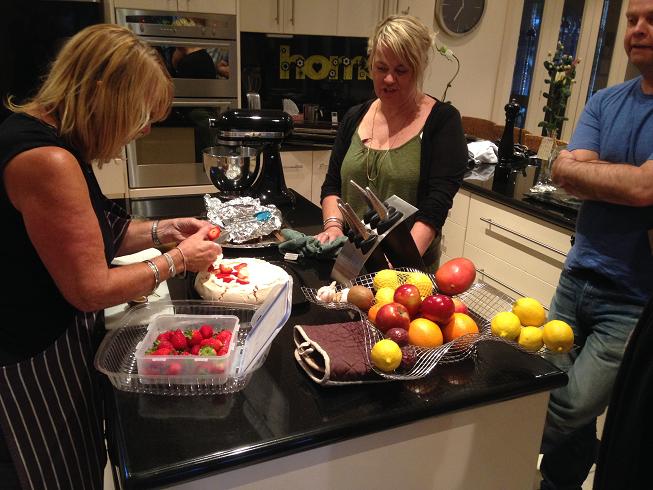 The next day, March 15, we headed to the Healsville Wildlife Sanctuary north of Melbourne. We went around the city through flat, then rolling farmland. There were a lot of vineyards and sheep. We also saw three large "mobs" of kangaroos resting in the fields. They were the large red kangaroos and another group was the smaller gray variety.
The sanctuary is in a forest, a very natural setting with tree ferns and huge eucalyptus trees.
At the entrance was a man playing a didgeridoo. It has a mournful quality. First we went to the birds of prey program, which was very well done. There were many interesting birds flying over us as we learned about them.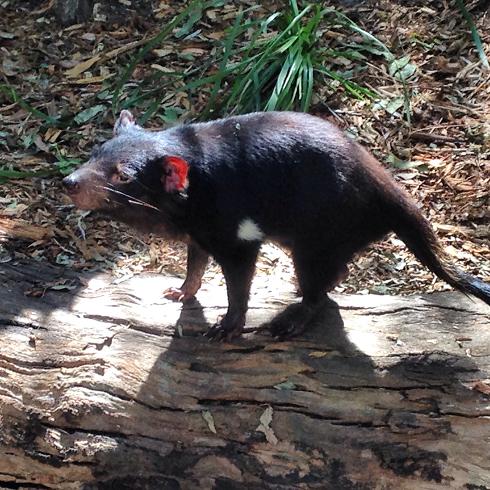 We ate at the Harvest Café there and spent the afternoon walking around seeing koalas, wombats, Tasmanian devils, echidnas, kangaroos, etc in close view. We could walk into an enclosure with the kangaroos and the birds.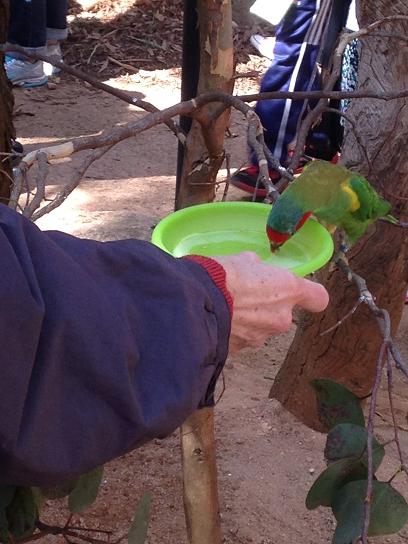 Joan fed little parrots with a saucer of nectar. You could see them lap it up with their tongues. The dingoes weren't out of their den, so we didn't get to see them.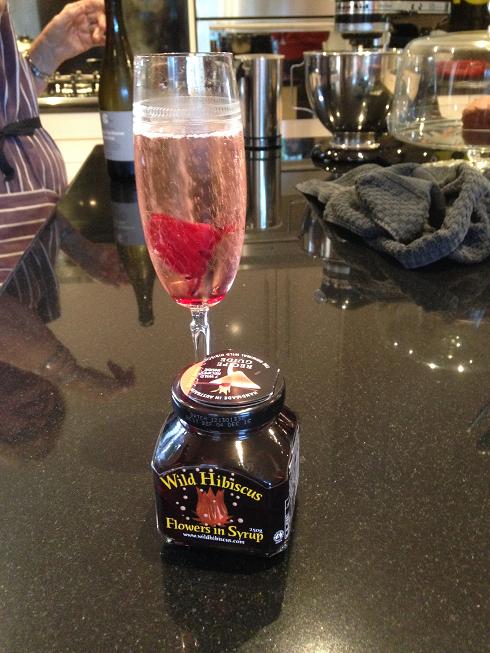 For supper (which we came to know as "Tea") we had mashed potatoes, squash (which they call pumpkin), beans, peas, and cold leg of lamb. It was very tasty. We had champagne with a wild hibiscus flower and its syrup in it. The champagne turns pink. You eat the flower, which tasted somewhat like a cherry. We watched a crime mystery and called it a day.
On March 16 Doug took us down to the harbor where we walked around a bit and saw several of the "bollards", historical characters made from old telephone poles by a local artist. Each group has a rabbit painted on one of them.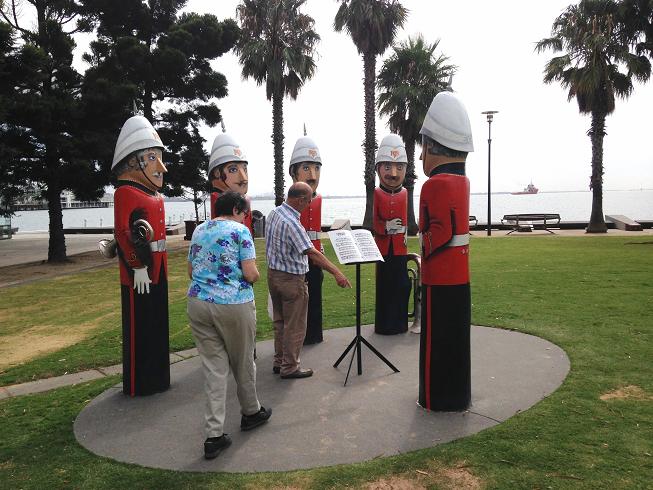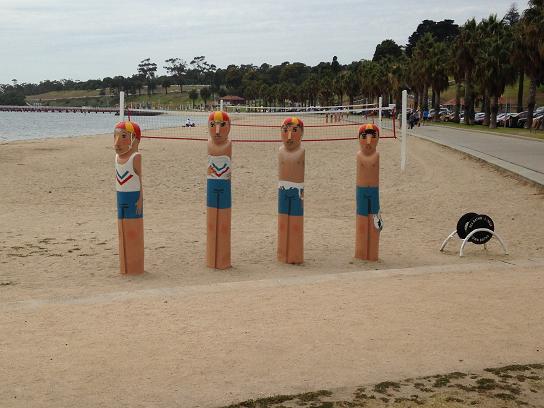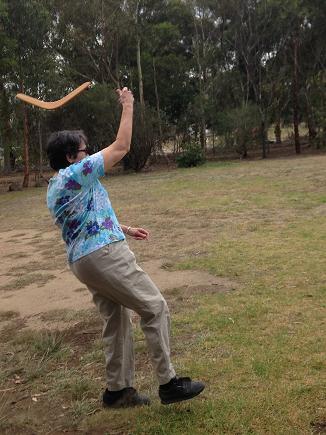 We then went to the Aborigine Heritage Center to see the museum. We tried our hand a throwing a boomerang. Joan somehow threw one behind her. We purchased a decorated boomerang and bull roarer and some other items in the gift shop. At supper we enjoyed champagne with a wild hibiscus again.
On Tuesday, March 17 we headed to see The Great Ocean Road. On the way we drove to a golf course to look for kangaroos. We saw several in the distance and then saw a joey and its mother near the parking lot. They were eating grass and let us approach quite closely.
We stopped at a small town where the guys had coffee and the gals shopped. There were several cockatoos on a picnic table.
All along the way were beautiful ocean views, some near the shore and others on the cliffs looking down at them. We stopped and took a short walk in the rainforest with giant trees and large tree ferns.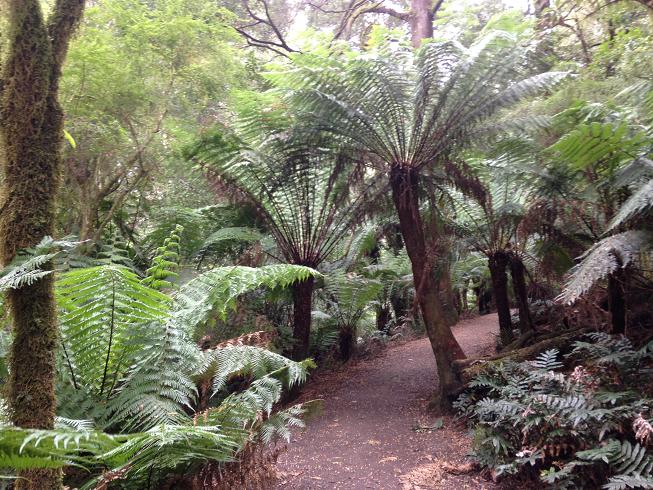 We walked down to see the 12 Apostles, rock formations made of sandstone that have eroded from the ocean side cliffs.
There were several viewpoints and lots of people with many tour buses.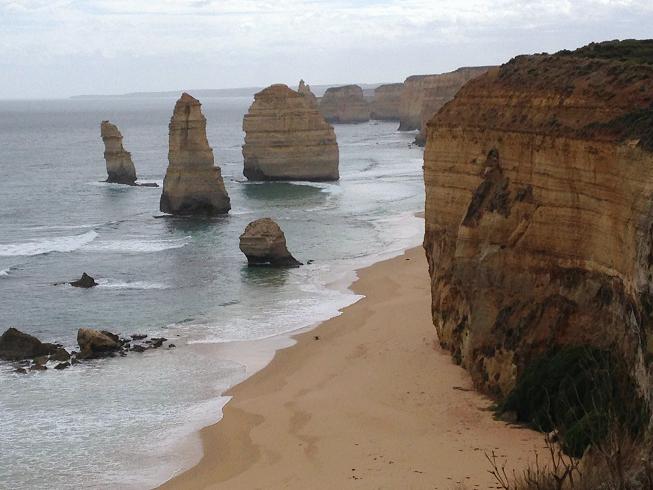 ---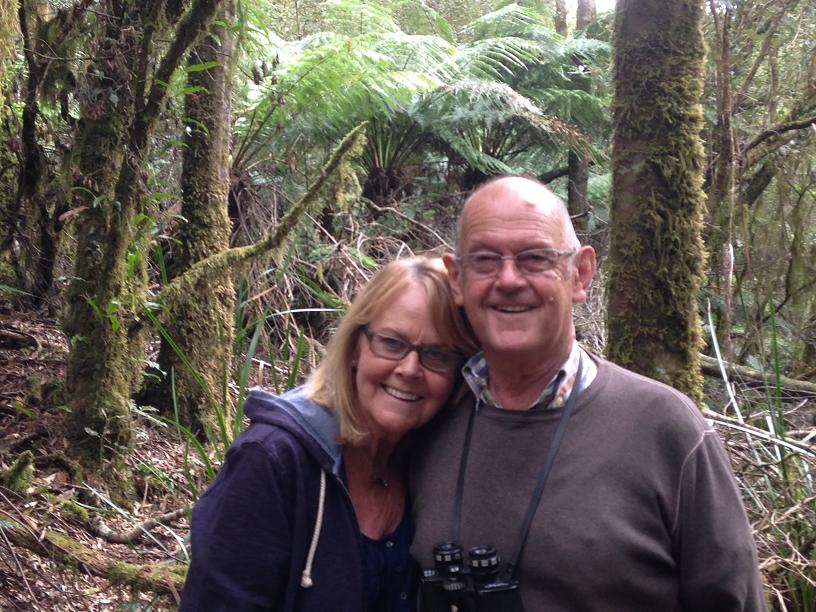 At this point, I have to deviate a bit from the traveling to tell you about our wonderful hosts. Doug and Patsy are their names, and we just can't say enough about how wonderfully we were treated and taken care of. Doug and Roger have been "pen pals" for well over a decade, back when the technology was only email. Eventually, they were able to talk person to person over programs like ICQ, Skype, and now FaceTime.
Doug, who is a retired teacher, had invited us to visit for the last couple years, but Joan was unsure about the long flight (As it turned out, she had a right to be!). This winter we decided to take them up on their offer. They had a bedroom with its own bathroom we could stay in, we had delicious meals, and they were great to be with. Doug has a remarkable knowledge of the history of the area, and they both were very knowledgeable about the flora and fauna we saw. But most of all, they made us feel so welcome and comfortable. We really felt we got to know the culture of Australia, and found it much more rewarding than simply visiting tourist attractions.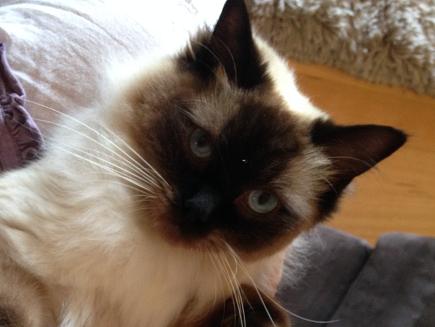 We'll never be able to thank them enough for all they did.
(Their cat, George, was an entertaining aspect of staying with them too!)
On to Tasmania!