Deer Creek, Ishi Wilderness: May 2-4, 2012
Yes, I am enthralled by the story of Ishi, the Last Stone Age Indian of North America and the area in which he lived. I admit it, and they say that is the first step. I have flown to California 12 times previously for "Ishi related" trips, but most of them involved going to the Ishi Wilderness in northern California in the foothills of the Cascade Mountains.
Along the way, I have some wonderful and thrilling experiences, and met some people I am proud to call my friends.
I have all of the trips documented on my website, and I love to go back and review them now and again because it brings the trips right back to me. I have made friends on these trips that have passed on. Milt Clark and his son, Aaron, were with us on my first trip to the Ishi Wilderness. Milt died several years ago. I visited Virginia Pope Evans several times before she passed away.
Here is a summary and link to all of my previous trips:
How and Why: The Long Journey to The Ishi Wilderness, 1996
Ishi Wilderness, Ancestor Cave, and the McClaskeys, 1997
Ishi Wilderness, Graham's Pinery, 1999
California 2000 and Meeting the Daughter of Ishi's Doctor
Ishi Wilderness 2001: Graham's Pinery...Never Again!
California and the Ishi Wilderness, May 2003
Ishi Wilderness, Northern California, 2004
Ishi Wilderness, Kingsley Cave, 2006
2007: Carmel and The Ishi Wilderness
Glass Mountain, Gold Country, Visit to Saxton Pope's 101 Year Old Daughter, etc. May, 2009
Bay Tree Village by Helicopter, June, 2010
The Moaks and Murder Rock, May, 2011
I drove to the airport early Tuesday morning, May 1. I hit heavy traffic because it was rush hour, but I had allowed plenty of time for that. I parked the car at the shuttle, and the van dropped me at the Delta Airlines gate. I got my luggage checked, made it through the security screening, and waited at the gate, and soon I was on my way.
I still get very excited about going on this trip. Part of it is not knowing what is going to happen on the trip, and part of it is seeing the friends that I have come to care so much for over the past years.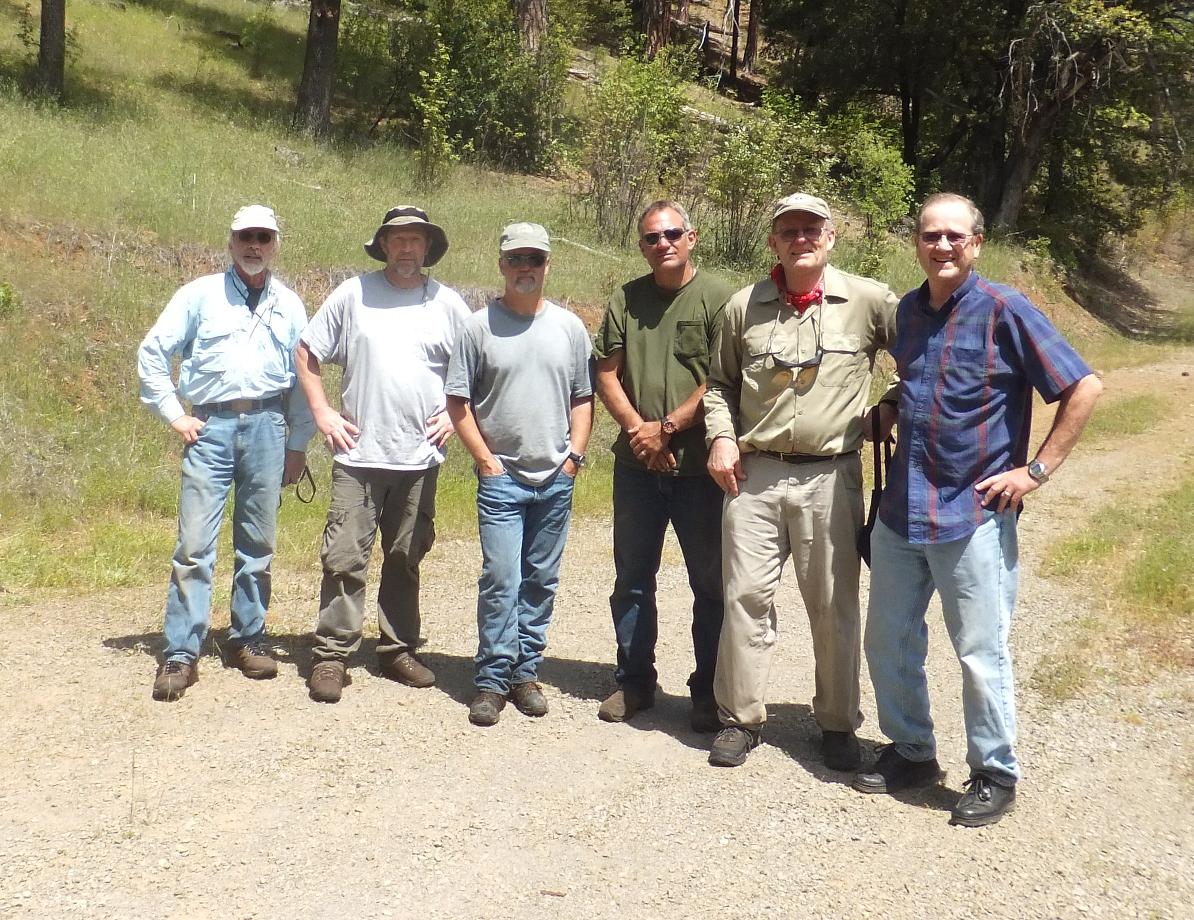 Mike picked me up at the airport and soon we headed for lunch, and then on to a camping/fishing/hiking store for some supplies that we would need, including some dehydrated food packages. There would be six of us in total. From there we went to Mike's house, and spent a chunk of the afternoon getting ready for the trip and getting our gear in order. Mike had many of the larger things I needed, such as a sleeping blanket and a sleeping pad, and all the cooking utensils, so that really helped with what I had to bring from Minnesota. Mike and Lauri are wonderful hosts, and I really enjoy spending time with them. Mike has many varied interests, and he's just taken up neon sign building.
The next morning we were on the way to Chico bright and early to rendezvous at Richard's new home. We saw his very nice place, had some introductions of the other folks who would be coming along, and got all of our gear into Mike's pickup and Andy's SUV, with three folks riding in each.
The road in to the Ishi Wilderness is not an easy one. The road keeps getting narrower and narrower, and bumpier and more rutted. I took some video of the road which I'll attach here:
Road to Deer Creek Bridge: http://youtu.be/me8nNApjrtM
The group consisted of six of us: From the photo, left to right, Michael, from Gastonia, North Carolina; Andy from Forest Ranch, CA; Rick from Chico, Ca; Mike, near Sacramento,CA; Richard from Chico, CA; and me, Roger from Cambridge, MN.
When we got to the parking area by the bridge, everyone unpacked, got their gear ready, and we headed up the first big hill toward Deer Creek and Graham's Cabin site.
I had been to this area before, and as a matter of fact, this was the location of my very first trip into the Ishi Wilderness. But I had forgotten the beauty of it and its daunting landscape.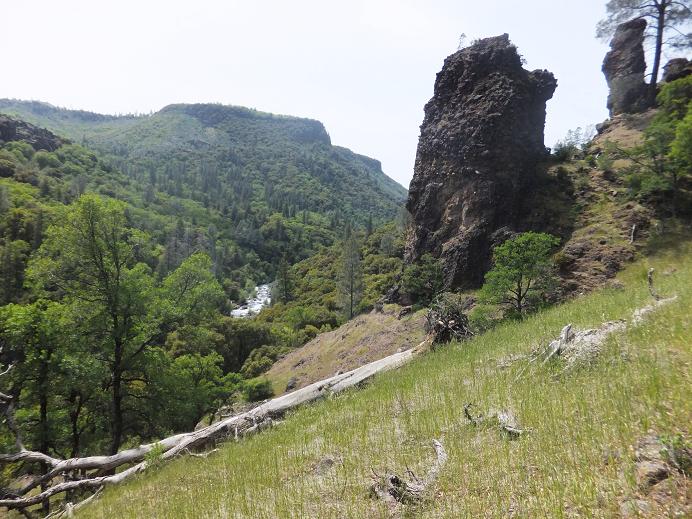 The trail was well marked for the most part, with an occasional large tree hiding the path, and we all moved down and up the trail toward our destination. The ruggedness of this country is hard to put into words. How the Yahi tribe lived and thrived in these foothills for thousands of years simply amazes me, but they made use of what was there, and the fish in the stream and the acorns on the multitude of oak trees became their staple diet. Deer, rabbit, plant roots, berries, were there for the harvesting if you knew how to do it, which is where I fall short.
And the poison oak! I often found myself standing in it or going through it because, first of all if really is ubiquitous, and secondly, it doesn't all look the same, with variations in leaf shape and coloring.
And of course, there were plants that looked a little similar to poison oak that I needlessly avoided.
Ah, wilderness!
The majestic lava tossed hillsides with the varied flora and fauna is very much foreign to Minnesota and the upper midwest. The stand of Ponderosa Pine we went through was bit similar to northern Minnesota in some respects, but the majority of the topography would not be found anywhere in the state.
We walked on, some faster, some slower, and met again at Graham's Cabin site, where Elijah Graham had once had his cabin, and had tried to poison the Indians by mixing poison with grain. He wrote "POISON" on the bag so no white men would be harmed.
The cabin has disappeared, but some of the rock foundation and fences remain, so we looked around the area for while. There were still some metal cans, nails, etc. in the area, and the area is now used as a camp site. Richard Burrill, who knows so much of the history of this area, said that the lumber from the cabin has been used for firewood over the years, and all the wood now has totally disappeared.
All of this group were very respectful of the artifacts in this area so though they may have been discovered, they were only photographed and documented, and then the original artifact was returned to its exact site or very close to it.
Soon, we headed further upstream next to Deer Creek to a more secluded campsite that was on the site of an old Indian camp. When I go on these trips with such knowledgeable people, it is just wonderful all of the information that I pick up. I learned that we were camping on a "midden", which is a place where the native population lived for a long time, and actually holds a lot of what would have been considered refuse or garbage. There was ample evidence of obsidian chlps, and bone chips from meals so long ago, and terrible evidence of people coming in with shovels and screens and sifting through very large amounts of soil looking for artifacts.
Mike found an absolutely beautiful point shortly after we arrived. It was made of basalt, so it was not very shiny like obsidian would be, but it was so finely carved that it was done by a master flintknapper. I can only dream of someday being able to knap a point like this one.
I should point out at this time that I owe a debt of gratitude to Mike Lawson for being so kind to carry so much of my gear in. I had a decent size backpack, but with some back problems, I just can't carry all the weight I could at one time, so he helped out immensely by carrying more than his share of the load. Kudos to you, Mike! Andy did more than his share too, and we can thank him for carrying in an ample amount of wine in which we imbibed in the evening. I consider these trips celebratory in many ways, and I often think how lucky I am to be able to do something like this.
We set up camp, and the campsite was large enough that we could spread out and each have a lot of space.
Here's a quick tour: http://youtu.be/JCbLMrN38Kw
It really did turn out to be a very nice camp site. It was flat, relatively stone free, and though there was p
oison oak all around, we could find patches of open ground. It was a close walk to Deer Creek for water and washing up, and I love the sound of a rushing stream when I'm trying to sleep.
The weather was overcast the first day, and cool, which made hiking nice. We collected some wood, got a fire started, and got settled in to our temporary home. We had brought several dehydrated meals along, and Michael Eldredge and Richard had prepared chicken breasts, so we warmed them on the fire, fixed some dehydrated meals, and settled in for the evening meal, followed by some wine for most of us.
The weather was cool but not cold, and overcast, but it cleared enough in the evening to see the moon which was almost full, and it cast a gentle light on our little camp site far away from any signs of population and "civilization".
I slept fitfully, partially due to excitement and partially due to sleeping on a pretty hard surface with a slippery sleeping bag in limited space. Soon, it was getting light out, so I got dressed and got up. Andy was already up and about, and we got the fire going again. It continued to be quite cloudy and cool, and the warmth from the fire felt comforting.
We ate our breakfasts independently, with me just eating a couple of low-fat breakfast bars and a cup of instant coffee.
Soon we were ready to head out towards Iron Mountain. We got our boots and light gear ready, and Mike grabbed his giant loppers.
We had seen a relatively open meadow heading up the base of Iron Mountain so we thought that might be a good way to get at least partially up, and Richard had an interest in trying to find a site of a camp that would have been where Ishi was raised in his youth.
Here's a video where he explains more: http://www.youtube.com/watch?v=IoE0kvWkTUE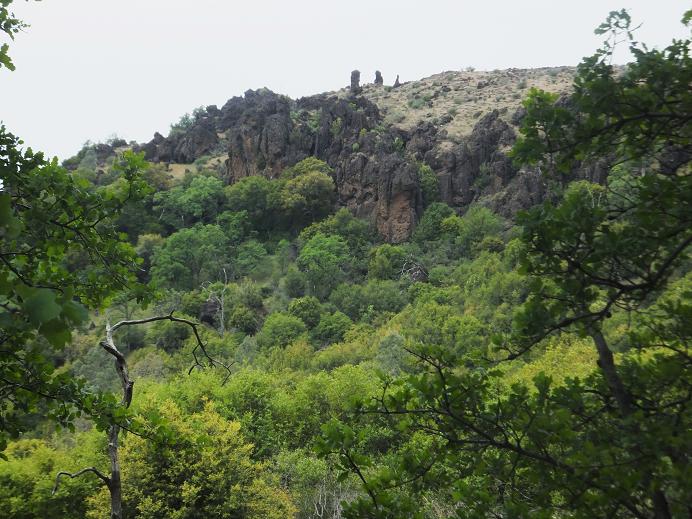 We continued to walk up the more open meadow area until the brush started to get thicker, and soon was impassable. There did not appear to be a way around it, so there was discussion as to how to proceed. Andy suggested backtracking, and trying to get to the top of Iron Mountain. It ended up that there were three who wanted to try to get to the top of Iron Mountain, and three who were satisfied in continuing to explore the more open and lower areas. I was in the latter group.
Mike Lawson, Rick Nelson, and Andy Mark were the intrepid explorers who wished to try to climb to the summit, and Richard, Michael Eldredge and I were satisfied to meander at a less exhausting pace.
We had walkie talkies, so we could keep in touch, which was very helpful, and we knew we didn't need to worry about their safety as long as they reported in regularly.
Michael, Richard and I started back down at a leisurely pace, examining the various trees, foliage, rock formations, flowers, and whatever we ran across.
Richard had a knee replacement a few years ago, and it does present some challenges for him, but he did a great job in seeing what he wanted to see. We did have one troublesome stream to cross, Iron Creek, so Michael went ahead and did some clearing and arranging of the large stones to try to make it an easier crossing. It did help, and Richard got across pretty well and stayed dry.
If you note the picture of me on the left, that is Iron Mountain in the background which Andy, Mike, and Rick were climbing at that moment. You can see on the photos how thick the brush is, much of it being poison oak. They found the large loppers very useful in getting through some otherwise impenetrable areas.
Eventually, we made it back to the camp site, the large midden, and more of the areas to explore closer to camp.
Andy reported in on the hour via the walkie talkie, and we kept in touch as they climbed Iron Mountain.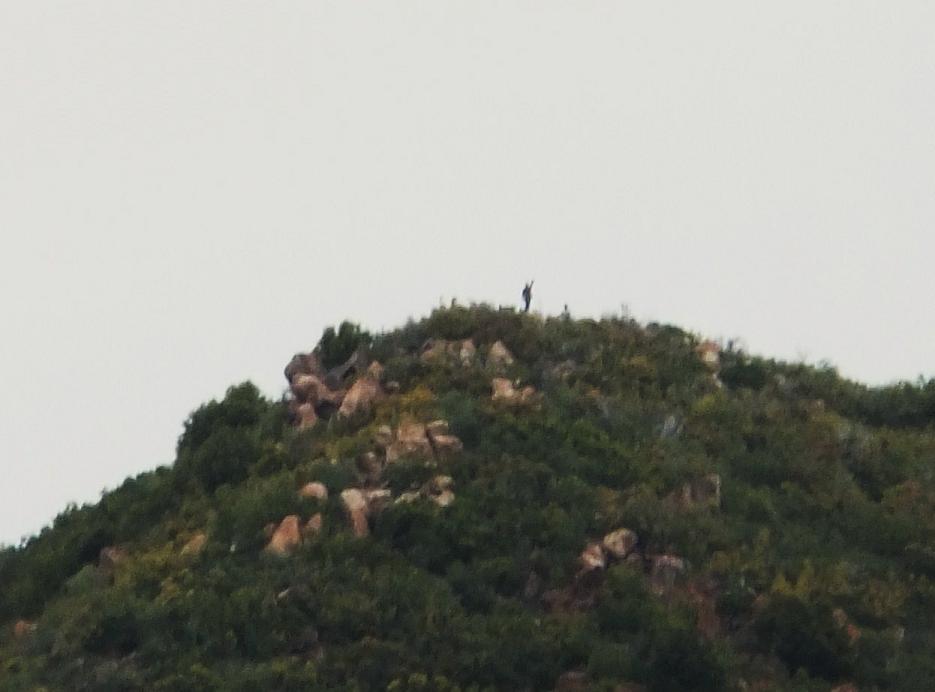 Eventually, they reached the top, which is a really amazing accomplishment of which they should all be proud. With a small scope, they could spot one of the tents at our campsite, and unbelievably, we could see a tiny little line at the top of the mountain. I figured this would be a good time to test my new camera with its 15 megapixel size and 10X zoom, and I could actually see Rick at the top, and Andy beside him when I zoomed in on the picture that I had taken! This picture is from about two miles away as the crow flies.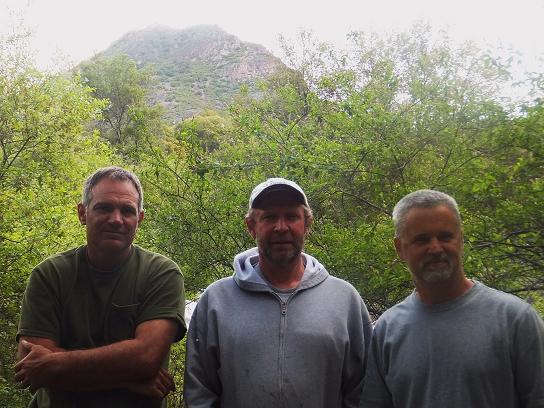 Here are the three that climbed Iron Mountain: Mike, Andy, and Rick. That is Iron Mountain looming in the background.
It sounded pretty harrowing at times with loose rook, vertical climbs and thick brush, but all in all, they made really good time, and were back in camp by late afternoon.
This is a picture of the three more senior partners of the group who chose to be a bit less adventurous and stayed closer to camp. That's me on the left, Richard Burrill in the middle, and Michael Eldredge on the right.
That night, Michael spent a lot of time preparing kindling for the fire, and showed us how he can make fire with primitive tools, mainly a bow. There was a lot of preparation that went into it, and you can see the results here:
http://youtu.be/V9VCUxpSSTA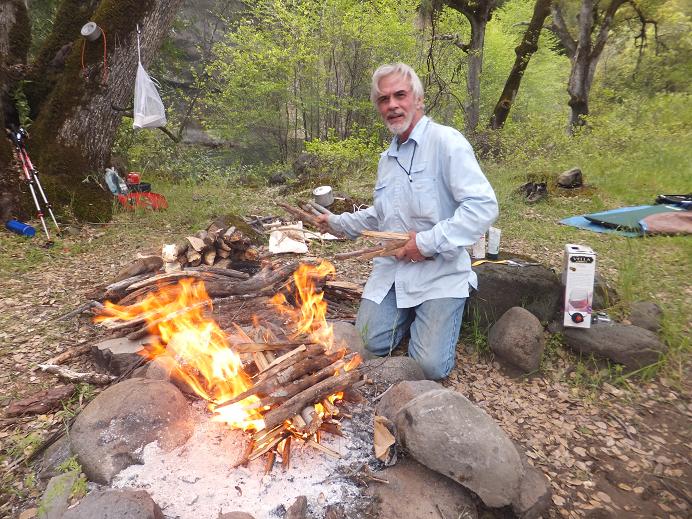 We ended up getting a little drizzle and light rain in the later afternoon, but not enough to have us head to shelter. We prepared some more of the dehydrated meals for the evening meal, and talked into the evening. We pretty well finished off our wine that night. The magical fire was kept going and smoldered most of the night, and the smoke seemed to know right where we were sitting and came to visit us often during the time at the campfire.
During the night a little rain fell, and the humidity increased so that things were a bit wet in the morning. I noticed the walls of my tent were wet, probably from my breathing and the moisture not escaping.
Soon, morning came, and we started another campfire. Andy and Mike tried a little fishing, and Mike caught a nice trout which he immediately released.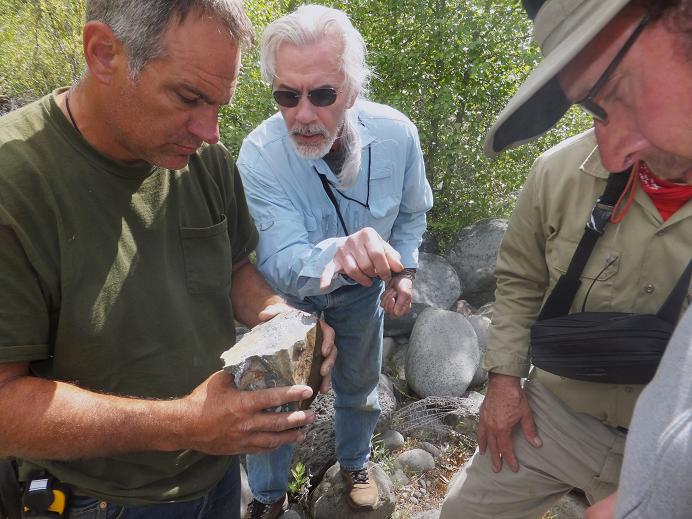 After a leisurely breakfast we headed off to look for some fossils that were deposited in the Chico Formation, and we found a few that were full of shells. The rocks were intermixed with large boulders on the shores of Deer Creek, most of which had been worn smooth by erosion over the millenia. It was a beautiful location, with many lupine growing in the large rocks.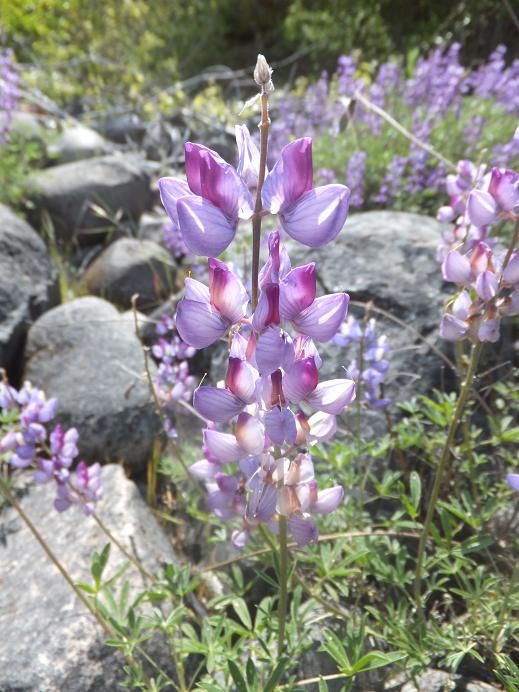 I am really in awe of the Ishi Wilderness and how diverse it is, with so much to see, and so many challenges to see it.
After hunting for fossils for a while, we decided it was time to pack up and start the long and mostly uphill journey back to where we had parked the vehicles. Everyone got their packs on, made sure the campsite looked like it had before we had been there, and we headed out. It was then that the heaviest rain of the trip started, and soon we were drenched. We did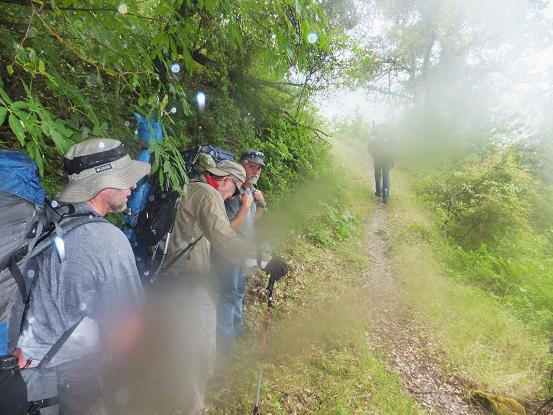 manage to get Richard across the little Iron Creek before the rocks got too slippery.
We trudged on, and soon, the rain slowly subsided. We saw about a dozen orange bellied newts on the trail or just next to it.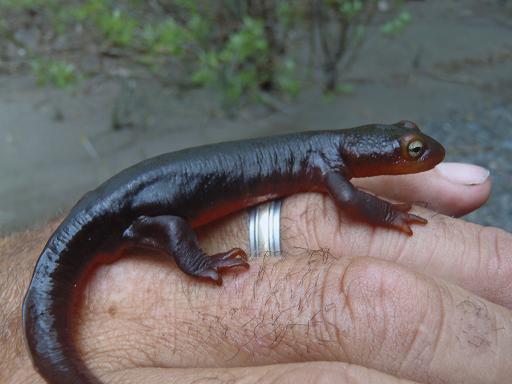 The rain must have been just enough to make them want to migrate someplace else.
After a while, we finally came to the Ponderosa Pines, so I knew we were getting close to the end of the trail. We kept going, and soon, the sun shone, and we started to dry out.
It felt great to get back to the vehicle, get my boots and heavy socks off and put on my regular shoes.
Of course, we still had the long ride out, but the road had not gotten any muddier than when we had come in, so we made it out without much trouble, though we definitely were bounced around.
We headed to the Sierra Nevada Brewery and Restaurant for a bite to eat and to clean up a little, and had a great meal. We got there just before the rush started, and it was really busy in no time. I had a great meal, and it was fun to visit with the folks who had just shared the same experience. Andy didn't join us because he had work waiting for him at home. Soon it was time to head our separate ways. Mike and I ran into the gift store briefly while everyone sorted out their gear, and soon, with goodbyes said all around, Mike and I headed toward his home near Sacramento, a couple hours away.
We got home, got cleaned up, and chatted a while, and then turned in for the night.
Saturday was a quiet day. We went to a few garage sales with some friends of Mike's after a delicious breakfast at a nearby restaurant, and we got digital copies made of the pictures we had taken.
That evening, we went toward Shingle Springs to have supper with Bob Price, my friend for all the years I've been going to the Ishi Wilderness. He was unable to make it this year, but it was great fun seeing him.
Photo: Lauri, Mike, Bob
The next morning, we went out for breakfast, and soon it was time for me to head to the airport for my flight home. It was delayed a bit, but I was soon in the air. After about three hours in flight, we landed, and I got my luggage, picked up the vehicle, and headed home. It was good to be there, and I had another bunch of great memories.