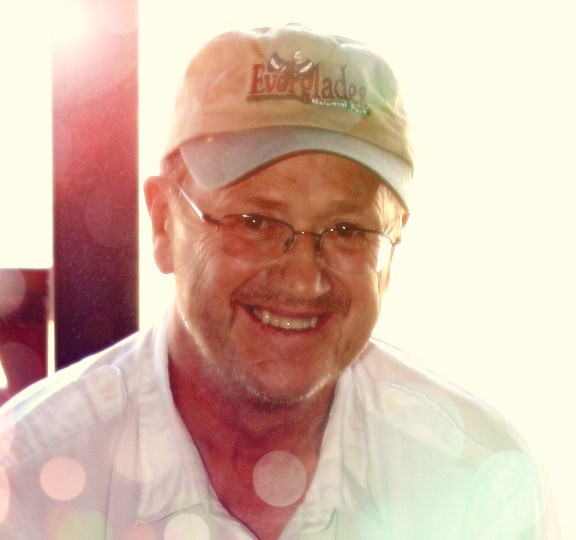 Roger Wm. Anderson
Cambridge, Minnesota
This is our home, fall and winter. Theater of seasons here in Minnesota.
We live in Cambridge, Minnesota, which is about 45 miles due north of Minneapolis. We actually live about five miles away from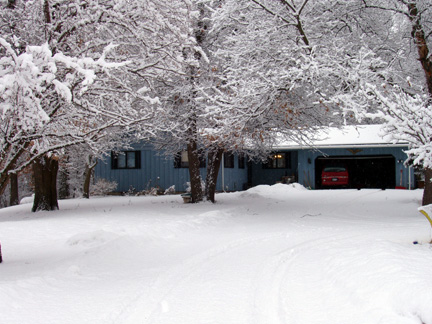 Cam
bridge, in the country, and have about 20 acres, most of it wooded.
Our house was built in about 1973, and we have lived in it since the summer of 1977.
We love it. It is surrounded with woods, a pond, land to garden, and just about everything we like to do. Country living may not be for everyone, but it certainly is for us, and it's been a great place to raise our kids and to have the grandkids come and stay.
I worked for the State of Minnesota at Cambridge State Hospital, a facility for people who are mentally retarded for 34 years before opting for an "early retirement", which I started in January of 2002.
Time flies.
---
---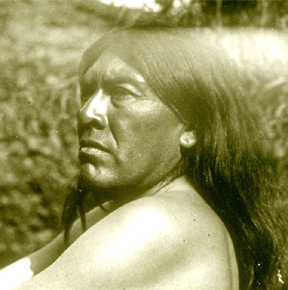 Ishi, The Last Stone-age Indian in North America
Ishi, an Indian who lived in California and died in 1914, has become a moving force in my life. If you see the different categories on my homepage, you will see one about Ishi, and three about my "adventures" in the Ishi Wilderness in northern California.
For all the details, you can read a whole lot of information in these pages. Suffice it to say that after having read the books on Ishi, I became so fascinated with him that I searched for internet for more information, and met a person who had written a book on him.
Eventually, I flew to California and went backpacking into the foothills of the Cascade Mountains to see where Ishi lived in hiding his entire life, until he was "captured" in 1911.
I have made this trip several times, and have made some friends there that I cherish dearly.

How and Why: The Long Journey to The Ishi Wilderness, 1996

Ishi Wilderness, 1997
Ishi Wilderness, 1999
California 2000 and Meeting the Daughter of Ishi's Doctor


Ishi Wilderness 2001: Graham's Pinery...Never Again!
California and the Ishi Wilderness, May 2003
Ishi Wilderness, Northern California, 2004
Ishi Wilderness, Kingsley Cave, 2006
2007: Carmel and The Ishi Wilderness
Glass Mountain, Gold Country, Visit to Saxton Pope's 101 Year Old Daughter, etc. May, 2009
Bay Tree Village by Helicopter, June, 2010
The Moaks and Murder Rock, May, 2011
Deer Creek, Ishi Wilderness: May 2-4, 2012
California and the Ishi Wilderness: May 20-26, 2013- made limited so that land owners involved approve.
Deer Creek, Ishi Wilderness: October 14-20, 2014
---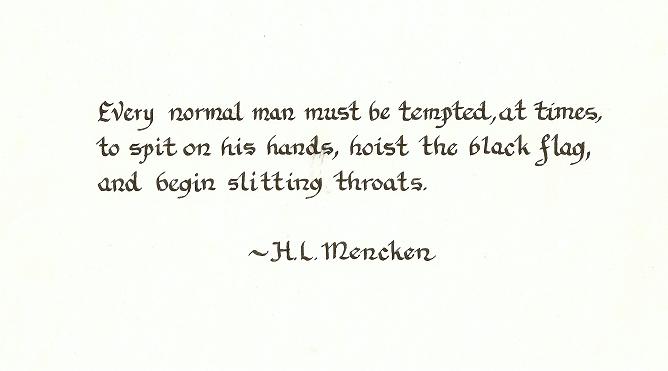 Calligraphy
I am an amateur calligrapher. I've done this for many years...self taught. I do the calligraphy for our church. Not bad for a kid who got "D's" in penmanship in elementary school! I love to collect quotations, and then write them in calligraphy. With the advent of the computer, I find it much easier to do them this way, however. Still, there's nothing like doing it by hand to get a feeling of accomplishment. I have done the Baptismal Certificates for our church for a number of years now.

---
Performing Arts Committee
Pieta Brown, January, 2015
I have had great fun serving as Chairman for the Performing Arts Committee, and I've gotten the chance to meet some wonderful performers. Natalie MacMaster, Doc Watson, the late John Hartford, some Delta Blues legends, and many more. Follow this link for more on that part of my life:
Go to The Hardy Center Website
---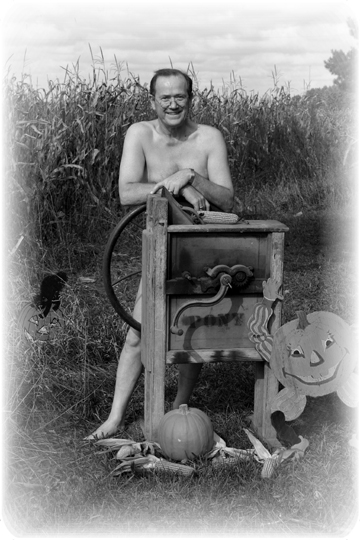 Isanti County Historical Society
Goodness, we do some silly things to try to get money. I'm a former Vice President and President of the Isanti County Historical Society, and we were always looking for ways to make money. One of our ideas was a "nude" calendar. We called the calendar "History Buffs".
Yes, you are looking at Mr. October, 2006. The calendar did make quite a good sum of money. We tried it the next year too, and did okay, but I think the novelty had worn off, so we didn't do as well.
I think most copies were lost in the fire that destroyed the Historical Society Building.
---
Celtic and Cape Breton Music:
Natalie MacMaster
You know, the internet has really made a difference in my life. The biggest impacts have been in learning about Ishi, as I mentioned above, and an innocent little note I wrote on Natalie MacMaster's webpage. Boy, where that little note would lead, it would have been hard to imagine! I sure never thought I would be Master of Ceremonies for her twice, fly to Cape Breton to meet her, her family, and meet so many more wonderful musicians, or actually plan and carry out having her put on a concert right here in Cambridge to a sold out audience who loved her! Again, all of this is very unlike me!
Click on the twirling globe to get the whole story: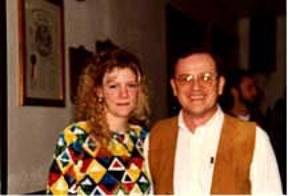 Natalie and me, 1997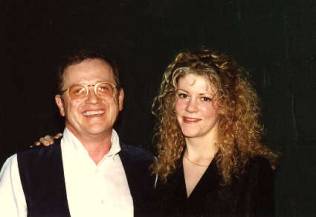 Natalie and me, 1998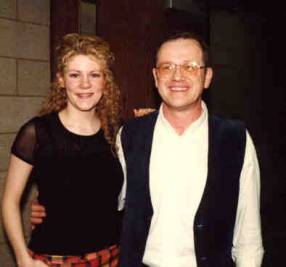 Natalie and me, 1999